What to do at Matira Beach
After you have had enough of relaxing on the white sand, here is what to do at Matira beach. There are plently of activities and tour prividers that are available at Matira Beach, including good snorkeling.
Snorkeling at Matira Beach
You can snorkel straight off the beach. There are two great spots.
Head to the northern point where the Hotel Bora Bora sits. Currently closed for a complete reconstruction, it was the first luxury resort with over-water bungalows, so has magnificent mature coral heads. Explore the lagoon, below the Bora Bora Hotel's over water bungalow area, with your snorkel to marvel at the array of fish.
Then venture around to the east side of the Beach and down to it's southern-most point. Swim out towards the northern edge of the barrier reef. This takes you close to the coral gardens, affectionately named 'the aquarium' by the locals, where there are hundreds of colourful tropical fish species to discover.
Lookout to Mt Otemanu
An interesting walking trail, starting from the eastern side of Matira Beach, enables you to hike up to a strategic location where coastal defence guns were placed by the US military during WWII. They never had to be fired. From here you have a stunning view across the lagoon to Mount Otemanu and Motu Toopua.
Tour prividers at Matira beach
Jet ski and Quad Bike Bora Bora Tours
There are a few Jet Ski companies to choose from in Bora Bora. Matira Jet Tours can be found on the Matira Point side of the beach. Phone: 67.62.73. to book a tour and arrange for them to pick you up from your hotel.
They provide Jet Ski Bora Bora tours with swimming and snorkeling stops.
They also offer a unique Bora Bora experience of riding a jet ski across the lagoon to Motu Roa. Here you explore the plantations, forests and beaches on a Quad Bike. This Bora Bora tour includes a beach picnic with a view overlooking Bora Bora Island.
Hungary? What to do at Matira Beach
Chez Ben's at Matira beach
If you get hungry and like simple value-for-money food I can recommend Ben's. You can lap up some friendly island service here. Ben will offer you an ice cold Hinano beer and chat while his wife cooks you up succulent fresh grilled fish and french fries.
Bloody Mary's Restaurant and Bar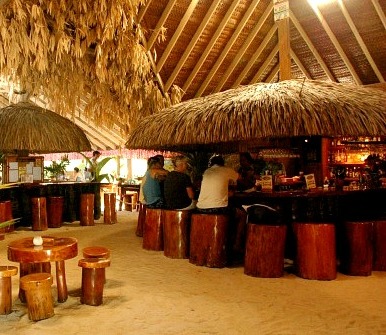 Follow the circle island road north from the beach, towards Vaitape until you see a romantic pier that welcomes the arrival of guests by water. Across the road, flanked by graceful palms, you will discover Bloody Mary's bar and restaurant.
You can stroll in with your sandy beach feet and feel welcome. It's worth a visit just to sit on tree trunk stools and experience the atmosphere. I like to relax with a cocktail when stopping at Bloody Mary's on my way to Matira Beach or back.
What to do at Matira beach for Kids
Matira beach is family friendly. There is plently of clean, white sand for the kids to play in. The water is calm and shallow (never any big waves), so it is a very safe swimming area children. There is not any equiptment available, like what is provided at the Bora Bora resorts, so bring your own floaties, snorkeling gear ect.