Bora Bora Pensions, Guest Houses &
Budget hotels
Here are the most popular Bora Bora pensions, guest houses and family hotels. They provide a different style of vacation to the luxury resorts. If you want comfortable, friendly Polynesian island hospitality or more affordable Bora Bora accommodation there's plenty of choice.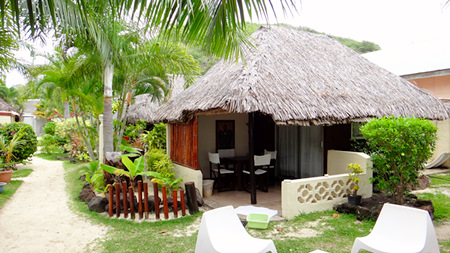 Beach front bungalow at Village Temanuata Bora Bora
Bora Bora Pensions &
Budget Hotels On a Motu
Eden Beach Hotel Bora Bora
Eden Beach is on a motu to the east of Bora Bora Island. The best thing about this small family run hotel is it's view across the lagoon to Mt Otemanu. It's 4 beach bungalows and 8 garden bungalows are small. They're constructed from natural local materials, solar powered (sometimes there's no hot water) and simply furnished with a queen bed and 2 chairs. The lagoon is shallow in front of the resort and it's a long wade to water deep enough for swimming. All meals can be provided and are cooked by Vlad, the owner. Transfers to the main island are very expensive.
This is not the Eden Resort of the popular 'Couples Retreat' movie! The comedy 'Couples Retreat' was filmed at one of the most luxurious resorts in Bora Bora. Although Eden beach offers a cheaper vacation this hotel has very mixed reviews. Do compare prices with resorts like the Le Meridian or Sofitel.
Blue Heaven Island 
Monique La Voie and Alain Elie own this motu near Bora Bora airport. They provide 5 Polynesian bungalows set in tropical gardens. Each has either a king bed, queen bed, or twin beds, and a bathroom with solar hot water. There is a shared open air living area and sun lounges alongside the lagoon.
Bora Bora Pensions &
Budget Hotels On the Main Island
Hotel Matira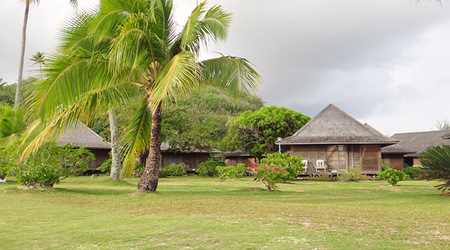 Hotel Matira is right on Matira Beach
This small, family run, budget hotel is located alongside the public beach at Point Matira, opposite the Intercontinental Le Moana. It's 14 rustic, Polynesian style bungalows set in an immaculate garden amongst hibiscus and tiare. Choose from 2 beach bungalows, 4 lagoon view, 5 garden view and 3 standard. Each simple, modest hut has a little deck with sun lounges, 2 queen beds, shower, and a fridge. A beautifully presented French breakfast can be included. Full or half board is available at the Fare Manuia. Or you can enjoy the variety of eating places in this popular area of the island.
Village Temanuata
These 11 small and simple, Polynesian bungalows are in a lively location at Matira Beach. They are set in two rows between the Circle Island Road and the white sand of Matira beach. Each has it's own bathroom with hot water shower. Staying at Temanuata gives you a variety of food chooses. Fare Manuia is next door and there are other restaurants, including the Intercontinental Le Moana, nearby. You're also close to shops and activities.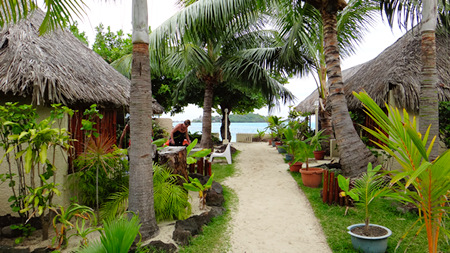 Village Temanuata's pathway to the bungalows
A beach front bungalow at Village Temanuata Bora Bora
The beach at Village Temanuata Bora Bora
Pension Robert Et Tina
This is located alongside the lagoon, at the tip of Matira Point. Bora Bora Pension Robert Et Tina is 3 individual houses owned and run by a Polynesian family. One house has 6 rooms and the others have 3 each. When you rent a room you share a well equipped kitchen, toilet and cold shower. A whole house can be rented at a reduced rate for an extended period of a week or more.
Chez Nono
Located right on the public beach at Point Matira, this Bora Bora pension is popular with backpackers, surfers and those wanting Bora Bora low budget beachside accomodation. It's east facing aspect captures wonderful over water sunset views. Accommodation includes 2 large Polynesian style family bungalows and each sleeps up to 4 adults. Each house has a fridge and a bathroom with solar hot water. French breakfast can be provided if you wish. The owner is Nono Levard of Teremoana Tours and his daily tours leave from the beach in front.
Rohotu Fare Lodge
Rohotu Fare Lodge Lagoon View Bungaolow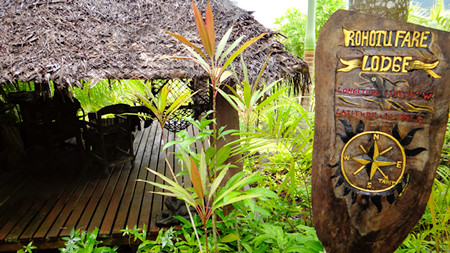 Rohotu Fare Lodge Library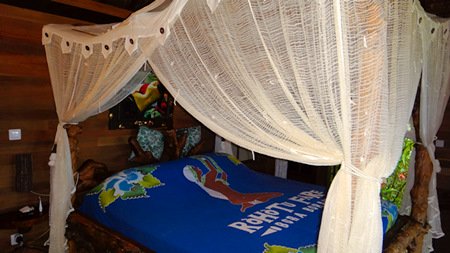 Rohotu Fare Lodge Lagoon View Bungalow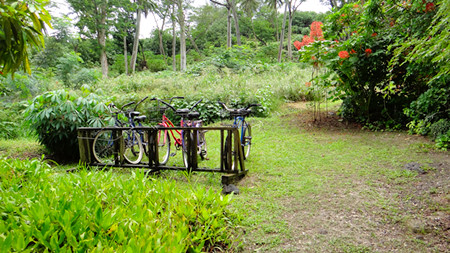 Complimentary bikes at the Rohotu Fare Lodge
This exotic Bora Bora pension sits up high on the mountain slope above Pofai Bay, south of Vaitape, and has a Mt Otemanu view. Rohotu Fare has the honor of being the only Bora Bora pension awarded 3 tiares by Tahiti Tourist Office. Pebbled pathways lead through botanical fruit gardens to 3 bungalows. The 2 lagoon view bungalows are individually designed with an erotic décor for lovers. One bungalow with a mountain view is great for those looking for family pensions in Bora Bora. Each artful bungalow has a kitchenette, an outdoor bathroom with hot water shower and gorgeous private garden. The driveway to the property is very steep. It's a few minutes walk to have a cocktail at Bloody Mary's and eat at Kaina Hut.
Bora Bora Pension Noni
Pension Noni, owned by a friendly Polynesian family, Denis and Gloria Tetuanui. It's on a mountainside, just a 10 minute walk from Vaitape village center. The house has 3 rooms that sleep up to 3 people. Each has a fridge and it's own bathroom, with hot water shower. Breakfast is included in the rates. Lunch and dinner is available in their restaurant-snack and there are restaurants, roulettes, and snacks in the area.
Sunset Hill Lodge
This guest house is a 10 minute walk from Vaitape village center. As it's located further up the mountain road from Pension Noni (away from the Circle Island Road) it is quieter and has a lagoon view. The 5 individual accommodations are set in a tranquil Zen garden, with waterfall, and are perfect for nature lovers. Each has a double bed, private bathroom with hot water shower, and a conveniently equipped kitchen. Some can sleep extras. Laundry facilities are available. Wifi is included.
Sunset Hill Lodge is owned by Gerard Beon who has a reputation for being the most friendly, helpful host in Bora Bora. He organizes excursions, drives guests to restaurants, rents kayaks and transports you to the lagoon for a paddle. It's the best value low budget Bora Bora pension. Divers will love that it's a 3 minute walk to Top Dive.
Pension Moon
Muna Teriitehau's Pension Moon is located on Pofai Bay south of Vaitape, next to Galerie d'Art Alain et Linda. It has 4 bungalows with kitchens and bathrooms.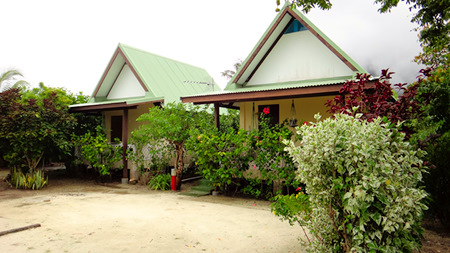 Pension Moon Bungalows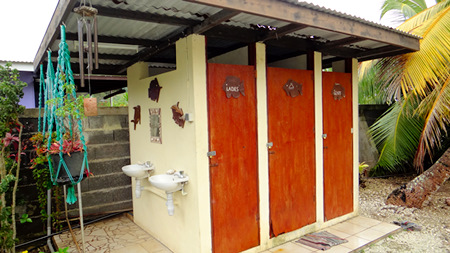 Pension Moon Facilities
Bora Vaite Lodge
Situated on the mountainside with views over the lagoon at Hitiaa Bay 6.2 miles (10km) north of Vaitape centre, this is the large 2-story house of Vaite and Alain Wernert. Bora Vaite Lodge offers 3 rooms which can sleep up to 4, and a studio with 5 beds. The bathroom is shared. There's also 2 self contained apartments with a double bed and 2 singles.
Alain was the chef at the much loved Hotel Bora Bora (which has now closed) and Vaite ran the gift shop. The food is a feature of this Bora Bora pension. You can chose to have a delicious breakfast, lunch or dinner for a set cost.
Pension Lagoonarium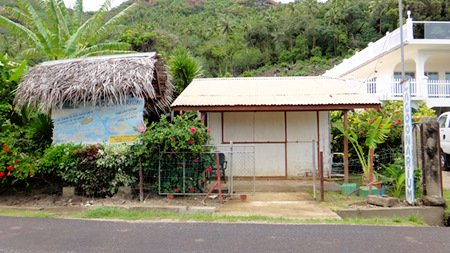 Lagoonarium Pension Bora Bora
Pension Lagoonarium is situated alongside the lagoon at Anau Village but there is no good beach at this part of the coastline. It has 3 garden bungalows with bathrooms and 4 rooms with a shared bathroom. For those wanting Bora Bora cheap accommodation there's a 20 bed dorm with a shared bathroom and shared kitchen. The owners also run the Lagoonarium marine life park. 
Choosing a Bora Bora pension, guest house, or family hotel
During our vacations in Bora Bora we've learnt that, due to the uniqueness of this special island, there's many factors to consider when choosing a Bora Bora pension, bed and breakfast or cheap hotel.
Here's the price range for Bora Bora pensions, and how they are categorized.
Tips for an affordable Bora Bora vacation
If you're planning to explore Bora Bora on a low budget, read our advice on how to have an affordable Bora Bora vacation.
Special mentions... Chez Rosine Masson
In January 2012 this historic Bora Bora pension went up in flames during the night. Located next to Village Temuanata on Matira Beach, this beautifully decorated 2 story wooden guest house was the home of Polynesian artist Rosine Temauri-Masson and a French Painter. Run by Rosine's family, it offered 2 bedrooms with double beds on the ground floor and upstairs there were 2 rooms with double beds plus a dormitory with 3 beds.
Home › Bora Bora Pensions
Search the Site

Are you still looking for additional information? You can use the Google search box below to search the site.