About Bora Bora Island Guide

How we can help your dream Bora Bora vacation come true

We know exactly what it feels like to long to visit Bora Bora. And how amazing it is to be there! To us, it is the happiest place on earth.  We believe this heaven-on-earth must be seen and experienced at least once in your life. Here at Bora Bora Island Guide we share Bora Bora stories to give insights that you need to create your perfect Bora Bora story. If you explore the pages of our site, you will discover practical information dispelling the many mysteries surrounding this far-off, legendary isle. The illuminating discussions and comparisons will help clarify choices about when to go and where to sleep, eat and play in such a unique environment.
We understand your desire to go to Bora Bora and that going to Bora Bora may be a once in a lifetime vacation for many of you. We are aware of how special this goal is and how excited you will feel when you arrive. That's what motivates us to share the tips and strategies that helped us to frolic around the Bora Bora lagoon; first on a shoe string budget and then on more lavish ones, pampered in luxury. Whether you are backpackers, honeymooners, or celebrating a special mile-stone; we can show you how to achieve your perfect Bora Bora vacation with your budget and in your preferred style.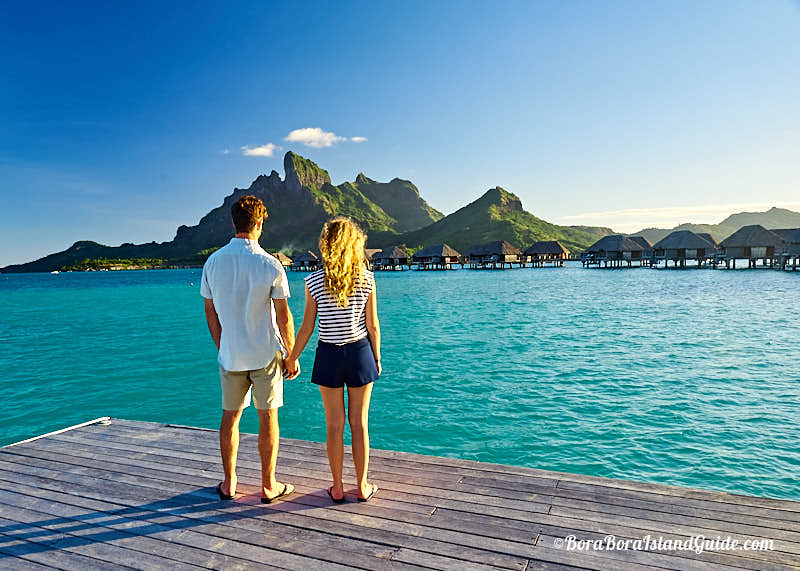 Tom & Melinda entranced at the Four Seasons Bora Bora aspect
We are real travelers, just like you!
We fly in and out of the islands of French Polynesia and stay there on real vacations so we give you the traveler's perspective for planning, booking and living your Bora Bora dream. We do this trip frequently and have visited in each season. Our experiences can help you make the best choices and make the most of the precious time you have on-island.
The in-depth knowledge of Tahiti and Bora Bora that we have gleaned from our own travel means you can have the best time the first time you go! We know the best places to stay and the not-to-be-missed experiences that capture the uniqueness of French Polynesia. We don't cover everything in Bora Bora - we reveal the best of Bora Bora - and share the most essential information that you need to know and hidden gems that took a few visits for us to discover. We've personally experienced every aspect we write about in Bora Bora Island Guide.

Tom, Melinda & Gloria - the Bora Bora Island Guide team lunching at the Conrad pool
We share real travel stories

We don't simply share pretty pictures; we tell the stories behind them!  We aren't in Bora Bora one moment and  Morocco the next. You can see a plethora of photos of Bora Bora shared through social media but only on Bora Bora Island Guide will you get the detail, information, and insights behind each photo - because the photos have been taken by us on location during our Bora Bora vacations. Each of us has traveled widely and through comparison truly appreciates the exquisite beauty of this far-off isle. We are dedicated Bora Bora lovers.
Opinions, reviews and tips are from our own personal experiences. We are honest about our experiences and  fussy about what we recommend. We are travel influencers who are sharing knowledge because of our love for the destination and the joy we get from helping you have your dream come true too. We think we have the best 'job' in the world!

Why are we so passionate to help you?

Our love for Bora Bora began from seeing a photo in a high school geography classroom. Could a place that beautiful really exist? Since first reaching it's white-sand shores (by boat) this magical island has given us years of vivid memories, inspired us to create this guide, and even helped keep one of us alive! What began as a bucket-list trip became a regular family vacation spot and the place that inspires us every day of our lives.

Mum and me mesmerized on the 2nd story balcony of our Conrad Bora Bora Presidential Suite
Once you have experienced the magic of Bora Bora, you can return there any time, when seeking inspiration and joy. In a mundane or difficult moment; I can transport myself to the glistening, turquoise lagoon and remember the feeling of jumping into warm water or the fragrance of exotic flowers wafting on the breeze.  Bora Bora has given us many gifts in the form of adventures, inspiration, tranquility, a reason to keep working and living, and this website. When Gloria became so sick that she couldn't go to work, we would sit together and tell Bora Bora stories. We put up photos and began writing about experiences from our enchanting trips and, because of our combined qualifications and skill-set, this website was born.
Through her wellness journey, we have been able to continue to visit Bora Bora and keep working on Bora Bora Island Guide which quickly evolved into a popular resource for many thousands of people all around the world. We've also published two books that are of great value to those wanting to turn their dream into a splendid vacation. Our romance with Bora Bora has literally been a boat that kept us afloat through the toughest of times. I was proposed to at a dinner alongside the lagoon and now my husband, Tom (a water-sport enthusiast when not in his suit), has joined our pleasure-seeking crew.
It's a small isle so through the years we've visited all the resorts, in different seasons, watching some close, some get older, and others transform or be purchased by an enthusiastic new oner. We're also passionate foodies (and fantastic cooks) so on each trip we've almost eaten at as many restaurants as there were meals. Each visit, we discover that some restaurants and cafes are gone, while new ones have opened; plus new excursions are on offer. There are always fresh adventures to try ! The best news is that despite all the changes, Bora Bora remains pristine and it's main attraction - the enchanting lagoon - remains pure and breathtakingly beautiful.

What if you could have someone help plan the most important trip of your life?

While many vacations can simply be organized online yourself, or through a standard travel agent, a destination as special as this one requires assistance from someone who has intimate knowledge of the islands and the resorts and has your interests in mind. We know from experience that having the right person to help plan this most important trip is crucial. During the dreaming and planning stage of your Bora Bora journey we provide detailed information about all the choices you need to know of to decide what you want. When you're ready to book we can point you in the right direction. We've partnered with our favorite Tahiti travel agent, Pacific For Less, who can help you to book your perfect vacation.
Pacific for Less only books French Polynesia. They understand every couple is unique and act as your personal assistant, making sure everything is perfect from the moment you start working with them until the day you come back home. What is so amazing about their service is they can elegantly put a package together (usually with extras thrown in) and it costs less than if you tried to do it yourself! There's no need to waste time searching around. Unlike many places that cater for large numbers of tourists and do last minute deals, with Bora Bora, the sooner you book, the more choices will be available and the more likelihood of sourcing special pricing. So when you're ready for a personalized vacation quote click here to connect with their expert advisory team.

Join us at Bora Bora Island Guide!
If you have a passion for Bora Bora, you're in the right place. Many folk around the world dream of visiting Bora Bora but only a few make it there - which is why the island remains so pristine and safe! We can help you achieve your dream. If you don't want to miss a thing, why not sign up for free monthly Bora Bora updates in our newsletter?

Search the Site

Are you still looking for additional information? You can use the Google search box below to search the site.