Bora Bora Air Tours
Bora Bora air tours are available again! Tahiti Air Charter has returned seaplanes to French Polynesia; offering unforgettable, sightseeing tours over Bora Bora island and exciting, new day-trips. They're worth every dollar.

When Tahiti Helicopter stopped showing off Bora Bora from above (in 2017) many folk planning their dream vacations were disappointed. The good news is that Tahiti Air Charter is now flying visitors around in a Cessna 208 Caravan amphibian, designed to land on both land and water. Bora Bora air tours are the ultimate way to see the world's most famous isle. They also offer a privileged viewing of other pristine, Tahitian islands.
Want a riveting bird's-eye-view of Tahitian islands from the air? Or a competitive angle for snapping  extraordinary shots? Here are descriptions - and how to book - for scenic Bora Bora air tours including: Sightseeing Flight Over Bora Bora and Tupai; Sightseeing Flight over Bora Bora, Taha'a and Raiatea; Sightseeing Flight over Bora Bora, Taha'a and Raiatea. Private flights can be arranged to most islands in French Polynesia, and you can even organize a private flight from Papeete international airport to Bora Bora.

Available Bora Bora Air Tours
This spectacular full-day excursion whisks you from Bora Bora, across to the island of Taha'a which is just visible, on the horizon. Pristine Taha'a is fondly known as the "vanilla isle" and has several wonderful attractions.
The tour starts with a complimentary boat transfer from your hotel to Bora Bora airport. The seaplane flies across to Taha'a and gives views of the untouched tropical vegetation from above, before landing on water, on the west side of the island. You'll see exotic landscapes and enjoy entertaining activities including visits to the Taha'a rum factory; Vanilla Valley; and Belvédère lookout point, which has awesome views over the bays. A delicious lunch is served island-style, on a lovely motu, with your feet in the sand. The guide will pamper you with a wide range of beverages. This incredible Bora Bora excursion - on land, over the water and in the air - includes unique experiences that both excite and refresh. The seaplane transports you back to the Bora Bora airport and a boat will return you to your hotel.
Check availability and book your tour here
This astonishing half hour of entertainment lifts you up into the skies above Bora Bora and Tupai. They're likely to be the most eye-widening moments of your life ... and the memories go on forever. These Bora Bora air tours are actually twice as long as the cheapest Tahiti helicopter tour was.

The exciting sight-seeing tour begins with a complimentary boat transfer from your hotel to the Bora Bora airport where you take off in a Cessna 208 Caravan. From above, the Pearl of the Pacific is seen as a sparkling mosaic of defined blues and greens, so get ready to count them while soaring above - if that's what turns you on. I once heard another guest state, authoritatively, that "the lagoon has 100 shades of blue". I wondered if that number was calculated by a scientist, a mathematician, or an artist.

You'll be dazzled by splendid sights of the glamorous resorts with their romantic over-water bungalows attached to walkways over the lagoon; admire the 2-mile-long, white-sand beach edging the southern-most landmark, Matira Point;  and see intriguing relics from World War 11 on some of the highest look-out points that are only accessible in a land rover . As you fly by the rocky sculpture of majestic Mt Otemanu, look for the mysterious, ancient cave on the mountainside.
After viewing the tropical vegetation on Bora Bora's verdant slopes and the ever-changing blues of the lagoon, the sky tour heads 11 miles north to see untouched, heart-shaped, Tupai. It's a lovely lesson on how atolls are formed. Tupai is a ring of untouched white-sand beaches, backed by coconut palms; surrounding a shallow, turquoise lagoon. After landing back at Bora Bora airport, you'll be returned to your hotel by private boat.
Check availability and book your tour here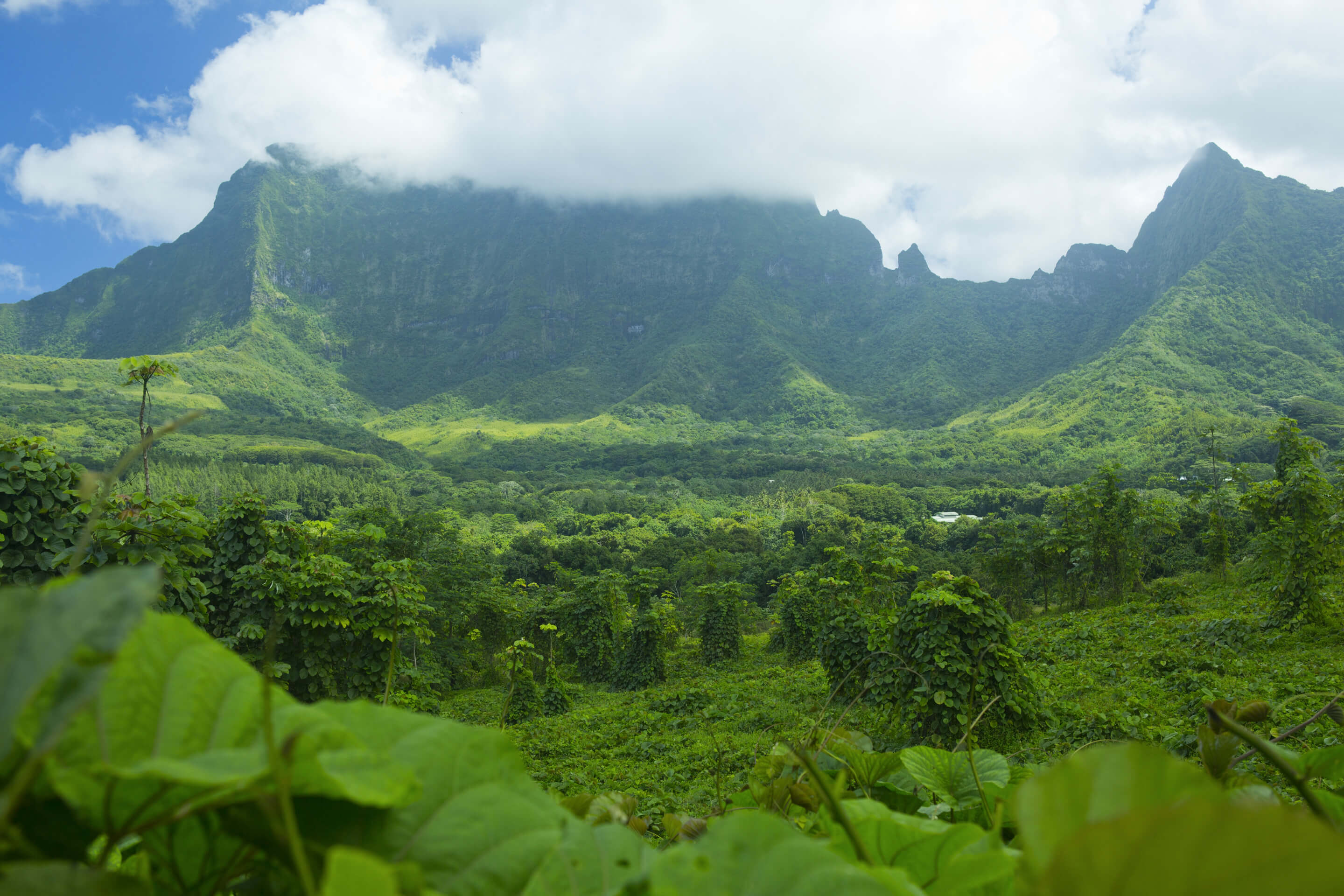 © Tahiti Tourisme
These 45 minute Bora Bora air tours transport you on a joyous sky-ride over the blue and green kaleidoscope of Bora Bora and the nearby Society Isles, Taha'a and Raiatea. As with all the air tours, complimentary transfers are provided  between resorts and the airport motu.

Guests board a Cessna 208 Caravan to fly over the lush jungle and rocky towers of the world's most photographed island and marvel at the mesmerizing, multiple, blue hues of it's protected lagoon. The main Bora Bora attractions you'll spy are: award-winning "best beach in the world" Matira's exquisite 2 miles of white sand; intriguing relics from World War 11 (which were laboriously pushed and pulled up to the most advantageous look out points); and the luxurious layouts of all the glamorous Bora Bora resorts.

This tour flies east to view the sister isles of Raiatea and Taha'a, which share one very large lagoon. The first Polynesians arrived at Raiatea after long canoe voyages. They built religious sites so it's referred to as the "sacred island ". From above you clearly see Faaroa Bay with Taputapuatea marae alongside, regarded as the cradle of Polynesian civilization and recently designated a UNESCO World Heritage Site.
As Taha'a was formed on another side of the same large crater - which created the lagoon - these 2 islands share a vast lagoon which is so deep in parts that Raiatea has an awesome (or scary) "drop-off" so is one of the rare Polynesian islands where small ships can actually dock. The tour swoops visitors over the untamed wilderness of exotic Taha'a which is home to a few Tahiti pearl farms, vanilla farms, and a rum factory. You'll see that each island, created by nature's power, is quite different in appearance.
Check availability and book your tour here
Private Sightseeing Air Tours from Bora Bora

Want the most luxury that money can buy for your Bora Bora vacation? Or is your face so well-known that you need to guard your privacy to truly enjoy yourself? Imagine flying over the world's most revered islands and landing on turquoise lagoon! Private Bora Bora air tours can be arranged to most islands around French Polynesia.
These privileged flights offer visitors the joyous freedom to easily explore other pristine islands, in style. It's possible to book a private flight between islands, for transferring to your next hotel. And if you desire to visit a new island which you haven't yet explored, that's possible too! Tahiti Air Charter offers enviable, extraordinary adventures to those wanting to fly around from Bora Bora.

Bora Bora Air Tours offer Return to Tahiti Flights!

The Cessna 208 Caravan can fly up to 1682 km, has 8 passenger seats, and can carry a maximum load of more than 1000 kg; making it the perfect aircraft to serve the small, scattered islands of Tahiti. Whether you need a flight for business, leisure, or freight transportation, the team aim to delight you with an experience of a lifetime.
Want to go fishing or surf the most sensational waves in the Tuamotu atolls?
Need some goods urgently carried? Desire to visit several islands in a limited time?
Looking for views, comfort and privacy for your private flight from Tahiti to to Bora Bora?                                                   
Tahiti Air Charter can fulfill your needs, whims and dreams while traveling like a star!
These rates give an indication of cost : Bora Bora / Maupiti (20 min) : USD $1,521.00 Papeete / Taha'a (60 min) : USD $4,680.00 Papeete / Bora Bora (75 min) : USD $5,850.00 Bora Bora / Rangiroa (120 min) : USD $9,360.00
How to Book Bora Bora Air Tours

In Tahiti, the colors are so vibrant that you've got to see them, in reality, to grasp the profound loveliness that abounds. Bora Bora Air Tours are simply the most exclusive, most amazing tours available. If you have a penchant for photography, taking one is essential. But don't assume that you can decide to take an air tour after you arrive: places are very limited and you'll likely miss out! If you want to see the world's most lauded island, at it's sparkling best, book one of these Bora Bora air tours as soon as your travel dates are set.
Search the Site

Are you still looking for additional information? You can use the Google search box below to search the site.