Bora Bora Honeymoon Activities
Create your vacation of a lifetime with these spectacular Bora Bora honeymoon activities. They're perfect for exploring the most beautiful island on earth, with your beloved, while every detail is taken care of, for you.

A honeymoon in Bora Bora is your chance to play like the stars: the island specializes in treating honeymooners like celebrities.
All these Bora Bora honeymoon activities include a pick-up from and return to your resort. This makes them extra enjoyable because getting around Bora Bora's water-world is a mystery, the first time you go.
Be sure to choose one excursion that includes a feet-in-the-sand picnic lunch on a sandy motu. Some of the most scrumptious food we've eaten, while in Bora Bora, has been on these remarkable tours.
If you want romantic "alone time" in paradise, book a private tour: the experience is worth paying extra. Moments on the lagoon feel more magical when it seems as if the beauty has been created "just for the two of us"!
Consider putting a couple of these romantic Bora Bora honeymoon activities on your list of gift suggestions if you're in the process of planning your wedding. It gives family and friends a chance to participate.
These extraordinary tours do sell out so book before you go to make sure the ones you want are available. Organizing tours, before traveling, gives more time for actually vacationing while you are on-island. Have fun choosing from these most memorable excursions:
Sail the Bora Bora Lagoon

Sailing around Bora Bora on Vitamin Sea, a former 40 ft racing catamaran, is the most relaxing way to appreciate the sublime beauty. The half day tour is limited to 4 couples and each has their own spacious area to lie back together as the boat glides quietly across the water. The much-traveled, friendly hosts share their knowledge of the region while you cruise effortlessly to shallow waters where you are indulged by a floating bar experience with champagne, mango, and coconut - served up on bright turquoise water! It's a very pleasurable four hours of fantasy: perfect for adding sparkle to a honeymoon.

Check availability and book here

Bora Bora Stargazing Tour
This delightful, stargazing tour begins with sipping bubbly on a romantic boat-cruise as the sun slowly sets below the water. As the stars appear in the black velvet sky, the guide tells the fascinating story of how daring, ancient Polynesians set out across the Pacific Ocean in their ingenius, outrigger canoes, using the stars to navigate their direction as they searched for islands. The relaxing tour is in a small group setting, with a maximum of twelve people.
Check availability and book your tour

Sunset Cruise & Dinner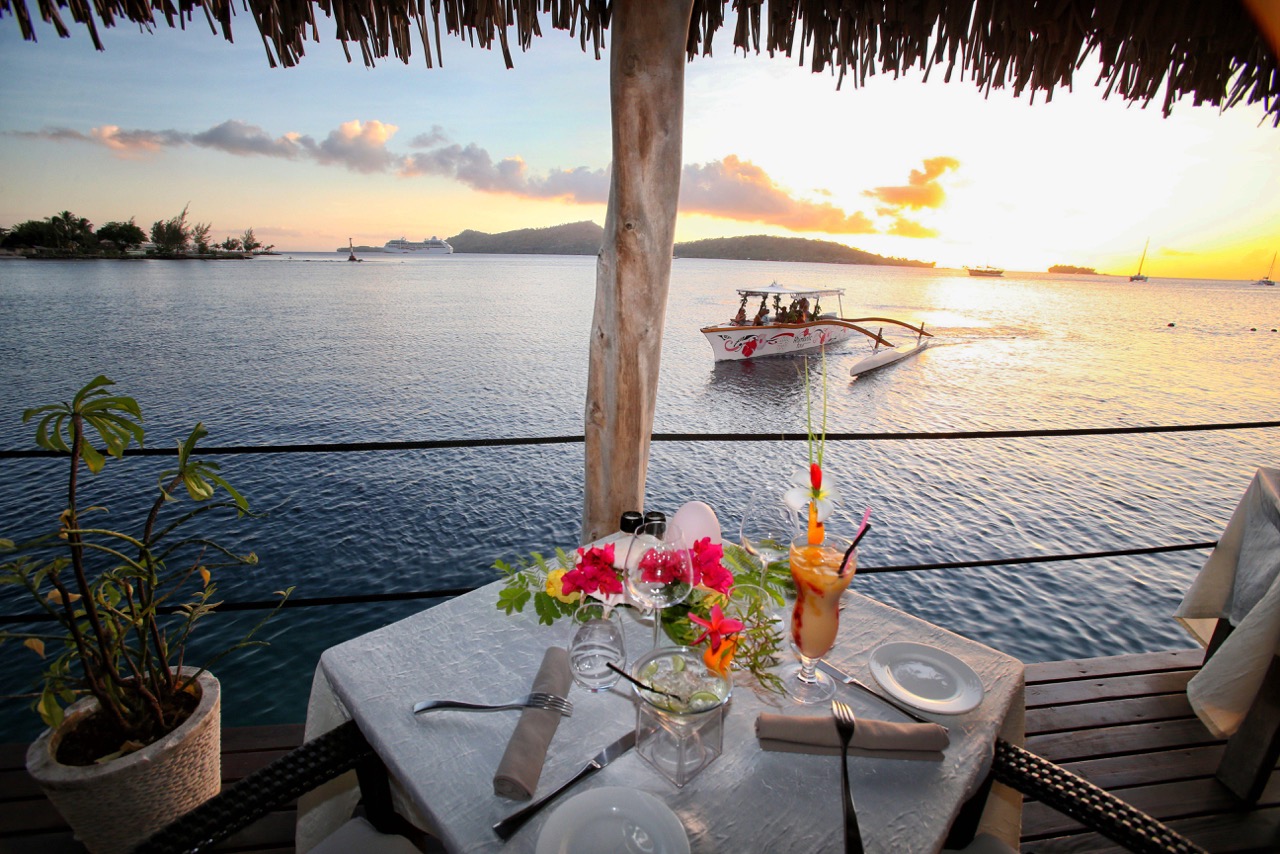 This evening around the lagoon provides an intimate atmosphere to relax and be lulled by the gentle lapping of waves, as you sip a glass of sparkling wine while cruising the Bora Bora lagoon, at sunset. As the golden orb slowly drops into the water, and the lagoon turns from turquoise to silver, you'll be mesmerized by the grand display of color and clouds in the sky.
We loved that this small group tour included 2 ideal Bora Bora honeymoon activities. After the cruise the boat drops guests off for a romantic, lagoon-side dinner of French cuisine at St James Restaurant which is one of Bora Bora Island's most highly-rated places to eat. Taking this tour makes it easy and fun, to get to (and back from) motu resorts, to try some delicious food at a main island restaurant.

Check availability and book your tour

Bora Bora Sunset Catamaran Sail
This tour is our top recommendation for romantics who crave tranquility. There's simply no more thrilling way to connect with your beloved than a sunset sail on the world's most famous lagoon. You enjoy a silent, smooth ride around the most gorgeous landscapes of Bora Bora lagoon; in the spectacular moments as the sun goes down. Chilled music plays on the sound system and ice cold drinks are served along with snacks. The friendly hostess  takes superb care of guests, ensuring they have an unforgettable experience.
Check availability and book your tour here

Private Sunset Cruise
A private sunset cruise is one of the most exclusive Bora Bora honeymoon activities. It's the ultimate way to venture onto the world's most beautiful lagoon for a romantic tete a tete. The captain gently boats you around to the loveliest places while you lay back on the sun-bed, snuggling with your beloved and surveying the ever-changing colors in the extraordinary sky. This wonderful sunset tour is a two-hour excursion which includes: pick-up at your hotel, drop off at the place of your choice (it's a chance to get a lift to somewhere different for dinner, if you wish), petits-fours, and Champagne.
Check availability and book your tour here

Private Morning Snorkeling Tour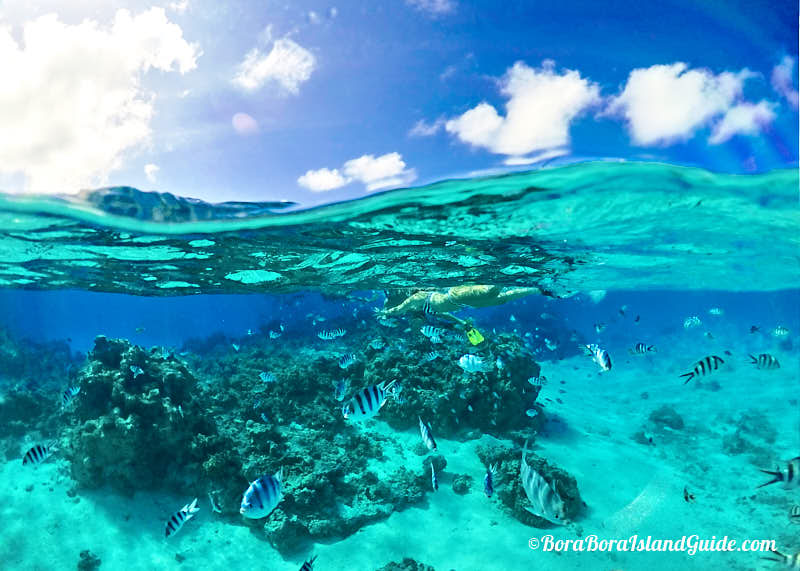 A lagoon tour - with stops to meet the sharks and stingrays, plus snorkeling opportunities - is a must do excursion. A private tour is perfect for those who don´t want to share a boat (or have other excursioners in photos). A guide explains the available options and allows you to choose which parts of the lagoon you visit, according to what you want to see and do and photograph. There are 10 spots to choose from inside the lagoon and on the ocean side of the reef. It's also possible to go for a scenic circle-island-tour without snorkeling (although you'll miss some extraordinary locals). Or to stop in Vaitape town for some sight-seeing and shopping. So choose this private tour if you wish to customize a fabulous half day filled with your pick of Bora Bora honeymoon activities around the lagoon.

Check availability and book your tour

Dinner on the Beach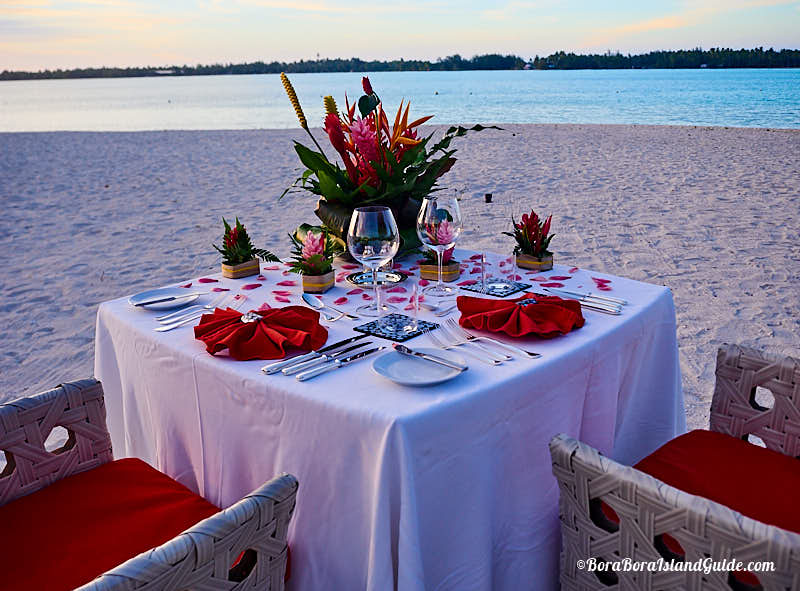 You don't even need to leave your resort to do one of the most romantic activities in Bora Bora! Booking a private dinner for two on the beach of your resort is a perfect way to spend an intimate evening together that exudes romance. Finding the best location for your Bora Bora dinner on the beach is crucial for making it the most magical experience that you will remember for years to come. We have scouted and experienced the best locations for a Bora Bora dinner on the beach, and will share them with you. Here are the top 3 resorts for a Bora Bora dinner on the beach.

Sightseeing Flight Over Bora Bora & Tupai
This half hour in the skies above Bora Bora will begin your marriage on a joyful high note: it's the ultimate way to view the world's most famous isle. You'll be dazzled by splendid sights of the glamorous resorts with romantic over-water bungalows attached to walkways over the lagoon; admire the 2-mile-long, white-sand beach edging the southern-most landmark, Matira Point;  and spot intriguing relics from World War 11 on some of the highest look-out points, that are only accessible in a land rover . As you fly by the rocky sculpture of majestic Mt Otemanu, you'll spot the mysterious, ancient cave on the mountainside.
After viewing the tropical vegetation on Bora Bora's verdant slopes and the ever-changing blues of the lagoon, the sky tour heads 11 miles north to see untouched, heart-shaped, Tupai. It's a lovely lesson on how atolls are formed. Tupai is a ring of untouched white-sand beaches, backed by coconut palms; surrounding a shallow, turquoise lagoon.

  Check availability and book your tour

Taha'a Daytrip by Seaplane
This full-day trip to Taha'a, by seaplane, is one of the most exclusive and entertaining Bora Bora honeymoon activities. The tour takes to the skies above Bora Bora before heading across to Taha'a, which is visible on the horizon. After surveying the exotic jungle from above the pristine island, the plane lands on it's large lagoon. Taha'a is a quiet little isle where time has stood still and doesn't receive many visitors. So you'll enjoy warm hospitality while you visit the Taha'a rhum factory, Vanilla valley, and the Belvédère look-out which has awesome views over the bays. The delicious feet-in-the-sand lunch is a smorgasbord of  local style dishes, served with a variety of drinks. 

Check availability and book your tour

Bora Bora Tandem Sky-dive
If you're into extreme sports, grab this opportunity to view the extreme beauty of Bora Bora from above. The tandem sky-dive provides an adrenalin thrill from the terminal velocity of a 200 km/h free-fall above the spectacular kaleidoscope of the world's most  admired lagoon. It includes an easy 15 minute instructional briefing, a 25 minute scenic airplane flight, 40 seconds of free-falling, and up to a 6 minute parachute ride. Sky-diving is a metaphor for marriage: it's scary, but you take the plunge and experience amazing joy. Going together is a sweet way to symbolize and celebrate your union.

Check availability and book your tour

The delight you experience, while engaging in Bora Bora honeymoon activities, will follow you home. Come back to our site and tell others which of your honeymoon activities you most enjoyed!

Search the Site

Are you still looking for additional information? You can use the Google search box below to search the site.