Book the Best Bora Bora Jet Ski Tours
On Bora Bora jet ski tours you zip around the ever-changing blues of the world's most photographed lagoon; surrounded by entrancing, volcanic wonder. 
Each blue bay and angle of the main island's emerald slopes, with the black-rocks of Mt Otemanu and Mt Pahia towering above, gives a perfect postcard view. You'll linger on a sandy motu, graced by palms; and get a gander at the opulent over-turquoise bungalows of luxurious resorts set on the ring of outlying coral motus (isles). Jet ski tours include a visit to award-winning Matira beach. It's a surreal ride and you'll have the best photo opportunities, your guide knows them.

Bora Bora jet ski tours are the raciest activities in Bora Bora's lagoon. Even those who own a jet ski, at home, declare that skimming across luminescent water, in paradise, is an event not to be missed! If you've never been astride a jet-ski before this calm lagoon is the perfect place to start. Learning to ride is easy and just takes several minutes.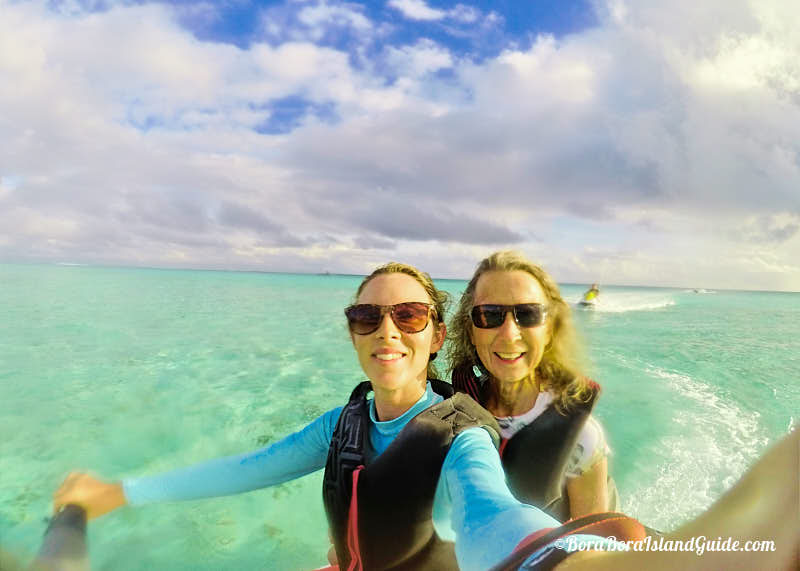 Note to self: Apply sunscreen before beginning the tour and wear your swimsuit under sun-protective clothing, even if you have a gorgeous tan. Comfortable water shoes are a must and take an underwater camera.

You can choose to book just a jet ski ride around the most fabulous parts of the lagoon ... or turn the occasion into a whole day of sight-seeing. Either way, the time frame for a Bora Bora jet ski tour is 2 hours. You'll be conveniently picked up from, and delivered back to, your hotel/dock or the Vaitape Pier. As getting around in this water-world isn't like anywhere you've been, this is a great inclusion.

This is a small island and the number of jet skis available is strictly limited. To be certain of availability book one of these Bora Bora jet ski tours as soon as your vacation dates are set.
Half Day Bora Bora Jet Ski Tours
These 2 hour jet ski tours are such a fun way to see the world's most beautiful island and can be done solo, or with 2 riders on a jet ski. The logistics and itinerary are identical, only the price differs. A morning or afternoon can be chosen. A guide will lead you as you zoom across the myriad of brilliant blues (which make this the world's most beautiful lagoon) to view Bora Bora from the most stunning vantage points. Two stops are planned, including one at a gorgeous beach where you relax, swim, and enjoy treats in a coconut opening demo. Your host will share aspects of Polynesian culture and clue you on island landmarks.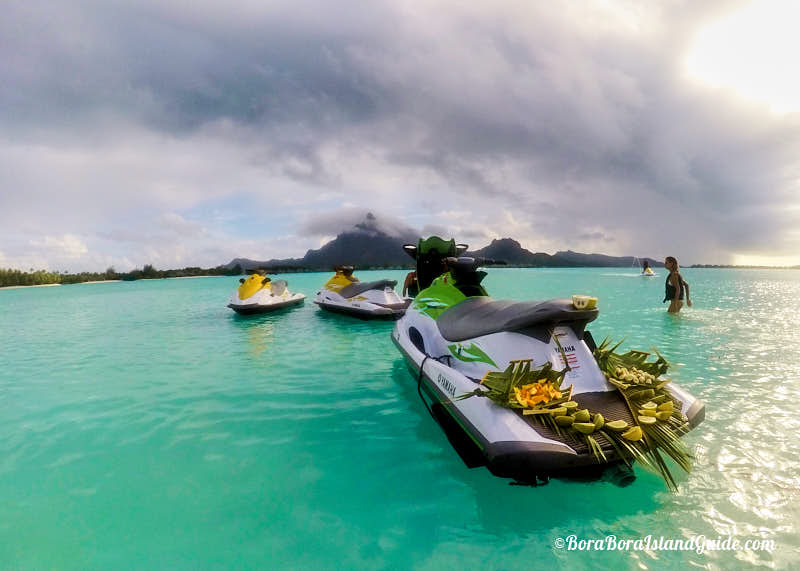 Bora Bora Jet Ski Tour Riding Double
If you're happy to ride as a duo, this costs almost half the price of going solo. A licensed jet ski instructor will demonstrate the controls, give a safety briefing, lead the single file, and be available to help throughout the tour. It's a game of follow-the-leader through Wonderland.
Self-Drive Bora Bora Jet Ski Tour
This is for those who want the thrill of wearing the driver's hat for the entire tour.
Whole Day Adventures
Some excursions offer a whole day of enjoyment, including a Bora Bora jet ski tour. There's no need to pull out your wallet, everything is arranged for you, and you receive more value for dollars spent. You'll see the most celebrated aspects of this famous island one engaging tour. If your vacation priority is to relax you'll never have to leave your resort again.
We love that these Bora Bora jet ski tours allow you to have an exciting day out, crammed with diverse activities, without having to plan a thing. It's extraordinary to be sleeping at one of the most secluded and private isles on earth, and be whisked off to the most entertaining activities in Bora Bora.
Four Wheel Drive, Lunch at Bloody Mary's, Bora Bora Jet Ski Tour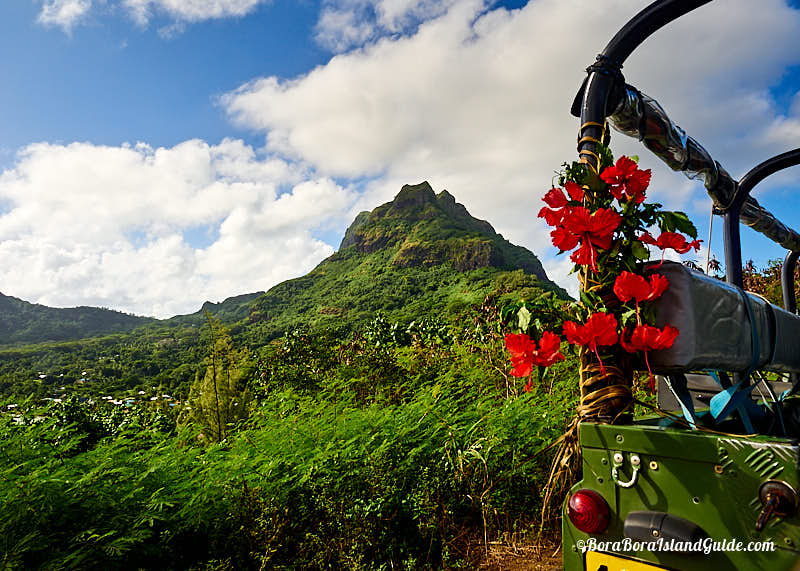 This awesome day out begins with a round the island land trek, in a 4WD open-sided truck, built to navigate the wild inner inland. You'll be awed by panoramas from some of the highest look-out points, where the US military placed surveillance during WW11. The informative drive includes a visit to a local artisan shop producing coconut oil and traditional sarongs. Lunch is a feast of seafood, burgers, sandwiches and local specialties; in the unique tropical island atmosphere at legendary Bloody Mary's. In the afternoon you play off the calories on a 2 hour Bora Bora jet ski tour around the lagoon (as described above).
Bora Bora Jet Ski Tour, Lunch at Bloody Mary's and Shark and Stingray Snorkel Cruise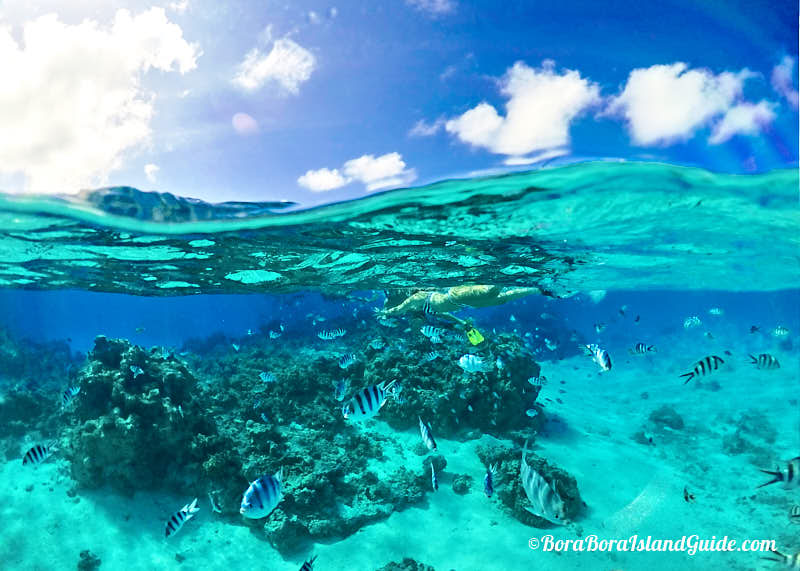 On this fun day you'll be utterly bewitched by the world's most dazzling lagoon. You begin with a Bora Bora jet ski tour (as described above); lunch with your feet in the sand at Bloody Mary's (seafood, burgers, sandwiches and local specialties); and then get back on the water in a powerboat. The first stop is in a shallow area of the lagoon, frequented by black-tipped reef-sharks. While your guide attracts them with food you can put on snorkel gear to have a closer look, or watch from the boat. At the next stop the boat is anchored on a sandbar for a meeting with curious stingrays. The third stop gives an opportunity to explore one of the lagoon's most beautiful coral gardens. You'll discover that some of Bora Bora's most fascinating scenery is actually underwater.
Best Bora Bora tours we recommend
Search the Site

Are you still looking for additional information? You can use the Google search box below to search the site.