Choosing Bora Bora Hotels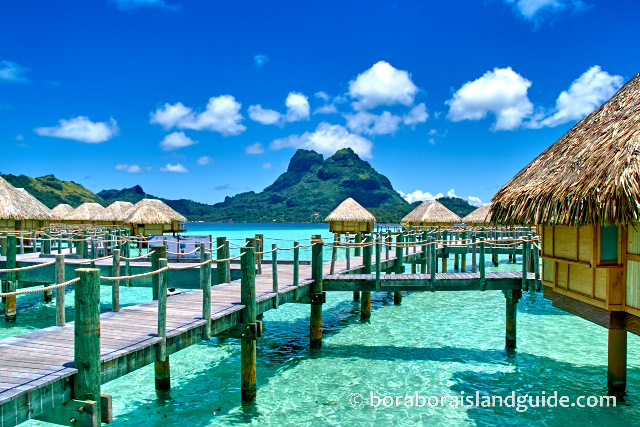 Want a perfect Tahiti vacation? A stay at Bora Bora hotels will be unlike any vacation you have had. Here's everything you must know before making hotel reservations.
Everything is Beautiful!
Most Bora Bora Hotels are luxury resorts set in a pristine paradise. Their exotic, Polynesian style bungalows perfectly compliment the natural environment. They are nestled along private, palm tree dotted, white-sand beaches fringing the warm, blue lagoon.
Their gorgeous infinity swimming pools are right on the beach. A variety of leisure activities is offered in glorious tropical settings. Just walking around their perfumed, tropical grounds is a feast for the senses.
Rooms are Romantic Bungalows
The 'rooms' at resorts in Bora Bora are thatched roof bungalows. Inside you will be amazed by all the conveniences of a modern hotel room, in an island inspired décor. They vary in size from palatial at the St Regis, to small and modest at the Maitai. The Bora Bora hotel prices are a vast range. Here you can view all the Bora Bora resorts rated by Tahiti Tourism's tiares. Most bungalows at hotels in Bora Bora are so classy, resorts call them villas.
The magical over water bungalows, sitting on slender stilts above the lagoon at Bora Bora hotels, infuse romantic getaways with delight. Some are so lavish they include a swimming pool and jacuzzi on the deck.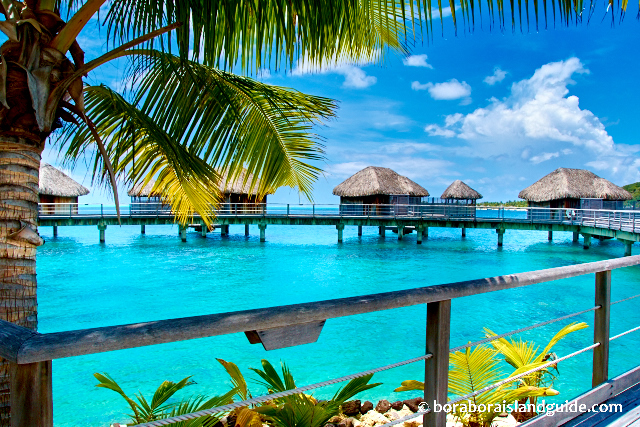 Over water bungalows at the Sofitel Marara Beach
Beach bungalows are at the lagoon edge, so you can step out the door onto white sand. The top Bora Bora resorts offer a few with private pools. We love beach bungalows because we're lagoon addicts and can afford to stay for more nights.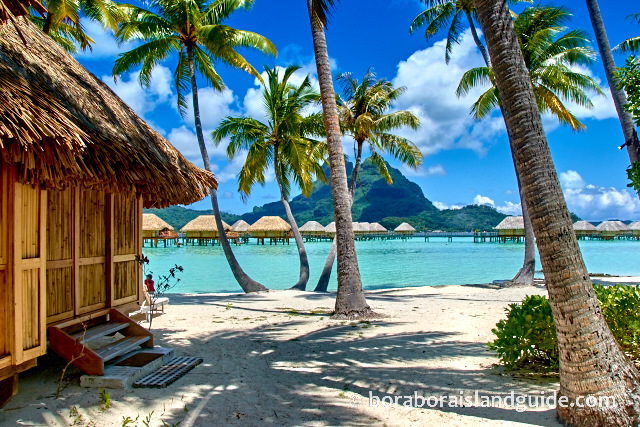 Beach bungalow at the Pearl Beach Resort
Garden bungalows are set among lush gardens bursting with perfumed, flowering plants. Every resort offers something a little different with location, inclusions and ambiance.
Hillside villas are unique to the Hilton Nui Resort, the only resort on a volcanic motu. We stayed in one for a week and improved our fitness going up and down it's many steps.
Only 2 resorts have some rooms built in blocks (still with thatched roof). The Nui Hilton has a block of spacious Lagoon view suites, and the Maitai has several blocks of garden and lagoon view, basic rooms. Both of these are often on offer at good value Bora Bora prices.
Fantasy Island Setting
Bora Bora Island emerges mysteriously from a calm, blue lagoon, which is sheltered from the Pacific Ocean by a ring of small, coral isles (motus). Some Bora Bora hotels are situated on the main island, one is on a volcanic motu and others are on coral motus in the entrancing lagoon (with stunning Mt Otemanu views). You can see their locations on the Bora Bora Map.
If you stay on a secluded motu, getting around Bora Bora means catching your resort's shuttle boat to it's dock on the main island. Some resorts operate shuttles more frequently and some also take guests to the main village of Vaitape. At a few resorts this service is free, others charge.
Making Bora Bora Hotel Reservations
There's so many things we love about the hotels in Bora Bora. Get help from these information packed Bora Bora resorts pages before making hotel reservations. Prices vary considerably according to time of the year, so find out the best time to go to Bora Bora according to weather, cost, and what events are on. Different agents also offer different prices. We recommend booking with Pacific for Less, as they offer a full concierge booking service at wholesale prices.
Bora Bora Hotel Beaches
Coming to Tahiti to relax? Choose your hotel for it's amazing beach. Some Bora Bora hotels have beaches so beautiful that you won't want to leave your sun lounge. Nothing beats lazing under a palm, being mesmerized by the vivid hues of the lagoon, while sipping a fruity cocktail. An awesome Mt Otemanu backdrop adds to the allure!
The only public beach on Bora Bora is Matira Beach and the motus are privately owned. Much of your time will be enjoyed around your resort and it's beach. Imagine snorkeling straight from your over water bungalow or hotel's beach! Some resorts offer so many water activities and cultural experiences that they almost provide a Bora Bora all inclusive vacation.
The photographs we have all seen of Tahiti beaches are so tantalizing. There's even black sand and pink sand Tahiti Beaches. They are even more spectacular in real life! Here's why Bora Bora beaches are the best in the South Pacific.
Hotel Chapels for Dream Weddings
Want to marry in Bora Bora? You can have a legal or informal ceremony. Hotels in Bora Bora have the most charming wedding chapels in the world. Some overlook the lagoon and the haunting beauty of Mount Otemanu. It's an unforgettable experience! Resorts in Bora Bora are wedding and honeymoon specialists. Everything can be arranged for you. Le Meridian has even come up with the idea of an underwater ceremony.
Bora Bora Honeymoon Hotels
Planning a Tahiti romantic vacation? Resorts in Bora Bora offer ultimate sensual experiences. Imagine fragrant, flower petals scattered in your room, or breakfast delivered by floral decorated canoe! Bora Bora honeymooners are treated like celebrities. They are given special prices and extra treats, such as a romantic dinner on the beach, a couples massage, and gifts.
The over water bungalows are so special that on Tahiti cruises, when the ship sails into Bora Bora Lagoon, we see honey moon couples disembarking, with their bags, to stay one or two nights in an over water bungalow.
Gorgeous Hotel Restaurants
When vacationing in Bora Bora most of your eating will be at your resort. Hotels in Bora Bora have beautiful restaurants. At some you can dine with picture postcard, lagoon views. In the evening you can have fun sitting around their bars, sipping aromatic Tahiti cocktails.
Here's one of our best tips for saving money on eating at resorts in Bora Bora. Especially if you choose to stay on a motu!
Bora Bora Hotel Spas
The resorts in Bora Bora have some of the best hotel spas in the world. Be pampered in paradise! Read about our day of luxury at the Bora Bora spa that won best hotel spa in Australasia and the South Pacific. We had one of the most memorable afternoons of our lives. Find out which Bora Bora spa you might want to indulge in.
Small Family Hotels, Guest Houses & Pensions
Want to experience the Polynesian culture? Consider staying with a local family who also offer hospitality such as transporting you to attractions around the island. And for those coming to explore Bora Bora on a low budget, there's a variety of Bora Bora cheap stays. You can find small family hotels, guest houses and pensions here.
Choosing your Bora Bora Hotel

There are so many gorgeous resorts to choose from, how do you know which one is right for you? Contact our favorite Tahiti travel specialist to get all the advice on which hotel will best suit your budget and desires. Jennifer,  will ask you what your dream vacation would be and then works her magic and making it happen. We love recommending them because they put together beautiful Bora Bora vacations with concierge like service, at wholesale prices.

Closed Bora Bora Hotels
Looking for a Bora Bora hotel that's not on our list? Recent economic times have meant there's a decreased number of tourists visiting Tahiti and some hotels have closed.
Sadly, two of the favorite Bora Bora hotels no longer entertain guests. If you're one of the many who are wondering if they are re-opening, here's information on hotels in Bora Bora that have closed.
What's open? Contact our favorite Tahiti travel experts.


Search the Site

Are you still looking for additional information? You can use the Google search box below to search the site.