Bora Bora Overwater Bungalows Inspire Vacations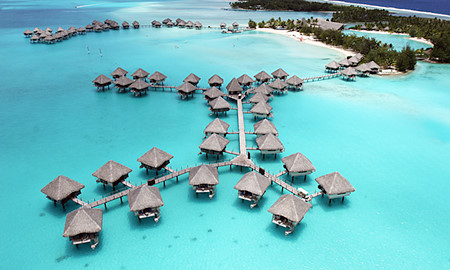 Bora Bora Overwater Bungalows at Le Meridien
This page is in praise of Bora Bora overwater bungalows!

These alluring Polynesian Bora Bora overwater villas poised above the enchanting blue lagoon inspire lovers of romance, from around the world, to travel to remote tropical Bora Bora for a vacation that others only fantasize about. An over water bungalow stay is a 'must' for your first Bora Bora travel.
More than a hotel room

An overwater bungalow stay is part of your Bora Bora vacation! You don't even have to leave your room to have fun! You can relax on the deck overlooking the lagoon, jump into the water and have easy access in and out of the lagoon from your own private steps! Whether you are a couple looking for intimacy and privacy, or a family looking for fun, overwater bungalows give you our own piece of the lagoon to play!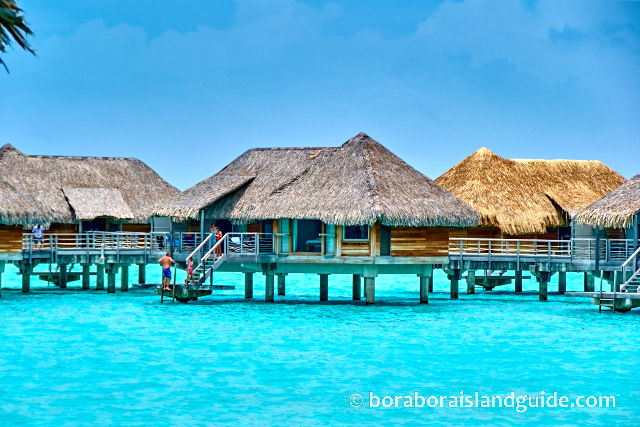 Enjoy time in the lagoon from your over water bungalow
How Much Do I need to spend?
Be aware that resort prices vary considerably according to the time of year and the booking agent. There's no need to pay the published price. If you can choose when you holiday, check out the best time to go to Bora Bora and plan ahead to take advantage of seasonal changes. If you would like to be notified of special offers for Bora Bora overwater bungalows as they arise sign up for the Bora Bora Lovers e-zine.
We suggest that couples opt for one of the best Bora Bora overwater bungalows they can afford when planning Bora Bora honeymoon vacations. But you can experience Paradise from a simple Bora Bora villa too. Even the medium sized ones are larger than most typical city hotel rooms.

A common question is: Are the overwater villas (or rooms) that face the mountain in Bora Bora worth the price? If you have the money, the answer is a definite yes!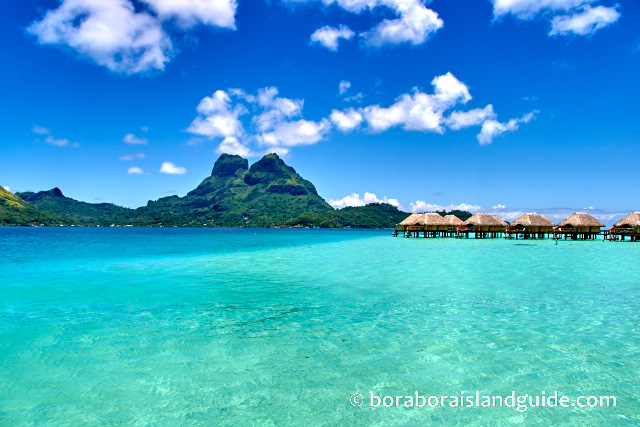 Bora Bora Overwater Bungalows looking to Mt Otemanu
If not, this is Paradise and every view is a good one. A resort aspect will include an exquisite beach with palm trees and white or pandanas umbrellas. And there are only ever a few people on the beaches at OWB resorts! It may also include some of the resort's beautiful Polynesian style restaurants or reception area. No bricks and mortar! Here are our tips for choosing an over water bungalow.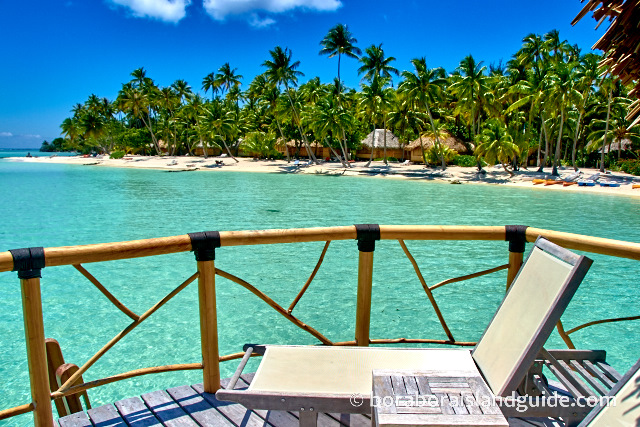 View from a Bora Bora overwater bungalow with a beach view
When considering which resort, decide what's most important to you and what experiences you want to enjoy. Compare the benefits of staying at each resort with Bora Bora overwater bungalows. To find the location of each, as well as it's proximity to the local shops, restaurants and attractions, check the Bora Bora map.
How Can I Get Around?
Each resort has it's own airport shuttle boat service so make sure that transfers between the Bora Bora airport motu and your resort are included when you book. If staying on the main island there is a cheaper choice, as you can catch Air Tahiti's free airport shuttle to Vaitape and then take a taxi.
Depending on the type of vacation you desire, you may never want to leave your resort and it's mesmerizing beach. If you do, consult our info on Bora Bora Resorts for how easily you can, and what the cost may be. Resorts on motus provide a shuttle service to the main island. Each resort varies in what the charge is, frequency of scheduled times and where the shuttle docks.
The best tour providers will pick you up from the motu resorts. See the choice of Bora Bora excursions and plan to book ahead to get the ones you want. Most Bora Bora restaurants will pick you up from Vaitape or your resort's main island dock.
Home › Overwater Bungalows
Search the Site

Are you still looking for additional information? You can use the Google search box below to search the site.