10 Best Things To Do In Bora Bora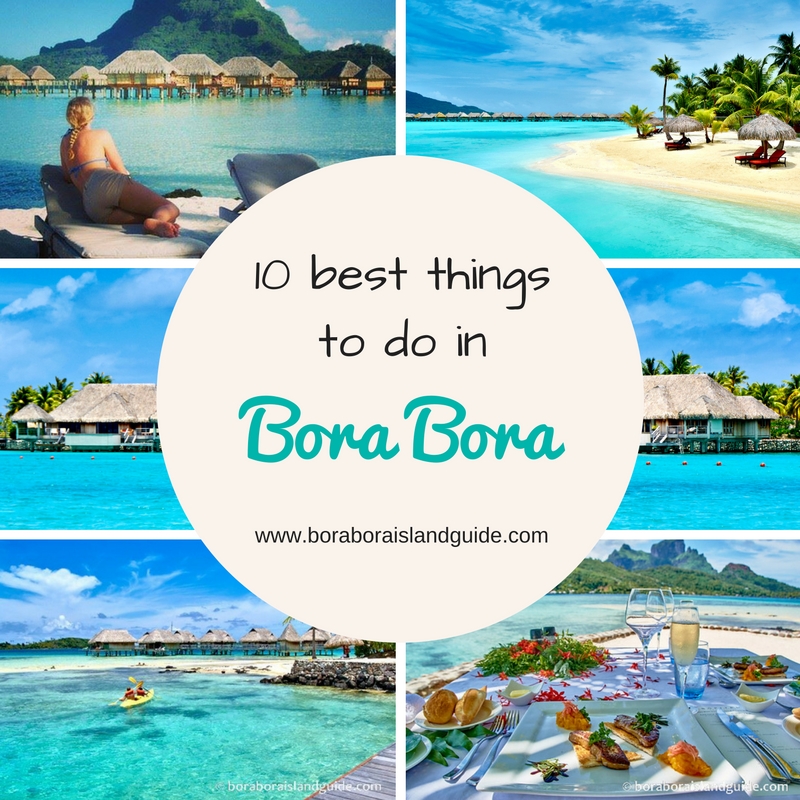 This pearl of an island offers so many fun activities and excursions. We know vacation time is precious so this list shows the very best things to do in Bora Bora. They're the top experiences that are uniquely Bora Bora. 

1. Take a lagoon tour
Don't go home without seeing  the dramatic peak of Mt Otemanu from every angle, with the ever-changing hues of the glistening lagoon in the foreground. To experience this you have to get out on the water in a boat and take a circle island lagoon tour. It tops my list of 'best things to do in Bora Bora.
Make sure your camera is fully charged and has a large memory card because you will be snapping postcard-perfect pictures for much of the day. Take your own snorkeling gear along.

2. Step foot on a Motu
Bora Bora lagoon is surrounded by a string of small islands. These motus are dreamy parcels of white sand paradise, with views to Mt Otemanu. They are all privately owned so to experience private-island paradise you will need to take a Bora Bora excursion that stops on one. The best motu excursions include a Polynesian picnic. If you are a guest at the Conrad Nui Bora Bora you can arrange to visit Motu Tapu (owned by ancestors of Bora Bora's last queen)) for the day.
3. Snorkel in the Coral Gardens
Bora Bora lagoon's warm, clear water and beautiful coral gardens make it a snorkeler's paradise. All the Bora Bora snorkeling excursions visit one or two of the well known gardens for some Bora Bora snorkeling. The 'aquarium' is my favorite snorkeling spot as it has vivid blue water and the largest numbers of fish. You could leave me to float around in this sparkling water all day. There's another beautiful snorkeling spot near Bora Bora's southern reef where you can see the most colorful coral in Bora Bora. 
4. Meet the sharks

This may sound off your radar of things to do. Why would you want to go swimming with sharks? How can this be one of the best things to do in Bora Bora? But of all the activities in Bora Bora this is my personal favorite, even though I'm afraid of small spiders. So if I love it, you will too. The tour providers would not be dangling tourists to the sharks if it was dangerous. This island relies on tourism.
When the weather conditions are right the small boats can go outside the reef. There you can plunge into the royal blue Pacific Ocean and float above hundreds of black tip, reef sharks gracefully swimming below. If you're really lucky you might even see a lemon shark passing underneath. Although the water is very deep, it is crystal clear. There is amazing visibility right to the sandy bottom and off into the distance. I have watched dolphins and divers moving far off. The tranquility of floating above these graceful sharks is a memory that I cherish. Before this adventure I was terrified of sharks but I now have a huge respect and appreciation for them.
5. Swim at Matira Beach
The combination of a 2 mile long stretch of white sand and calm turquoise water announces one of the best beaches in the world. And that's not just my opinion! Recently CNN GO awarded Matira Beach number 1 place out of the 50 best beaches in the world. Matira Beach is usually at the top of lists for 'best things to do in Bora Bora'.
6. Taste Poisson Cru
This traditional Tahitian recipe is marinated, raw fish, seasoned with fresh coconut milk and lime. It's an exotic dish that tastes like island paradise. You'll find it on most restaurant menus in Bora Bora. It also appears on the breakfast buffet at most resorts.
Because it's simply prepared with quality super-fresh ingredients, Poisson Cru is a reliably good dish to select  where-ever you are eating in Bora Bora. Portions are generous and the price is moderate so it's very good value as well as healthy.

7. Watch the sun set from the Bora Bora Yacht Club
To eat some of the best food in Bora Bora, in a casual atmosphere, for a moderate price, go to the Bora Bora Yacht club, a little north of Vaitape on the main island. Local fishing boats stop at the dock and deliver their catch, straight to the kitchen. You won't get fish fresher than this anywhere. Or more friendly service. The chef's Tahitian trio is amazing. So are the Mahi Mahi burgers.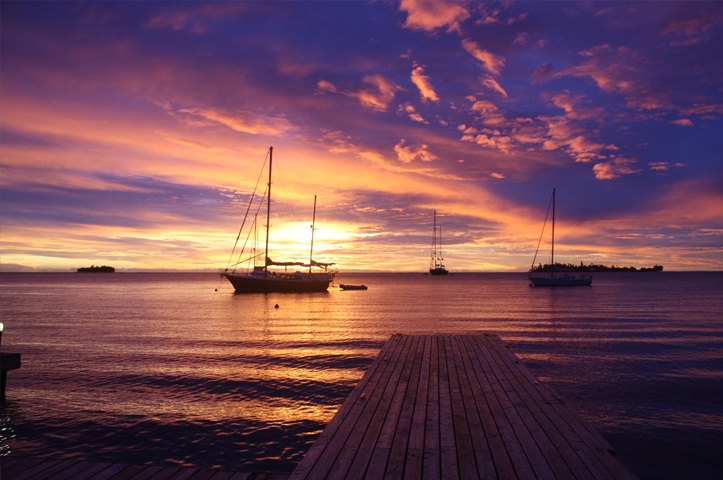 Arrive before dusk and order the best Pina Colada you will ever taste in your life. Ask for the coconut milk to be freshly squeezed. As you enjoy the magic of watching the sun set over the ocean, you will discover why this is one of the best things to do in Bora Bora.
The Yacht Club is a historical landmark as it is here that ships and yachts originally visited Bora Bora from the outside world. It's a love mark to wanderers who return, while making the Pacific crossing. Yachts still lay anchor here so you may meet interesting characters and hear tales of the sea from sailors passing through.
8. Take a jet ski ride

Our favorite travel agent highly recommends a jet ski ride around the lagoon for a fast paced way to experience the wonders of Bora Bora. If you only do two excursions, make this your second one.
9. Hike the inner island

Not many people leave their resort's sun lounges for physical exercise but this hike is well worth the effort if you enjoy a bit of adventure. The valley of the kings trail takes you through the ancient paths of Polynesian kings. You can even see remnants from old Polynesian villages. It is possible to climb Mt Pahia or Mt Otemanu (and visit it's ancient cave) with the help of a guide.

10. Visit a Bora Bora spa

This is an indulgence you can enjoy in any weather - even when it is raining. (See more wet weather activities here). Relaxing for a morning or afternoon at one of the beautiful Polynesian spas in Bora Bora is the ultimate way to unwind in Paradise. Bora Bora spas are set in leafy surrounds and utilize tropical fragrances and traditional healing oils. You can be mesmerized by tropical fish swimming below, while have a sensuous treatment; or relax in a hot tub with views to Mt Otemanu.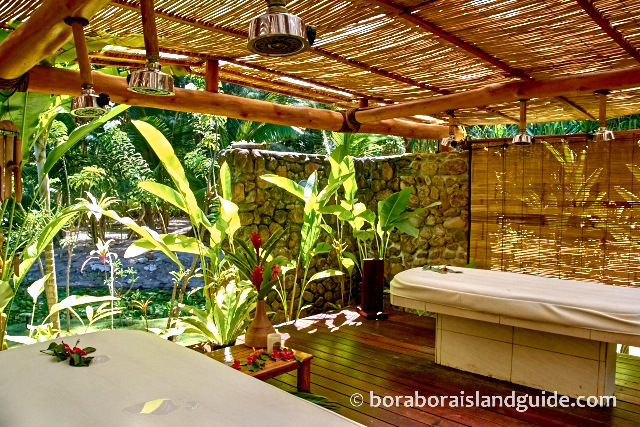 Best things to do in Bora Bora

That completes our list of the absolute best things to do in Bora Bora. Looking for more activities and excursions? There are other interesting things to do in Bora Bora, including fun shopping. For those who've spent all their holiday budget staying here, we've also compiled a list of exciting free things to do in Bora Bora.
Search the Site

Are you still looking for additional information? You can use the Google search box below to search the site.