Best Beaches in the World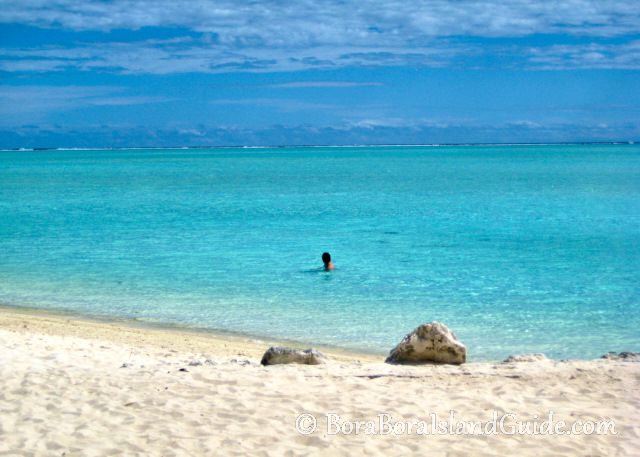 Could this be the best beach in the world?
Are you a beach lover? On the hunt for finding the best beaches in the world? Bora Bora and the other islands of Tahiti have some of the best beaches. It is one of the reasons why I love Bora Bora and her sister islands.
On my travels I have swum at many of the world's best beaches, and there are still many that I want to see. If you have visited a beach you consider one of the best beaches in the world, I would love to hear from you. You can add your pick of the best beaches by submitting your entry at the end of this page.
Here are my picks of the best beaches in the world:
Bora Bora Beaches, French Polynesia
Bora Bora beaches are definitely some of the best beaches in the world. Looking around at the white sand and beautiful turquoise lagoon, with Mt Otemanu as a backdrop, is like swimming in a screen saver.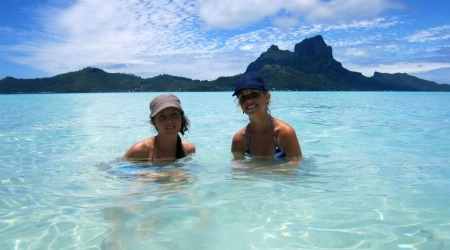 Bora Bora beach with Mt Otemanu in the background
Bora Bora has many gorgeous beaches encircling the lagoon. Matira beach is great because it is a beautiful beach easily accessible to everyone. The luxurious Bora Bora resorts are located on some of the best Bora Bora beaches.
The white sand Bora Bora beaches are some of the most photographed in the world. But many other Tahiti beaches share the title of best beaches in the world. There are exotic black volcanic sand beaches, remote pristine atolls fringed with white sand, and even a legendary pink sand beach that is only accessible by private boat.
Best bits of a Tahiti beach vacation: Uncrowded, pristine beaches. Luxury resorts right on the beach. Crystal clear, warm water. Incredible snorkeling.

Phuket Beaches and Phi Phi Island, Thailand
Phuket is the biggest and best known island in Thailand. It's beaches line the Andaman Sea. Many of the beaches surrounding Phuket are considered to be some of best beaches in the world. Phuket beaches have warm water, tropical weather, and an abundance of marine life, so this is a great beach destination and there are so many to choose from. These beaches are perfect for snorkeling or relaxing with a coconut. For many people it's a favorite beach vacation destination because it's very affordable.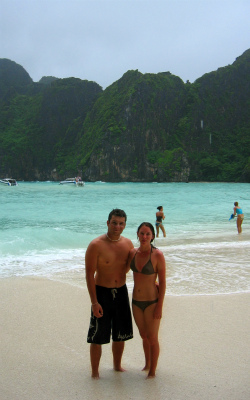 Maya Bay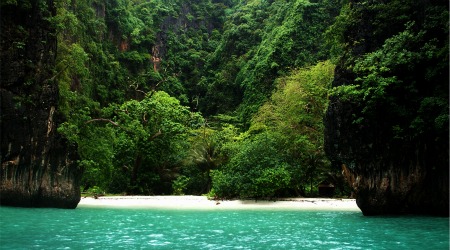 Hidden beach near Phi Phi Island
Best bits of a Phuket, Thailand beach holiday: the tropical fruits, cheap massages, and warm Thai hospitality.
Here is an informative traveler's website about Phuket:
Phuket Travel Secrets, Thailand
Your Phuket Guide to everything you need to know about travelling in Phuket Thailand, from a travellers perspective, not a travel agent. Are you looking for some Phuket Travel Secrets with some great vacation ideas and travel tips?
Maui, Hawaii, USA
Maui is an interesting place for a beach vacation as it has over 30 miles of beaches, and a stunning volcanic crater in the center of the island. At 'Turtle Town' in Ahihi Kinau Natural Area Reserve you can snorkel with turtles. We had to go on a hunt for them and after half an hour of hide and seek one zoomed quickly past us. Luckily we spotted another quietly feeding around the coral. Snorkeling off this beach we saw a large variety of coral and fish.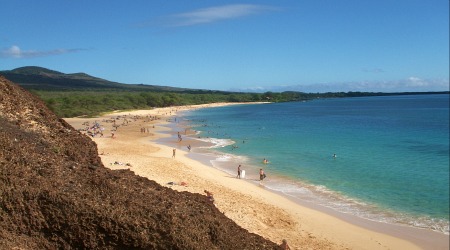 Big Beach, Maui
Maui has so many different beaches. I had an interesting experience at Little Beach on a Sunday afternoon. It is a nudist beach and every Sunday afternoon the setting of the sun is celebrated with music, drumming, dancing, juggling and fire dance performances. You don't have to go nude to join in the fun.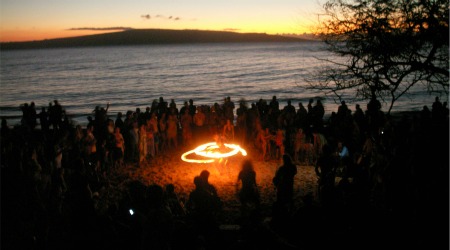 Maui's Little Beach on Sunday evening
Best bits of a Hawaii beach vacation: Snorkeling with turtles, enjoying the conveniences of 'America' while being in the tropics and visiting the volcano.
Sydney beaches, Australia
Australia is blessed with many beautiful beaches. Famous Bondi Beach is known as one of the best beaches in the world. This gorgeous long stretch of white sand is only 15 minutes from the city center. In summer it's a very busy beach, crowded with sun-worshipers and surfies. It is one of those beaches that's a place to be seen. Occasionally I see television celebrities taking a stroll or shooting a commercial. It also plays a role as a community center for holding local activities. On Sundays, talented skateboarders come to the skate ramp and show their stuff in friendly competition.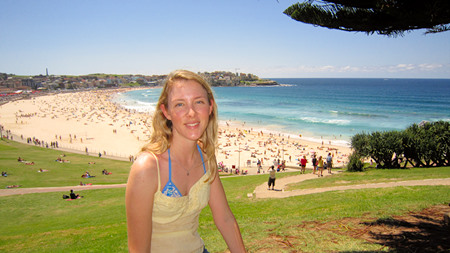 Gorgeous Bondi beach is Sydney's most famous beach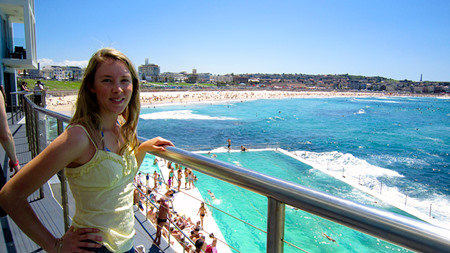 Bondi beach view from Iceburgs
Best bits of a Bondi Beach and Australian beach vacation: great sand and surf, cosmopolitan beach environment, lots of interesting shopping and restaurants right next to the beach, friendly laid-back Aussies.
The California Coast, USA
California has some of the best beaches in the world. As there are so many different types of beaches its hard to choose my favorite: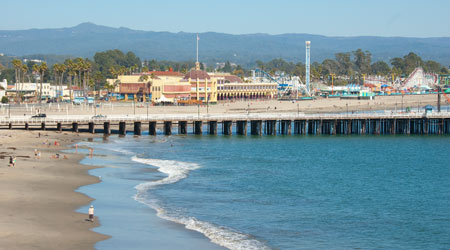 Santa Cruz
Santa Cruz has 29 miles of beaches! You can swim, fish, sail and sunbathe at a variety of beaches here. Take the walk along the famous Santa Cruz Beach Boardwalk to the Main Beach.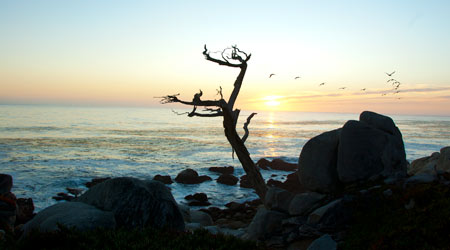 Pebble beach has a dramatic rugged coastline with forest surrounding it. This is a famous holiday spot for the rich, partly due to it's superb golf course, Pebble Beach Golf Links. This dramatic backdrop is a photographers dream. If you're looking for a white sand beach to swim at, nearby Carmel-by-the-sea has a beautiful beach alongside a very pretty, romantic small town.
Further south the California beaches are warmer and sunnier.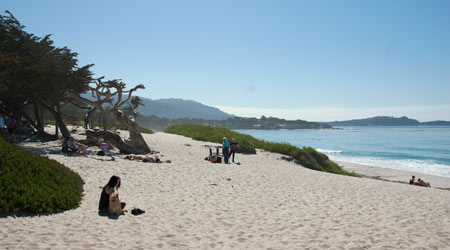 Carmel by the Sea
Santa Barbara's East Beach hosts colorful beach umbrellas, sandcastle builders, and volleyball games. On Sundays, local artists set up beach-side stalls under the palm trees.
Close to famous Malibu is Zuma Beach. It is a well set up beach with lots of conveniences, including snack bars, restrooms, and jungle gyms. The beach is lined with multimillion-dollar homes, many owned by celebrities.
Best bits of a California beach vacation: the stunning, varied, scenic coast-line of beaches, the lively beach atmospheres at the busy beaches.
So What Is YOUR Favorite Beach?
Have you found one of the best beaches in the world? Tell us what you love about it.
What Other Visitors Have Said
Click below to see contributions from other visitors to this page...

Bottom Bay Beach, Barbados Not rated yet
I am a beach bum and nut! I fell in love with this secluded beach when I visited Barbados....it is the perfect picture! All beaches in Barbados are public …
Karekare Beach, New zealand Not rated yet
I have also had the good fortune to visit some stunning beaches in my life... But there is one that remains my favourite no matter how many white sanded …
Search the Site

Are you still looking for additional information? You can use the Google search box below to search the site.