What's new in Bora Bora for 2020
Find out what's new in Bora Bora for 2020, when to book your trip to enjoy the new amenities and which will be the best resorts and rooms in Bora Bora!
While the pristine lagoon and dramatic scenery in Bora Bora remain untouched, there's always something new happening at the extraordinary resorts in Bora Bora. 

Major enhancements are happening right now at some of Bora Bora's best resorts; including the Four Seasons, St Regis, Conrad Nui and Pearl Beach Resort. To be amongst the first to enjoy these sparkling-new amenities, set in the scenic Polynesian playground of Bora Bora, start making your vacation plans now.
Dinner all included at St Regis Resort Bora Bora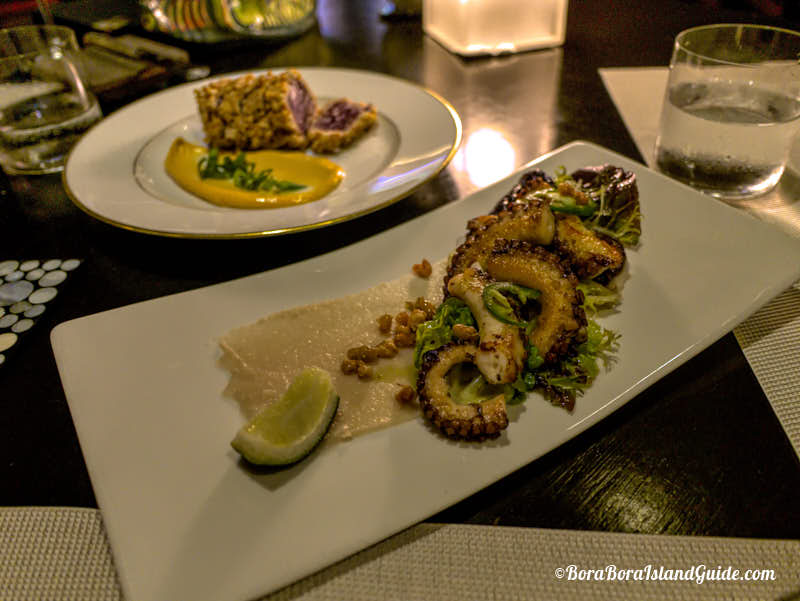 From the 1st of April 2020, Pacific For Less clients are able to benefit from a generous "dinner inclusive" rate for a 3 course meal at any of the St Regis Resort's restaurants, including gourmet Lagoon and the festive feasts on Polynesian and Indian nights.
This is a significantly reduced rate to add on dinner, compared to previous years, and now offers the wonderful inclusion of the themed nights, as well as gourmet dinner at one of the best restaurants in Bora Bora - Lagoon.
The special rate must be booked for all adults staying in the villa, for each night of the stay. Speak with our travel advisers at to arrange this special package rate at the St Regis Resort Bora Bora.
Re-make at Conrad Bora Bora Nui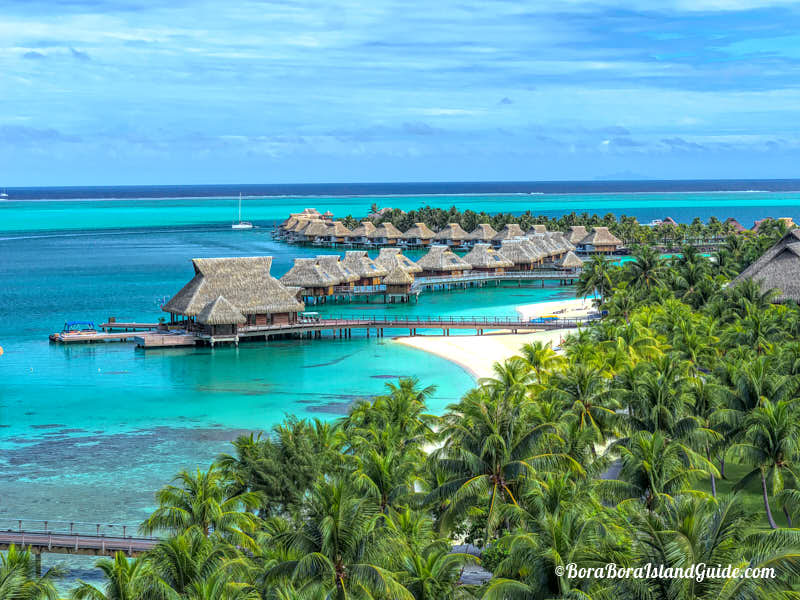 Luxurious garden and horizon villas
The Conrad Nui Bora Bora is completely renovating it's Garden and Horizon Villas. Expected to be ready in May 2020, these lovely villas,  offering extra space and privacy, are set amongst flowering, tropical gardens. They feature an extended terrace and private plunge pool. Some have views right across the lagoon and reef to the ocean, providing dress-circle seats to sensational Bora Bora sunsets.
While the resort was closed in 2017, to rebrand as the Conrad, all the over water villas were transformed into intimate love-nests. We stayed shortly after the re-opening and were wowed by the beauty and thrilled that the magical island atmosphere we'd enjoyed on a week's vacation, during the Hilton era, seemed even more vibrant.  Now the Garden and Horizon villas will provide the level of luxury offered around the rest of this relaxing resort.
If you're coming to Bora Bora with your family or friends, the Nui Horizon Two Bedroom pool villas are a temping option. Their additional bedroom and private outside bathroom makes them comparable to the on-land St Regis Reef and Beach villas.
Updates to the Four Seasons Resort Bora Bora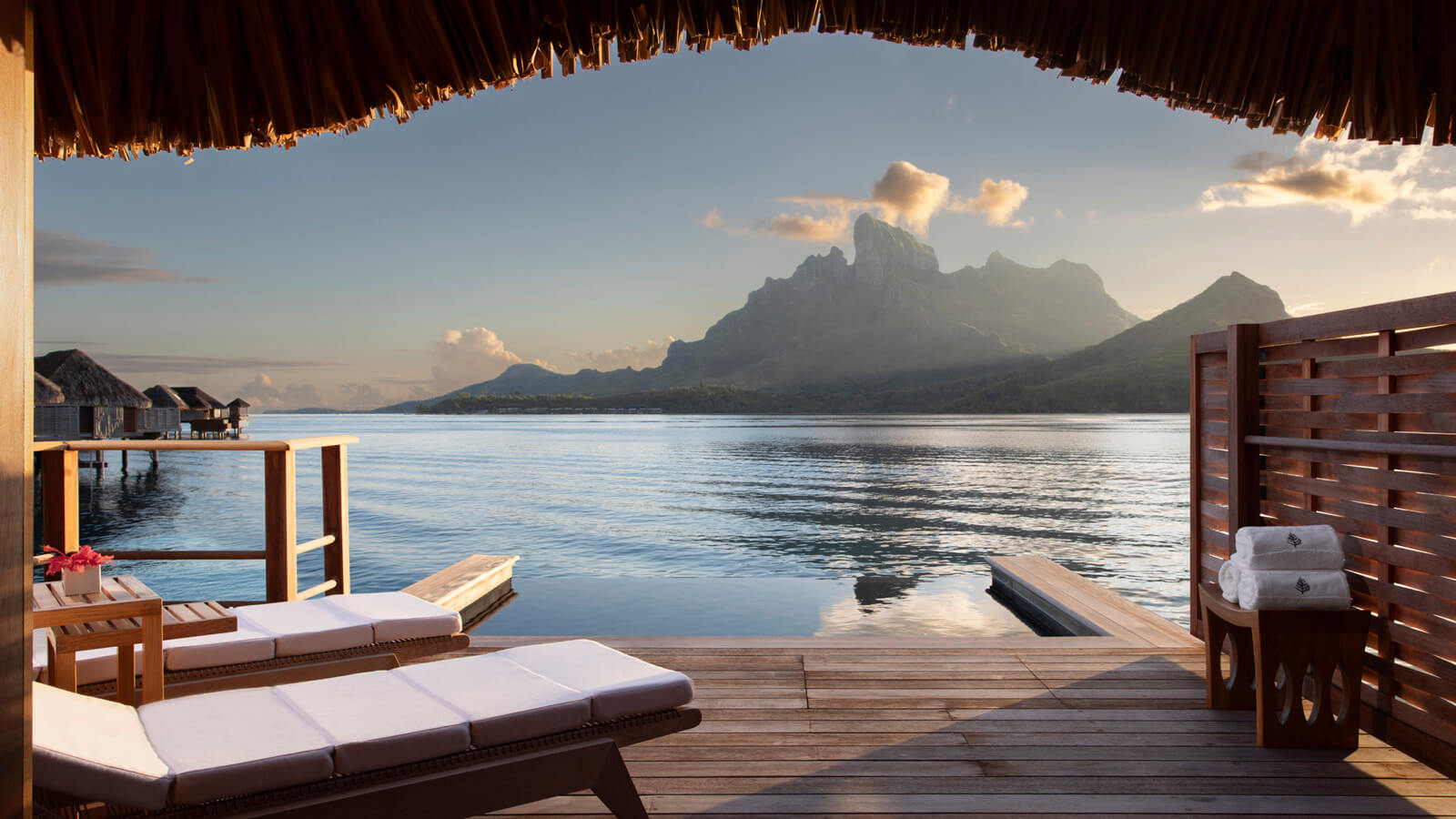 New bungalows & plunge pools
The Four Seasons Resort Bora Bora has added 8 new overwater bungalow suites - 6 of these with infinity edge plunge pools providing awesome views across the lagoon.
And 6 of the existing over water bungalow suites have had plunge pools added to their deck, to give more options for an exceptional over-the-water stay. A Bora Bora vacation is all about the lagoon and your romantic thatched-roof bungalow.  If you're wanting a bungalow with a plunge pool, book as early as possible to ensure availability.

Wake up in refreshed bungalows
Yes, it's exciting news that the Four Seasons bungalows are even lovelier! All one and two bedroom over water bungalows have been refreshed with a contemporary Polynesian feel. Each bungalow has new furniture, fixtures, lighting, and technology. We were captivated by the ambiance and layout of our bungalow on our last vacation so are eager to go back and experience the joy of walking into one of these!

To increase the sustainability of the resort, solar panels have been installed on every bungalow's thatched roof . Another plus for those seeking healthy choices is that the bath amenities provided in every bungalow are 100% natural from an organic, wellness-lifestyle brand in Thailand. It makes packing for Bora Bora even easier!

Shop in paradise
Leave room in your suitcase - or don't pack at all! Four Seasons Bora Bora's new shopping experience makes it possible to go to Bora Bora with just a handbag. It combines the best of resort wear, casual and active apparel, accessories, women's luxe apparel, and swimwear. The boutique features hot brands like Camilla, Missoni, Onia, Solid & Striped, Vilebrequin and Zimmermann; while also showcasing boutique designers such as Adriana Iglesias, Benson and Swims, B+S Caftans, March 11 and Su Paris. OMG! You can wander in to this classy store in flip flops or swim up from the world's most beautiful lagoon and climb a few steps to browse. 
The Four Seasons Bora Bora is one of the harder resorts to leave because of it's shuttle service. But once you arrive in the extraordinary beauty of it's grounds and aspect, and discover the variety of activities on offer, you simply don't want to leave! Continual improvements to truly indulge guests with a "vacation of a lifetime" keep the resort as one that we dream of returning to.
A totally new Pearl Beach Resort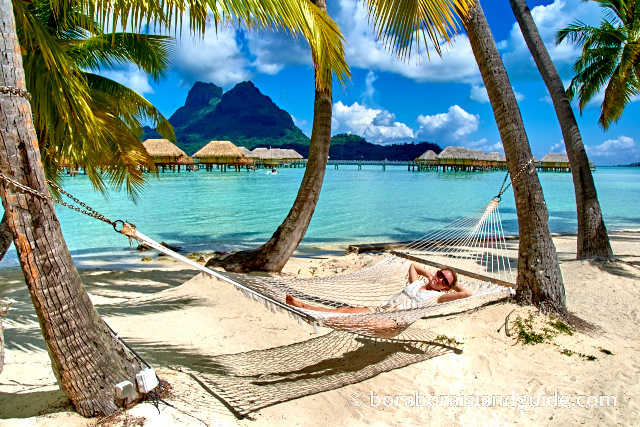 The Pearl Beach Resort Bora Bora is undergoing major renovations which will not be completed until the end of 2020. We anticipate stepping on to it's picture-postcard beach in early 2021 to explore what will virtually be a brand new resort.
All the existing bungalows will be refurbished and there'll be much more accommodation available, as 27 new over water bungalows are being added to the resort. Pearl Beach has been legendary for it's authentic Polynesian "look and feel" and that passion is being continued. For example, the bathroom walls are adorned with abalone shells and the decor features traditional Tahitian carvings.
Another welcome change is that the outdoor balcony space of the overwater bungalows will be twice the size of that previously offered - which had been small compared to other resorts. Most of our Bora Bora overwater bungalow time has always been spent on decks. Now Pearl Beach overwater bungalows will offer a shade area to laze in on the deck, as well as the fun of overwater hammocks which will add a feeling of luxury without the higher price tag of a 5-star stay. The only other resort offering these at the moment is the Conrad Nui.
The Pearl Beach Resort will also have 2 new Pool Overwater villas. They offer a new (and better priced) option for staying overwater with a pool in Bora Bora so if you want one of these you must book well ahead of going.
All the existing Beach Villas, Garden Villas and Pool Villas, that are set among lush vegetation on the resort's beautiful motu, will be refurbished and their private gardens and pools will be expanded.
The restaurants will be updated and a fine-dining restaurant will be added to give more choice for enjoying dinner at the resort.
The best news is that the Pearl will retain it's positioning as a 4 star resort which makes it a very affordable option for Bora Bora. It's continuing a strong Polynesian ambiance throughout the transformation. This is what differentiates it from most other luxury resorts in Bora Bora and why we love this resort. About the only thing that won't change at Pearl Beach is it's enchanting view of Mt Otemanu and the Valley of the Kings!
It's extraordinary to be one of the first to stay in a totally refurbished bungalow and play around in a brand new Bora Bora resort! Everything is so beautiful. We experienced this joy at the Conrad. If you wish to savor the delight of being one of the first to frolic around the new Pearl Beach you need to book now, for early 2021.  
That's what's new in Bora Bora!
We are excited about the changes that are happening  around our favorite resorts and planning to experience what's new in Bora Bora, in 2020, ourselves. The island offers a unique vacation as it has the world's best resorts with top overwater accommodation, all set around the world's most beautiful lagoon. Continual enhancements keep Bora Bora as a number 1 vacation destination and awarded "Best Island in the World". Make sure you speak to our expert Tahiti vacation planners to get a quote for your next Bora Bora vacation. They will ensure you have the best room and package price available at your time of stay.
Search the Site

Are you still looking for additional information? You can use the Google search box below to search the site.