How much is a trip to Bora Bora?

Wondering "how much is a trip to Bora Bora?"  In this post, we will cover the average costs of a vacation in Bora Bora, including flights, accommodation, food, drinks, activities, transfers and more.
This will give you an idea of what it will cost to go to Bora Bora. A vacation to Bora Bora can cost more than a trip to some other 'islands in the sun', but the remote beauty of the island makes it a completely incomparable experience. The only crowds here are schools of tropical fish. There is no place on earth like Bora Bora and those that venture here say that it was worth every penny.  It's easy to see why brides dream of Bora Bora as the ultimate location for a destination wedding or honeymoon. All cost estimates are in US$.

Flight prices to Bora Bora
International flight to Tahiti $900-$2500/person return

Inter-island flight to Bora Bora $400-$700/ person return
Depending on what time of year you are going, how far ahead you book, and whether you snag a airfare sale, your international airfare to Tahiti price could range anywhere from $900-$2500 per person. You will first fly to Tahiti, and then take a domestic flight with the local carrier to Bora Bora airport. When looking for the answer to 'how much is a trip to Bora Bora', you must take into account the international airfare AND the domestic one.

Flying into Bora Bora
Accommodation prices in Bora Bora
Budget accommodation: $100 - $300/night
Mid range accommodation: $300-$500/night
5 star accommodation: $600-$2500/night
Over-water bungalows: $400+/night

Are you happy staying in a simple local pension or do you want the biggest over water bungalow with it's own pool? If you are staying at one of the luxury Bora Bora resorts, your accommodation will be the biggest cost of your trip to Bora Bora. We recommend you compare the Bora Bora resorts, and the type of accommodation available to see what will be perfect for your budget.

Of  course there are more expensive rooms, suites and villas available in Bora Bora, but we are covering an average vacation cost here. While you may be accustomed to reserving a hotel online, we find that booking through our favorite Tahiti specials travel agent can secure personalized deals that are not available through the booking engines at better rates.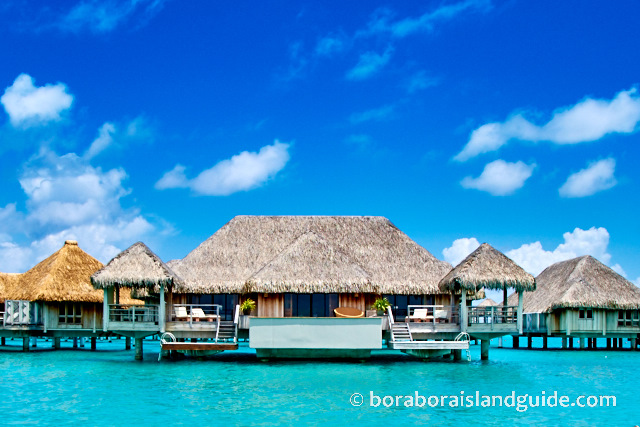 A luxurious over water bungalow with private pool
Cost of food in Bora Bora
Casual dining: $10-$30/person/meal
Luxury dining: $30 up to $120/person/meal
Your resort's buffet breakfast will set you back around $60/person and your lunch and dinner meals can range from $20 up. There are ways and places to eat in Bora Bora that keep food costs down, you just have to know where to go! We know where you can get a cooked dinner for only $10!
People often comment that the food in French Polynesia is expensive – and it can be, but with some useful tips and tricks you can be eating like the locals do and save yourself plenty of money!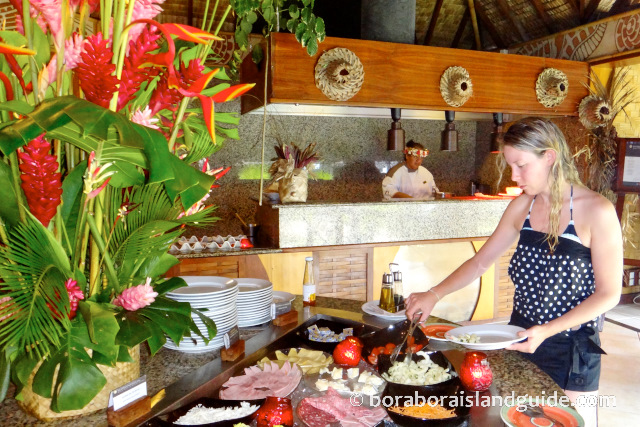 Breakfast buffet can sometimes be included in your room rate
Drink prices in Bora Bora
Your cost for drinking each day can be high, even if you are only drinking water! This is an area to plan so that you are not buying $10 bottles of water each day.
water
$1 - $10 for 1 liter (depending on where you buy it!)
Cocktails
Beer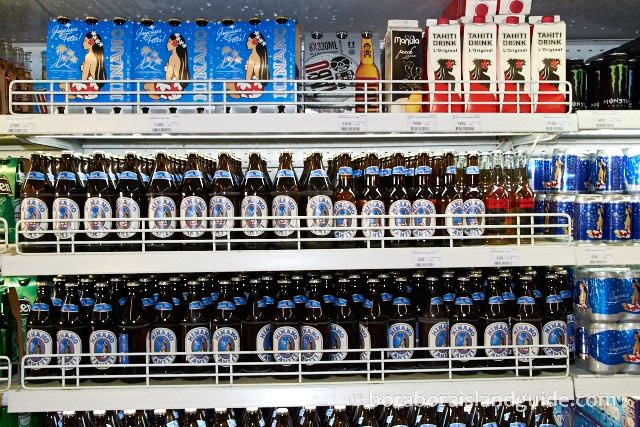 The local Tahitian beer 'Hinano' is worth trying!
Bora Bora excursion prices
Half day excursions $80+ per person
Full day excursions $120+ per person
Private excursions $300-$3000
Most expensive Bora Bora excursion? A honeymoon skydive will set you back around $3,000!
If you are asking how much is a trip to Bora Bora, you are probably wondering if you can afford to go! There are plenty of free things to do in Bora Bora  once you are there. Relaxing on your resort's beach or jumping off the deck of your over water bungalow is wonderful, and "free".
But you will also want to budget for some amazing excursions around the beautiful lagoon.
It is possible to do a Bora Bora vacation on a budget! Find out tips and tricks of how to save money on your Bora Bora vacation in our E-book.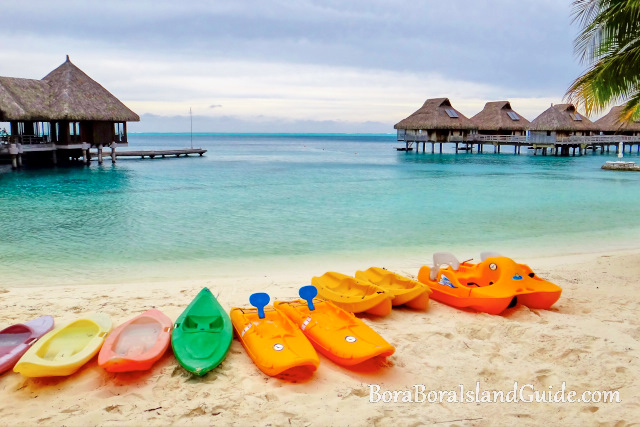 Some resorts have free activities
Transfer costs from Bora Bora airport
If your resort is on a motu, this is an expense that can't be helped. If you are staying on the main land then you can take a free Air Tahiti shuttle. You can also book a private transfer which will likely cost less than booking through your resort.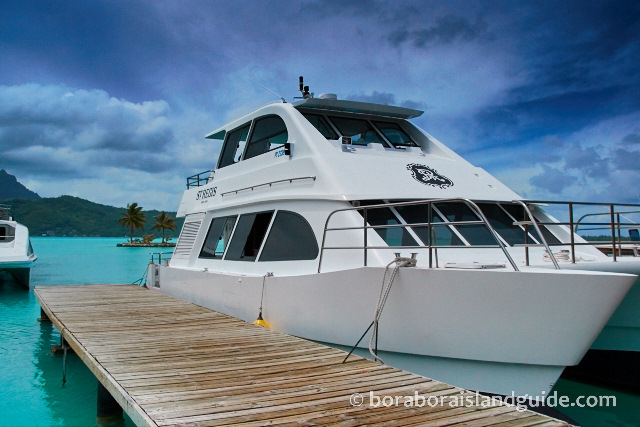 The resorts have luxurious boats to trasport you directly to the resort (for a fee)
Rental car, bicycle hire, boat hire
Boat hire $160 for 4 hours
Bicycle hire $25/day
Car hire $70 for 4 hours
If you want to explore Bora Bora on your own, you can hire a car, boat or bike! It's easy to get around Bora Bora on its 20-mile circle-island road by car or bike. You'll see little villages, archaeological sites, and tropical plants. Or circle Bora Bora by boat. This is the best way to see the beauty of Mt Otemanu from every angle and get to the outer lying sandy motus.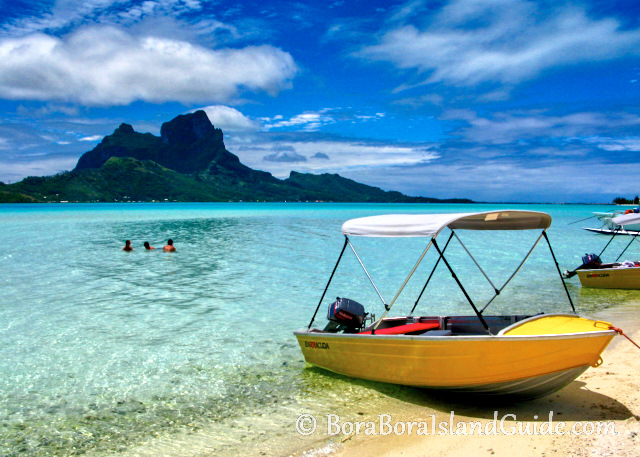 Boat hire allows you to explore the lagoon at your own pace
Has that answered your question of how much is a trip to Bora Bora?

For more information, visit our pages about the Bora Bora accommodation prices and the Bora Bora food prices. We have lots of tips to help you save money on your Bora Bora vacation as well as ideas to make your vacation luxurious!
We can't stress enough how important it is to plan your Bora Bora trip ahead of time. This will ensure you get a good deal, reduce unnecessary costs, and make the most of your precious vacation time while you are there. If you are wanting the best priced vacation to Bora Bora, while enjoying the best that Bora Bora has to offer, see who we recommend and submit a vacation enquiry.
Search the Site

Are you still looking for additional information? You can use the Google search box below to search the site.