Bora Bora Shop

Want to bring Paradise home? Our 2020 Bora Bora Beaches calendar has arrived just in time.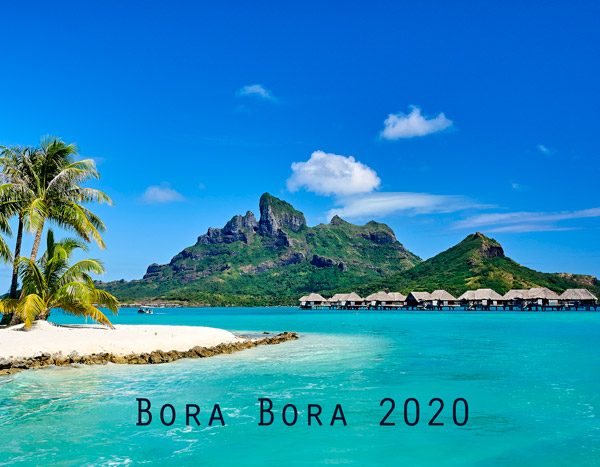 Dreaming of visiting the world's most beautiful island? With the release of the 2020 Bora Bora beaches calendar you can enjoy the ambiance of the world's most beautiful white-sand beaches and turquoise lagoon, all year.


These astonishing sights, snapped around the "Pearl of the Pacific" will infuse each day with a touch of romantic bliss. They'll remind you that life is more than essential routines.
We've been helping people (just like you) plan awesome Bora Bora vacations for over 7 years. And after listening to what thousands of visitors are eager to know, decided to put the most valuable information into time-saving, easy-to-read books.
Bora Bora is often synonymous with expensive. But it doesn't have to be. Whether you are visiting Bora Bora on a budget, or just want to use your travel money wisely, this insider knowledge can help you save hundreds, and even thousands, of dollars on your trip to Bora Bora!
Each book is available in print or as an instant download and we're offering an ultimate Bora Bora bundle with both books for a great package price.

---
---
 "Best of Bora Bora" has practical information dispelling the mystery around this far-off, legendary isle. The illuminating discussions and comparisons will help clarify choices about when to go and where to sleep, eat and play in such a unique environment. Your vacation time is precious and it's not a cheap destination, so you'll get double the delight by spending your dollars on the best.

---
---
Our first book, "What your travel agent may NOT tell you about Bora Bora" will show you over 80 ways to save on your Bora Bora vacation. 

---
Bora Bora Island Wear

Images
You can purchase any photo you see on BoraBoraIslandGuide.com or our Bora Bora Beaches - Bora Bora Island Guide Facebook page . Images can be printed in a variety of sizes. Contact us for more information on purchasing prints.

Bora Bora canvas print

Search the Site

Are you still looking for additional information? You can use the Google search box below to search the site.