Send us a postcard of your Bora Bora travel!
We love visiting Bora Bora, and when we are not there, we are dreaming about being there!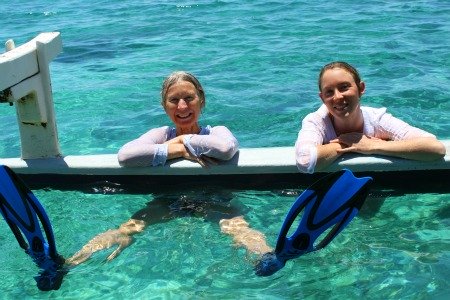 Mum and me on our latest snorkeling adventure
We would like to hear about your favourite Bora Bora travel story. What was your most romantic moment? Who is your favorite Bora Bora tour guide? What is your most memorable Bora Bora experience? What was the most fun?
What are your top travel tips for other visitors going to Bora Bora? Where was your favorite place to eat? Where did you find the best Pareos on the island? Where did you have the best Pina Colada?
Do share!
Send us a postcard from Bora Bora
We would love to hear about what made your Bora Bora vacation so special.
Postcards from Other Visitors
Click below to see contributions from other visitors to this page...

Shark Feeding

At St Regis Bora Bora, a marine biologist gives great talks about sea life. These particular sharks do not bother humans... They live in an enclosed area …
Search the Site

Are you still looking for additional information? You can use the Google search box below to search the site.