10 reasons a Bora Bora Honeymoon
tops the Romance Scale!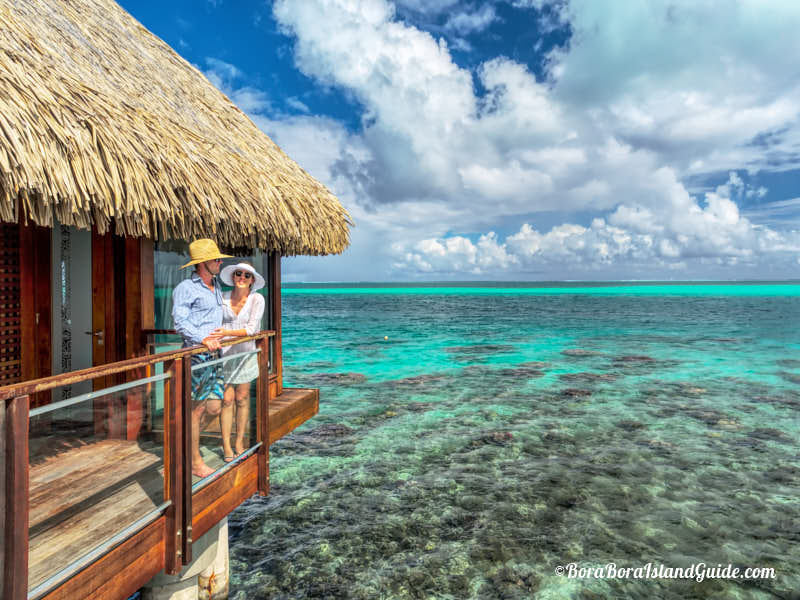 A Bora Bora honeymoon has all that your heart could desire to celebrate your love. Everything about this tropical island paradise will heighten your senses and increase your appreciation of each other. Here are 10 reasons why it is the honeymoon that everyone is dreaming about.
10. Secluded Pristine Beauty
Remote tropical Bora Bora exudes a rare romance and tranquility that is perfect for honeymoon vacations. It's distant location and exclusivity have kept tourist numbers low and so Bora Bora remains a paradise.
All the glamorous resorts are set on pure white sand Bora Bora beaches fringing the bluest lagoon in the world. The elegant simplicity of their Tahiti villas blends subtly into the environment.
You can honeymoon in Bora Bora away from the crowds of Hawaii and the Caribbean. Often you can be the only people on the beach!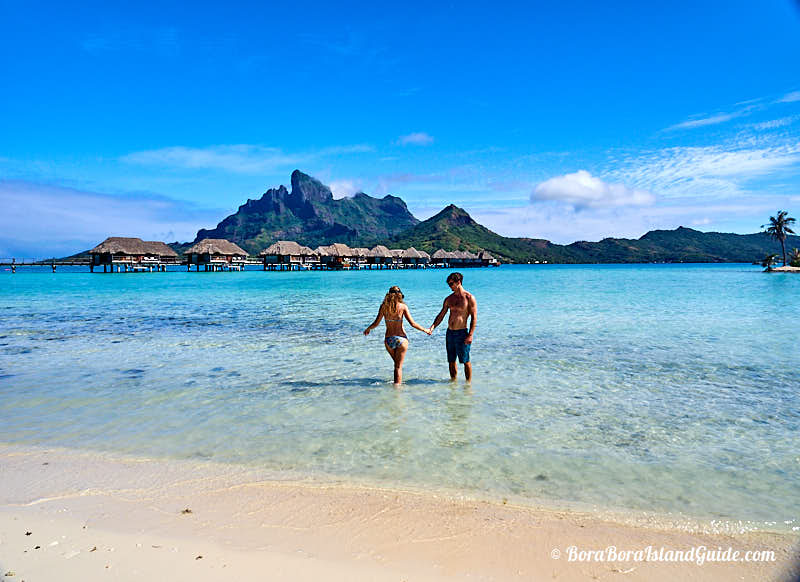 9. Bora Bora Honeymoon Resorts
You can honeymoon in Bora Bora resorts like a celebrity, for a discounted price. That official piece of paper that says you are 'just married' gives you many privileges in Bora Bora, where resorts favor honeymooners. This is the opportunity of a lifetime to create your dream Bora Bora vacation. You also have a good chance of being up-graded, especially if you avoid peak season.
Bora Bora resorts excel in creating romantic experiences and interludes to put magic into your Bora Bora honeymoon. Find out what is special about each gorgeous Bora Bora resort. Most have a cold bottle of French champagne waiting in your room on arrival and there can be pareos and a black Tahiti pearl laid out. Each day a little gift, like a piece of shell jewelry, is put on the bed. Some of the Bora Bora resorts provide a couples pampering in their exotic spa and a dinner on the beach, as treats for each honeymoon couple.
The St Regis, (where the butler service can organize almost anything) serves a dinner on the beach overlooking the lagoon. At the Conrad Bora Bora Nui you can arrange a private dinner for 2 at the far end of the beach next to the dramatic black lava rocks, or sleep in mosquito-netted royal style on their tiny private motu. Yes, at these resorts, for a price, you can indulge in delightful fantasies like having your bed dressed in a profusion of perfumed Polynesian flowers or bathing in a tub with fresh flowers floating on the water.
8. Intimate Over Water bungalows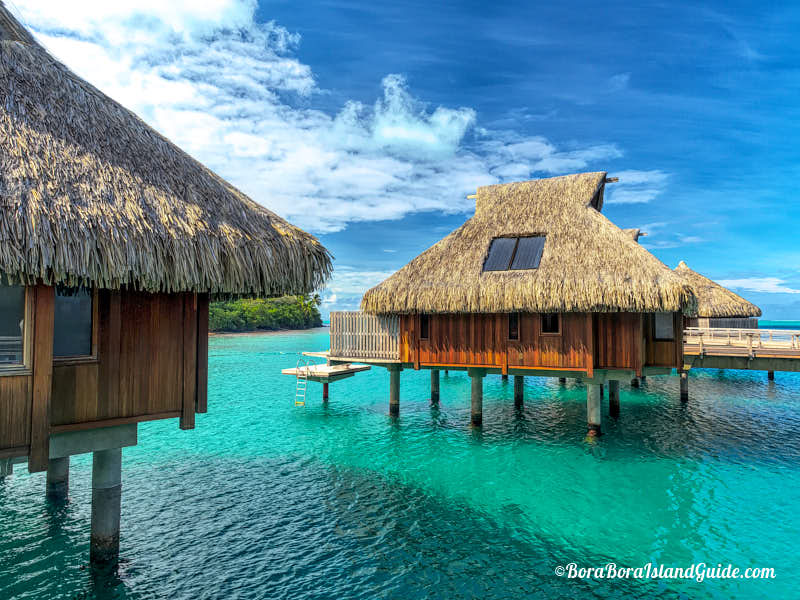 An overwater bungalow aesthetically combines the traditional, pandanas leaf, thatched roof bungalow with all the gleaming amenities of a first class hotel room. Perched above the blue lagoon it provides a secluded haven for maximizing your lagoon pleasure and putting you in a mosquito-free zone so you can relax in the balmy evening air for a perfect honeymoon. Bora Bora over water bungalows feature a private deck with direct access to the blue lagoon. For a unique romantic experience you can choose to have breakfast delivered by a floral decorated out-rigger canoe. Find out more about the amazing Bora Bora over water bungalows that whisper 'honeymoon Bora Bora' and make you cry as you leave.

7. Tropical Weather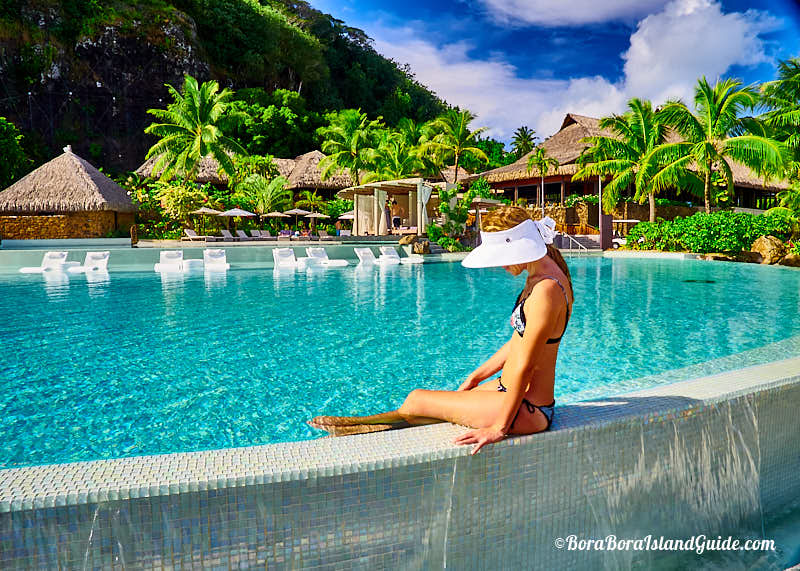 The weather in Bora Bora is warm all year round. Divided into 2 seasons, Summer is the wet season and winter the dry season, but even in winter the lagoon is an inviting 26 degrees C and there's no need to pack winter clothes. Here's advice on what to take to Bora Bora. Honeymoon vacations in Bora Bora can include water activities at any time of year. The balmy, sensual air caresses the skin and mingles with the island fragrances to create an enhanced sense of intimacy for lovers. If you have a choice about when to go to Bora Bora check out this extensive guide to the Bora Bora weather to see the advantages of each month and find the best time to go to Bora Bora, for you.

6. Bora Bora Spa Indulgence
On arrival you will think your Bora Bora resort is heavenly. When you find your way through the lush tropical beauty to the seclusion and tranquility of an open-air Bora Bora spa you will discover another sensory delight.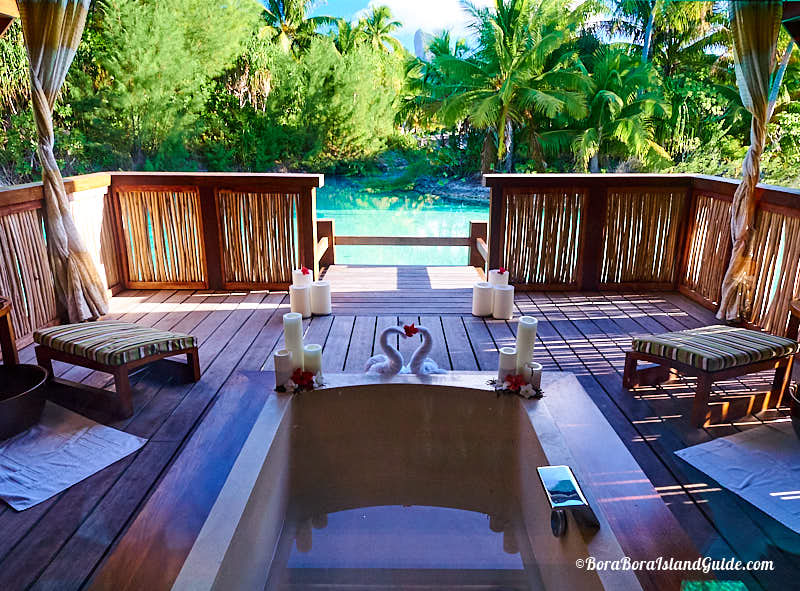 Immerse yourself in island sights and scents while you complete your Bora Bora honeymoon with natural treatments incorporating Polynesian oils, flowers and plants:
Fresh-flower bath for two 

Body wash with vanilla 

Body wrap in fresh banana tree leaves 

Body scrub with sand and rice, grated coconuts or sea salt 

Fresh fruit and plants mask 

Massage with heated stones 

Rain showers 

River baths 

Deep ocean-water treatments
Find out what's special about each exquisite Bora Bora spa.
5. Bora Bora Activities Have Wow Factor!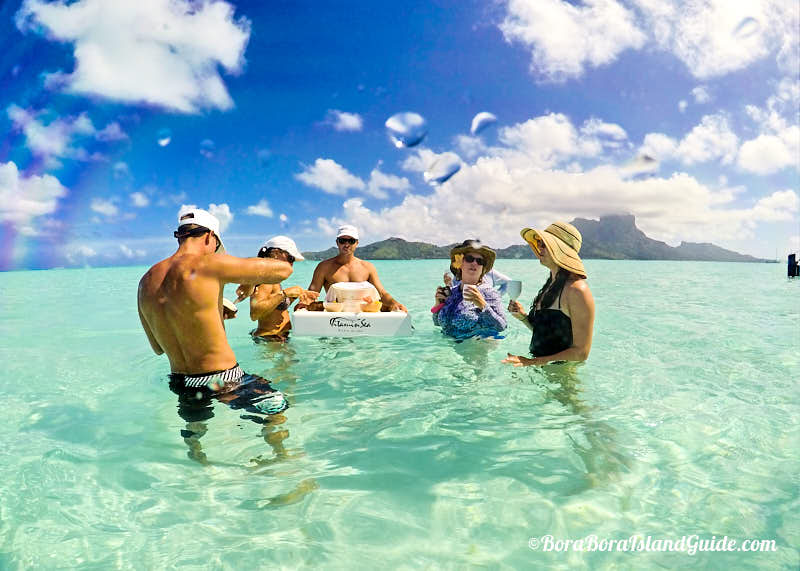 Although Bora Bora is the perfect place to do nothing, the exotic island and alluring lagoon offer a huge variety of Bora Bora activities. There are fun things to do in Bora Bora for everyone.
Create your vacation of a lifetime with these spectacular Bora Bora honeymoon activities. They're perfect for exploring the most beautiful island on earth, with your beloved, while every detail is taken care of, for you.

You're off to the island of romance ... but don't leave the magic to chance! Here are the best Bora Bora romantic activities that you'll need to book in advance.
These water activity Bora Bora excursions can be enjoyed as a couple. There's an aqua bike adventure, helmet dive (you don't even get your hair wet!) and trip outside the reef in a submarine. Want more action? You can circle the island on jet skis, try para-sailing, or take a boat outside the reef for some world class scuba diving in Tahiti.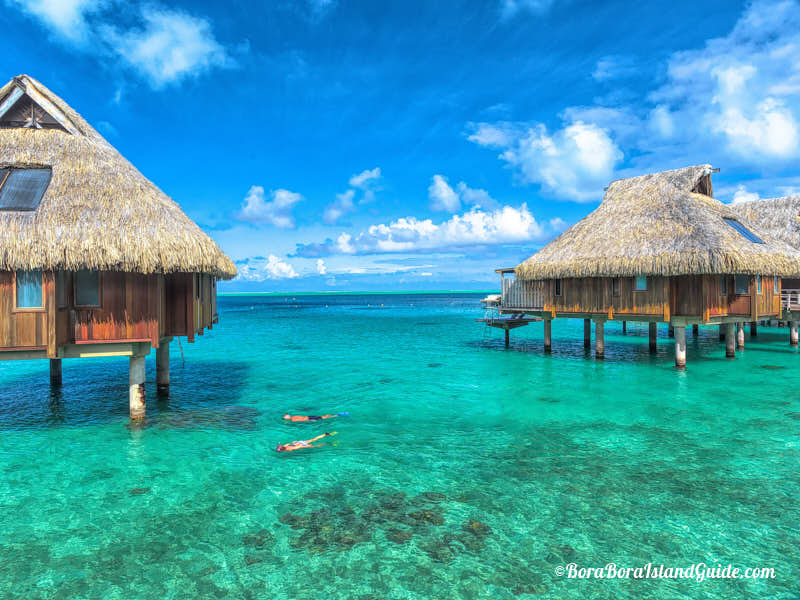 Fantastic Bora Bora snorkeling can be enjoyed right off your resort's beach. Or you can take outrigger canoe boat tours with stops at coral gardens for the best snorkeling in Bora Bora and ray and shark feeding. See the many choices of Bora Bora boat excursions that enable you to stop off at one of the secluded private beaches for a day of South Pacific bliss.

For glamorous speed boat tours there's charming Christophe of Reef Discovery, or Damien of Bora Bora Photo Lagoon who offers a unique opportunity to create postcard quality photos of your Bora Bora honeymoon. On sunset cruises you can sip Tahiti cocktails until the stars come out.
When you want to dry out there are Bora Bora tours for taking a 4x4 safari to explore the mystical island interior. You can also take a private tour of the flat perimeter, or hire a car (or bicycle) and travel the Circle Island Road using our guide to the Bora Bora attractions along the route.
4. Lustrous Tahiti Pearls
If you want to surprise your 'honey' with a precious Bora Bora honeymoon gift that will thrill for a lifetime, you can go shopping for Tahitian pearl jewelry. Before you go it's important to find out about what makes Tahiti pearls so valuable.

3. Private Island Picnics
Where else on earth can you whisk your 'baby' off to a deserted sandy isle and loll in warm, calm turquoise lagoon while a gourmet picnic is prepared for you?  You'll dine under emerald green palms with your feet in fine, powdery sand and munch on fresh lobster, maui maui and succulent island fruit. Imagine having nothing to do but enjoy each other and create marvelous Bora Bora honeymoon moments.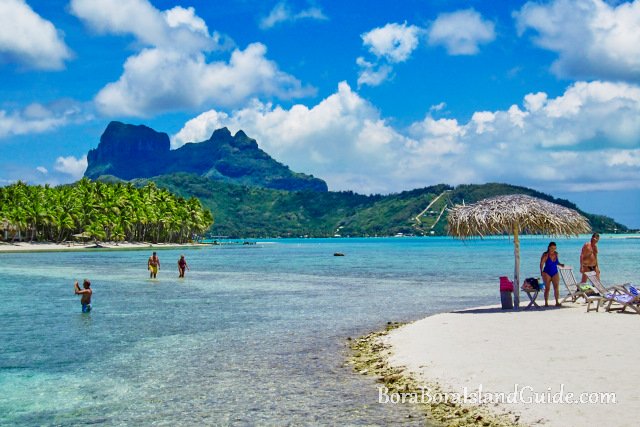 The Hilton Bora Bora Nui Resort  has it's own tiny isle, Motu Tapu where the Tahitian royal family once held their ritual ceremonies. The Hilton provides a lovely Tahitian style picnic, served on a colorful pareo secured with conch shells. You can also book a private island picnic lunch through locals, who provide entertaining Bora Bora excursions. Or ask the concierge at your Bora Bora resort to arrange this divine Bora Bora honeymoon motu lunch.

2. Bora Bora in Top 10 Honeymoon Destinations
Bora Bora is always voted as a top honeymoon location. Often taking out the winning spot. Just recently French Polynesia was voted the best honeymoon destination in Brides magazine.
1. Be the Envy of Your Friends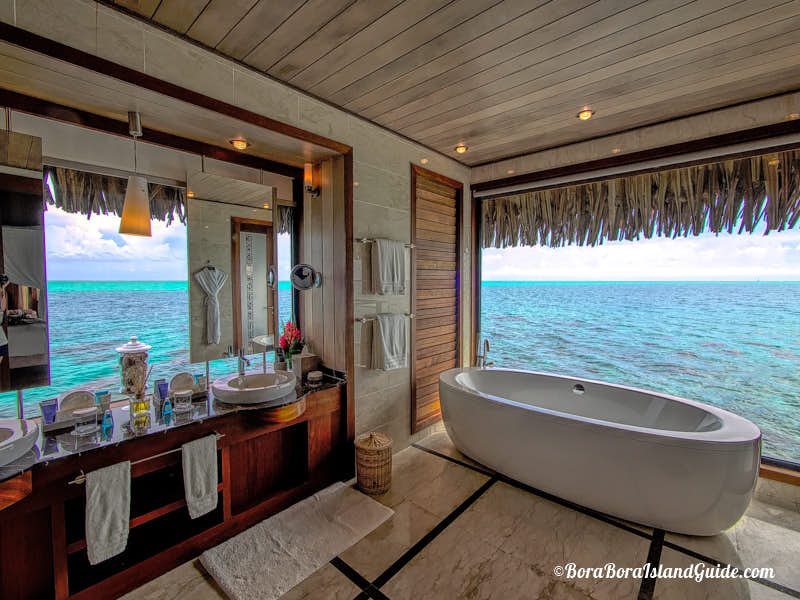 Honeymoons only happen once, make it the honeymoon to remember. Bora Bora is a bucket list destination that only a few people turn into reality. Be the couple that enjoys your first days as husband and wife on the most beautiful island in the world!
Now you know why travel experts continually rate a honeymoon in Bora Bora as one of the top 10 honeymoon destinations in the world. Check out our what to take to Bora Bora list and start planning.
Want more help in planning a romantic Tahiti honeymoon? This website has useful tips and ideas on how to plan a picture perfect honeymoon, including how to appeal to all five senses.
---
Looking for more info?
Search the Site

Are you still looking for additional information? You can use the Google search box below to search the site.