Tahitian Pearl Jewelry Lasts a lifetime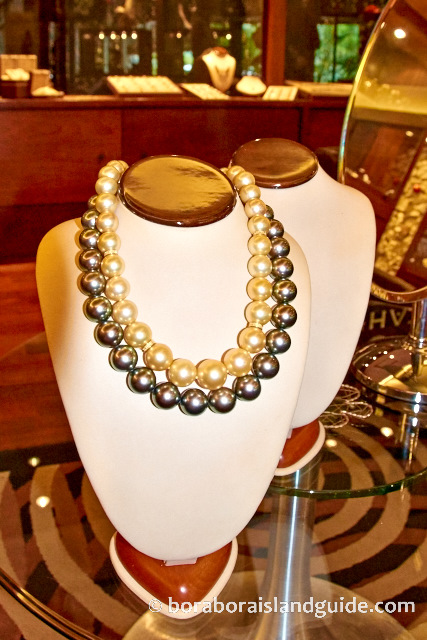 Imagine what Tahitian pearl jewelry would cost if the world was still relying on divers to discover pearls in the Polynesian Lagoons. It's exquisite beauty could only be enjoyed by heiresses and movie stars! And when you know the effort that goes into producing cultured Tahiti pearls, you understand why the price for a real pearl begins at $100, a rare, round, perfect pearl with a diameter of 18mm costs up to $10,000 and the price of an alluring Tahitian pearl necklace can be as much as $50,000.

Do your homework before buying pearls
Once you appreciate how much Tahitian pearl jewelry costs, you will want to know where to buy pearls for ensuring that you get good quality. It's useful to get some prior knowledge about types of pearls. Find out important facts about differences in color, shape, weight and size, so you know how to buy Tahiti pearls. There are big differences in pricing between places that sell Tahiti pearls. So look around to check out options. This is part of the fun. Remember that you are making a purchase that you can enjoy wearing for many years.

Who buys the harvested Tahiti pearls?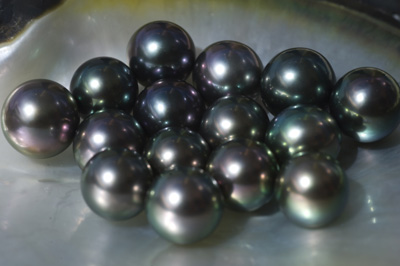 © GIE Tahiti Tourisme - Philippe Bacchet
Cooperative pearl farms sell their harvested Tahiti pearls at auctions in Papeete twice a year. The retail shops in Papeete and independent dealers buy pearls from the private farms. Large companies like Robert Wan's 'Tahiti Pearl's' have their own outlets. Each year about a million Tahitian black pearls are exported to Japan, Hong Kong, the USA and Thailand. French Polynesia has become the second largest source of loose pearls so Tahitian pearl jewelery is manufactured and sold in various countries.

Quality and Price Control

In a focus to control quality and pricing, the export of loose 'reject pearls' is forbidden and only pieces of Tahitian pearl jewelry using them are allowed out. In 2002 there was a big drop in pearl prices and 40% of black pearl farms went out of business. The price has risen 30% since then. But due to greater numbers of Tahiti pearls being cultured, and smuggling practices to avoid export tax, their price is still 20% lower than ten years ago.

This has made things more difficult for pearl farmers, as the market price is close to the cost of producing pearls on most farms, and quality controls are stringent. But it is good for those buying black pearls. Pearl farms have striven to produce high quality pearls to ensure sales. And the government pearl promotion board (GIE Perles) is working to maintain high standards. Tahiti pearls must be coated with at least .8mm of nacre as determined by X-ray. Pearls which don't meet this criteria are ground into powder. So Tahitian pearls are known for the integrity of their iridescent nacre thickness. Which means that when you buy certified black pearls you know that they will stay beautiful over many years of wear.
If you have the opportunity while in Papeete, visit the Pearl Museum. It's focus is on information around the mythology, history, science and art of black Tahitian Pearls.
Le Musee de la Perle
B.P.7, 98713 Papeete, Tahiti, French Polynesia. tel. (689) 452 122 
Opening hours:
Monday to Saturday 8am — 7pm
Sunday 9am — 7pm
Where to Buy Pearls: Retail stores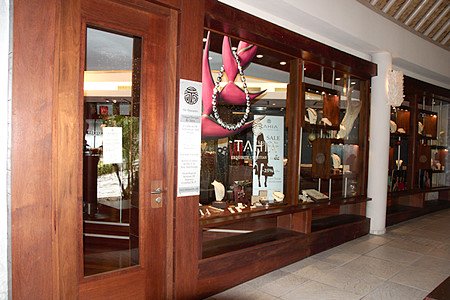 There are many shops selling pearls in Papeete and a few on Moorea and Bora Bora. Buy your Tahitian pearl jewelry from one that specializes in pearls. Visit several stores before you make your choice. Do ask for a discount on the displayed price at any of the Tahiti pearl outlets. Make sure that every purchase comes with a certificate of authenticity stating 'Tahitian Cultured Pearl'.

Papeete

Tahiti Pearl Market
Shows a short film on pearl farming. 25 Rue Collette. tel. 543 060

Tahiti Perles
At the pearl museum. tel. 461 515

Vaima Perles
In the Vaima Center.tel. 425 557
Tahia Pearls
Tahia uses high quality pearls in her creative, elegant designs. In the Center of Vaitape, opposite where the cruise ships dock. tel. 603 700

Bora Bora

The Farm
Has top quality Tahiti pearls. Some of the jewelry is made in-house. It's located just north of the Hotel Bora Bora. tel. 700 675

Matira Pearls
Has black pearls and island fashions. Located between the Intercontinental Le Moana Resort and Hotel Le Maitai Polynesia. tel.677 914

Arc En Ciel
Selection of black pearls in a private showroom with a Pearl Expert Graduate from the GIA. Reasonable prices and warm service. Free shuttle pick up. tel.675 998

Tahia Pearl Boutiques
You can choose from two exquisite Tahia Pearl Boutiques in Bora Bora. One is at the Four Seasons. The other is on the Circle Island Road at the center of Vaitape.

Robert Wan
Stores located in Vaitape village, Intercontinental Le Moana and at the Conrad Nui Bora Bora.
Moorea

Pai Moana Pearls
Produces an informative free brochure on the pricing of pearls. Between Le Petit Village and Europcar, Hauru. tel.562 525
Sibani Pearls
In Le Petit Village, Hauru

Tahia Pearls
A former 'Miss Moorea' and model, Tahia designs creative, unique settings which are manufactured on site, so you can often see the jeweler at work. Just phone for a complimentary pickup if you require one.
You can find her flagship store at Hauru located between Europcar and Restaurant Irene. tel. 550 500.
Tahia also has a shop at the Moorea Pearl Resort & Spa. tel. 056 565
Paul Gaugin Cruise Ship
Lucky passengers vacationing on the Paul Gauguin Cruise Shipcan shop leisurely at Tahia's shop in the evening.

Where to Buy Pearls: Black Pearl Farms
There are black pearl farms in the turquoise lagoons of many atolls in French Polynesia. They are mainly located in the Tuamoto and Gambier Archipeligos where the sea water is pristine. Workers on a black pearl farm passionately engage in every job in the chain of tasks necessary for nurturing oysters in the lagoon and grafting and harvesting quality Tahiti pearls. The isolation and rigorous focus necessary for success creates a strong family and community bond.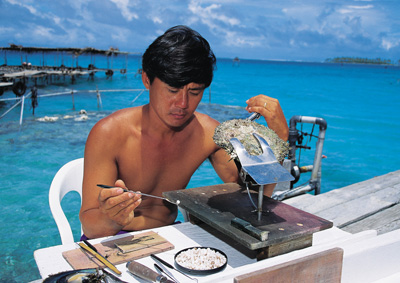 © GIE Tahiti Tourisme - R.Sahuquet
Some black pearl farms invite visitors and give an entertaining demonstration to educate people about Tahitian black pearls. If you arrive in a group, you will be welcomed island style, with music and singing. You have the opportunity to find out how black pearls are made. And if you're wondering where to buy pearls and know that they are real pearls, this is the perfect place. You can browse in their boutiques and buy gorgeous Tahitian pearl jewelry or individual pearls.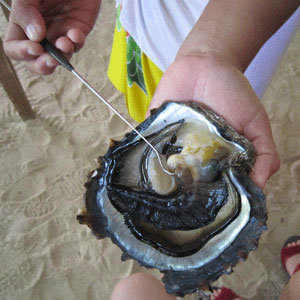 Learning about how pearls are made in Rangiroa
Gauguin's Pearl, Rangiroa
Is situated between the airport and Avatoru. This company also has farms on other atolls and is one of the largest in French Polynesia. It has a free 1 hour tour on weekdays at 8.30am, 10.30am and 2pm. open Monday to Friday 8am to 5.30 pm, Saturday 9am to 12noon, 3pm to 5pm. tel. 931 130

Huahine Pearl Farm, Huahine
Is located 4 kilometers south of Maeva, shortly before Faie. You can take a free boat tour (tip the boatman) of this farm and view a selection of pearls and jewelry. Open daily from 10am to 3pm. tel. 783 020

Airport procedures when buying Tahiti Pearls
Before buying pearls it's important to note that you are prohibited from taking more than 10 loose (unset) pearls out of the country without a license and the X-ray machine operators at the airport are trained to spot them. When buying Tahitian pearl jewelry you must keep your purchase receipt, and the export tax exemption form the sales person will provide. Have these handy at the airport when departing. The customs officer will keep a copy and this will prevent tax from being charged to your credit card.

Timeless Tahitian Pearl Jewelry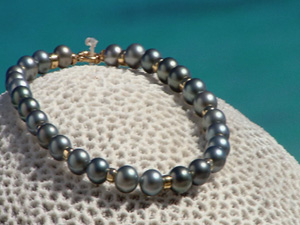 © GIE Tahiti Tourisme - J.Benhamza
Through the ages, pearls represented romance and femininity. A gift of Tahitian pearl jewelry was a symbol of eternal love. Now hardworking communities on black pearl farms wonder if there will always be a market for Tahiti pearls. The man with the reputation for being the best pearl grafter on Ahe Atoll is Maki. His response to that question was, 'As long as there are women, there will be pearls'. Now men are making pearls sexy by wearing them on leather and redefining the Tahitian pearl necklace.

Search the Site

Are you still looking for additional information? You can use the Google search box below to search the site.