Tahia Pearls

Only in Paradise can you find jewels this beautiful.
Want to buy a special piece of jewelry on your Tahiti vacation?
Visit Tahia Pearls. Tahia's boutiques sell the best quality pearls, in elegant designs, at competitive prices. The service is amazing and they offer a genuine 30 day refund.
We suggest you look around at a few black pearl shops before buying pearls. Tahia's staff will encourage you to do this too. Their primary interest is to link you with the black pearls of your dreams. Compare quality and design. Get an idea of the price of pearls, which is directly related to quality. You will get more satisfaction when you make your purchase.
Tahia Pearls: Exquisite Quality & Design
A Tahia boutique is a modern day Aladdin's cave of lustrous treasures. You don't need to be an expert to see that Tahia black pearl jewelry has been lovingly designed by an artist with a gift for presenting pearls in arrangements that enhance their magical beauty.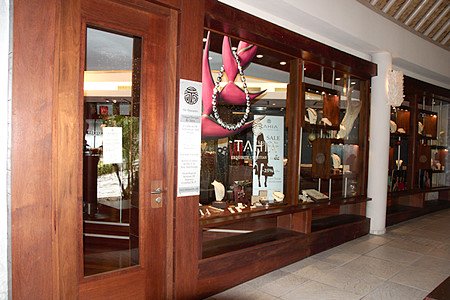 Tahia Pearls at the Intercontinental Thalasso Resort
Gracious, knowledgeable assistants will help you try on any of the glamorous pearl selection (which you will never want to take off). They may even suggest that you take the ones you are considering outside, to check their radiant color in the natural lighting.

Tahia uses rarer colors in her sophisticated designs. Not just the common silver and grey pearls that you usually see in other shops. Her black pearls are larger, with brilliant nacre reflecting gorgeous shades of purple, green, blue, pink and gold.

Tahia stores exhibit a wide selection of elegant necklaces, earrings and pendants. At competitive prices. The price of pearl necklaces starts at around $5,000, which is very good value for such high quality and beauty.
What Makes Tahia Pearls Special?
Tahia furthered her natural talent by studying design in the United States. She co-founded the flag-ship Tahia Pearls store on Moorea in 1993. From the early 2000s her creative jewelry design began winning awards for "luxury" and "prestige" categories in international competitions. But success has not changed this ex Miss Moorea. Her staff describe her as humble, almost shy, and an honor to work with.
Tahia starts from the bottom up, carefully choosing the most exquisite Tahiti black pearls. She has a pearl farm at Fakrava Atoll (in the Tuamotus Archipelago) which produces lustrous pearls in lovely hues. Next she applies her creative talent, and quality craftsmanship, to manufacture a stunning design. Tahia sincerely wants clients to be delighted when they wear her pearls. Everything must be perfect. Even the presentation box evokes Tahitian paradise!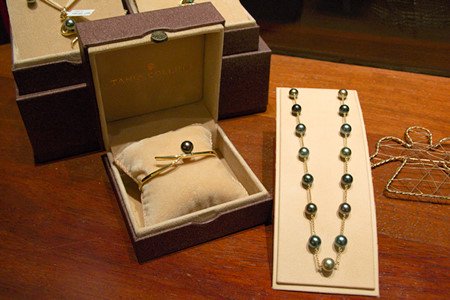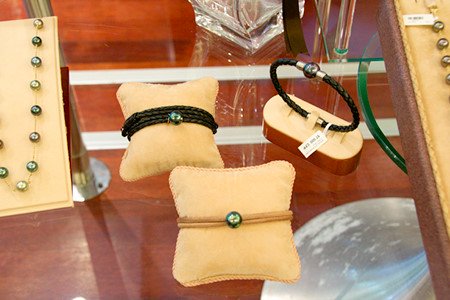 She has lovely designs for men as well
Superb Customer Service
Tahia understands that a woman buying Tahitian pearls on vacation wants a pleasurable experience. Her company implements impressive customer service. It begins with the attention given to how the dazzling pieces are displayed in the store. Fabulous showcases and lighting enable shoppers to see the individual characteristics of each piece of jewelry.
Sales consultants offer warm Tahitian hospitality. They can chat to you about the history of Tahiti black pearls and have an understanding of settings and complementary gemstones. Their flair for combining individual pieces of pearl jewelry assists customers in creating a personalized collection. You will also receive advice on how to care for real pearls. Each boutique can provide a master jeweler to re-size rings and adjust the length of chains and strands of pearls.
On each island Tahia Pearls offer a shuttle service to pick you up and return you to any place you want to go. Ask the concierge at your resort to call the store for you.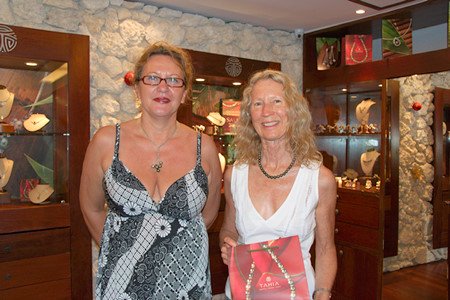 The manager at the Intercontinental Thalasso boutique, Maryse
At the Intercontinental Thalasso boutique, Maryse, the manager, greeted us with "Welcome to paradise". She was wearing Tahia's award winning "Cascade" necklace. For many years it was her dream to come to Bora Bora. Now she has been a resident for 8 years. No subway trip to work for her! She catches a boat from Bora Bora's main island.
Maryse sums up life in Bora Bora with a delightful French accent. "Everything is beautiful. The people. The nature. The culture. It truly is paradise!" Maryse is living exactly where she dreamed of, and loves showing Tahia pearls. "Every time we open our new shipment it's like Christmas". No wonder she gives such incredible service. We were encouraged to take all the time we needed to choose pearls that we really loved. It was an enchanting experience.
Quality & Satisfaction Assurance
Tahia offers a 30 day unconditional money back guarantee and a lifetime upgrade policy. Even years later if you can see something you like more at one of her stores you can upgrade. This is an unusual event, as buyers have a love affair with their pearls and return to choose another piece of precious black pearl jewelry. There are service centers located in Germany for the European community, Tokyo for Asia, and Los Angeles for customers in North America.
Where to buy Tahia Pearls
Buying Black Pearls Bora Bora
There is one Tahia shop at the center of Vaitape village and another inside the Intercontinental Resort & Thalasso Spa.
Buying Tahitian Pearls Tahiti
Everyone passing through French Polynesia can get to the Tahiti Tahia boutique on the main island. It's facing the waterfront, opposite the ferry dock. Even if you're cruising through Tahiti and only stop on the main island, you have the opportunity to stroll down the road to visit the Tahia boutique (unless it's Sunday) and choose a special souvenir that you will wear with pride for the rest of your life. There's several black pearl shops nearby so you can shop around and compare.
Buying Tahitian Pearls Moorea
You can find the original Tahia Pearls near the "Le Petit Village Shopping Center". This Moorea store has a VIP lounge for clients who are wanting privacy during the purchasing process. There is a second shop inside the Moorea Pearl Resort & Spa.
Tahia Pearls on a Cruise ship
If you're lucky enough to cruise on the recently refurbished Paul Gauguin you will be pleased to know that it has a gorgeous collection of Tahia pearls on board. It's the only ship which exclusively sails the Tahiti waters year round, and offers unbeatable all inclusive Tahiti vacations. So inclusive that it even has our favorite pearl shop! Buying Tahitian pearls will be easy. You can shop leisurely on board in the evenings, and spend your time on the islands sight seeing.
Every time you put on your lovely Tahitian pearls your thoughts will return to the beautiful waters of French Polynesia.
Search the Site

Are you still looking for additional information? You can use the Google search box below to search the site.