Intercontinental Bora Bora Thalasso Resort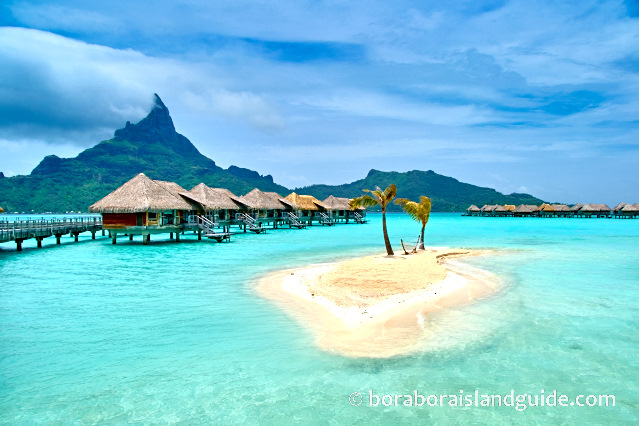 The Intercontinental Bora Bora Thalasso Resort is situated on one of the beautiful coral motus which ring Bora Bora Lagoon on the east.
It's blessed with one of the most beautiful white sand beaches in Tahiti and has superb views across the lagoon to Majestic Mount Otemanu.
The Intercontinental Bora Bora Thalasso Resort was voted best overseas leisure hotel (September 2011) by pretigious Condé Nast Traveller readers who rated it as their favorite place to stay in Australasia and the South Pacific. They rated the Deep water Spa 2nd best hotel spa in Australasia and the South Pacific.
Wake Up To An Over Water Bungalow!
If you've been dreaming of waking up in an over water bungalow, swimming in crystal blue water, and lounging on white sand beaches, you'll find it all here! At the Intercontinental Bora Bora Thalasso Resort all 'rooms' are over water.
There are 80 large (100 m²/ 1200sq.ft.) Intercontinental Thalasso overwater villas poised above the turquoise Bora Bora lagoon. From the outside they resemble traditional Polynesian thatched-roof villas. Inside, the luxurious, contemporary interior offers 3 elegant rooms. And you may have the most fun on your spacious private deck and pontoon.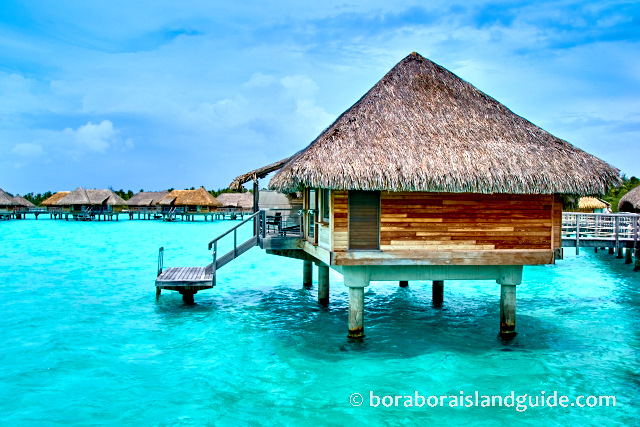 Intercontinental Bora Bora Thalasso Resort Family Vacation
If you're planning a Tahiti family vacation, the resort has thought of you. There's 3 Family Villas nestled amongst coconut palms, on the motu. Each spacious Polynesian style villa has 2 bedrooms and 2 bathrooms.
Intercontinental Bora Bora Dining
There's a wide choice of Intercontinental Bora Bora dining experiences. There's 2 beautiful restaurants serving delicious food and 2 bars. You can have a meal served in the intimacy of your over water bungalow or on the beach. For something different, catch the free boat to Intercontinental's Le Moana on the main island and dine in their restaurant. Or book for one of the Bora Bora Island restaurants and have them pick you up from there, with their free taxi service.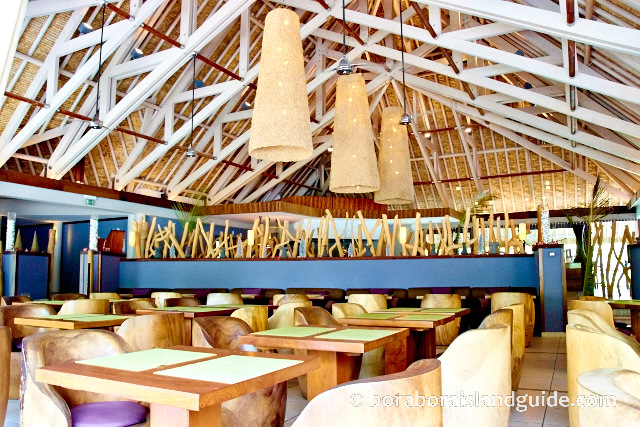 Intercontinental Thalasso Bora Bora Activities
Many of the Intercontinental Thalasso Bora Bora Activities are centered around it's divine beach. When you've had enough of lying around on a comfy sun lounge under thatched pandanas (doing nothing except admire the profile of Mount Otemanu) there's fun things to do on the sand or in the water. Each day there's Polynesian experiences to engage in. And you can book thrilling Bora Bora excursions and have tour providers pick you up from the resort's dock.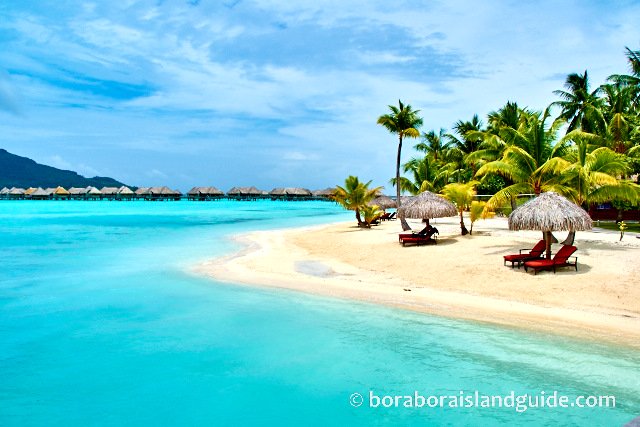 Relax on the gorgeous beach!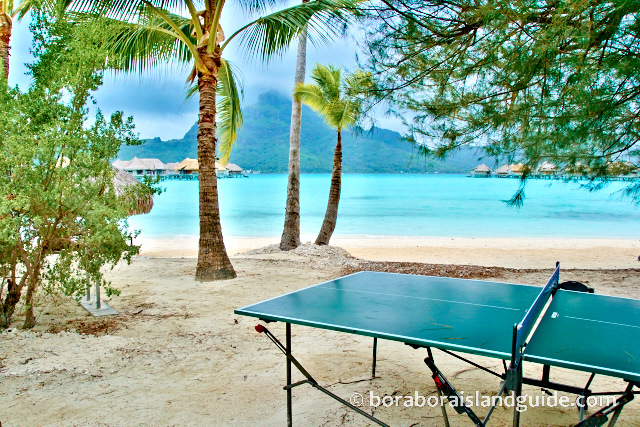 Or play ping pong overlooking Mt Otemanu
Gorgeous Grounds
You will do a lot of walking at this resort and it will be enjoyable. Everywhere you look is picturesque as the extensive grounds are dramatically beautiful. A fitness trail takes you for a walk along the reef and ocean side. The refreshing sea and island fragrances (frangipani and tiare) are magnificent. When necessary you can call for a golf car to wiz you around. The air is pollution-free due to an absence of cars. The resort pumps icy deep sea water for it's ecological cooling system and then it is utilized in the spa.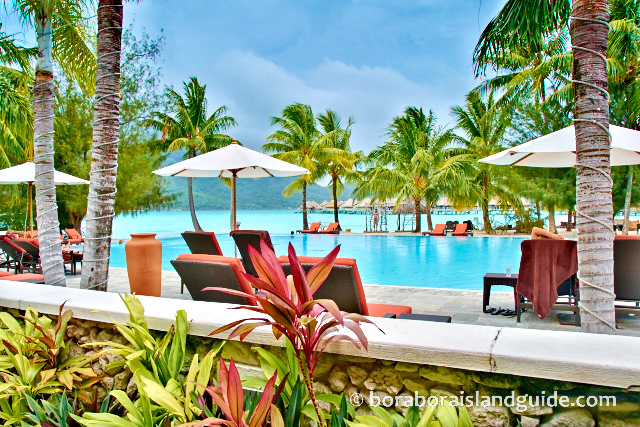 The pool at the Intercontinental Thalasso Resort
A Very Convenient Location
A regular free shuttle boat service runs between the Intercontinental Bora Bora Thalasso Resort and the Intercontinental Le Moana which is just a few minutes away on the mainland of Bora Bora Island. There is a variety of shopping and eating places on the Circle Island Road, just outside the Le Moana. Famous Matira Beach is across the road. If you enjoy doing things in your own time you can hire an electric bicycle nearby and easily ride all the way around the Circle Island Road in a few hours. If you need more comfort, Avis has an office 10 minutes up the road.
Two times each day there is a shuttle bus between the Le Moana and the main town, Vaitape. Tickets can be bought at reception and cost 990XPF per person round trip. Vaitape has 3 banks (with ATMs!) and a variety of interesting little shops as well as a Polynesian craft market. There's also Chin's bustling little supermarket selling just about everything including delicious, fresh, take-away.
The Intercontinental dock on the main island drops you off right near Matira Beach
Thalasso Deep Ocean Spa
The innovative Thalasso Deep Ocean Spa makes the Intercontinental Bora Bora Thalasso Resort a spa destination. It's the only one in the world offering the benefits of mineral-rich sea water drawn from more than 800 meters deep. Over water treatment rooms have glass floor sections for observing lagoon life and the relaxation areas have spectacular views.
Intercontinental Bora Bora Wedding or Honeymoon
The romantic over water Intercontinental Bora Bora chapel sits in tranquil seclusion at the head of a lagoon inlet, with water lapping gently underneath, and a background of tropical palms. It's stunning outlook to Mount Otemanu provides a most exotic wedding setting. A festive traditional Tahitian wedding ceremony can be arranged, with every detail taken care of for you. Honeymooners get a complimentary bottle of champagne and flowers in their room. With a minimum stay of 4 or 5 nights the bride and groom receive beautiful Tahitian gifts.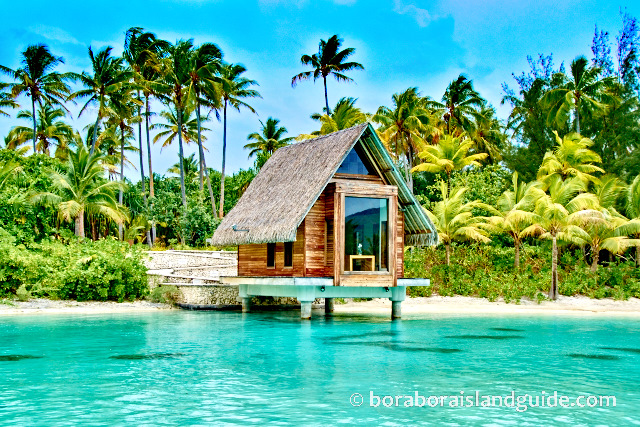 Intercontinental Bora Bora All Inclusive
To have the best Intercontinental Bora Bora all inclusive experience possible, make sure your airport transfers and meal plans are included in a package when you book. You will save a lot. Many fun resort activities are complimentary and there are free cultural activities (including ray feeding) daily. If you want a relaxing vacation, you can have a great time without ever leaving this resort.
Boutique Shopping
Tahia Pearls
If you want to buy a romantic gift or take home a Bora Bora memory that will give lifelong pleasure, Tahitian pearl jewelry is the ultimate! It's for men too. Wearing a single pearl on leather is so sexy!
Find out what makes a Tahiti pearl so special. Tahia selects pearls with the most lustrous nacre and has won many awards for her beautiful black pearl jewelry designs. The Tahia at the Intercontinental Bora Bora Thalasso Resort is the best black pearl shop in Bora Bora.
Azure Boutique
This handy shop sells local handicrafts, bathing suits, casual clothes plus some of the basic necessities you may forget to bring.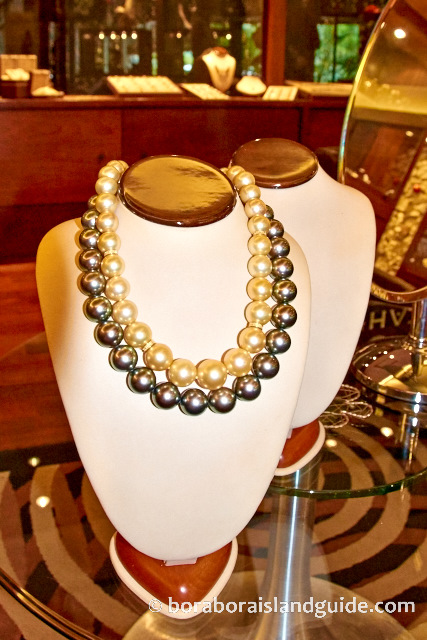 Tahia Pearls
Get a customized vacation quote

Search the Site

Are you still looking for additional information? You can use the Google search box below to search the site.