Intercontinental Thalasso Bora Bora Activities
Many complimentary Intercontinental Thalasso Bora Bora activities will provide you with a variety of fun things to do, without leaving the resort.
A spa visit is a 'must'. And the Intercontinental has the best black pearl shopping in Tahiti, at Tahia boutique. You can also book amazing lagoon and island excursions through the Activities Desk at the hotel, or arrange them yourself.

Me relaxing on the Thalasso's beach
Complimentary Intercontinental Thalasso Bora Bora Activities
Much of the magic at this resort is in the over water bungalow. But the beach is very special too, and is the focus of so many things to do at the Intercontinental Thalasso Bora Bora.
Towels and snorkeling equipment are collected from the beach fare (house) and you can change your wet ones as many times as you like, in a day. You will probably find the beach boys to be the friendliest people at the resort.
Float in the pool and sip a cocktail while being mesmerized by Mt Otemanu rising from the lagoon.
Relax on soft sun-lounges under a pandanas umbrella on the beach.
snorkel and explore the area of coral in the lagoon inlet near the chapel.
Float out to the sand bank in front of the over water bungalows and sunbake in the solitary hammock.
Swim in the most turquoise, sandy area of the Bora Bora lagoon.
Explore the lagoon in an outrigger canoe, kayak or peddle boat.
For a water activity involving more skill, try mastering a paddle board.
Have a game of volley ball or table tennis alongside the most beautiful lagoon in the world.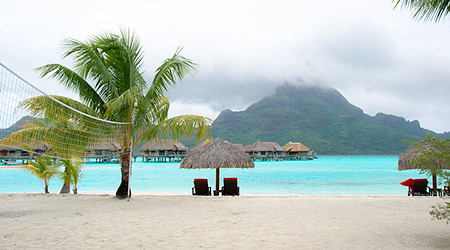 Beach volleyball

Table tennis on one of the worlds most beautiful beaches!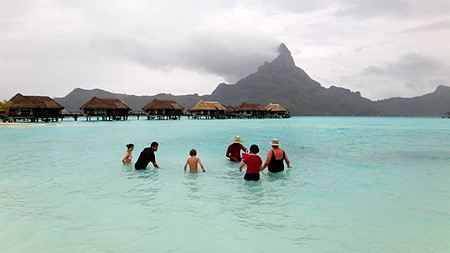 Sting Ray feeding on the Thalasso's Beach
Show up on the beach at 2pm to watch a sting ray feeding.
Engage in the mystery of a star gazing session.
Get some exercise with a hit of tennis. Book a court with the pool boys.
Work out in the fitness and aerobic room.
Intercontinental Thalasso Bora Bora Cultural Activities
To give you a taste of local culture, there are various Intercontinental Thalasso Bora Bora activities for providing a window into Polynesian life.
A Polynesian buffet of seafood and island dishes is served at Le Reef on Monday night. After dinner there's a Polynesian dance showon the terrace, with islanders gyrating their hips to rapid beats of the tamure.
Handicraft demonstrations show the dextrous skills of the creative Polynesian mamas:
Weaving of Pandanas and coconut tree leaves to create hats, baskets and mats.
Flower and shell lei making
Tifaifai quilt making. These hand stitched bedspreads, typically with botanical patterns, are a traditional wedding gift.
Pareo dyeing
Pareo tying demonstrations will inspire you to wear a pareo. Pareos are an important part of island life. The islanders tie them in hundreds of different ways.
You can also learn how monoi oil is used for health benefits and beauty treatments.
Thalasso Deep Ocean Spa
The unique Deep Ocean Spa uses mineral-rich ocean water from over 800 meters deep in it's innovative hydro therapy tratments. It also offers beauty care and gentle energy techniques. The sensational massage rooms (including one for couples) have glass floor lagoon viewing. In the spa grounds there's a variety of Intercontinental Thalasso Bora Bora activities and facilities available for half day use. We enjoyed the most indulgent afternoon of our last Bora Bora vacation relaxing here.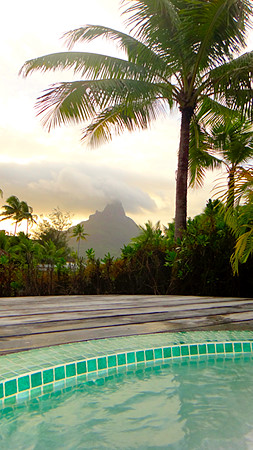 Sunset from the Thalasso Spa
Bora Bora Diving with Top Dive
This luxurious new dive center located conveniently in the resort makes scuba diving one of the popular Intercontinental Thalasso Bora Bora activities. There's a famous dive site just across the lagoon near Anuau where manta rays come for a grooming from the cleaner fish. If you're a beginner, the calm Bora Bora lagoon is the perfect place for your baptism. Outside the reef there are sites of unique biodiversity to intrigue experienced divers.
Intercontinental Thalasso Bora Bora Activities Desk
There is a wide variety of exciting excursions that you can choose from in Bora Bora. Shark and ray watching. Snorkeling in beautiful coral gardens. Diving. Motu picnics. Hobie cat sailing. Water skiing. Deep sea fishing. Mountain trekking. Jeep Saffaris. Sunset cruises. You can arrange these through the Intercontinental Thalasso Bora Bora activities desk in the reception building. Or after you have booked your Bora Bora vacation you can decide what excursions you want to do and book them yourself to make sure you get the ones you want.
Is the Intercontinental Thalasso Bora Bora for you?