Hilton Bora Bora Nui Resort & Spa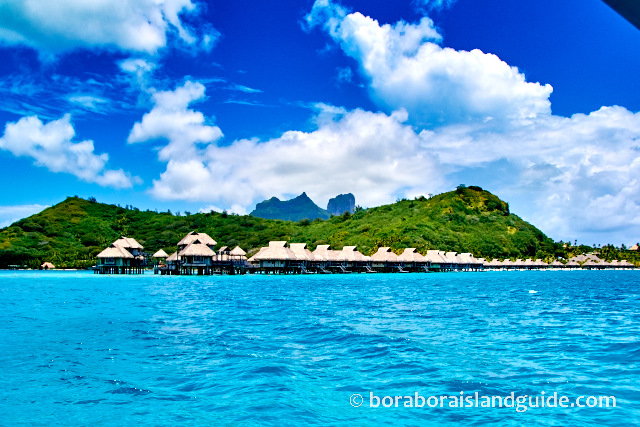 Wondering if the Hilton Bora Bora Nui Resort is your perfect Bora Bora vacation hotel?

Private Island Paradise
Here's information to help you decide, and choose your villa style and it's location in the resort. The resort has undergone a complete makeover, and reopened in April 2017 under the Conrad flag.
The Hilton grounds are set on 16 acres of tranquil paradise, hidden away on the south end of the lush, volcanic island of Motu Toopua.

It's sprawled along a stretch of white sandy beach with lustrous black lava rock at one end and is the only resort in this blue, deep water quadrant of the lagoon.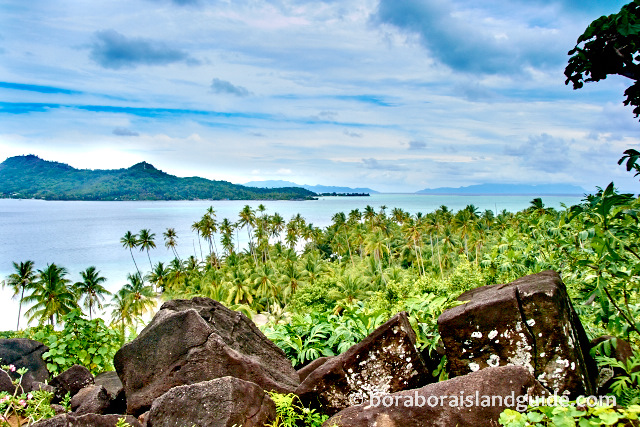 The trade-off for seclusion is that there are few vistas of Mt Otemanu, Bora Bora's towering signature cliff. But there are other beautiful views from everywhere on the resort. And when you paddle out onto the water you can see right across the blue lagoon to Mt Otemanu jutting up mysteriously from Bora Bora Island.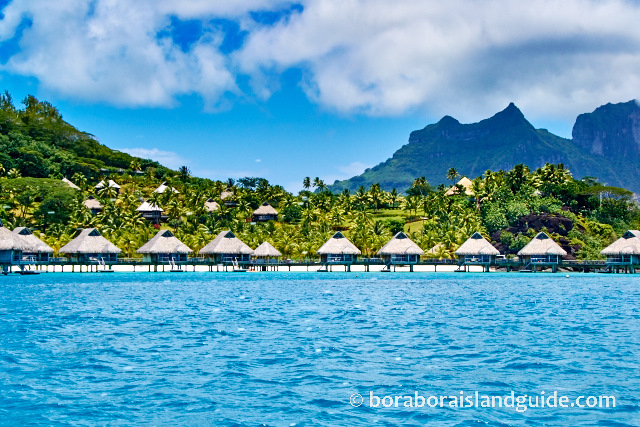 View back to Mt Otemanu from on the lagoon
The centerpiece of the Hilton Bora Bora Nui Resort is a gorgeous infinity pool which fronts the sandy beach. Around the pool and beach, cushioned deck- chairs, and hammocks hanging from palm trees, invite relaxation. Reception is located over water.
Choice of Villa Type
Most of the elegant villas at the Bora Bora Hilton are similar in size and layout. They feature high, woven ceilings, except for the lagoon view suites. Their spacious, comfortable, 'wood and white' themed interiors utilize rich woods and the furniture is Indonesian mahogany. The Italian marble bathrooms are huge and have a bath-for-two set in an alcove. The large shower and toilet rooms each have a shuttered window with insect-screen. All villas have effective air conditioning.
Snorkel from an Over Water Bungalow
Do you love snorkeling? Find out which of the 86 over water villas at the Hilton Bora Bora Nui Resort have some of the best straight-from-your-deck snorkeling in Bora Bora.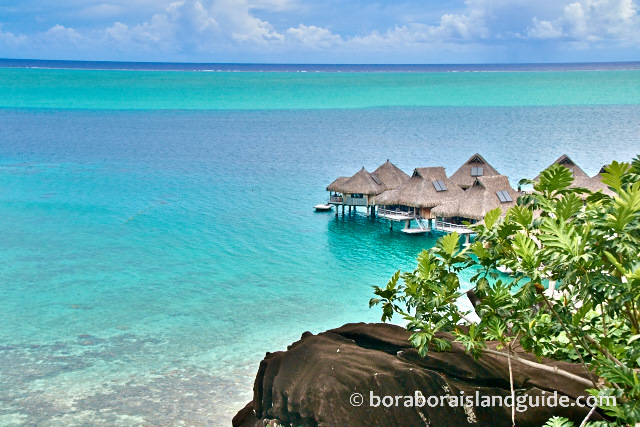 Or Stay in Tropical Gardens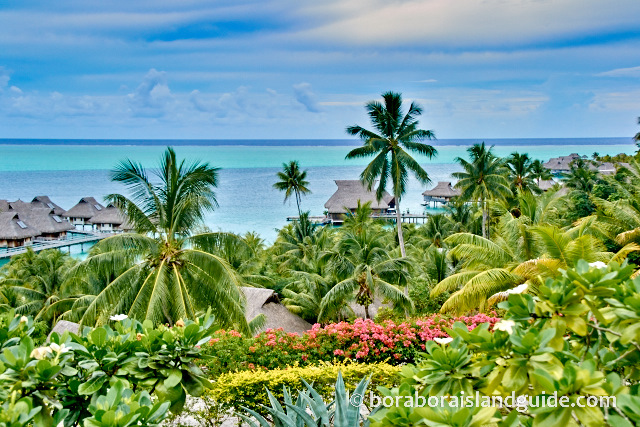 The gorgeous on land villas extend up the green hillside and have very private settings amongst immaculately kept gardens. They all have a large, partly shaded deck with soft sun-lounges, and a table and chairs. The 11 Hillside Villas (90m²/969sq.ft.) are perched up high to take advantage of the views. Some have very long stairways leading to them and others only have a few steps.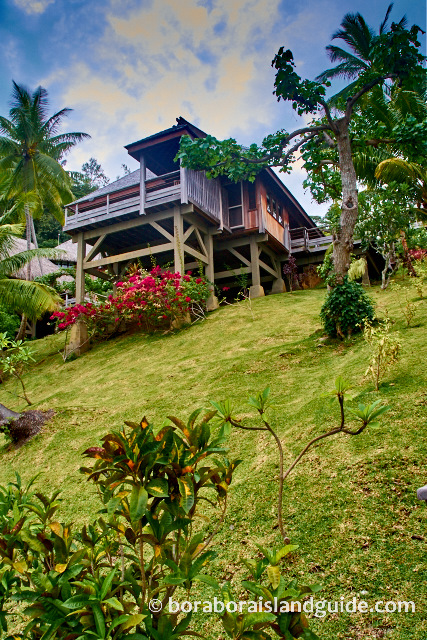 A hillside villa - our home for the week
The 9 Garden Villas (90m²/969sq.ft.) are in a row along a flat stretch, just back from the beach. The 16 Lagoon View Suites (100m²/1076sq.ft.) are built in a long, two story thatched roof building. A large, grassed area separates them from the beach. Their interiors are simpler, with white walls and ceiling reflecting more light and making them brighter. Connecting rooms are available for families, and some have twin beds.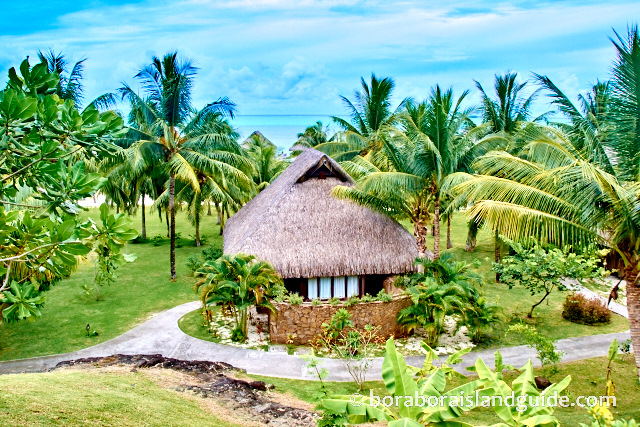 A garden villa
Thinking of a Bora Bora Wedding or Honeymoon?
This romantic ambiance is a perfect place for a honeymoon. Imagine being surrounded by crystal blue water, weathered wood, and green foliage splashed with colorful tropical flowers. The décor of the villas has a classic feel and features a picturesque four poster canopy bed dressed in white. Few families with children stay here.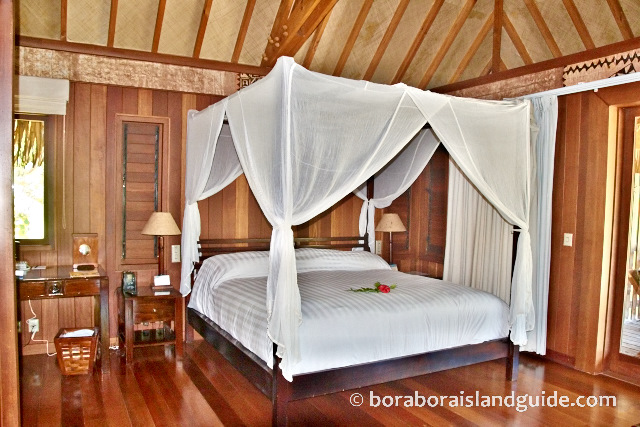 The Bungalows feature rich wood and white interiors
If you're getting married, or would like to renew your vows, there is a quaint wedding chapel, high on the hill, near the Hilton Bora Bora Nui Spa. It has inspirational views across the lagoon to Bora Bora Island. You can also arrange a sensuous sleep under the stars on private motu Tapu. For more Bora Bora wedding ideas visit our weddings in Bora Bora page.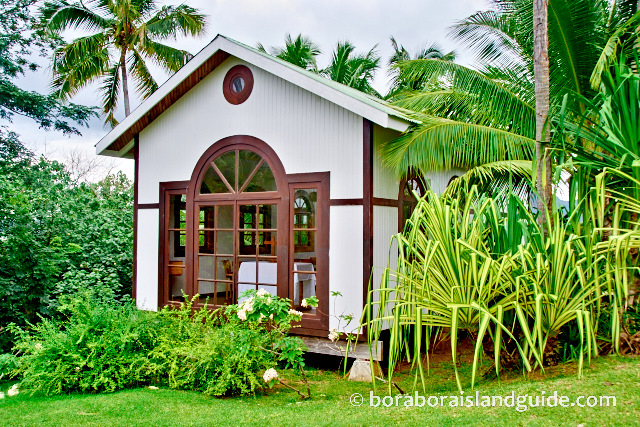 The Hilton's Chapel is high on the hill looking out to Mt Otemanu
Eating at the Hilton Bora Bora Nui
Here are the dining options at the Hilton Bora Bora Nui Resort. We also tell you the best places to eat on Bora Bora Island as the Hilton's regular shuttle boat makes it easy to get across.
What to do at the Hilton Bora Bora Nui Resort
Even if you stay for a week you probably won't get to do all of these activites at the Hilton Bora Bora Nui Resort.
Bora Bora Nui Resort Spa
The Nui hilltop Hina Spa offers wellness in such a magic ambiance that it was used for the location of the final ceremony of 'The Bachelorette' in 2010.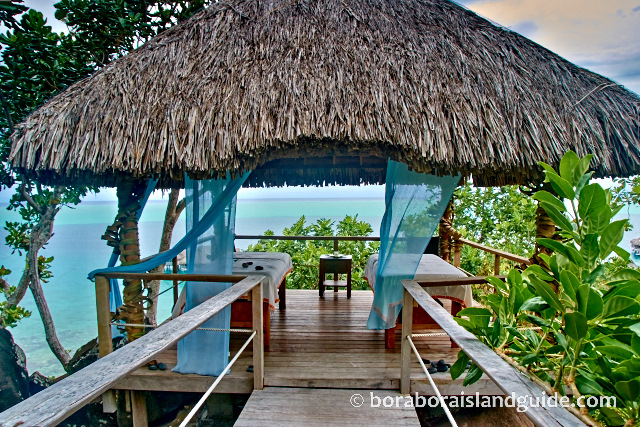 The million dollar view
Transfers to the Hilton Bora Bora Nui Resort and Spa
We recommend you book a hotel transfer. This costs 9,240XPF per person, per round trip. When you arrive at the Bora Bora airport, go to the Hilton booth. A Polynesian momma will welcome you with a fragrant lei, your luggage will be taken care of and you will be directed towards the pier for the Hilton's boat.
When the transfer boat approaches the Hilton Bora Bora Nui Resort's dock and you step onto the floating reception area you will be greeted by a drummer and ukulele players. At the end of your stay, as you leave for the airport, you'll be given a traditional shell necklace as a goodbye, and a similar musical send-off. You'll hear this during your stay and feel sorry for those going.
Extra Information
Internet connection, by Wifi and cables, is available around the resort and in the villas. There's 5 different packages you can buy: 60 min. for 900XPF; 120 min. for 1500XPF; 24hrs. for 2900XPF; 3 days for 7900XPF; 5 days for 9900 XPF.
Phone use in the room is extremely expensive. Even for local calls. The reason given by reception is that there is only one phone provider in Bora Bora. I made a few local calls and incurred a charge of several hundred dollars. Even when I complained and it was cut in half I couldn't smile. Buy a phone card and use the public phones while in Vaitape. Or the internet.
What we think!

We loved the bottle of Blanc De Corail delivered to our room on arrival. It was from the only winery in Tahiti, located on Rangiroa, a coral atoll. We also appreciated the complimentary bottles of water which we received on our bedside tables with the evening turn-down. Little touches, like having our slippers set out next to the bed, made us feel very 'looked after' at the Hilton Bora Bora Nui Resort.
The Nui has a very relaxed atmosphere for a 5 star hotel. This makes it easy for couples to engage with others. Each day we saw people walking around the breakfast tables, saying farewells, before catching the airport boat. The islanders live life at a slower pace. They have a 'not to worry' attitude. Life is to be enjoyed.
Some rooms are quite a distance from restaurants and reception. Walking around the grounds is a pleasure but any time you want a ride you can ring for a golf cart pick-up.
Check-in is at 2pm and check-out is at 11am. When possible, the Hilton Bora Bora Nui Resort is generous with late check-out times. They know when you're leaving because their boat is taking you to the airport. On our final morning, reception rang and said our check-out time was 4pm. Some people have even been given a free upgrade for the last night, as late checkout was not available in their previous room.
Get a customized Vacation Quote for Hilton Nui

Search the Site

Are you still looking for additional information? You can use the Google search box below to search the site.