Bora Bora Night Life and Dining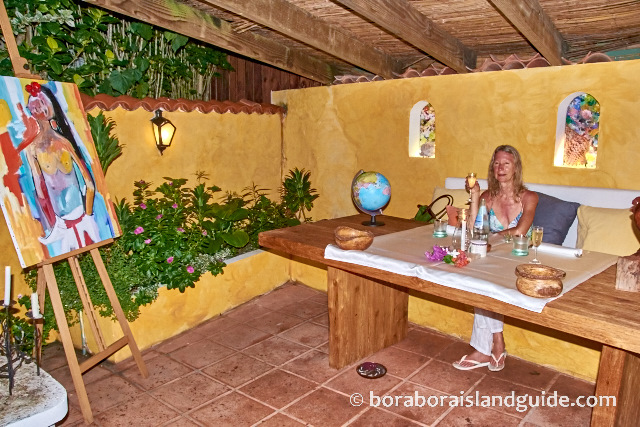 An evening at Villa Mahana
There's an elegant simplicity to the nightlife in Bora Bora. Most of the year, evenings are balmy and the stars shine more brightly than any place on earth. It's a time to hold hands and watch the golden orb sink slowly into the glistening ocean, before indulging in some exotic Bora Bora food. Listening to the enlivening music at resort bars, while sipping Tahiti cocktails with your beloved, is intoxicating. This is one of the most romantic beach getaways on earth!
Getting around at the end of the day is pleasurable. It's cooler, and the fragrant perfumes of tropical flowers waft on the gentle breeze. You can linger along the beach and stroll leisurely to the 'pick' of your resort restaurants.
Or there's a variety of unique Bora Bora restaurants that are entertaining to visit. Most of them graciously provide a complimentary pickup from your hotel or the shuttle-dock of your motu resort, then drop you back after eating, ensuring that you catch the last boat to your resort.

Here are our recommendations for enjoying a mesmerizing sunset, stargazing, and eating the best Bora Bora food to be found outside your resort:
Bora Bora Sunset Cruise and Dinner at St James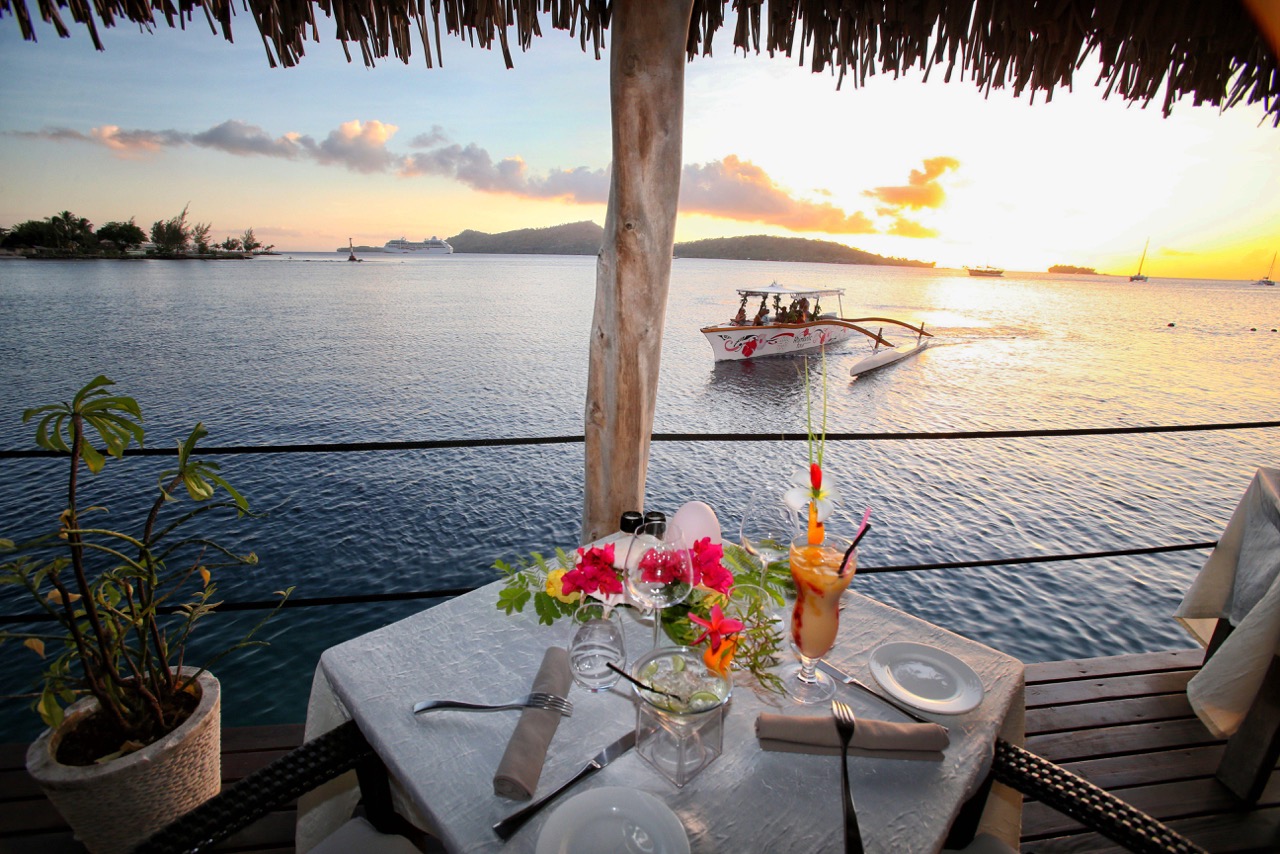 On this very relaxing, small-group sunset cruise, out on the lagoon in an Polynesian outrigger canoe, you can sip a glass of wine while watching the sun slowly sink into the Pacific Ocean. After the cruise the boat lands you at lovely St James Restaurant for an intimate, twilight dinner overlooking the lagoon. The special menu offered to cruisers gives a delicious choice of 2 appetizers, 2 mains and 2 deserts. Combining these two superb experiences create a very romantic evening, and make this highly rated restaurant very easy to get to.
Vitamin Sea Sunset Cruise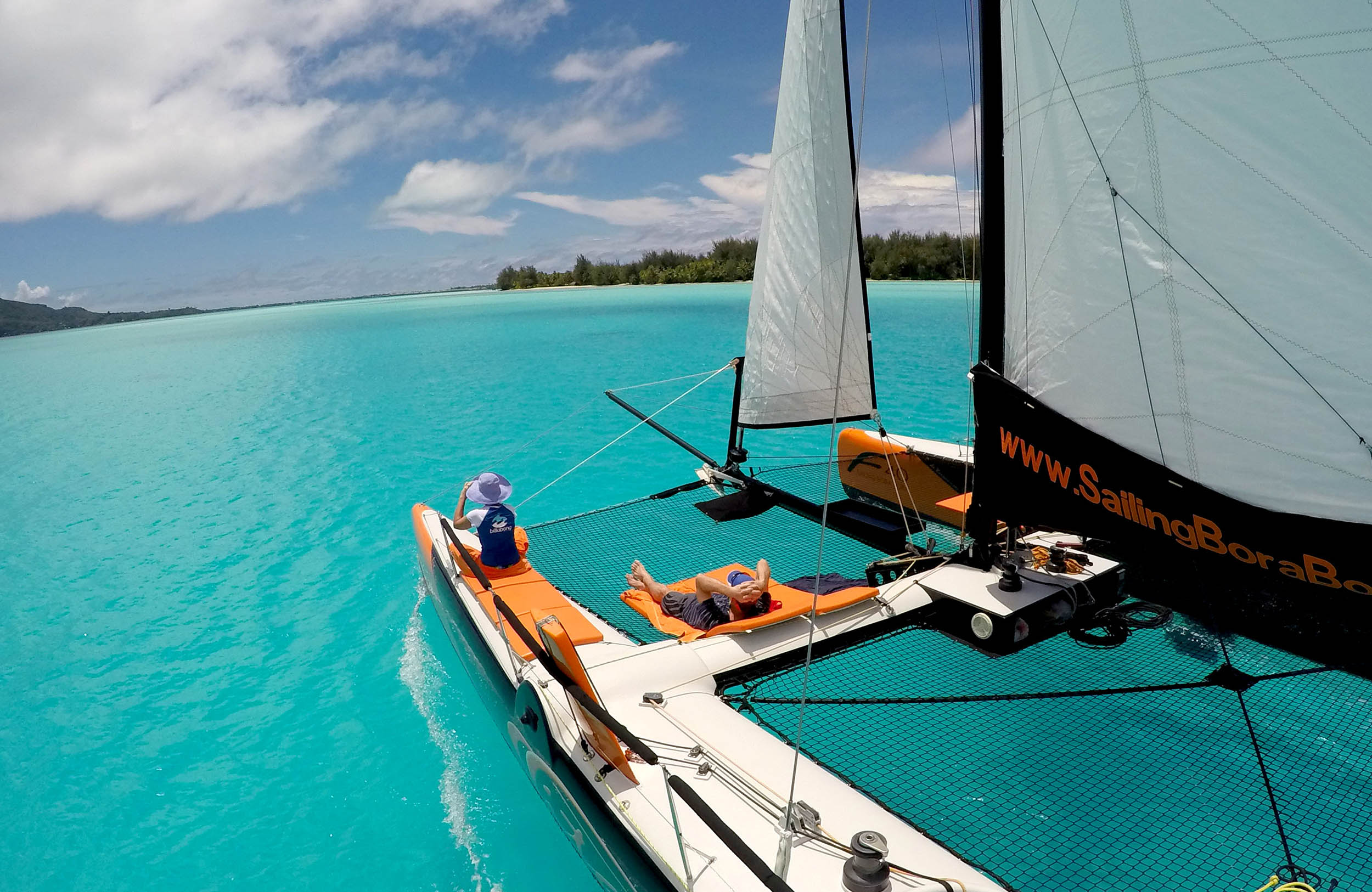 Board this sleek catamaran in late afternoon (with a maximum of 8 tourers) and set sail around the most beautiful areas of the Bora Bora lagoon. You'll sail close to the reef, where lagoon meets ocean, and admire the stunning sen-surround, enhanced by beautiful music. Just before sunset, Vitamin Sea anchors in a shallow bay where you can leisurely snack and drink, in the water or on the boat. Your hostess can capture beautiful photos for you. As the first stars start to shine, you'll sail back to your hotel, wondering if a  vacation can get any better!

Bora Bora Stargazing Tour

Experience the delights of sipping champagne out on the lagoon, with a small group, as the sun turns into a golden orb and magically drops below the watery horizon. This tour includes a stop on a private motu, to reverently survey the starry, starry night. As you gaze at the twinkling, velvet dome above; your guide shares how the ancient Polynesians navigated their way across huge distances of the South Pacific; by reading the stars.

4WD Sunset Tour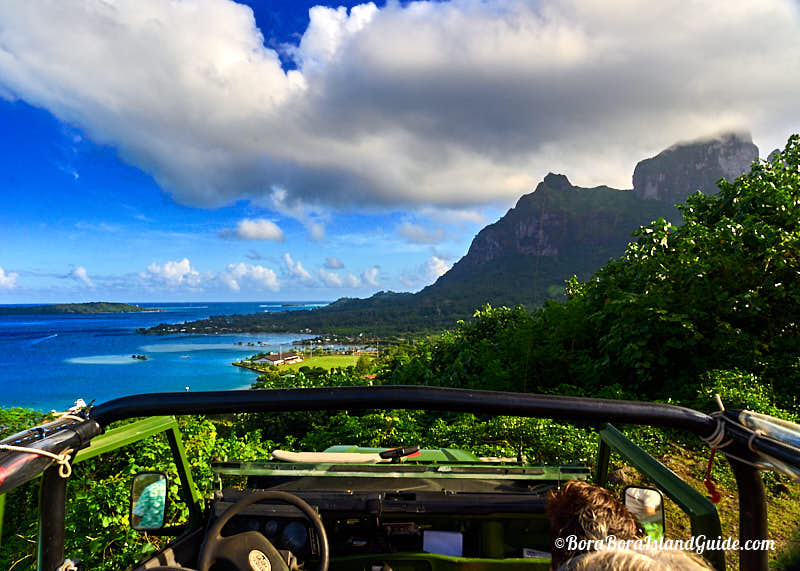 Hone your camera skills to record these precious moments of evening arriving. This 4WD tour drives you around the island to experience the magnificence of an ocean sunset from all the best vantage points on Bora Bora's main island. You'll celebrate nature's magnificence with a little bubbly.
Lagoon Restaurant by Jean-Georges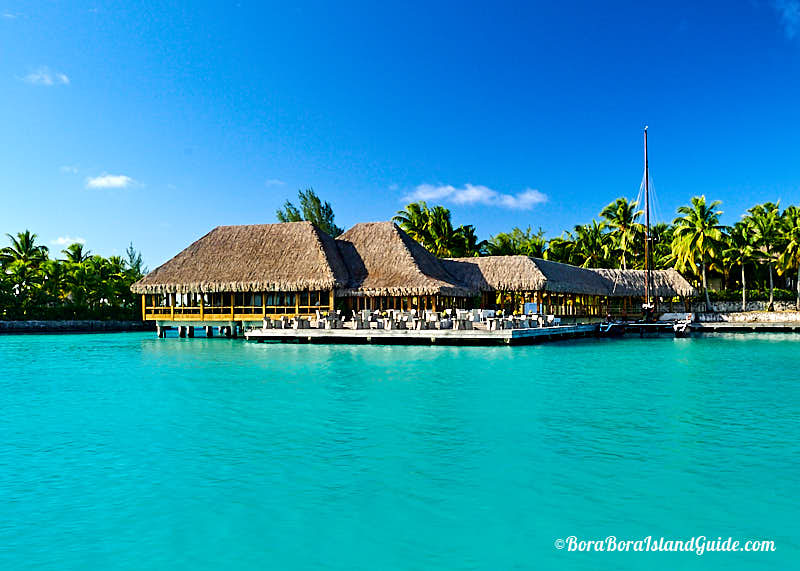 Glass floors illuminate the Bora Bora lagoon in this classy, over-water restaurant. On balmy evenings the delightful ambiance, while dining on the deck, is sublime. The spectacular location and décor, use of high quality ingredients, creative cuisine, and excellent service, make Lagoon the top restaurant in Bora Bora.  
Add more romance to an evening by showing up in the gleaming bar around 5.30pm to sip pre-dinner drinks while watching the sun set over Bora Bora Island. Visitors staying at other resorts are welcome.
St James Bora Bora

This lagoonside restaurant, owned and run by a French couple, is consistently praised for perfectly cooked food, attentive service, and the peaceful setting. The delicious menu choices range from French classics, like lamb knuckle or fillet mignon, to island fare such as succulent mahi mahi and tuna tartar in citrus dressing. Ask for a table at the water's edge so you can be entertained by colorful tropical fish – and maybe a shark – swimming by as you dine. This is the Bora Bora restaurant we visited on the sunset cruise.
Bora Bora Yacht Club

You don't have to sail in through the pass, and moor a yacht, to be welcomed at the friendly Bora Bora yacht club. The food here is fresh and delicious, and the seafood specialties depend on the catch of the day, which comes in straight off the boat. You can have a complimentary pick-up to enjoy the the casual island environment for a great priced lunch or dinner, and the cocktails are cheaper than at resorts. This convivial spot vies for best place on the island to relax and watch the sun set over the Pacific Ocean.
La Villa Mahana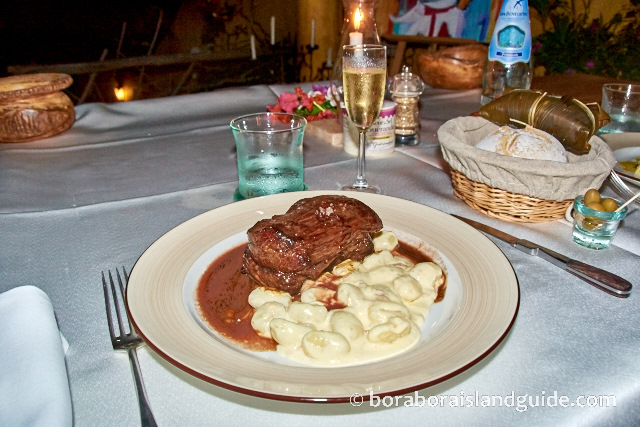 Nestled on the mountainside of Bora Bora, this unique restaurant artfully blends French tradition and tropical island freshness, in both it's food and fanciful atmosphere.  Under chef Damien, Villa Mahana has maintained a much-lauded reputation for fine French cuisine, laced with island ingredients. So it's a favorite for those wanting to splurge on a memorable meal. You can choose from the exotic 5 course menu with wine pairings, or a la carte. Whether you order melt-in-the mouth mahi mahi or beef tenderloin, the sauces are divine. Only a few tables are set up each evening, so to ensure a place, make reservations a few months in advance.
Mai Kai Bora Bora

Makai's menu offers a wide choice of good French (some with a Polynesian touch) and Japanese dishes. Portions are generous for starters, mains and desserts. Their most popular seafood dishes include curried prawns, seared tuna tataki and New Zealand salmon. Meat eaters enjoy the rib-eye or filet steak. Sweet lovers enjoy the crème brulee, chocolate lava cake or mousse. Meals are affordable and cocktails are cheaper than at resorts.
Check that Mai Kai will guarantee a shuttle service back to Vaitape wharf or your resort's dock.
Matira Beach Restaurant

This delightful restaurant specializes in seafood presented with French flare. Choose from delectable dishes such as fillet and scallops, rib-eye with shrimp, crusted tuna, or spicy sushi. Awesome views of the 2 mile long beach (just outside the door) make eating here, while watching the sunset, an extraordinary experience. It's run by a husband and wife team who strive to do everything with care. Don't be surprised if you find that your amazing chef (owner) also drives you back to your hotel. There are only a small number of tables, so book ahead.
The Lucky House - Fare Manuia

This casual eatery offers friendly service and a varied menue of good food; including beef, pizza, seafood, shellfish, pasta and veggie dishes; at prices much cheaper than resort restaurants. It's the place in Bora Bora for delicious wood-fired pizza. Locals meet here and there's a full bar out the back by a swimming pool which was moved from the closed Bora Bora Hotel. Refreshing, coconut water and Tahiti cocktails are cheaper than at resorts. It's conveniently located, right by Matira Beach, so catch the sunset before eating at Fare Manui. Food is reliably good and you don't pay for views.
Blue Coco Bora Bora

This moderate-priced, casual restaurant, located right on Matira Beach, serves up a variety of Italian and local dishes, with flair. Sit out on the deck, for amazing lagoon views, and be entertained by rays and sharks swimming around.
 When choosing your resort in Bora Bora, food and nightlife is an important factor to consider. Some have much better rated restaurants, or easier access to more choices.
Home › Bora Bora Nightlife
Search the Site

Are you still looking for additional information? You can use the Google search box below to search the site.