Bora Bora Food Prices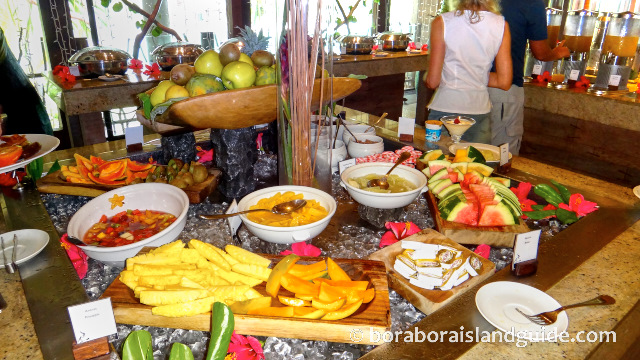 Breakfast buffet at the Intercontinental Thalasso Resort
Bora Bora food prices can be higher than on some other 'islands in the sun'. By combining these tips from experienced travelers and locals, you'll have strategies for eating well in French Polynesia, while keeping food costs down.
Watch for Special Inclusive Deals
Tahiti is not an all inclusive destination in the way Mexico or the Caribbean can be.
Occasionally a Bora Bora resort offers a special promotion which includes a meal plan. We once bought a package immediately the offer came to our in-box. The Bora Bora Nui gave us 7 nights of accommodation, boat transfers, and a full meal plan, for less than what accommodation would have normally cost us. Plus, on arrival we were upgraded.
We loved trying lots of different things on the menu, and didn't have to leave the resort for eating. At lunch time the restaurant manager allowed us (small eaters) to come back later for our desert and we ate it under a palm tree on the beach.
Should I buy the Meal plan?
Jennifer at Pacific For Less advises "It's like the resorts take the most expensive entree on the menu, the most expensive desert, the most expensive appetizer, tack on a fee, and that is the cost of the prepaid dinner vouchers. The difficulty with this math is that if you are not big eaters and share an entree, you've overpaid."
Bora Bora breakfast buffets fill you up for hours. You can eat lightly for lunch, or if you linger late at breakfast you may not even need lunch at all.
We've discovered that you don't need to purchase the full meal plan. We usually like to get out and try eating at other resorts and unique Bora Bora restaurants. Because of the French influence there is some excellent cuisine to be found. We also visit the smaller cafes and shop with the locals for the best food prices in Bora Bora. Here's how to get around Bora Bora to have more choices available.
But if a great deal comes along, grab it. Your Bora Bora vacation will be extra relaxing if you don't need to leave the resort to eat.
Surcharges for Special Dishes
Even if you buy the meal plan, Bora Bora resort dining usually includes specialty dishes (marked on the menu) which you pay a surcharge to order. And on Polynesian banquet night you pay a surcharge to feast, instead of the full price.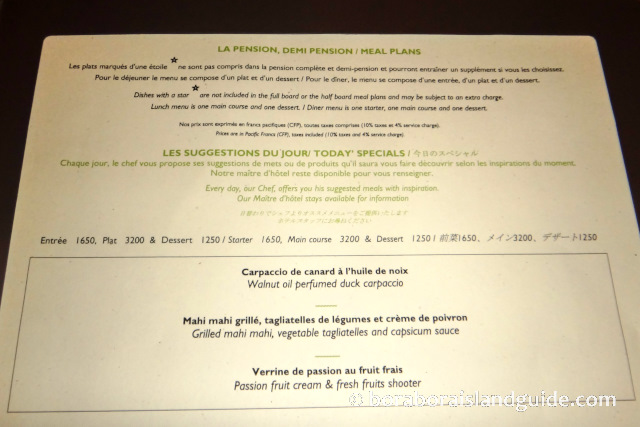 An example of a Bora Bora resort meal plan
Casual Dining Saves $$
The actual cost of food at French Polynesian resorts is comparable to the better resorts in Hawaii. But the main difference in Bora Bora is that there are only a few choices for casual dining. You have to know about them, and how to get around Bora Bora Island. If you are staying out on a dreamy motu resort there are logistics like boat transfers and taxis involved, which also have time limitations in their operating hours.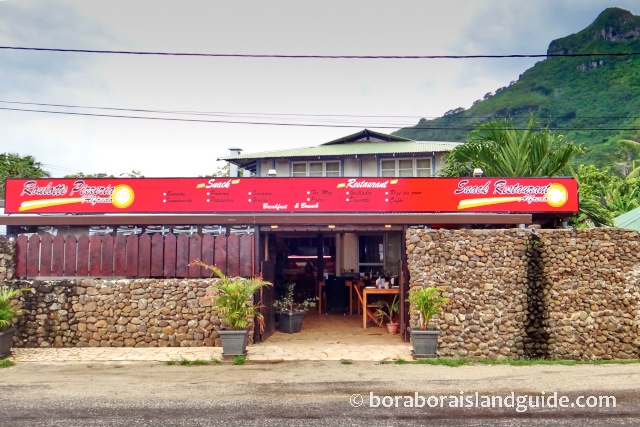 Having access to casual reasturants on the main land means lower priced food costs
Tipping is not customary. The 20% tipping amount is already included in the meal price, along with tax.
How much are the Bora Bora food prices?
Dinner entrees (main courses) cost between $30 and $70, depending on whether you choose pasta or lobster. Much of the seafood is flown in from elsewhere as the casual locals tend to just fish for themselves.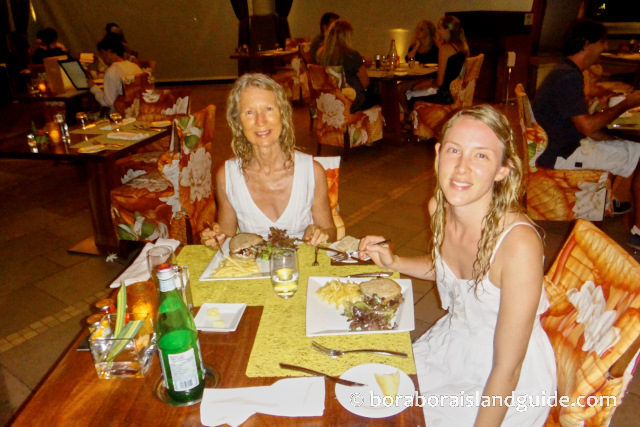 Mum and I often share a main course as we are not big eaters and it saves on Bora Bora food costs
Avoid the Bora Bora Food Prices
Visiting Bora Bora on a cruise ship is another way to eat like kings without paying Bora Bora food prices. We've sailed round Tahiti twice on a Princess cruise because we found it a very cost effective, relaxing way to see several islands of French Polynesia.
Search the Site

Are you still looking for additional information? You can use the Google search box below to search the site.