Bora Bora Land Tours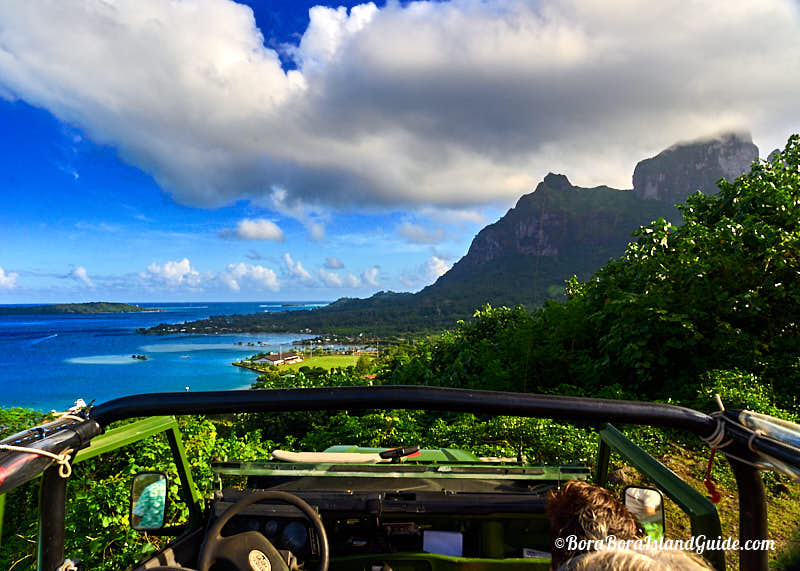 Views from a 4x4 tour on Bora Bora
There are two main types of Bora Bora land tours for discovering this most famous Tahitian island. One is to travel the Circle Island Road, stopping at the points of interest. The other is taking a Bora Bora excursion in a 4X4 Range Rover to discover the untamed interior. And if you're looking for challenging Bora Bora activities, such as hiking or mountain climbing, you can find these too!
4 x 4 Safari Bora Bora Land Tours
Bora Bora Island has a few inland roads. Most were cut by the US military during World War 2 to enable the placement of canons on strategic look-out points. These rugged roads that lead into the hills climb up steep ridges and are severely rutted in places. They are especially difficult after rain. So the inner island is only accessible by four-wheel-drive vehicles. Do not attempt to drive on these roads yourself as you may get stuck, instead experience the adventure of a 4WD tour with a professional guide.
There are Safari Bora Bora land tours that provide a thrilling scenic ride to points of interest. They're in specially designed Range Rovers which can handle any road conditions. An entertaining local guide will give cultural, historical and botanical insights. On your way to explore ancient archaeological sites you will pass by lush tropical flora. The locations of World War II cannons that you visit will offer the best views out over the spectacular lagoon. So if you're looking for fun things to do in Bora Bora try one of these extreme Bora Bora excursions:
Tupuna Mountain Safari 
The Levard family is the oldest and largest provider of Bora Bora land tours. It uses open air vehicles to visit the inner island Bora Bora attractions such as the American cannons and ancient maraes. The last stop is at Paarara Mountain artist in Faanui valley to see this renowned painter at work. Read about our experience on a Tupuna 4WD tour.
Tel. (689)67.75.06

Maohi Nui Tours
Guides, Patrick or Manate, share their love of Bora Bora Island as they pass along the island's oral history through stories, and inform visitors about geological formations, ancient religious sites and remnants from the American presence in World War 2. During a 20 minute walk through the forest to view an old turtle petroglyph you will be introduced to tropical plants such as ginger, ylang ylang, vanilla, wild hibiscus, mango and coconut trees. Patrick's father was considered the last chief of Anau village.
Tel. (689)67.69.94
Vavau Adventures
This company offers Land Rover tours in air-conditioned comfort. They have expeditions around the island and up into the mountains with a focus on history, culture, flora and fauna. There are stops at the World War 2 guns and a visit to a fish farm where tropical species are raised to restock the lagoon.
Tel. (689)72.01.21
Bora Bora Safari Land
These Bora Bora tours drive you inland through the tropical vegetation. You visit the historic American military sites, enjoy panoramic views and learn a little about traditional Polynesian life.
Tel. (689)67.71.32
Circle Island Bora Bora Tours
In Bora Bora, you can take Circle Island Tours by land or by the lagoon.
There are 'must do' Bora Bora boat excursions which circle the lagoon around Bora Bora's main island. On these tours you enjoy amazing views of this magical isle, from every angle, always with the awesome blue water as foreground. The lagoon is three times the size of the island.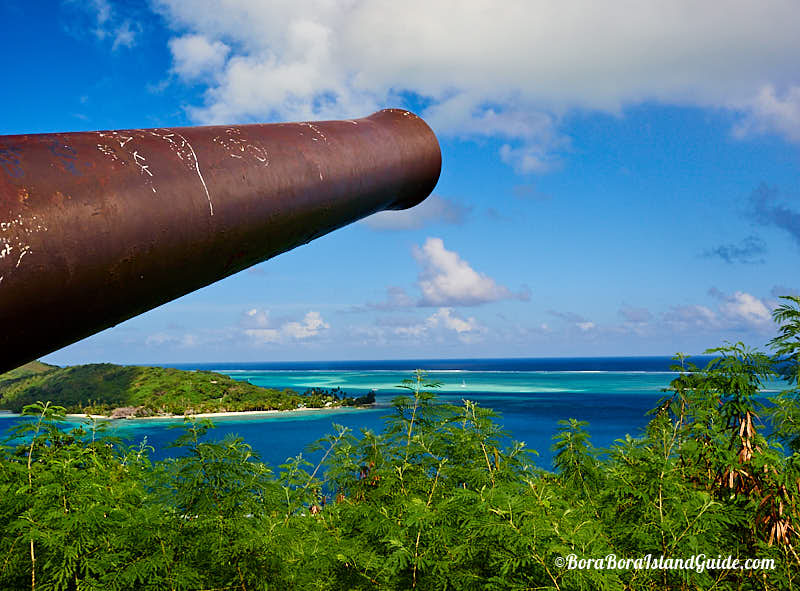 American guns stationed on Bora Bora from WWII
The other type of Circle Island Tours are on land. Bora Bora has only one main road, aptly called the Circle Island Road. It winds for 32 kilometres (20 miles) around the perimeter of the island. You can choose to hire a car, scooter or bicycle and take yourself around by printing out this guide to Circle Island Bora Bora Tours.
Or you can sit back and relax on bus or minivan Bora Bora land tours which will drive you around the coast road and stop at the most popular attractions. A guide will give a description and explain the history of what you see. There are cultural sights such as ancient maraes (religious sites), American guns which are historical remnants of WW11, and the Bora Bora pearl farm to view. The beautiful Bora Bora beaches are the island's main marvel, so there will be a beach stop to swim and snorkel. These Bora Bora activities can be taken with:
Bora Bora Land Safari
Tel. (689)67.71.32

Bora Bora Tours
Tel (689)67.70.31

Charley Transports
Tel. (689)78.27.71

Moihere
Tel. (689)67.56.46

Otemanu Tours
Tel. (689)67.70.49 or 67.60.92

Taxi Simplet
Matahi, Tel. (689) Laiza, Tel. (689)73.85.72
Hiking Bora Bora
| | |
| --- | --- |
| © J. Sekkaki | © Lucien Pesquie |
Hiking on Bora Bora is a rewarding experience because the lush tropical vegetation is so beautiful and there are amazing views from various vantage points. There are a few good walking trails, and as the island is small, they can be accomplished in a couple of days.
Find out the tours we recommend for hiking in Bora Bora. They provide fascinating cultural information and experiences.
Mountain Climbing
Up for a challenge? Mount Pahia and Mt Otemanu can be climbed! You must only try this strenuous activity in dry weather or the unmaintained trail will be muddy and slippery. A local guide is very useful. Find out more about climbing in Bora Bora.

Make sure you get out on the water too!

While planning your Bora Bora travel check out these Bora Bora excursions on the lagoon. In my experience Bora Bora vacations are not complete without doing some of them. Your holiday time is limited and precious, so it's good to know which ones you would like to do most. Consider choosing the Bora Bora weather that is most suitable for the Bora Bora activities that are important to you.
Search the Site

Are you still looking for additional information? You can use the Google search box below to search the site.