Bora Bora hiking and climbing adventures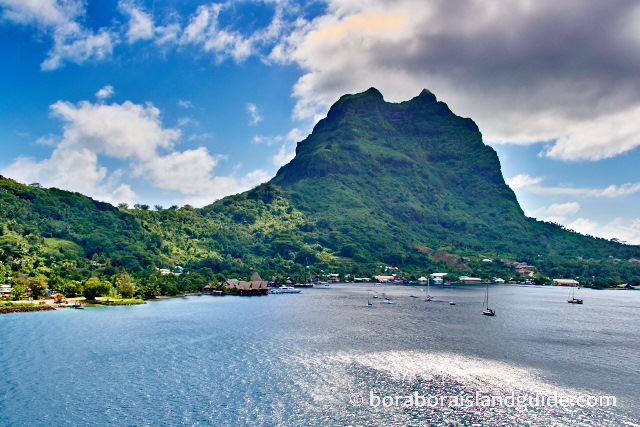 Bora Bora Hiking is a rewarding experience because the lush tropical vegetation is so beautiful and there are amazing views from various vantage points. There are a few good walking trails, and as the island is small, they can be accomplished in a couple of days.
Bora Bora hiking in the Valley of the Kings
On these Bora Bora hiking tours you are led along old pathways to explore the remnants of ancient villages and maraes, which were ceremonial religious sites. You hike through fertile valleys amongst lush tropical vegetation.
Azdine, the guide, will share information about geology, ancestral plants, medicine and sacred trees. You'll also hear intriguing Polynesian legends and taste wild island fruits and coconuts, plucked straight from the trees.
Polynesian Island Tours offers a choice of fascinating cultural walks: Valley of the Kings is an easy 3 hour walk which most people can do. Ancesters Road or the Track of the Past is an easy full day tour for the fit.
Sacred Cave of Anau is a 6 hour trek (with climbing) for those used to strenuous activity. Mt Pahia Climb of 6 hours is for the very fit who don't suffer from vertigo.
It is only possible to do these tours during dry weather. The Bora Bora Island guide who leads these unique tours is Azdine Oualid. He's a qualified Polynesian hiking guide who's knowledgeable, passionate and humorous. You can book tours for any day except Sunday.
If you're wondering why a Frenchman of a Moroccan background is taking Polynesian cultural tours read Azdine's story of finding Paradise.
Tel 29.66.60 or 67.56.02. Email polynesiaislandtours@mail.pf if you want a phenomenal day out exploring the inner island on foot.
Mountain Climbing in Bora Bora

Hiking and climbing in Bora Bora must be done during the dry season (Winter). Tours only operate during the dryer months. See the Bora Bora weather page to find out more about the seasons in Bora Bora.

Mount Otemanu Climb
Mount Otemanu (727m), the highest and most recognized feature on Bora Bora Island can only be climbed up to it's 'shoulders'. The crumbly vertical cliffs of the towering peak prevent further ascent as they do not hold clamps. Although it has never been scaled by foot it is possible for a helicopter to land on it's summit.
Mount Pahia Climb
Up for a challenge? Mount Pahia can be climbed in about 4 hours by fit and experienced hikers. You must only try this strenuous activity in dry weather or the unmaintained trail will be muddy and slippery. In Vaitape take the road to the south of the Protestant church. Follow it up until you pass clumps of mango trees, where you veer a little towards the left. Circle the cliffs keeping to the top of the left side.
A local guide is very useful. Some of the websites offering these are outdated. The only guide we know offering a Mount Pahia climb is Azdine, who also takes tours through the Valley of the Kings. For his 6 hour 2,168ft (661m) tour you must be very fit and not suffer from vertigo.
In the dry season all-day hiking Mount Pahia, Bora Bora tours can be arranged through Otemano Tours. Tel. (689) 67.70.49
Search the Site

Are you still looking for additional information? You can use the Google search box below to search the site.