Bora Bora Lagoon Tours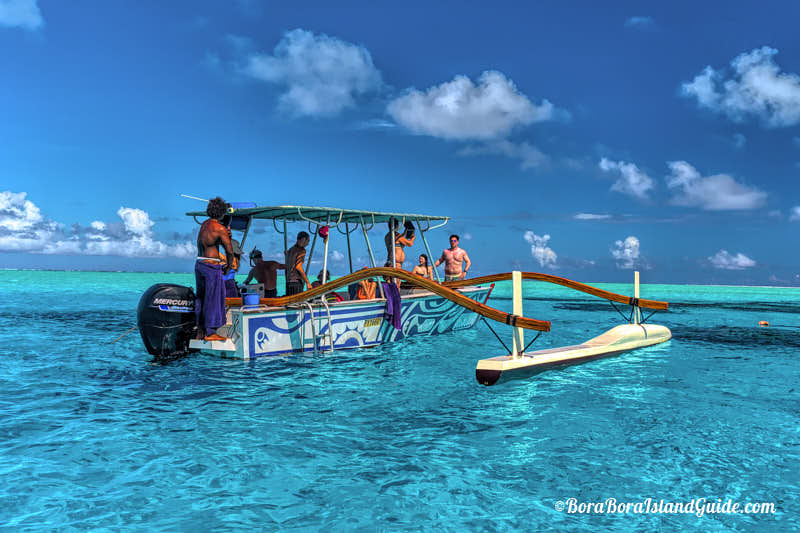 There's no better way to behold the majesty of Bora Bora, than on a Bora Bora lagoon tour! On a lagoon excursion you dance across a kaleidoscope of ever-changing blues to view the verdant mysterious isle; with it's towering peak, Mt Otemanu; from every enchanting angle. You get a peek at pristine sandy isles, and whizz past the secluded Bora Bora resorts. Bring your goggles; as this is prime time for getting-up-close-and-personal with fascinating, marine life. Bora Bora is best seen from, and in the lagoon. Have your camera ready.
Our vacation time in Bora Bora is limited so we plan and book our activities ahead. We avoid squandering precious vacation time sifting through activity brochures, or lining up at the excursions desk. We check that a tour has a good reputation so that, as we are picked up from the resort's dock, we know we are starting a thrilling adventure.
The best tours only take small groups so we book our favorite excursions ahead of time to ensure they don't sell out. Here are our 10 recommendations for the best lagoon tours of Bora Bora:
1. Half Day Sailing Experience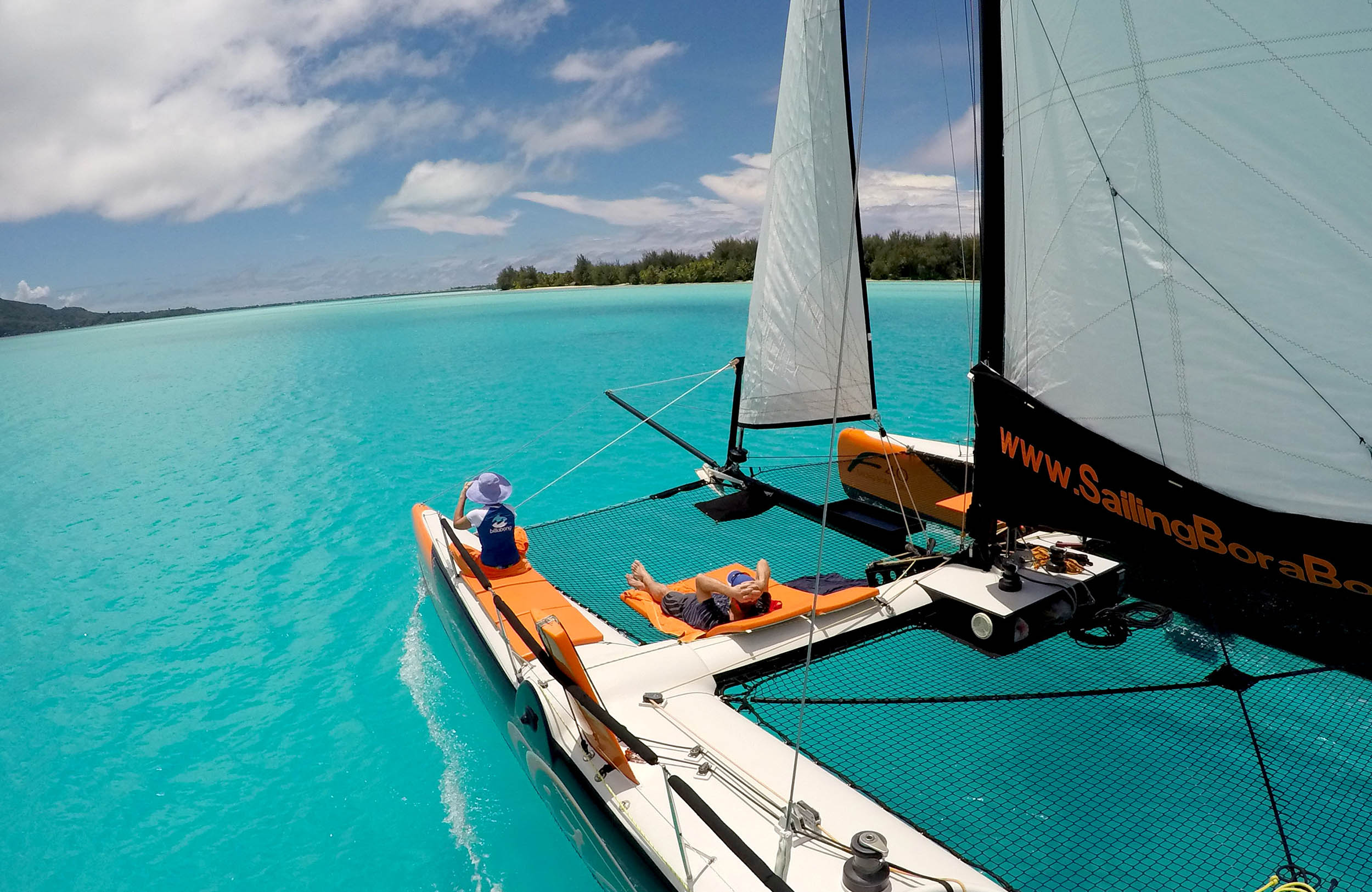 For a relaxing Bora Bora lagoon tour, sail gracefully across the lagoon in a 40ft catamaran. Your friendly hosts will share their knowledge of the area as you cruise to shallow waters and are indulged by a novel experience: a floating bar with champagne, mango, and coconut; in turquoise water! It's an awesome four hours of fantasy, and tours are limited to 4 couples. This is a memory-making event that adds sparkle to a honeymoon or other romantic occasion. We enjoyed this tour on our most recent Bora Bora vacation.
2. Bora Bora Sunset Cruise and Dinner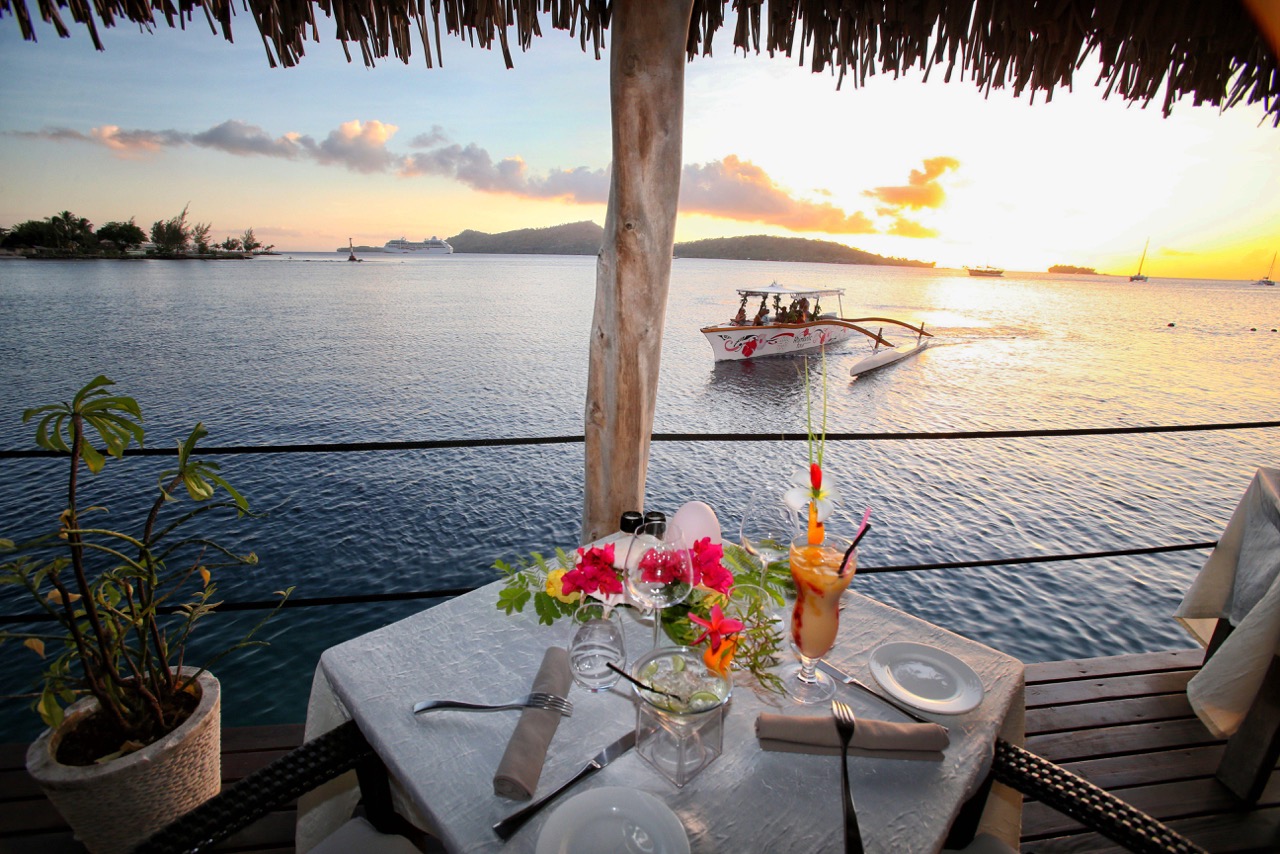 We recommend booking this sunset tour to delight your beloved. Keep it a surprise, as this is simply the most romantic way to spend an evening in Bora Bora with your lover! It's offered to a maximum of 5 couples. From Vaitape pier you are gently ferried to the reef, sipping champagne and snacking.  The precious moments, as the golden orbed sun sinks slowly below the horizon, are hypnotizing. As the Pacific sky turns to velvet you will be dropped off at St James restaurant to enjoy a gourmet dinner overlooking the lagoon.
3. Small Group Bora Bora Lagoon Snorkel cruise with Barbecue Island Lunch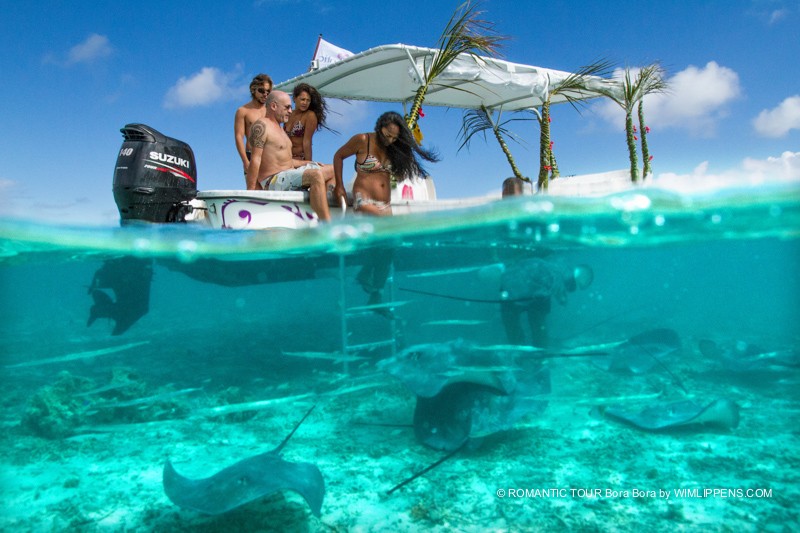 If you're in Bora Bora to celebrate a special occasion, this luxury-laced tour sweeps a privileged few away to the best spots in the lagoon, known only by locals. It's a small party Bora Bora lagoon tour that's limited to only 6 couples, and treats guests to a mouth-watering Tahitian BBQ lunch on a private white-sand motu. After a few minutes with your gracious hosts you'll feel like old friends. This tour is a snorkeler's dream as it provides up to 5 snorkeling stops, with various opportunities to meet tropical lagoon life, including the sharks and stingrays.
4. Aqua Photo Lagoon Tour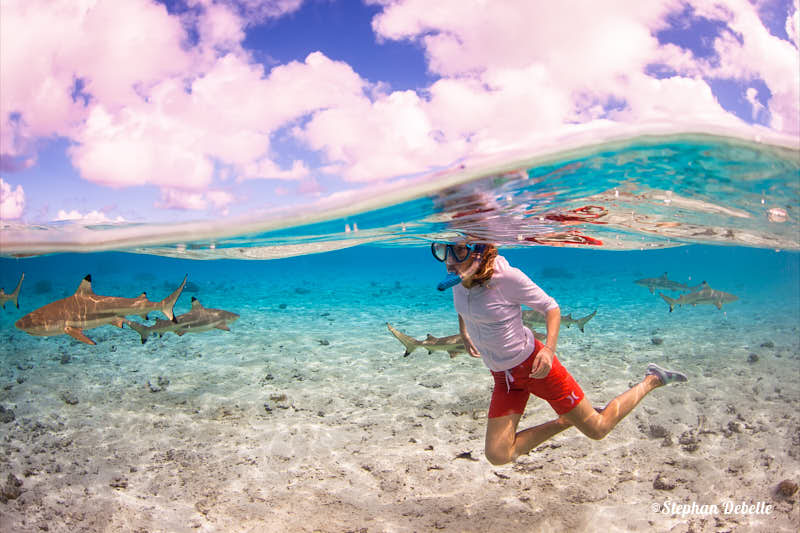 We had magic moments in and around the water on this amazing Bora Bora photo lagoon tour. The most talented underwater photographer on the island recorded our fun in the Bora Bora lagoon on camera. The shoot finished with a delightful Polynesian lunch on a private motu to create the perfect day in Bora Bora.

7. Bora Bora lagoon Jet Ski Tour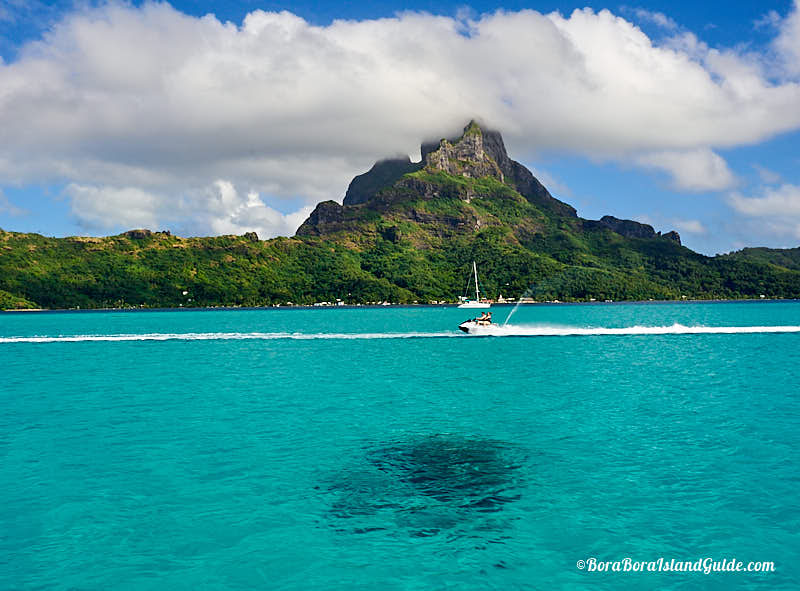 Are you the active type who doesn't want to just sit in a boat? This jet ski tour is for those who want a fast paced ride around Bora Bora's legendary lagoon! The two hour circumnavigation of Bora Bora is led by a professional guide who shows you around the most picturesque bays and motus. It includes 2 swimming stops to cool off in the lagoon. The length of this tour makes it perfect for a morning or afternoon activity.
5. Bora Bora shark & stingray snorkeling cruise with lunch and Jet Ski Tour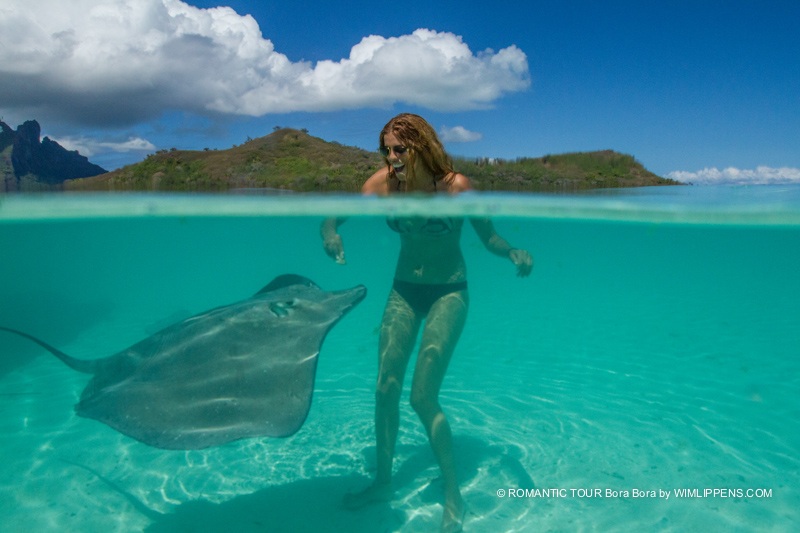 This exhilarating full day combo tour is a water-world adventure combining a jet ski and snorkeling tour which includes must-do experiences such as swimming with the sharks and stingrays. A lunch stop at famous Bloody Mary's restaurant makes this tour superb for enjoying the highlights of Bora Bora, all in one perfect day out. We highly recommend this tour for those visiting Bora Bora by cruise ship for the day. It offers more experiences than any tours you could book from your ship's excursions desk, and you will save money. All gear is included, and your friendly guide drops you off and picks you up from your resort, or cruise-ship dock. If you can only take one tour on your Bora Bora vacation, this is it!
NOTE to self: This is a full day in the sun so pack plenty of sun protection - sun shirts, sunscreen and hats.
6. Bora Bora shark and sting ray snorkel cruise with 4WD tour and lunch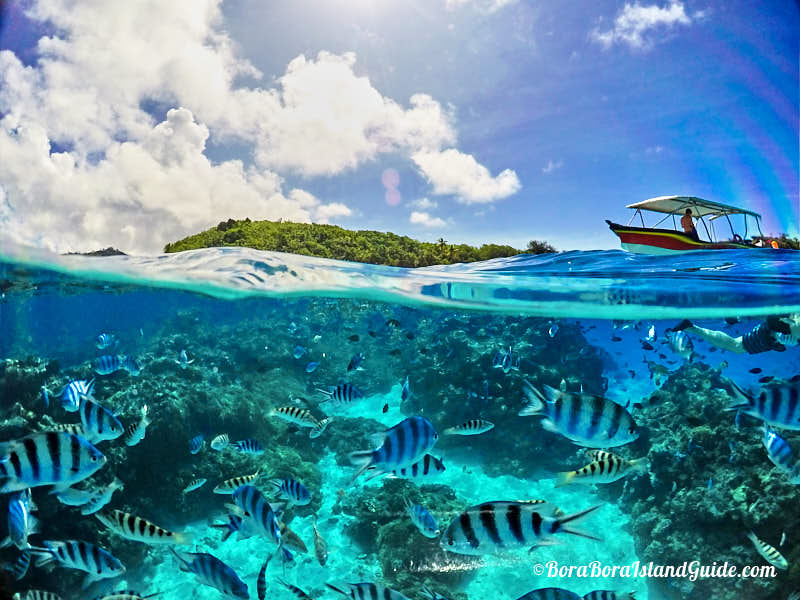 Want to experience more than lounging your vacation away on beaches? This well-planned, full day of entertainment gives curious visitors the opportunity to frolic in the best of Bora Bora, by land and by sea. You'll glean all the interesting tidbits about life on the world's most admired island, from a very knowledgeable and gracious guide. This adventurous tour begins on the main island, in an open-sided truck, and transverses the rugged isle to access several of the most scenic look-outs along the way. Very few drive (or hike) these less traveled tracks to be rewarded with the most magnificent views of the famous lagoon. You discover historical artifacts remaining from the US military presence in WWII; plus extend your cultural understanding through visiting a local craft workshop, where mammas tie-dye pareos (the national dress) and produce coconut oil. Lunch is enjoyed at iconic Bloody Mary's before heading out for a memorable Bora Bora lagoon tour. You visit a white-sand motu and enjoy 3 snorkeling stops to see curious stingrays, black tip reef sharks, and colorful coral gardens. This variety captures the magical essence of Bora Bora. If you're curious about what's hidden in the lush jungle, that you don't see on the plethora of pictures featuring the blue lagoon, get in early for this sensational tour.
8. Bora Bora Lagoon Cruise with 4WD tour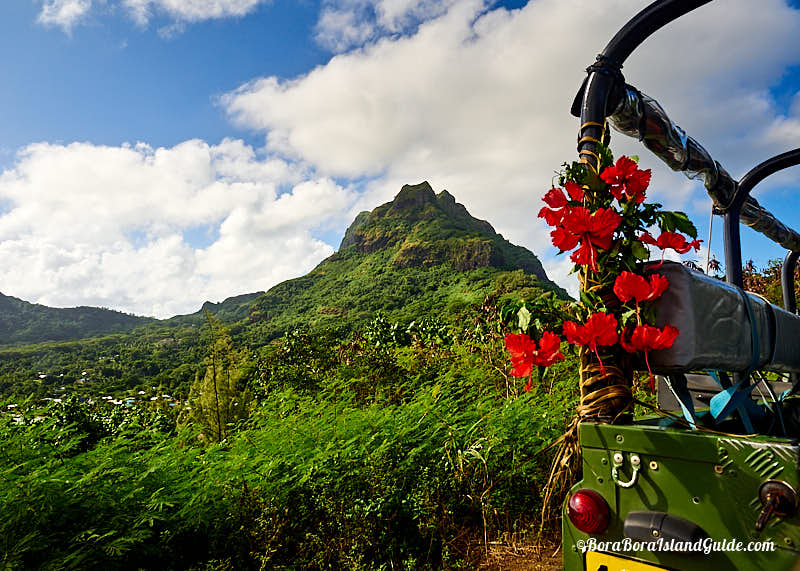 If you want to see Bora Bora, from land and  from lagoon; while learning about the culture and traditions of Bora Bora; this comprehensive discovery tour will reveal the most intriguing aspects. On the main island you visit the wide panoramic - and otherwise inaccessible - lookouts, and travel the entire 25 miles round the Circle Island Road. You'll see local artisans making pareos and coconut oil; and view artifacts from the WWII US military presence. The second part of the tour will take you on the water and treat you to unforgettable viewings of colorful coral gardens, and  meetings with local black tipped reef sharks and friendly stingrays. Both are essential Bora Bora experiences. Don't go home without them! This well priced tour gives an entire day of superb entertainment!
9. Bora Bora snorkel tour with sharks and stingrays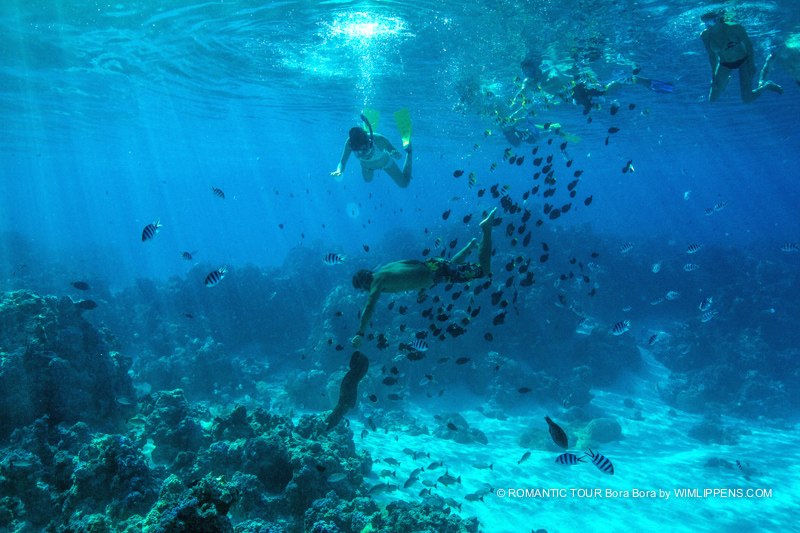 This is the quintessential Bora Bora experience, in half a day. We think that everyone who visits Bora Bora should experience the thrill of snorkeling with the shy black tip reef sharks, tropical fish, and friendly sting rays. This morning or afternoon tour will escort you to the most interesting areas of the Bora Bora lagoon. If you are uncomfortable at the idea of getting into the water with sharks and stingrays, find out why you can relax about it here and be assured that on the day your gentle guide will help you feel safe while viewing the sensational surroundings.
10. Full day Bora Bora lagoon Cruise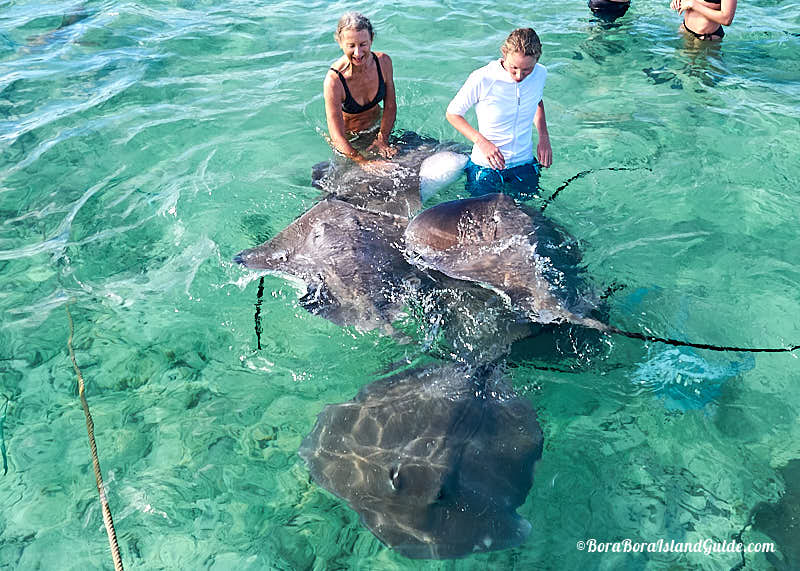 The calm, warm, turquoise lagoon is what lures folk back to Bora Bora to check if it was as amazing as they thought! If you want a whole day to relax and romp - on, in, and around - the magnificent lagoon, this is the tour for you. It thrills water lovers with a fun-filled day out on the Bora Bora lagoon, being chauffeured to all the best locations to snorkel and swim, and includes a scenic stop on a private motu for a delicious Polynesian BBQ lunch. It's an ultimate day in paradise with nothing to do but enjoy the delights delivered by your entertaining guides.
If you're like us you want to make the most of every precious moment on vacation; and be sure you don't miss out on unique experiences. Especially when the location is the world's most beautiful island! We also feel that we deserve to do things the easy way when on holiday. While sightseeing we wish to be transported at multiple levels. Instead of studying brochures and guide books, we take the royal-route, with a really-alive guide to add illuminating dimension and detail while painting colorful stories of Polynesian life and culture.
It's easy and relaxing to have your much-awaited vacation all laid out before you go, and know that each exciting day will transpire smoothly. We've found that by booking tours ahead we can have the best ones, often for cheaper prices; be done with the pressures of organizing; and sit back and appreciate every second of the FUN.
Search the Site

Are you still looking for additional information? You can use the Google search box below to search the site.