Bora Bora Sharks and Stingrays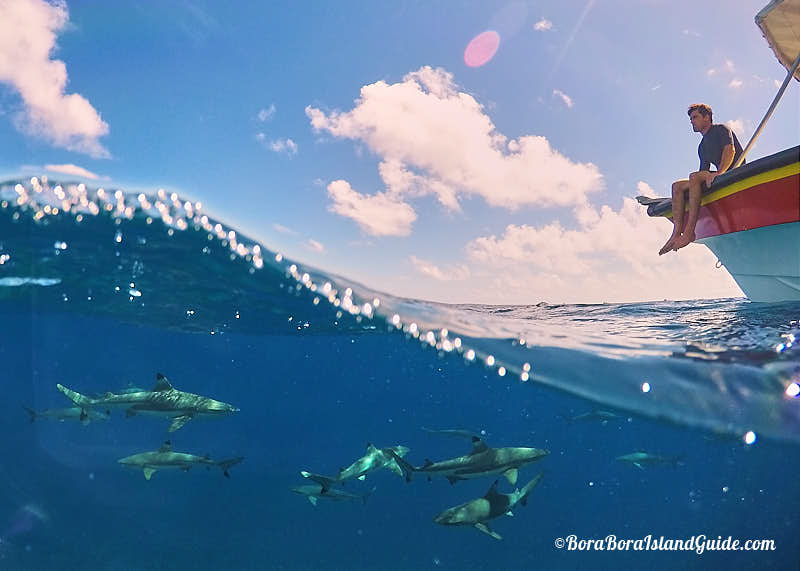 Would you dare swim with Bora Bora sharks and stingrays? It's true that, in Bora Bora, one of the top things to do is a Bora Bora sharks and stingrays snorkeling tour that takes you to meet Bora Bora's famous black tip reef sharks and stingrays.
If you are extra brave (and lucky) your snorkeling tour will take you outside of Bora Bora's lagoon to the Pacific Ocean and you can swim with 'big' sharks - the lemon Sharks.
You may think we are crazy swimming with sharks! I'm not particularly brave: if there's a spider inside I need someone else to "take care" of it. Yet swimming with the Bora Bora sharks and stingrays is one of my favorite things to do.

The black-tip reef sharks in Bora Bora's lagoon are small and timid. These are the sharks most frequently seen in the Bora Bora Lagoon as they prefer shallow water for their home, rather than deep ocean. With their black tipped dorsal fin and tail, smooth gray body, and light-colored belly; the black-tip sharks look beautiful and glide gracefully through the clear water. They are social creatures which is why they are found in  groups in the lagoon. When a boat pulls up to the usual shark feeding locations, you soon see more sharks than you can count, circling the boat. But don't be afraid. When you get into the water they will circle around at a safe distance.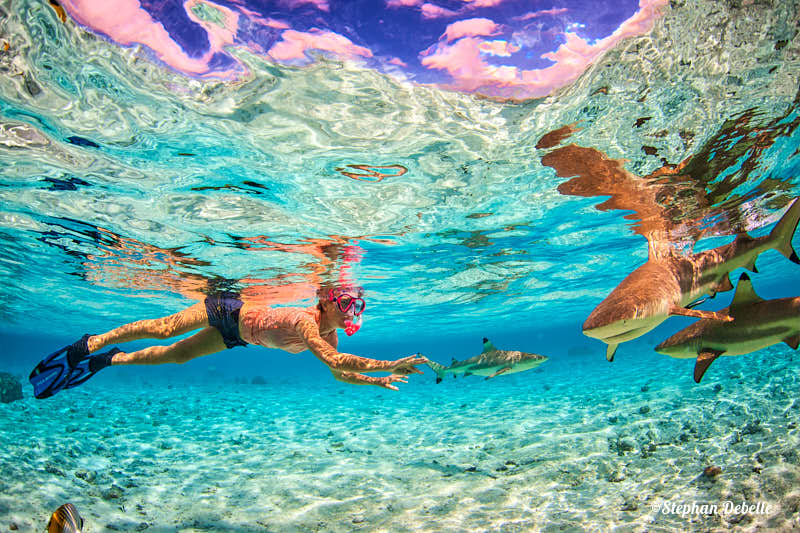 Gloria swimming with the reef sharks - Photo taken by Bora Bora photographer Stephan Debelle
Outside the reef you can view lemon sharks: stocky sharks that can grow to 3.4 meters long but are not regarded as aggressive sharks. They are bottom dwellers and live in groups with a structured social system. Lemon sharks are popular dive sharks as they are usually gentle towards humans and tend to avoid conflict. We have even seen people ride on the dorsal fin of a lemon shark in Bora Bora! But we don't recommend doing this and would definitely not attempt it without a Polynesian local who understands the marine life.
Snorkeling outside the pass. Can you spot the lemon shark in the middle?
Bora Bora Stingrays
The sting rays in Bora Bora have been greeting the Polynesians for as long as they can remember. As soon as an excursion boat appears in their area they swim to visit. These stingrays are accustomed to being around people and will be your best friend if you give them a pat and a fish. Stingrays are slippery to touch so, if you don't want to feel them sliding past you, wear some board shorts and a rash vest. (That's why I'm covered up below.)
These snorkeling tours in Bora Bora include a stop to visit the stingrays. You can watch from the excursion boat or get in and pat these curious puppy-dogs of the sea.
Gloria and me meeting the friendly locals
Best Bora Bora Sharks and Stingrays Tours
Search the Site

Are you still looking for additional information? You can use the Google search box below to search the site.