The Best Hotels in Bora Bora
This list of best hotels in Bora Bora is carefully curated from our personal experiences during vacations in Bora Bora, and feed-back from the clients of our Tahiti travel agent of choice. Choose one of the following hotels in Bora Bora and you can be certain that you are truly choosing one of the very best hotels in Bora Bora.
Bora Bora is home to 9 hotel resorts offering 5 star luxury and 4 star accommodation. This tropical-island getaway is perfect for romance and seclusion. But most people are not aware that the hotels here appoint their own star rating. So what you expect from a 4 star resort's service and amenities in other parts of the world may disappoint you in Bora Bora. Another issue we encounter is that of people writing articles about the best hotels in Bora Bora when it is obvious that they haven't even stayed there. So, on this list we have brought together the true 4 & 5 star resorts in Bora Bora. These are the only hotels in Bora Bora that we currently recommend.

For a luxury Bora Bora experience you will want to book your honeymoon, wedding, anniversary or bucket-list trip at one of these best hotels in Bora Bora. When you have decided the best hotel in Bora Bora, for you, be sure you get a personalized vacation quote with the only Tahiti travel agent we recommend.
The Best Hotels in Bora Bora
Four Seasons Bora Bora ★★★★★
Our personal favorite of the best hotels in Bora Bora is the Four Seasons Bora Bora. Our most recent stay in a Four Seasons overwater bungalow was the highlight of our Bora Bora vacation. From the moment we stepped off of the glamorous Four Seasons Resort boat onto the exotic resort grounds we were wowed by the beauty. We smiled as the eleven year old lad, of the family that had traveled with us in the boat from the airport, turned slowly around in awe and  asked, "Can we stay here forever?" His spontaneity sums up the experience of a Bora Bora vacation at this best hotel in Bora Bora.  Travelers cry when it's time to leave.
The panoramic views, from every angle of this best Bora Bora resort, are what really trumps all the other resorts. The simple moments of walking leisurely to breakfast or strolling to the spa will give you constant "pinch me, I'm dreaming" moments. Yes a place this beautiful really does exist and it also offers cossetting luxury, impeccable service, and delicious food.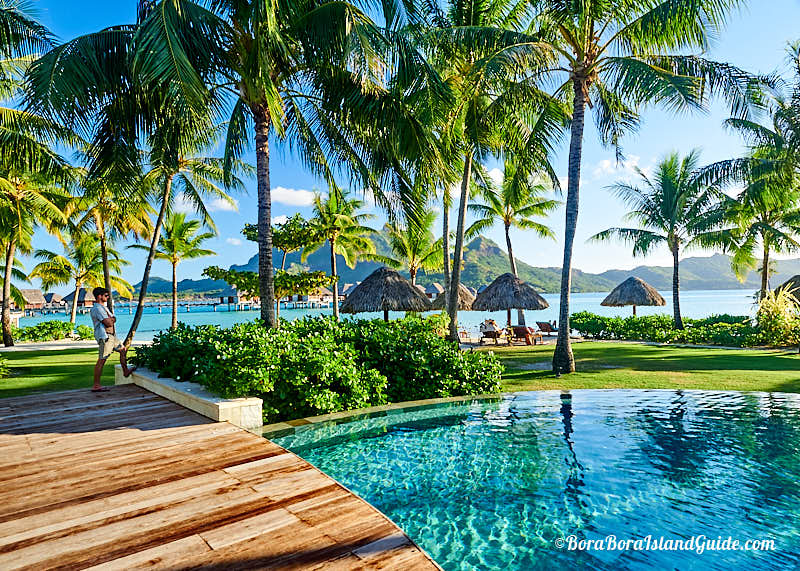 The Four Seasons Bora Bora resort is one of the harder resorts to leave for the day (the shuttle is less frequent and fairly pricey) but it's a place that you don't need to leave (or even want to)! The Four Seasons Bora Bora has access to the best Bora Bora activities and you'll be picked up from the dock. You can even book your activities ahead of time, and the activity provider will pick you up, so the access in and out of the resort is not a concern for us.
This best hotel in Bora Bora is also very family friendly, offering a children's club daily with island activities for kids of all ages. But honeymooners need not worry, at any time there is only a small number of children at the resort and you will find that you barely see them or even notice them. The majority of visitors to the resort are couples and we noticed that each family we saw enjoying the resort had well-behaved children, accustomed to appropriate standards in adult environments.
To us, the Four Seasons Bora Bora has all the ingredients for the ultimate Bora Bora vacation.
St Regis Bora Bora ★★★★★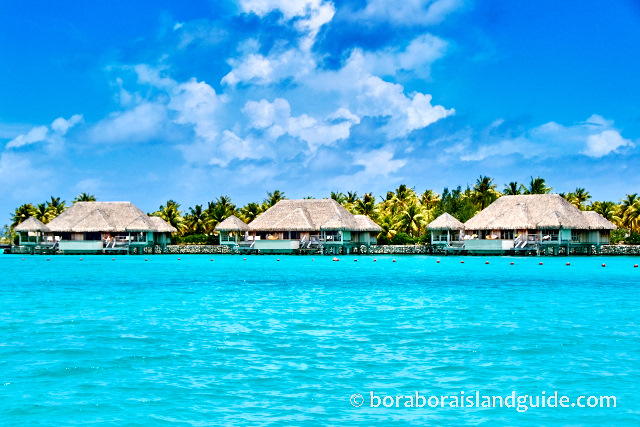 The St Regis Bora Bora Resort is the favorite of our Tahiti travel agent. The Principal of this extraordinary agency gives vacationers her mobile number, in case they encounter a problem they can't solve. She says she loves the personal service their clients receive and knows she will sleep at night when they send guests to this best hotel in Bora Bora. St Regis has earned a reputation for good service and both she and her clients report wonderful vacation experiences.
I consider St Regis as one of the top Bora Bora resorts because I have vivid memories of riding romantically through the palm trees, across lagoon bridges, around the vast resort grounds; and enjoying delightful moments, with my love, next to the waterfall in the couples pool. My (now) husband,Tom, surprised me by proposing over a perfect private-dinner alongside the lagoon on the St Regis spa motu. This is the actual resort where the "Couples Retreat" was filmed so you can fulfill your own movie-like fantasies at the St Regis Bora Bora. There's even a dedicated romance butler to help with creative ideas or requests.

If size says luxury to you then you will appreciate that the St Regis Resort Bora Bora has the largest over water bungalows in all of Tahiti. They have recently undergone refurbishment with lovely updates to the decor and we hear that the finished ones are feeling fresh. The bungalow revamp should be completed by 2020.

We rate the St Regis lagoonarium as the best resort lagoonarium in Bora Bora. This is a great area for children, anyone who wants to learn to snorkel, and those who love snorkeling with easy access to jump in and explore. We were fascinated by "looking for Maeva"; the giant, bright blue, Napoleon fish who has been given a safe home in the lagoonarium and responds like a pet with the marine biologist. The lagoonarium is also a shark and stingray free zone so those who don't feel comfortable being in the lagoon with natural marine life can relax in this more controlled environment.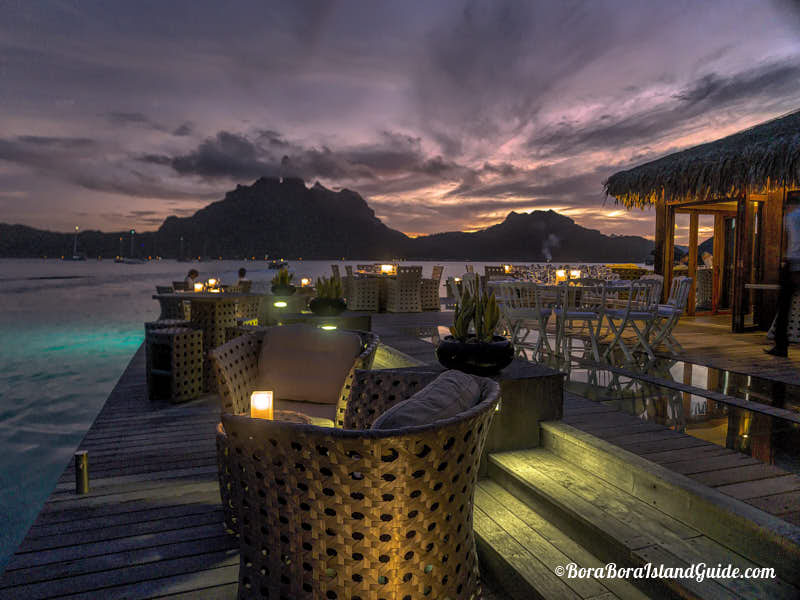 Lagoon Restaurant & Bar
The St Regis also boasts one of the best restaurants in Bora Bora, with dramatic Mt Otemanu and sunset views. Even if you aren't a guest at this resort, it's worth arranging a trip to enjoy an evening at Lagoon by Jean-Georges. 
If you choose to stay at either of these first two resorts, you will be picking from the top two best hotels in Bora Bora. They are constantly neck on neck in terms of reviews and the experience that vacationers receive. If you choose from either of these resorts, you can have peace of mind that you are going to have an amazing Bora Bora vacation.
We are frequently asked which of these two resorts is best. Unless one of them really speaks to you (e.g. you might want the Four Seasons chapel for your wedding, or choose the St Regis for it's amazing lagoonarium) then we recommend that you go with the resort that has the best pricing at your time of stay. If you speak to our travel agent of choice, you will be able to compare the prices and special bonus offers between these best hotels in Bora Bora, and make your decision that way. The unpublished rates are usually better than what you will find online and there can be quite a difference in price.

Intercontinental Thalasso Bora Bora ★★★★★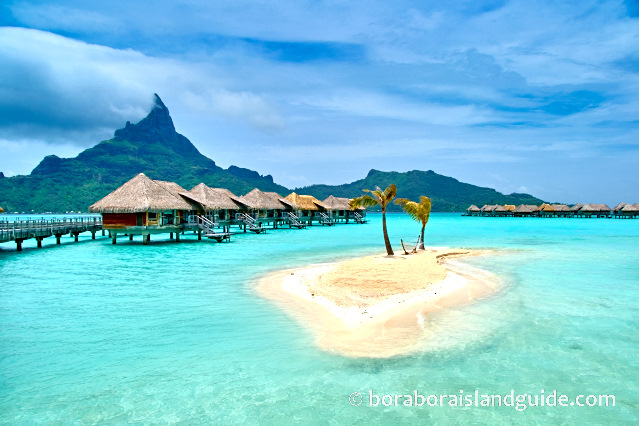 The Intercontinental Thalasso is blessed with beautiful white sand beaches that look directly across to dramatic Mt Otemanu views. All bungalows at this resort are over water and have a contemporary decor. For us, the lagoon is the highlight of a vacation in Bora Bora so one limitation we found at Thalasso is that, although the bed faces a large window to the lagoon, there is no direct access from the bedroom to the deck as at Four Seasons, St Regis and Nui, where we could step straight out.

If you plan to tie the knot in Bora Bora, you may want to check out the quaint, Thalasso over-water wedding chapel. It's popular with those wanting to marry in Bora Bora and more affordable than Four Seasons and St Regis.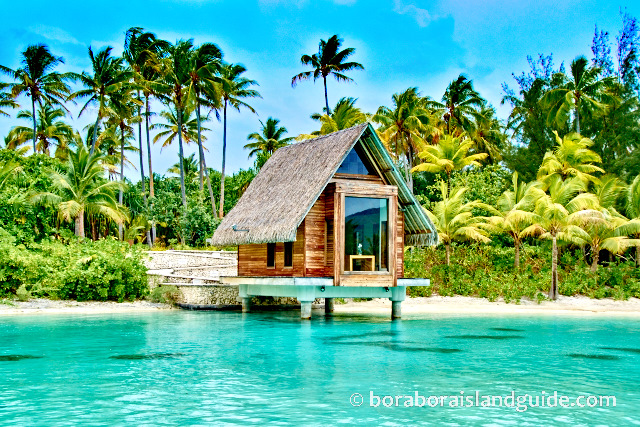 Get married over water at the Intercontinental Thalasso
Our favorite feature of the Intercontinental Thalasso is it's award winning Thalasso spa which offers a variety of unique "deep ocean-water" experiences. If you are a person who wants to include a number of spa experiences in your vacation this is the perfect place for you to stay. Even if you don't stay at Thalasso it's possible to arrange a visit. We suggest combining the spa excursion with booking for dinner as the French restaurant at Thalasso rates as highly as any in Bora Bora.

The Intercontinental Thalasso also offers convenient access to Matira Point, on the main island, through its regular shuttle to its sister resort, Intercontinetnal Le Moana. This allows you to travel to the main island easily and visit restaurants located around Matira Beach or easily access activities on the main island like: hikes, 4WD tours, art gallery visits and shopping. If you are someone who doesn't want to feel "stuck" out on a motu at a resort, the Intercontinental Thalasso can offer you a luxury motu resort experience with those famous Bora Bora views and a great base for exploring outside of the resort, which earns its place in the list for best hotels in Bora Bora.

Conrad Nui Bora Bora ★★★★★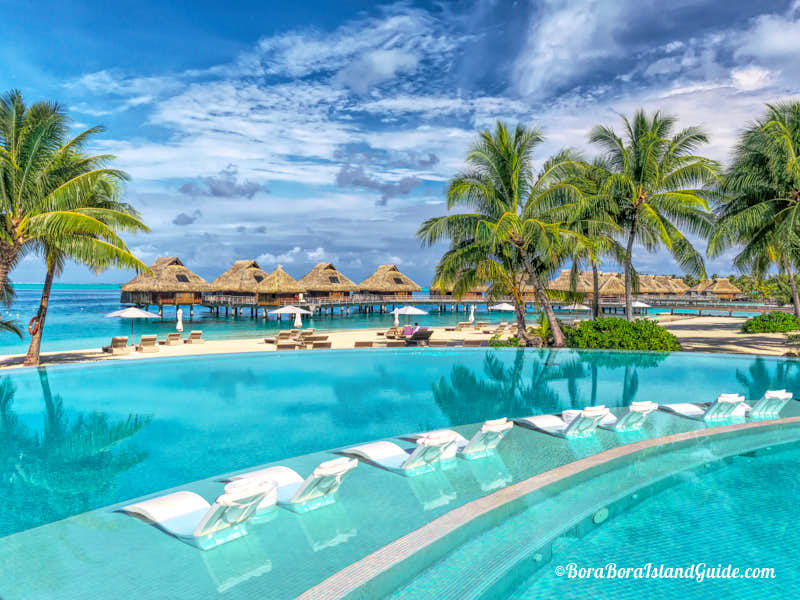 In 2017 the Conrad Bora Bora Nui underwent a complete renovation, making it one of the best hotels in Bora Bora. We stayed at this beautiful hotel shortly after it's re-opening and were impressed and delighted! 
Conrad Nui is situated on Bora Bora's longest natural white sand beach, with a backdrop of black volcanic rocks and a lush green hillside. The overwater bungalows are a perfect couples nest and have uninterupted horizon views over the lagoon and out to the Pacific Ocean. There are also Beach, Garden, and Hillside Villas set along the edge of the sand; among the lush flowering gardens; or on the hillside of the resort, with steps to climb up to. So there's a variety of accomodation to choose from.

The dining and bar areas at the Conrad have been created with flare and offer guests a variety of locations to linger, drink and nibble in blissful settings. The swim up bar in the gorgeous infinity pool - that seems to go on until the horizon - is the most  exotic in Bora Bora,. The overwater Upa Upa bar offers a trendy, inviting space to enjoy the sunset with creative cocktails and tasty nibbles.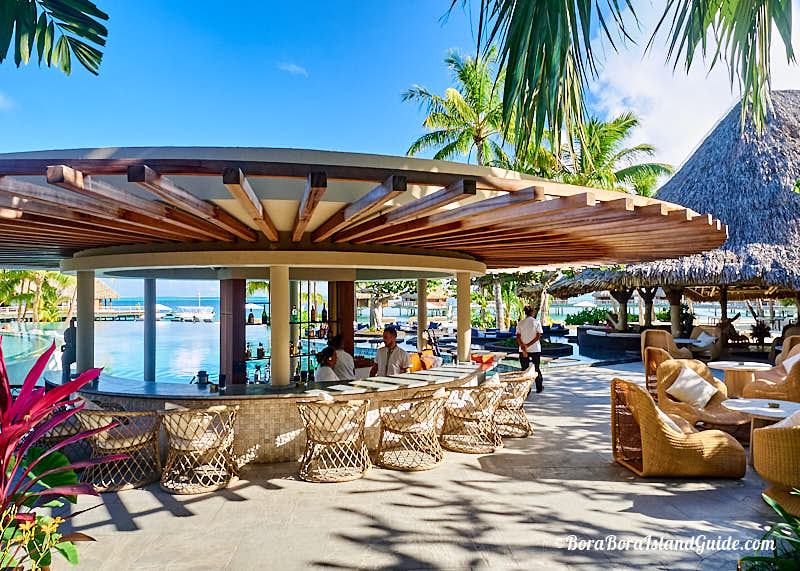 We were thrilled to discover that the Conrad Bora Bora boasts the best snorkeling in Bora Bora of any resort just a few meters from the beach and under its bungalows. If your dream is to be able to jump off your overwater bungalow and explore sea-life below then is definitely the best hotel in Bora Bora for you.
Le Meridien Bora Bora ★★★★
If you can't afford the price tag of a 5-star resort but want to stay in luxury without compromising on that Mt Otemanu view then Le Meridien Resort Bora Bora is the best hotel in Bora Bora for you. Le Meridien has close-up views across the lagoon, to Mt Otemanu towering above Bora Bora Island, from all around the resort.

Le Meridien's over water bungalows may be smaller than the other best hotels in Bora Bora on this list but they have the largest glass floor areas. A big window to view the lagoon below is a lovely feature to have while staying over the world's most admired lagoon. The over water bungalows here don't offer a separate sitting room, but in our experience, most of your time in Bora Bora will actually be spent in the grand outdoors. The bungalows have been recently revamped with a modern airy feel and comforts. Le Meridien is the only 4 star resort that makes it into our best hotels in Bora Bora list and the only resort that our travel agent of choice recommends in the 4 star category. (Some other 4-star hotels in Bora Bora are currently undergoing big renovations so by 2020 we are hoping to add at least one more 4-star hotel to the "Best Hotels in Bora Bora" list.)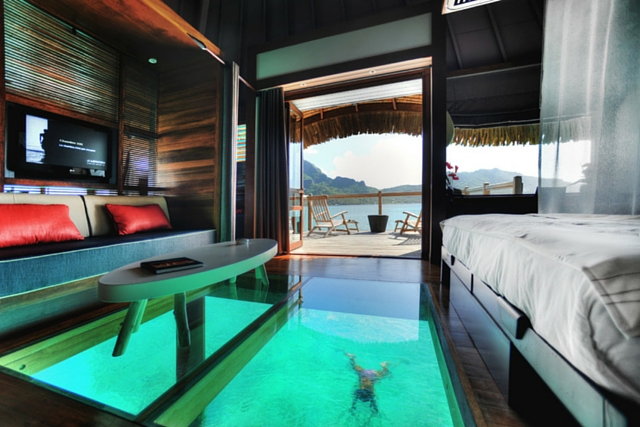 Le Meridien has the largest glass floor panels in Bora Bora
Le Meridien offers a choice of bungalow accommodation other than over water bungalows. These are more affordable and family friendly accommodation options. The Lagoon and Beach bungalows line a beautiful palm-fringed, white sand beach and include hammocks and plunge pools. 

The best hotels in Bora Bora change!
At the moment there are a number of resorts undergoing renovations. When these developments are complete we will be updating our list of the best hotels in Bora Bora. We are eagerly anticipating the exciting changes coming to the following resorts:
Find out the Best of Bora Bora
Has this list of the best hotels in Bora Bora got you dreaming? Do you want to know more about the best places to stay, eat and play in Bora Bora?
Bora Bora is no ordinary vacation: it's a bucket list vacation which most people take years to save for. Often, this trip is reserved for a special celebration and you want everything to be perfect.

But when visiting places for the first time we usually make mistakes or learn what we should have done and find ourselves noting what we would do differently next time. We don't want you to have that experience as most travelers don't get a dress rehearsal for Bora Bora; it's a once in a lifetime trip.

Best of Bora Bora is packed with practical information dispelling many mysteries around this far-off, legendary isle. The illuminating discussions and comparisons will help clarify choices about when to go and where to sleep, eat and play in such a unique environment. Your vacation time is precious and it's not a cheap destination, so you'll enjoy double the delight by spending your dollars on the best. You'll also be pleased to find that you don't always have to pay the most money to have the best time.  Updated for 2019, read this before you book and before you go!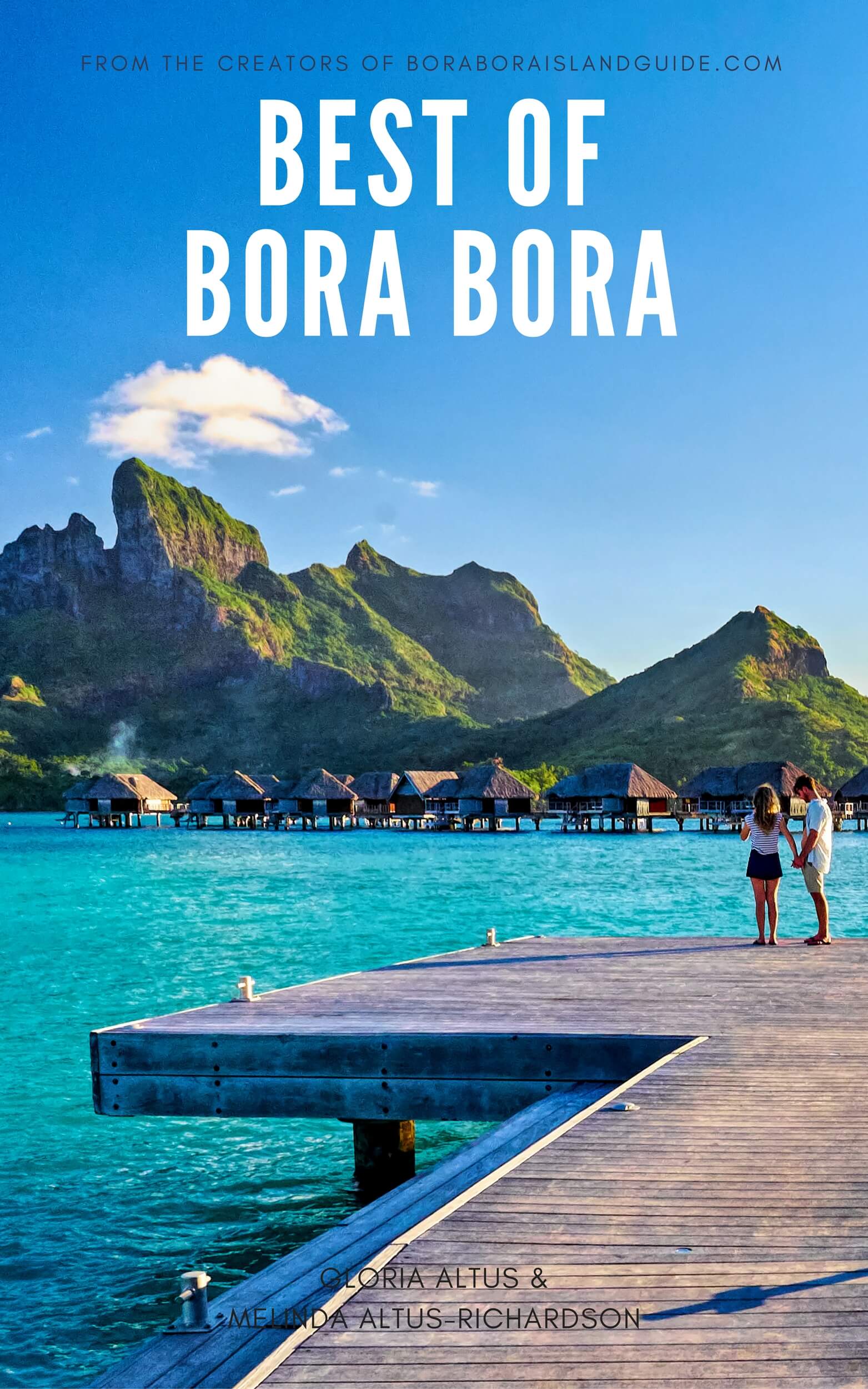 Home › Best Hotels in Bora Bora
Search the Site

Are you still looking for additional information? You can use the Google search box below to search the site.