Four Seasons Bora Bora Overwater Bungalow
Wondering which little hut over-the-water to book? Our Four Seasons Bora Bora overwater bungalow offered more intimacy, romance, and beauty than any other luxury hotel room we've stayed in, on earth.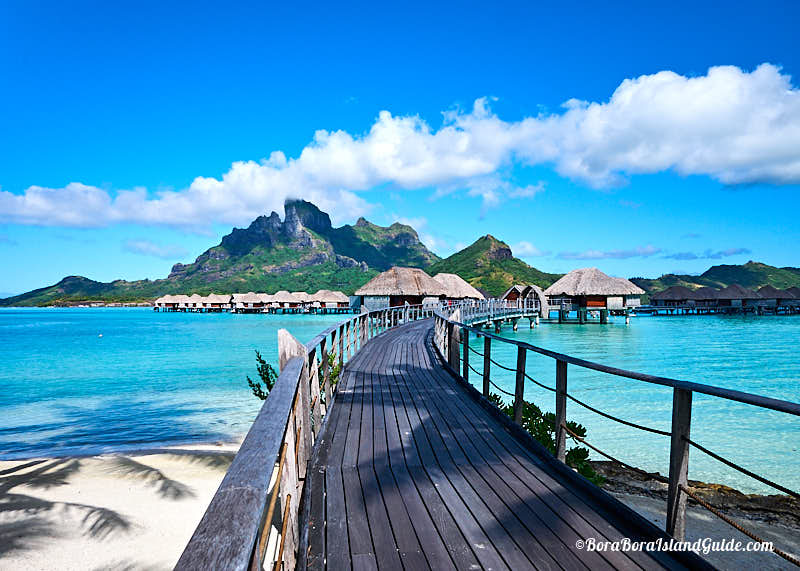 Whizzing through exotic tropical gardens, and down the wooden pontoon to our Four Seasons Bora Bora overwater bungalow - the first time - was entrancing! The resort was even more wonderful than we had imagined.

Over water romance, with every comfort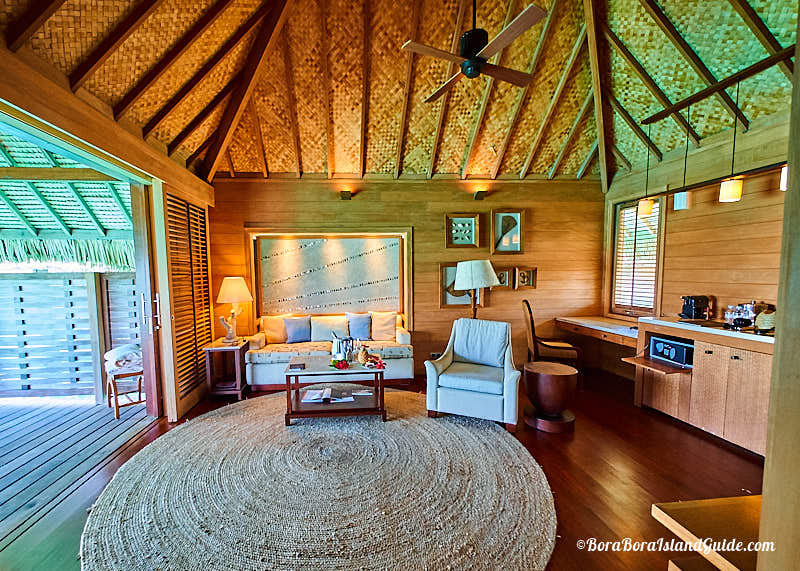 On stepping into the bungalow we were enthralled by the luxurious layout and the harmonious ambiance of natural materials incorporated into elegant design. Every room featured awesome lagoon views.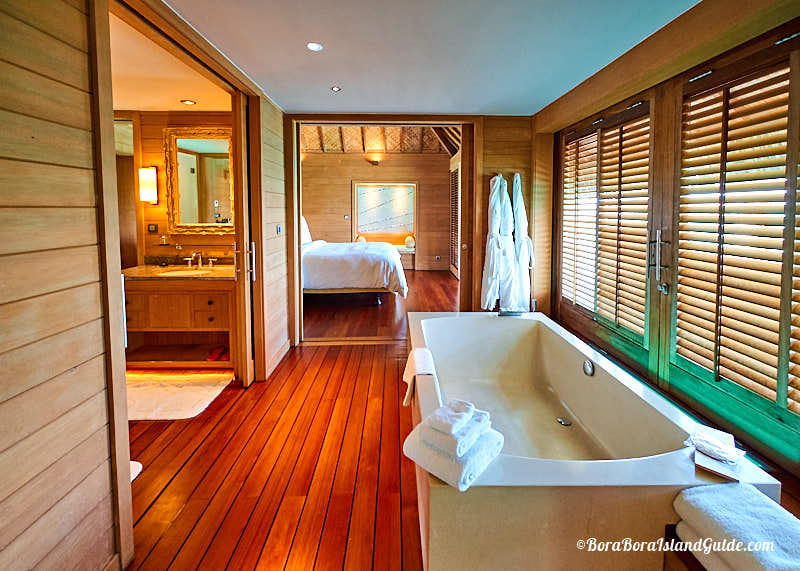 The huge bathroom - divided into 3 sections - had many thoughtful touches that gave a feeling of being pampered. The first morning we sat in the super-sized bath, windows wide open, marveling at the lagoon - in utter privacy!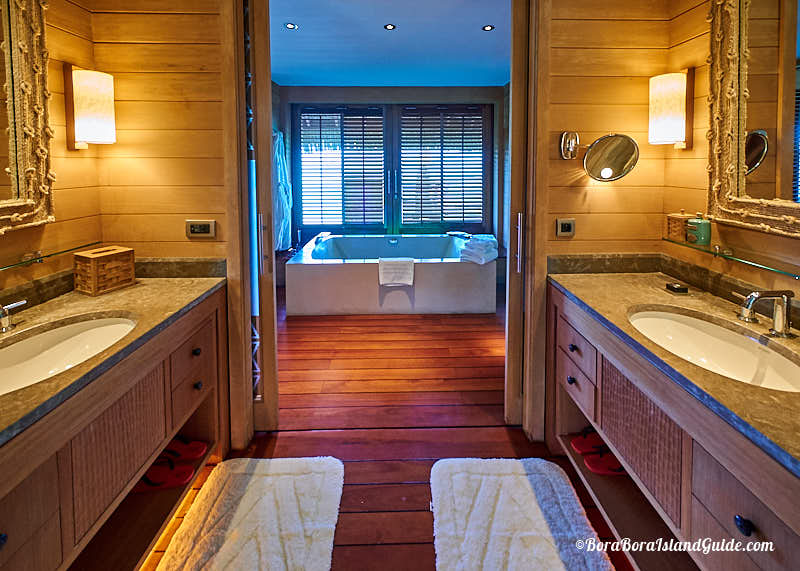 Opulent his and hers vanities, arranged back-to-back, meant we could 'glam' ourselves up in togetherness and have our own personal space.  An opaque glass door, behind, opens to the shower room which  has a long, low window showing off the turquoise below; and there's a second door to a private WC.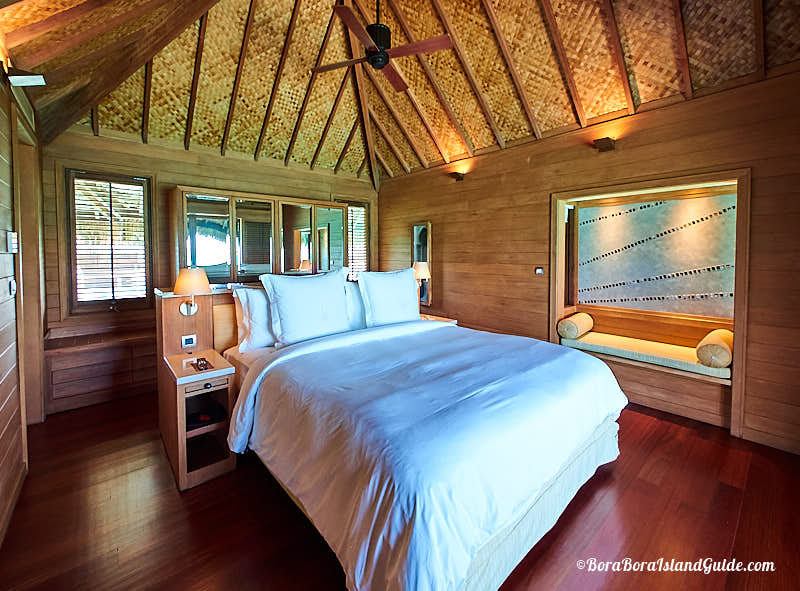 The plush bed faces the water so we slept with the doors apart, and woke to the sight of the lagoon. The side wall had a love seat, with a view to blue water, through a window at each end. Behind the bed, a mirrored robe with a built-in bag rack each side makes personal stuff easily accessible, but out of sight.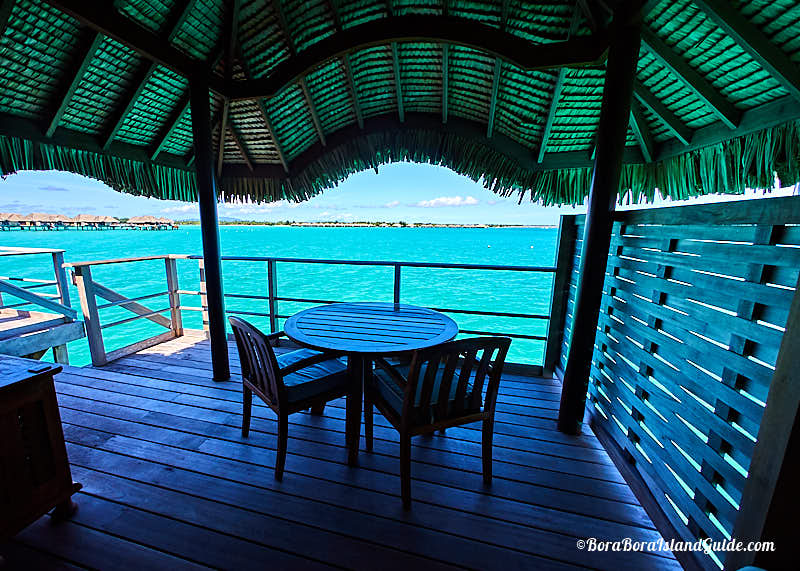 You know every moment that you're over the lagoon in Bora Bora! Four Seasons overwater bungalows have huge glass doors that open wide to the spacious deck, from every room. Screens, at each end of the deck, make the open area with sun lounges and the covered dining setting, completely private. Perfect weather drew us outdoors by day and by night.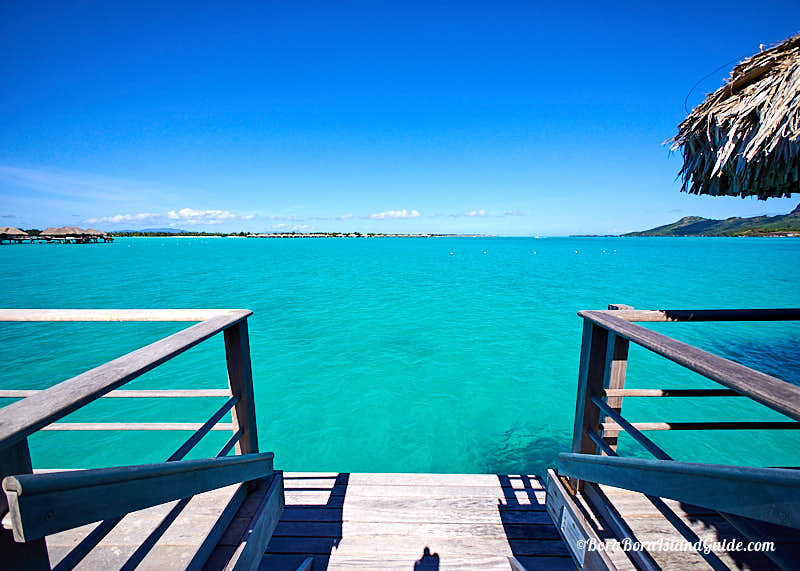 The deck descends to a pontoon where you can climb down a ladder, or jump into water of a perfect depth for engaging in this kind of playful fun. These bungalows have been so astutely angled that we could swim from our deck without neighbors looking on.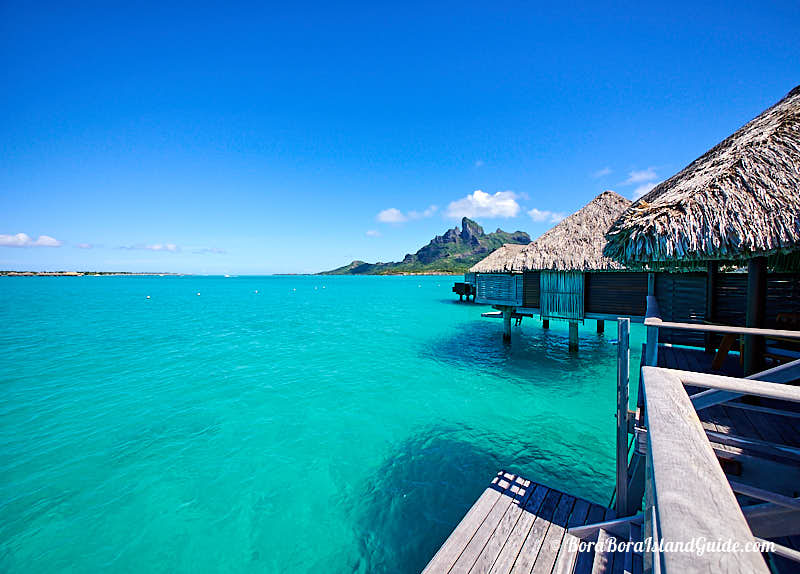 Like many of the Lagoon View Four Seasons Bora Bora overwater bungalows, ours had a surprise view of Mt Otemanu from one side of the deck.

Bungalows with Privacy Please!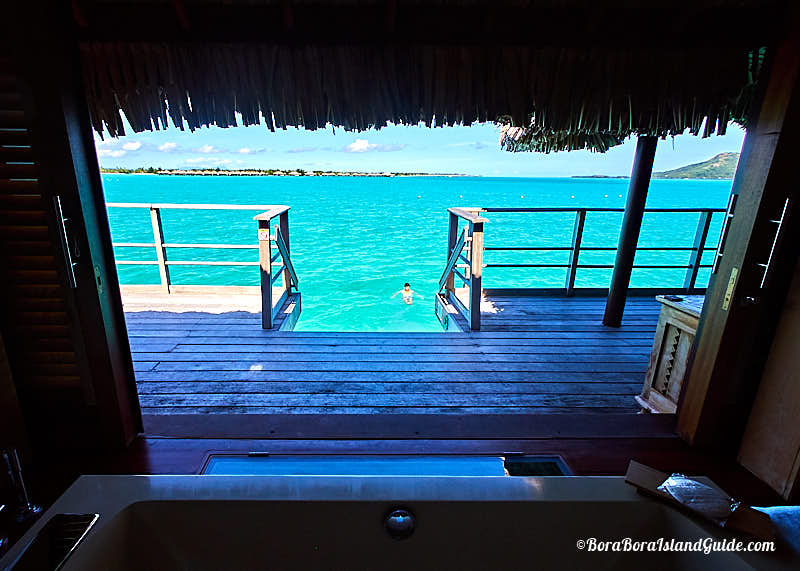 Over water bungalow view from the bath
We noticed how artfully the Four Seasons Bora Bora overwater bungalows are laid out. They're set further apart than at other resorts, giving guests more privacy and seclusion. We could relax in the bath without the world passing by, jump off our pontoon without neighbors watching, and hang out around our bungalow without hearing people talking on their phones. We were in a paradise-on-stilts above the water. 

Order In!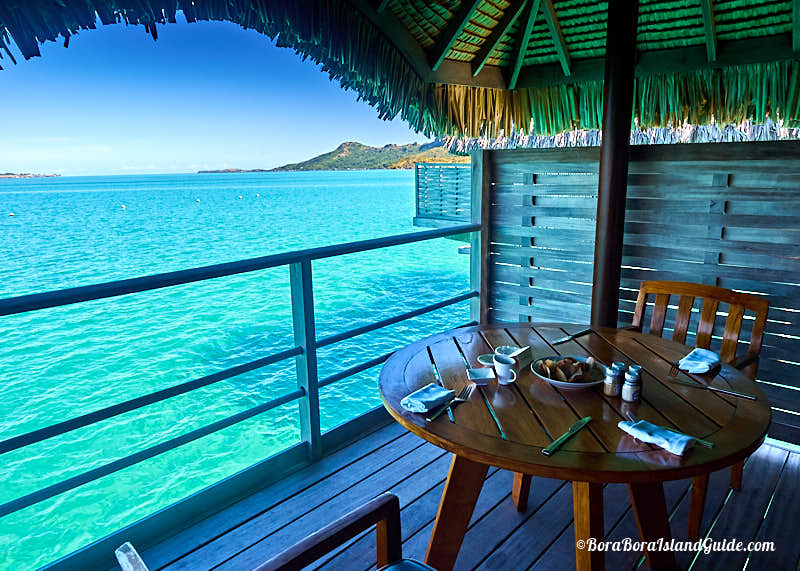 If you have a bungalow with a dramatic view or a pool, you're likely to spend more time in your bungalow than other guests. You can loll in your glamorous hut over water and there's no reason to leave - except for the decadent breakfast buffet! We think the Four Seasons Bora Bora over water bungalow deck is a sensational place for in-room dining .
Which Four Seasons Bora Bora overwater bungalow is best?
The best Four Seasons Bora Bora rooms have prime views across the water to Mt Otemanu. But you don't have to pay top dollar and book that category, to have an amazing stay. The outlooks from the Beach View and Lagoon View overwater bungalows are glorious, and unlike some other luxury Bora Bora resorts, this entire resort has a Mt Otemanu aspect. If you don't have the mountain view from your bungalow  you can enjoy it while eating breakfast, lounging by the pool or beach, and in the evening from one of the lovely dinner restaurants at the Four Seasons. You'll savor the sweeping panorama, of Bora Bora's main island, when walking back to your bungalow.

Are the Four Seasons Overwater Bungalows with pools worth it?
Selecting a Four Seasons Bora Bora overwater bungalow is mostly based on what aspect you want. But for a little more luxury you can choose a bungalow with a private plunge pool on the deck. When deciding, keep in mind that the Bora Bora weather is warm most days of the year, and the salt water below keeps mosquitoes away. So the deck is likely to be your favorite habitat. If you prefer to swim in a pool, rather than in sea water, you'll appreciate having your own, right there.
If there's not one available, or the cost is beyond your budget, the main pool at Four Seasons has private cabanas and overlooks a gorgeous white sand beach and Mt Otemanu. As we go to Bora Bora to enjoy the calm, warm lagoon water, it seemed we could leap into our own sparkling 'pool' anytime we wanted - simply by jumping from the pontoon of our Bora Bora Four Seasons over water bungalow.

We didn't experience a Four Seasons Bora Bora Overwater Bungalow with a pool on this vacation. But we did have an over water bungalow with a pool at the Conrad Nui. There we were faced with the difficult decision of whether to swim in the lagoon or the pool! We found that the pool was our preference in the evening - especially since we had a direct sunset view - and the lagoon was our love during the day. 
Search the Site

Are you still looking for additional information? You can use the Google search box below to search the site.