Four Seasons Bora Bora In Room Dining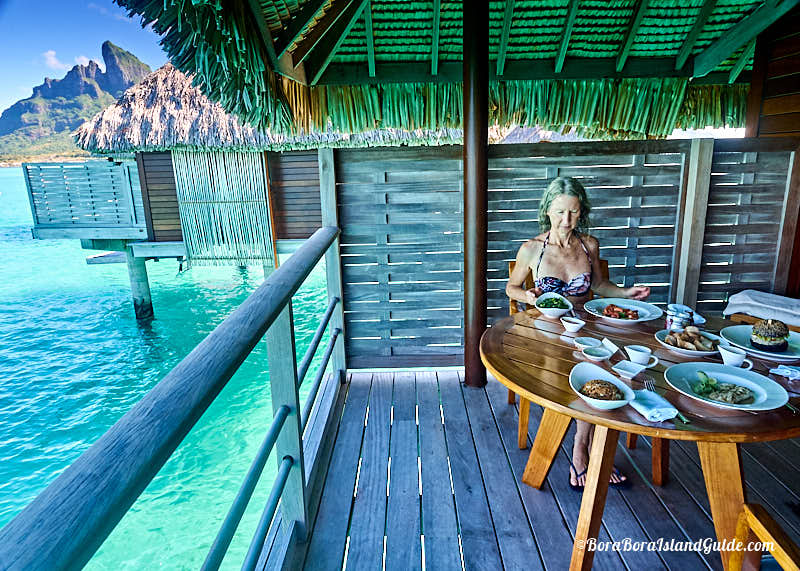 The Four Seasons Bora Bora in room dining takes "room service" – over water! 
Although in room dining was available at all hours, we found that the best times to order in are at lunch, or for an intimate sunset dinner.

At breakfast, the Four Seasons Bora Bora breakfast buffet at Tere Nui has awesome choices – it's not to be missed. In the evenings, when darkness fell, we preferred a restaurant ambiance for dinner.

We learned that the middle of day lighting shows off the lagoon at it's most turquoise, and it's utter luxury to eat lunch served on the awesome deck. The lengthy in room dining menu has the same Polynesian/French fusion choices as those available at Fare Hoa Beach Bar and Grill.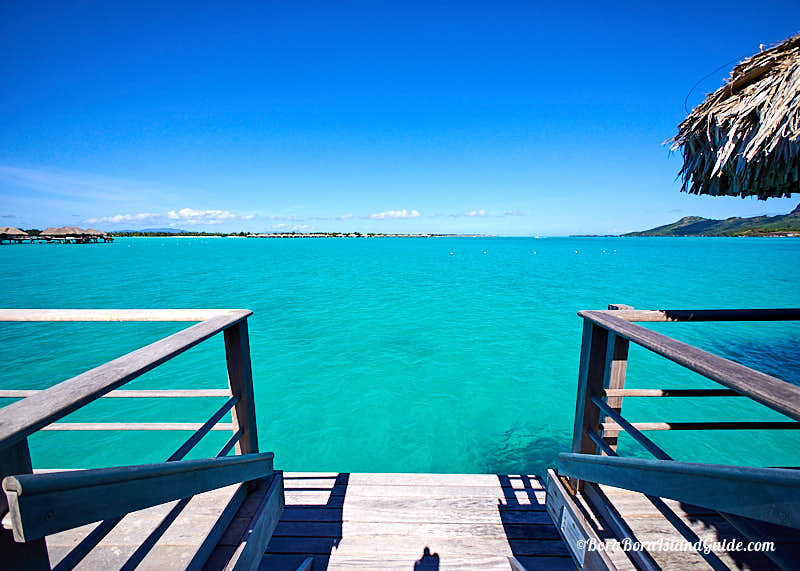 Our Four Seasons stay started on a high note – eating the first lunch! We wanted to celebrate our arrival by frolicking on the deck and jumping into the lagoon from our pontoon. But we were hungry too! So we perused the in room dining menu and rang room service. It was like rubbing a magic lamp and having a genie appear.
The genie arrived in the form of a gentle Polynesian lady who zipped down the pontoon in a cart, equipped with hot box and cold box, to deliver our choices;  and sautéed Moorea garlic shrimp, grilled mahi mahi, and black sesame tuna burger appeared in a vogue-like table setting under the shelter on our patio. We sat down in wet swimmers and our hostess began pouring a complimentary bottle of champagne. Every dish was finger-licking good. As I chomped into the feast and surveyed the views I realized I was living out a dream. Hello Four Seasons at last!

Best option for hot or wet weather

If you stay over summer, the thatched-roof patio on the deck will be your oasis. The temperatures can be hot in the middle of the day and it's a long walk from the further-out over water bungalows to eating places. But you can relax in your air-conditioned hut over water, cool down in the lagoon, and have scrumptious Bora Bora Four Seasons in room dining come to you.
Four Seasons Bora Bora in room dining is a also a convenient choice in wet weather, instead of sending for a cart. If rain cools things down you may actually enjoy eating inside, in the comfort of your bungalow's cozy living room.
Enjoy the sunset


Those who have a bungalow facing the sunset can enjoy the privacy of in room dining by having early dinner on the deck – especially in summer when the days are longer.
Special event in-room dining

If you're celebrating a special occasion and desire intimacy, with attentive service, you can arrange to have a memorable romantic dinner served on your deck; or a flower adorned canoe breakfast rowed right to your bungalow.

Money saving tip!

For the experience of a private dinner for two, at a fraction of the cost of the organized romantic dinner on the beach, order room service and dine on your deck as the sun sets. This is particularity beautiful if you have a Mt Otemanu view or sunset view bungalow. While the table is not lavishly decked in flowers, the experience can be just as romantic.
Bora Bora Four Seasons on land villas: perfect for in room dining
If you're considering booking one of the exclusive on land villas, they're set up with huge, spacious, living areas (and a butler's pantry). You'll love the luxury of Four Seasons Bora Bora in room dining – at the long dining table inside, or under the large cabana overlooking your pool – with astonishing views down over your very own beach to Mount Otemanu. I was pinching myself while staying in the utter privacy of a villa, with my favorite people!

Search the Site

Are you still looking for additional information? You can use the Google search box below to search the site.