Four Seasons Bora Bora Breakfast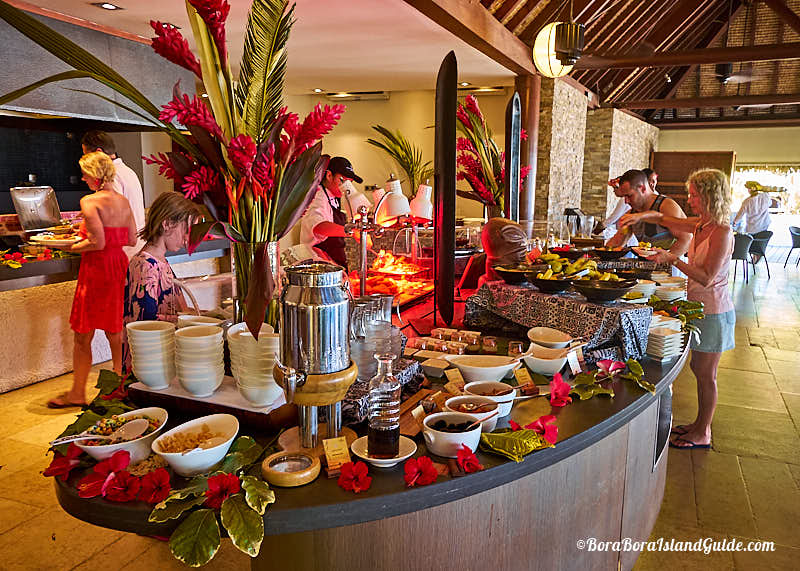 Four Seasons Bora Bora breakfast is an event worth getting out of the luxurious bed - with a lagoon view - for! 
There are several breakfast options to chose from. You can show up to the bountiful breakfast buffet at Tere Nui, order in-room dining to your bungalow (which may be your preference if you have the Mount Otemanu outlook), or arrange for a colorful canoe breakfast to be rowed to your deck. If you're simply not a breakfast person, you'll be happy to know that lunch is served early, from 11am.

Four Seasons Bora Bora Breakfast Buffet
Walking over the water and through the tropical gardens, in the newness of morning, is a wonderful prelude to breakfast. Tere Nui, located next to the main beach, is the breakfast restaurant. We sat at a table on the patio out front, with a view across the lagoon to Mount Otemanu.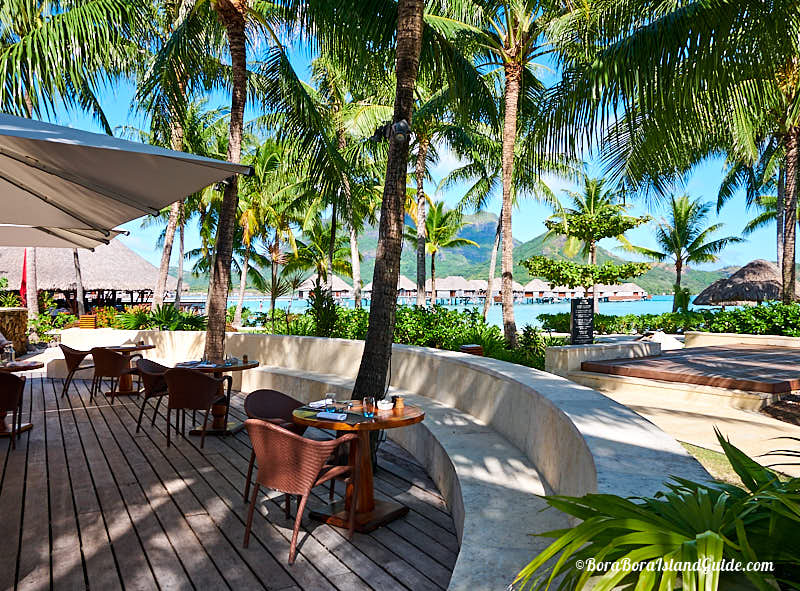 There are so many delicious choices, and you don't need to rush to breakfast. The buffet is continually replenished as things are eaten.
Each morning there's a fresh juice of the day – such as mango and mint, or banana and coconut – and best of all, a stack of fresh coconuts chopped open to drink the water. Fresh hot pots of coffee and tea were brought to the table. Milkshakes and iced coffee can be ordered. Quality bottled water were available.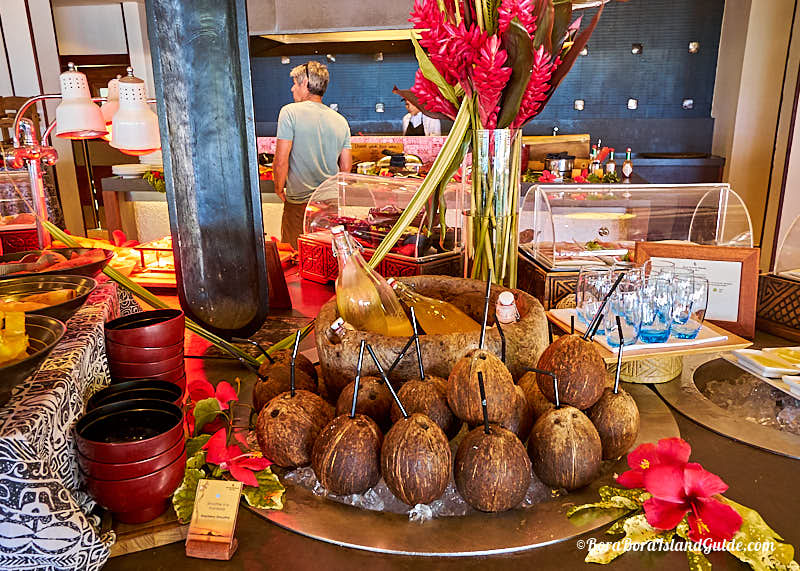 All you can drink fresh coconut water!
Guests can order eggs and omelets of their choice to be made up by the chef. Hot side additions include: tomatoes, sauteed potatoes, bacon, pork or chicken sausage, Canadian bacon and spinach.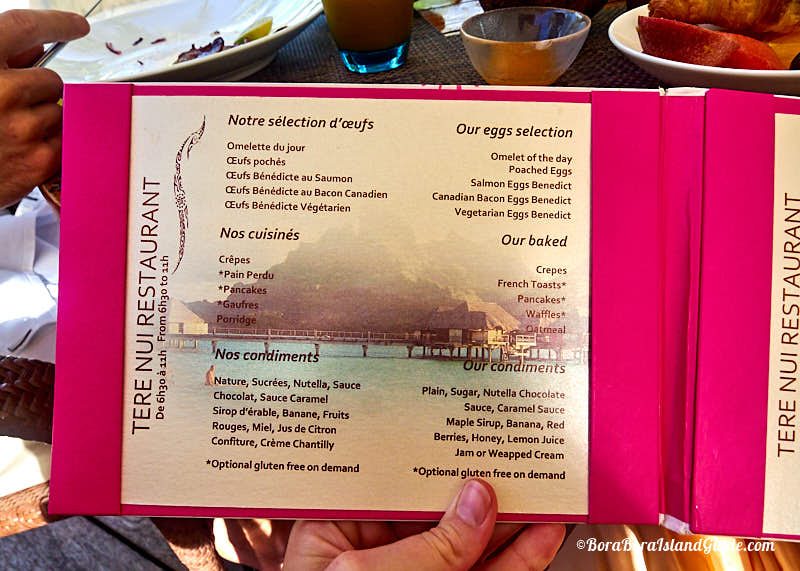 Order from the menu too!
Mini-pot servings of island-style breakfasts included: poisson cru, cooked plantain bananas in coconut milk, and coconut ipo bread with coconut milk shooter. There's a huge selection of sliced cold meats, cheese, and homemade smoked swordfish and salmon.

The bakery offers baguettes, croissants, brioche, muffins and toast; plus there's granola and oatmeal with brown sugar and raisins for cereal lovers.
Sample Polynesian breakfast tastes
The made-to-order, stacked crepes were generously laden with berries and banana. The freshly cut, tropical fruit selection is bountiful and everything is beautifully prepared – for example, the grapefruit sections each have their skin removed. Guests can make up a plate of juicy, Polynesian fruit; and there are also little specialty pots, such as apricot compote and Taha'a vanilla, papaya with red berries, or raspberry coulis and lime yogurt.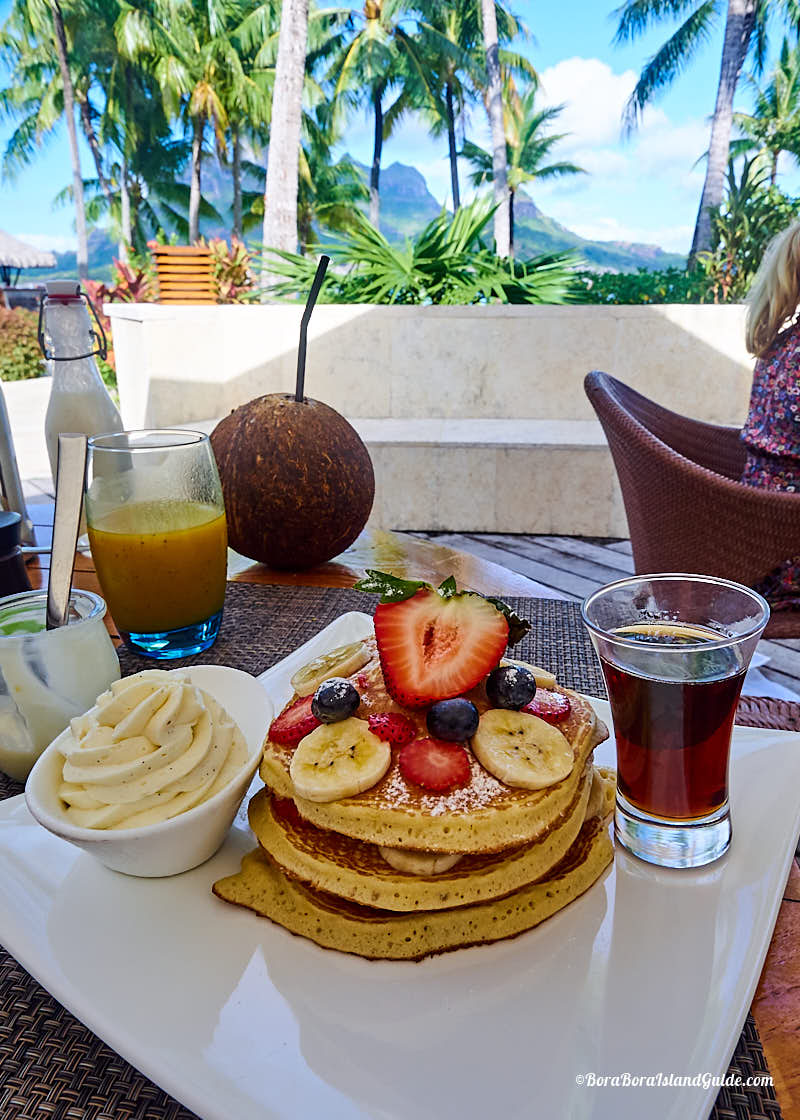 Crepes and pancakes to order
Four Seasons Breakfast Buffet Price
Wondering about the $75 cost of the Bora Bora Four Seasons breakfast buffet? It's absolutely worth it to graze on such a high quality selection of perfectly prepared foods. But we'll also let you into a secret. If you use our trusted Tahiti travel agent who has the know-how and buying power to include the Four Seasons Bora Bora breakfast buffet in a custom designed vacation package, you'll have twice the satisfaction at breakfast, because it won't even feel like you're paying for it!

Canoe Delivered Breakfast

You know you're in Bora Bora when you step out to your deck and see breakfast being delivered by a flower-decorated canoe! I have no idea who first thought up this romantic surprise; but Polynesia is a water-world and rowing is the national sport. Perhaps it originated as speedy way to deliver hot breakfasts before golf carts arrived.
Book a Four Seasons Bora Bora canoe breakfast and you can wake to the sound of a Polynesian song by having a Four Seasons breakfast brought to you in a ceremonial canoe. While a vahini sets up a tempting table you can be treated to an indulgent row around the pontoons, in translucent morning light.
How to Include Four Seasons Bora Bora Breakfast
Contact Pacific for Less to get a vacation quote with Four Seasons Bora Bora breakfast bundled in to a package with other extras.
More about Four Seasons Food
Four Seasons Lunch
Four Seasons Romantic Dinner
Search the Site

Are you still looking for additional information? You can use the Google search box below to search the site.