Bora Bora Four Seasons Restaurants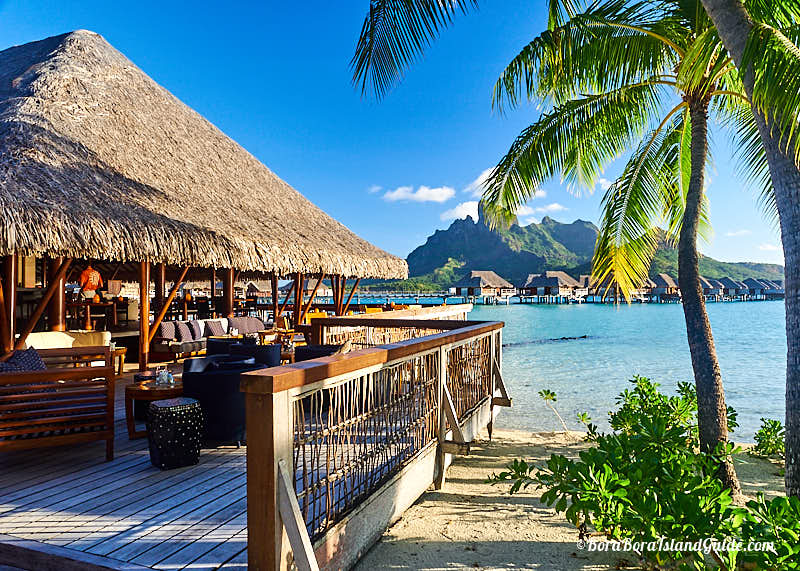 The Bora Bora Four Seasons restaurants offer a tempting variety of both casual and fine dining experiences. There are plenty of choices to make your vacation-eating pleasurable, without having to leave the resort.
Bora Bora Four Seasons restaurants are nothing like those back home; they are artisan built, traditional houses reflecting man's innate desire to craft nature's bounty into something entwining both beauty and function. They are artfully air-conditioned with natures help too. Eating casually, or formally, in the ambiance of these thatched-roof houses is a delight.

Bora Bora Four Seasons breakfast restaurant
Tere Nui
Tere Nui is the largest of the Bora Bora Four Seasons Restaurants and it's cavernous thatched-dome is  completely open at the front where there's a lovely patio of tables with views across the water to Mount Otemanu.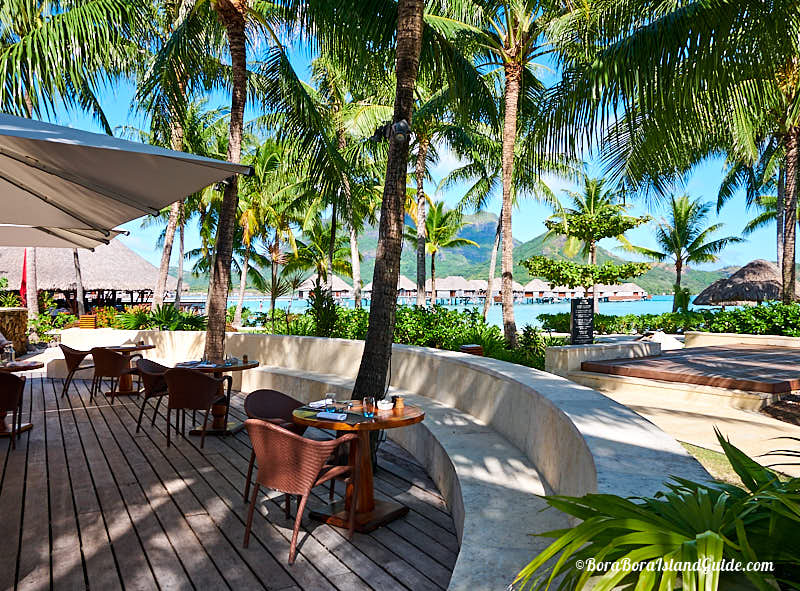 Between 6.30am and 11am Tere Nui is wide open for breakfast. It offers an eye-pleasing cosmopolitan buffet-spread of carefully prepared multiple choices to please folk from anywhere on the planet. Everything has been carefully prepared, and you can also order your eggs or crepes to be made as you please. See why Four Seasons Breakfast Buffet may be the best on the island.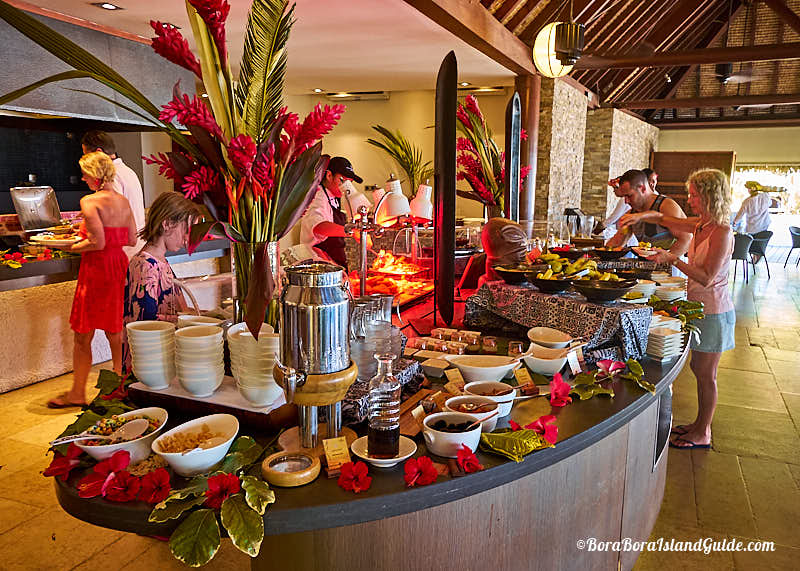 Bora Bora Four Seasons restaurants for lunch
Tere Nui
You're never caught between meals at the Four Seasons Bora Bora because when Tere Nui ceases offering breakfast at 11am it begins serving out lunches...until 5pm. The liberal time frame is great for those who skip breakfast or have an afternoon excursion to go to. Both of the Bora Bora Four Seasons restaurants that open for lunch offer the same menu. Tere Nui is a better choice if you want a more formal or sheltered setting to eat in. But if you don't wish to leave your nook by the pool or the beach, order from Fare Hoa.
Fare Hoa Beach Bar and Grill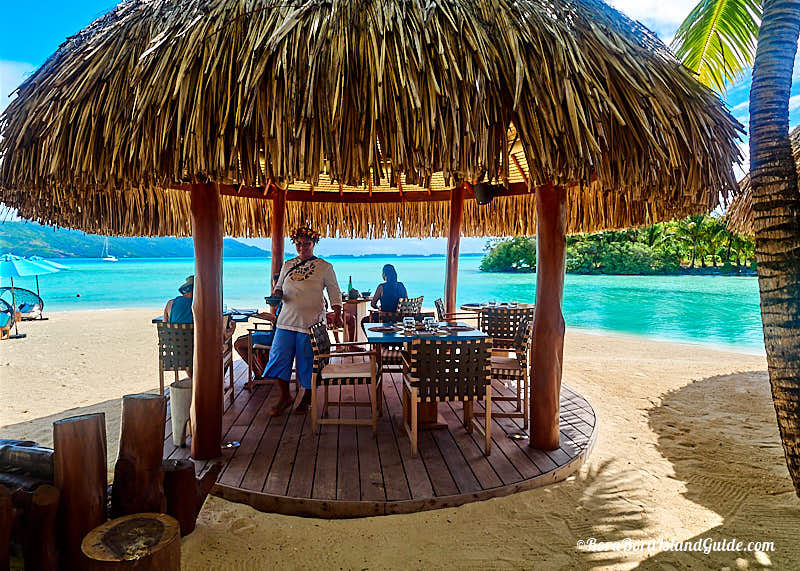 The House of Friends serves lunch from 11am to 4pm. It has covered dining decks on the sand next to the lagoon, but you can also order from your sun lounge or love nest – by the pool or at the water's edge. We enjoyed eating there - it's casual Four Seasons Bora Bora dining at it's best!
Bora Bora Four Seasons restaurants for dinner
Fare Hoa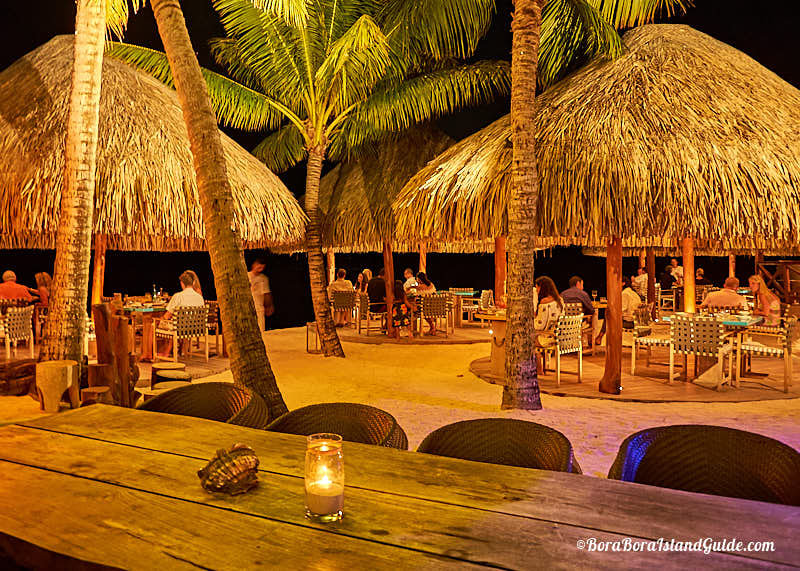 We also had a perfect dinner at Fare Hoa. The ambiance was blissful under a romantic thatched-roof with a twinkling dome above and the silhouette of palms around. It was a treat to escape the usual air-conditioning, kitchen clatter, and noisy acoustics of restaurants back home. Instead, the rich, relaxed Tahitian voice of Vehia, a well known Polynesian singer from Tahiti, set a vacation mood in the balmy air.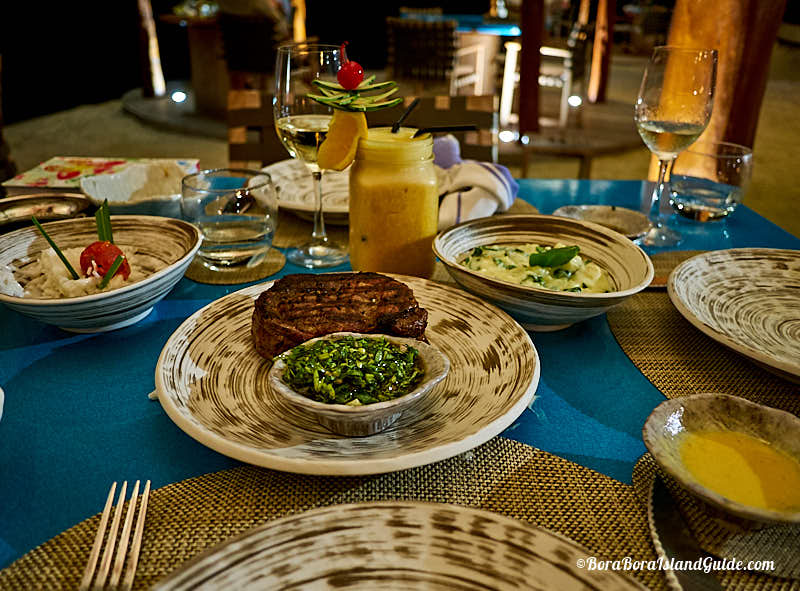 Our waiter, Rudolph, appeared proficient so we asked him to surprise us with his choice of three starters and main courses. He brought Beignet Sweet Potatoes – grilled shrimp, asparagus, cherry tomatoes, arugula, olive and truffle oil; Polynesian Mother of Pearl Scallop Ceviche; and Grilled Romaine Salad. It was a visual feast on the table and everything tasted wonderful. We were sharing each dish, so we asked for our mains to be served one at a time, to taste them while hot. Out came succulent Grilled Rib-eye Steak, followed by melt-in-the-mouth, Harpooned Mahi Mahi Fillet, followed by tasty Moorea Shrimp Skewers. The best part of the meal came at the end - a gift of a smooth, creamy chocolate lava cake!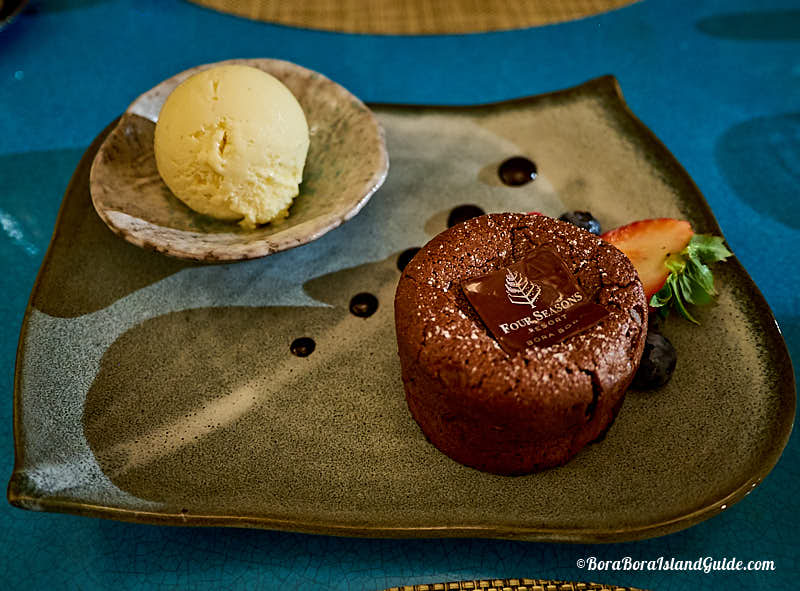 We were delighted that our first night of Bora Bora Four Seasons dining was a total success. The food was delicious and the exceptional, entertaining service from Rudolph (who grew up in Tahiti with the blended culture of a Swiss and Polynesian parent) made our meal an occasion to remember. A big distinction we noticed at Four Seasons Resort was that every staff person we came into contact with seemed to naturally bring a little extra to their role.

Sunset Restaurant and Bar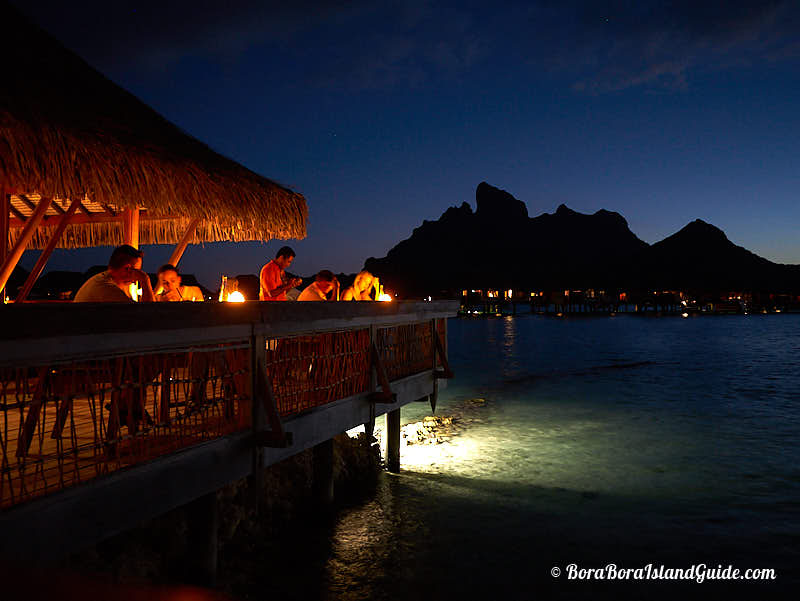 Those escaping from the city can have a dream date-night night at the Sunset Bar. This lagoon-side fare combines sophistication with island. There's a choice of perching up at an interactive bar, lounging indoors in cushioned comfort, or romancing your partner out on the over water terrace – while nibbling on very fresh sushi and tapas, as the sun silhouettes the main island. It's the place to linger over drinks, or have a light evening meal. For entertainment we tasted all the intriguing drinks on the new cocktail menu.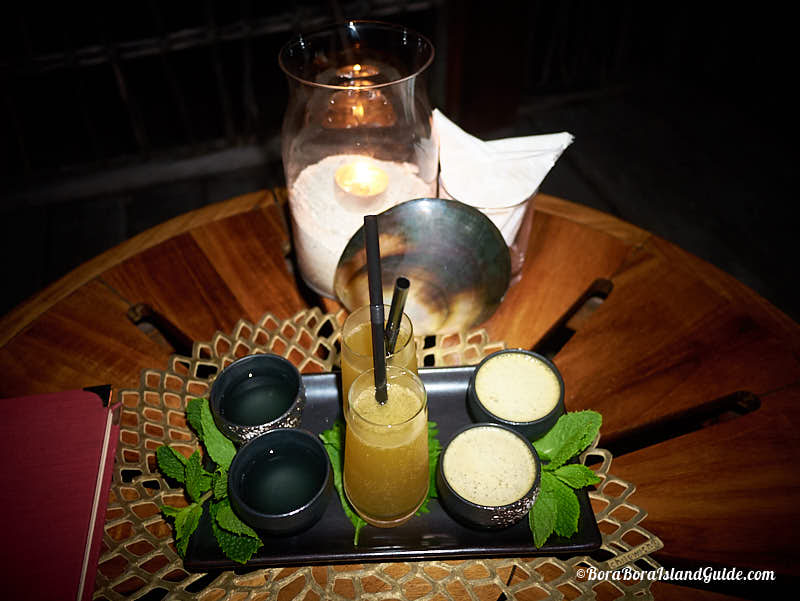 Our sampler of cocktails
If your over water bungalow doesn't face the sunset, come here at about 5pm. In winter time you can actually watch the golden globe sink into the water. It's lovely to sit and enjoy a drink before going to another restaurant, or stay on and have sushi if you want a light dinner.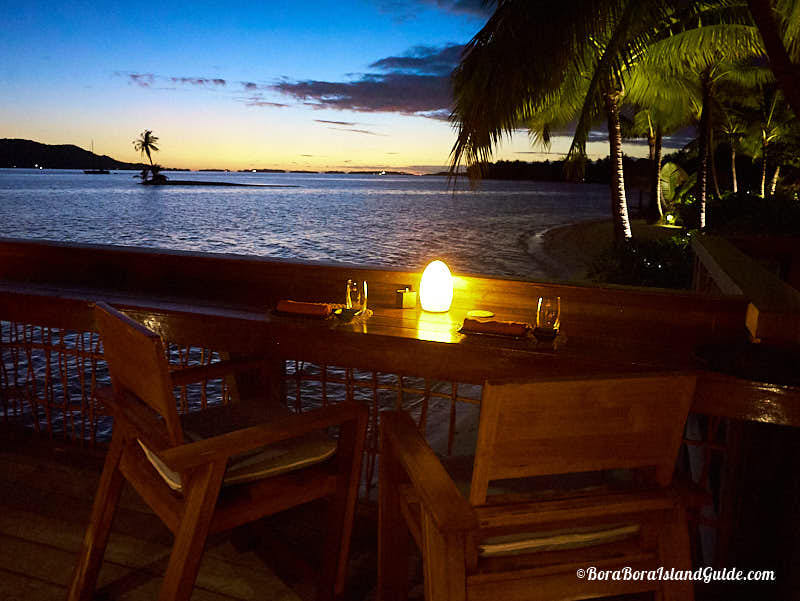 Arii Moana
Arii Moana's artful grandeur befits a restaurant named King of the Lagoon. This is the formal Bora Bora Four Seasons restaurant for dining on fine French fusion in elegant surrounds. The ambiance and outlook set the scene for the extraordinary dinner you'll likely be served.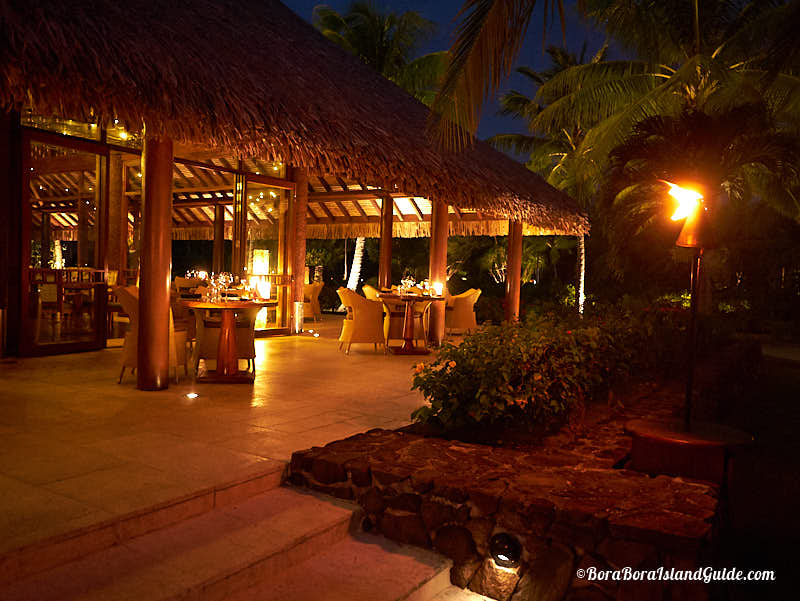 The menu focus is on presenting creative French cuisine while integrating local Polynesian ingredients and flavors. The food is delicious. You can have a top Bora Bora restaurant experience by ordering the 5 course fixed price Chef's Tasting Menu, with wine pairing, which gives a taste of all the best dishes.

The fish comes in fresh daily from local boats, so the catch varies. Seafood delicacies include tuna, mahi mahi, salmon, crab, Moorea shrimp, scallops, and lobster. You can also indulge in best-cut-of meat treats such as roasted lamb fillet or seared beef tenderloin. All the accompanying vegetables are served in flavorful, creative combinations that surprise in the mouth.
When choosing your meal, keep in mind that Arii Moana has an amazing wine selection. The food and beverage manager is an excellent sommelier, so make use of his expertise by asking him to help select the perfect wine to go with your food. Remember to save space for dessert, even if you share one, to fit it in. These fine French desserts are to dine for!
Unless you stay in low season it's best to book a table. Ariia Moana is open  each night from 6.30 to 9.30 for dinner and dessert – except that it's usually closed on the evening when the fun Four Seasons Polynesian dinner show is held, as most guests want to participate in that.
Want to know more about dining at Bora Bora Four Seasons?
Evenings are a quiet, romantic time on the world's most beautiful island so while staying at this resort a Bora Bora Four Seasons dinner will be the main event on most evenings. See our Bora Bora Four Seasons food review for more help with choosing between the Bora Bora Four Seasons restaurants. There's also the option to have an intimate meal by ordering in-room dining to your overwater bungalow.
For more detailed discussions on which Bora Bora restaurants reliably serve up incredible food that's worth eating and paying for, on your limited vacation days, leave your email below to receive "Postcards from Bora Bora" newsletter and be notified when "Best of Bora Bora" becomes available.
Search the Site

Are you still looking for additional information? You can use the Google search box below to search the site.