Four Seasons Bora Bora Dinner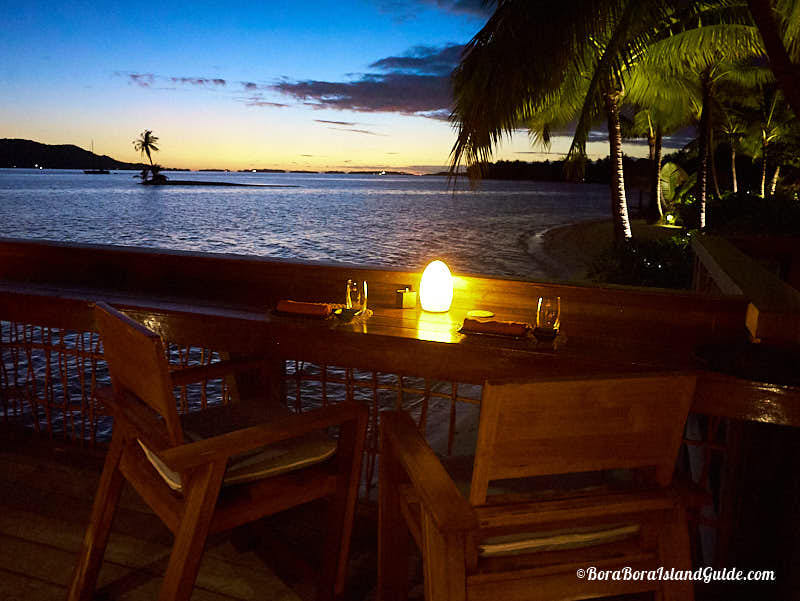 There are so many enticing options for a Four Seasons Bora Bora dinner that you can stay a whole week and be entertained each evening by lingering over delicious cuisine. It's not merely the choices and quality of cuisine that make each meal special, but the lovely service and environment for enjoying each other, while eating good food.
Your choice of dinner style is likely to be influenced by whether you've been lounging around the resort, or out on a lagoon excursion, where you indulged in a barbecue lunch.
Getting to Dinner
You can ring for a golf cart to drive you to dinner if you've chosen an over-water bungalow that's far out on a pontoon. But be aware that you are on the world''s most beautiful island. Pack pretty dresses and sandals that allow you to move. Walking leisurely through paradise as the sun sets in the evening, is a divine experience. It'll bring you closer to nature and (your) man. In those quiet moments you'll realize how truly privileged you are.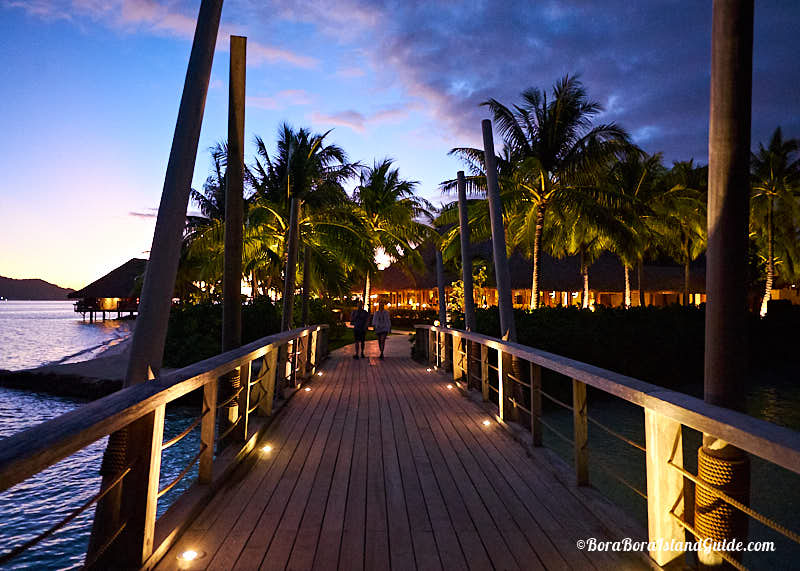 The early-bird gets the fish
Four Seasons is proud of it's focus on using fresh local ingredients, a main one being seafood. We suggest you go early to dinner, or you may miss out on your choice, as seafood from the local catch is limited. On one day each week guests can actually see a local fisherman display his catch of the day, in the area near Fare Hoa.
Four Seasons Bora Bora dinner options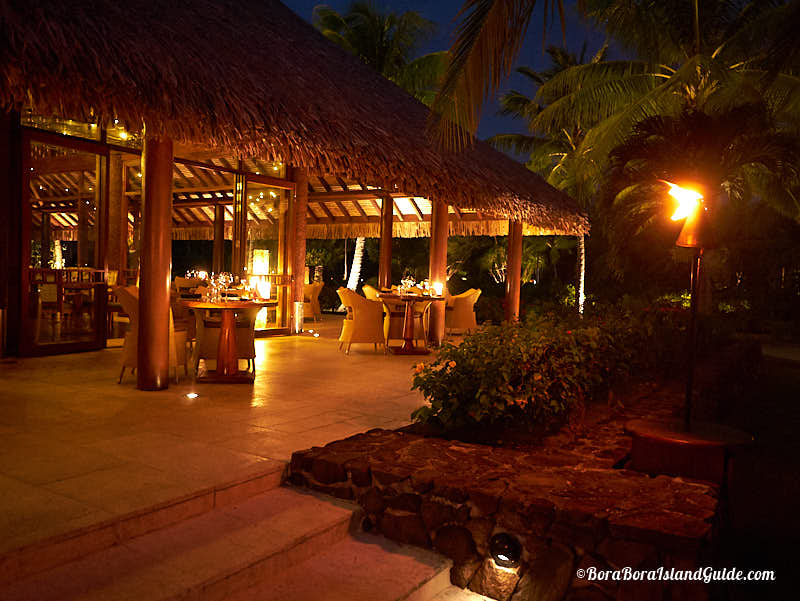 As the resort is located on a secluded motu guests eat most of their meals in house. So –for variety – there are several Four Seasons Bora Bora dinner restaurants to choose from. Fare Hoa Beach Bar and Grill, and the Sunset Restaurant and Bar offer relaxed, casual dining; while the more formal Arii Moana serves up fine French cuisine.
If you are feeling lazy or want privacy, the same quality meals that you would enjoy at Fare Hoa can be ordered for in room dining. While lunching on the deck of a bungalow is amazing, once the light has faded, we think it's more fun to stroll to one of the restaurants for a Four Seasons Bora Bora dinner.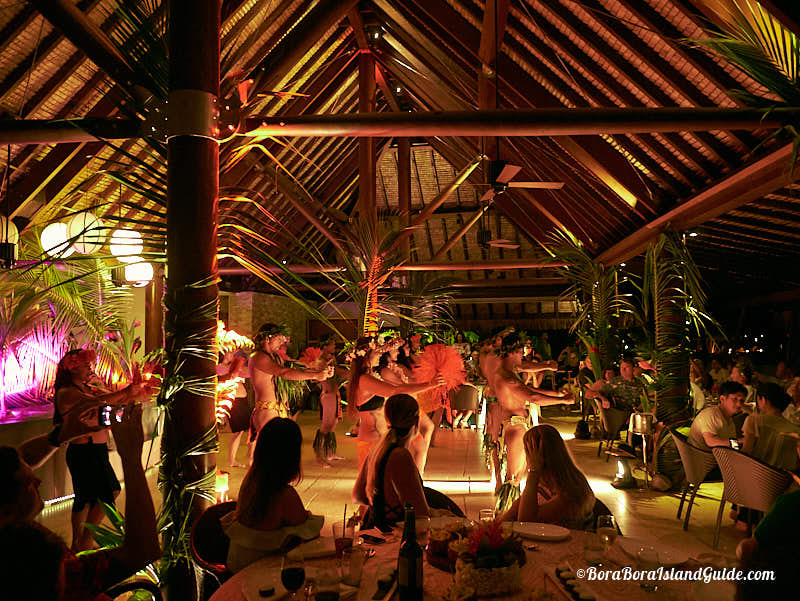 The Four Seasons Polynesian dinner is a grand exotic banquet with spectacular island entertainment that livens up the evening. It's only held one night of the week so don't miss it!
Romantic Dinner

For a special celebration, an intimate romantic dinner can be served on a quiet beach, or the deck of your bungalow.
A Taste of Bora Bora

At Four Seasons Bora Bora the "Taste of Place" experience will thrill fisherman and foodies. It begins with a half day fishing excursion led by Executive Chef Edgar Kano. On board guests indulge in delectable food and drink, while planning the menu and fish preparation, to create a personalized Four Seasons Bora Bora dinner. Back at the resort you relax while Chef Kano and his team complete the preparation. That evening, Chef Kano presents your chosen dishes at Fare Hoa, with perfectly paired wines.
Options for dinner outside Bora Bora Four Seasons Resort
The cost of boat transfers from Four Seasons can discourage guests from leaving the resort for dinner. But if you would like to pay transfers to experience eating dinner outside the resort there are several good options for fine dining.

Lagoon at St Regis
You can arrange direct boat transfers (for a cost of $100) to and from St Regis to dine at Lagoon. As St Regis is the next resort down the motu this only takes a few minutes each way, and is super easy to do. Lagoon is alongside of the dock. Although some folk rave about Lagoon we've yet to have a great meal there.
This romantic evening tour gets you out on the lagoon to watch the sun set over the watery horizon, before taking you to dine at St James Restaurant, which serves delicious French food on the edge of the lagoon, north of Vaitape. For approximately $30 extra per person you can be picked up right from the resort. We had a fantastic night – with one of our best meals – on this tour.
Villa Mahana
A little more effort is required to get to popular Villa Mahana. which serves reliably pleasing French cuisine at slightly lower prices than Arii Moana. You need to book the resort's shuttle to it's mainland dock, where Villa Mahana can have a complimentary shuttle car waiting to pick you up and drive you for about 25 minutes down around the Circle Island Road.
Search the Site

Are you still looking for additional information? You can use the Google search box below to search the site.