Bora Bora Spa Pampering in the Most Beautiful Island on Earth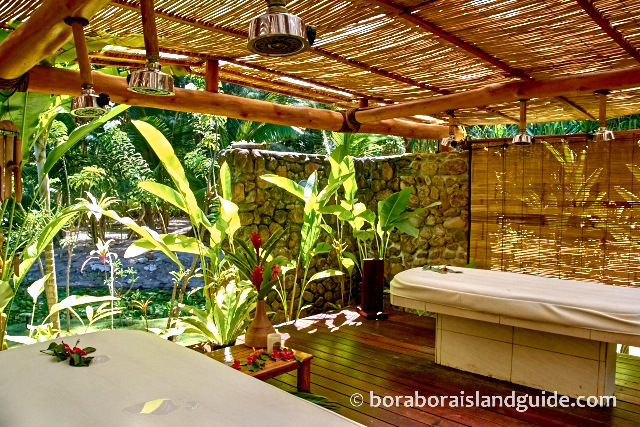 Your visit to a tranquil Bora Bora spa may be the most amazing you will ever have. The Bora Bora resorts have carefully positioned their spas to capture beautiful island and water views that create an 'out of this world' ambiance to complete the relaxation experience.
Some Bora Bora spas have glass floors in their over water treatment bungalows, so you can watch the marine life during your pampering. Others are nestled between the palms on motus overlooking the royal blue ocean or the lagoon. The Hilton's spa is set on top of a lush volcanic island overlooking Mt Otemanu.
The Bora Bora spa treatments use island specialties including vanilla, coconut, frangipani, palm leaves, ocean water, marine mud and seaweed. You can enjoy a deep-sea water shower with a gentle massage. Or a sumptuous sea salt scrub combined with a relaxing full body massage under a warm deep sea water shower.
All inclusive Spa Packages at Bora Bora Resorts
Some resorts offer spa treatments in their packages. For example the Hilton has a 'Serenity Package'. Your 5 night stay includes a special spa treatment program on day two, three and four. So if you want to enjoy the spa more than once throughout your stay, have a look at the Bora Bora spa packages. At most of the Bora Bora resorts, a Honeymoon Package will include, among other things, a spa treatment for 2, which is usually a massage.
Here are the Resorts that offer a special Bora Bora spa experience
Manea Spa at Pearl Beach Resort Bora Bora
You can take a stroll through shady palms to the delightful Manea Spa. Created in 2006 this spa has 5 treatment rooms and a couples-only Royal Pavilion. It is a sensuous open-air haven of bamboo, kaori wood and lava stone set among blooming lily ponds.
Manea Spa treatments are based on the Tahitian Taurumi tradition. In Polynesian culture this is the holistic expression of spirituality, energy, spoken word and touch. All treatments use products with local ingredients, such as monoi oil, sandalwood, vanilla, tiare and frangipani.
How About a Flower Petal Milk Bath at Sunset Overlooking the Lagoon?
Miri Miri Spa at St Regis Resort Bora Bora
The St. Regis Bora Bora has a large world-class spa and fitness center with 7 luxurious spa treatment rooms. It is located on its own private island in the lagoon and specializes in Tahitian and Pacific Rim treatments. When you have a treatment you are welcome to relax in it's facilities for the entire day. You can have the best view of Mt Otemanu as you meditate in the spa garden.
Hina Spa at Hilton Bora Bora Nui Resort
The Hina Spa is set on a sacred hilltop surrounded by lush vegetation and dramatic black volcanic rock at the Hilton Bora Bora resort. It has great views across to Mt Otemanu and Bora Bora Island. The spa offers open-air treatments surrounded by nature and every room looks across the blue lagoon. Hina Spa uses locally sourced, all-natural products including tiare scented monoi oil.
Deep Ocean Spa By Algotherm at Intercontinental Bora Bora Thalasso
This Bora Bora spa is set on a beautifully landscaped motu over-looking the ocean. The Intercontinental Thalasso Deep Ocean Spa offers treatments not available anywhere else on the planet. It is the very first Thalasso spa to use deep sea water in it's treatments. The sea water is taken from the Pacific Ocean at depths below 3,000 feet. The local volcanic activity in ancient times left the deep ocean water rich in minerals and trace elements. So this Bora Bora spa features deep sea hydrotherapy spas and showers.
The Spa at Four Seasons Bora Bora
The amazing cathedral-like Spa at Four Seasons Resort, Bora Bora sits surrounded by tropical palms and the pristine Pacific waters. Wooden walkways are suspended above vibrant foliage, fragrant frangipani and a stunning lagoon. It features a yoga deck overhanging the lagoon. You can soak in the outdoor vitality pool and gaze past the pandanus to Mt Otemanu. This Bora Bora spa uses natural ingredients of French Polynesia, such as monoi, tamanu, kahaia, vanilla and organic seaweed.
Le Meridien Bora Bora Spa
This Wellness Centre revitalizes guests with numerous body treatments, massages, feet, and hands treatments.
Le spa of the Sofitel Bora Bora Marara Beach and Private Island
Sofitel Marara Beach Resort's Le Spa centre pampers vacationers with indulgent treatments. This modern spa offers restorative massages in exquisite surroundings. You can relax in this peaceful haven and enjoy a massage or beauty treatment based on Tahitian plants and traditional techniques.
Bora Bora Honeymoon Hotels
The Four Seasons offers couples the Kahaia spa suite for a unique shared escape experience. This suite has spectacular views of tropical valleys lined with hibiscus and across the lagoon to Mount Otemanu. There are glass panels in the floor, for viewing the lagoon during your treatments.
Spa Escape promotion available when you book and pay with an American Express Card. You receive an 80-minute massage for price of a 50 minutes when you mention the Spa Escape promotion when making a reservation.
Search the Site

Are you still looking for additional information? You can use the Google search box below to search the site.