Bora Bora Romantic Activities
You're off to the island of romance ... but don't leave the magic to chance! Here are the best Bora Bora romantic activities that you'll need to book in advance.
 In Bora Bora, romantic activities abound. Many are freely available while having a resort-stay on the world's most mesmerizing island. But if you want to turn the romance up a few notches, there are also some extraordinary activities that can be planned.
Ladies are instinctively the romantic sex. Most of us crave romance even more than chocolate so don't put the onus, for providing romance, on your man. Be proactive and set the scene for special moments to emerge.
Men will be pleased to know that they don't have to think up lady-pleasing ideas in Bora Bora. It's a couples' island so the resorts and activity providers are experts at creating experiences to touch the hearts of lovers. Surprise her with ideas from this short-list of the best Bora Bora romantic activities and you'll be certain to delight and charm her while making precious memories in a picture-postcard setting.

Dinner for two by the lagoon
My favorite Bora Bora romantic activity is a private dinner for two alongside the lagoon. It's one of those fanciful experiences that are even more pleasurable than you can imagine.  A table will be set up in the location of your choice and you'll have your own on-call waiter to serve the food and drinks on your chosen menu.
Most Bora Bora resorts offer romantic dinners so let's look at the best of the best.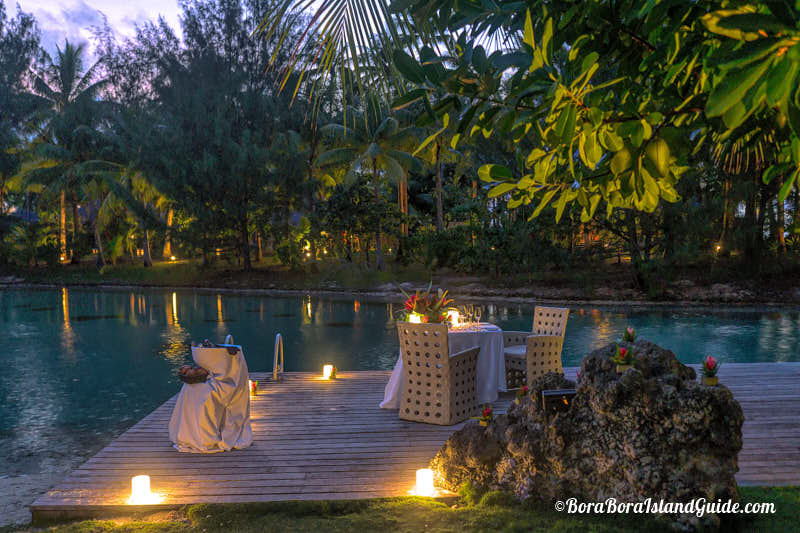 Private dinner at the St Regis Spa Beach
A romantic dinner at the St Regis can be located at the main beach, spa beach, spa, or on the deck of your bungalow. On our last vacation, my boyfriend booked a dinner at the spa beach and surprised me by proposing! A romantic private dinner provides a perfect opportunity to deliver a Bora Bora proposal.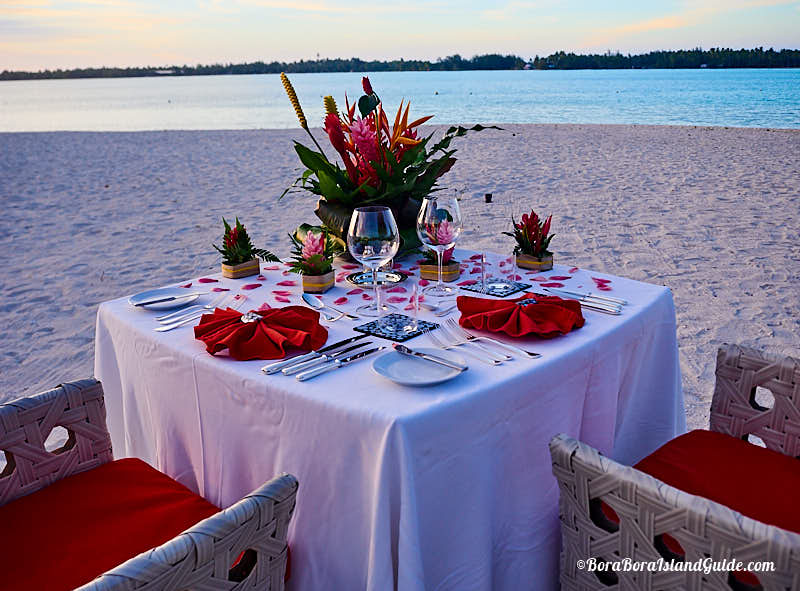 Dinner on St Regis main beach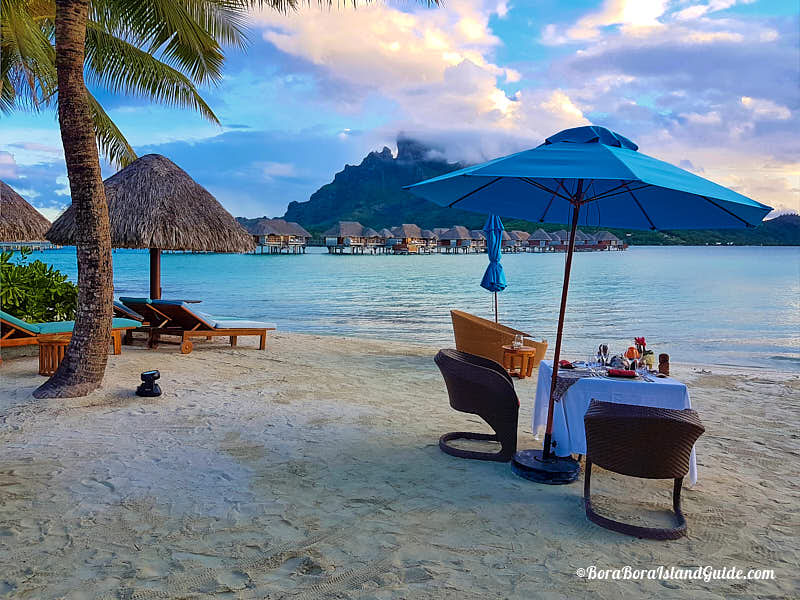 Dinner for two at the Four Seasons beach
The Bora Bora romantic dinner at the Four Seasons offers guests dining locations: on the main beach, in the privacy of their overwater bungalow, or on the small, secluded, nearby islet (at an extra cost).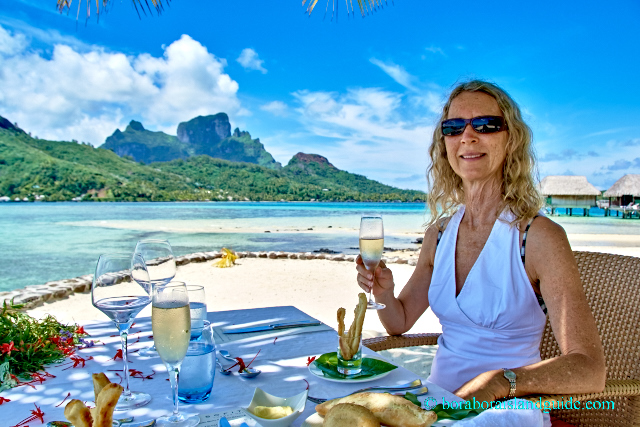 Private lunch on the Sofitel Private Island
Luxurious tete a tete dining doesn't need to be 'dinner' for a meal to be one of the top Bora Bora romantic activities. We experienced the lunch of our lives at the Sofitel Private Island with some of the island's most picturesque scenery in full technicolor around us.
Sea plane tour over Bora Bora & Tupai
This exquisite tour will give you exclusive glimpses of the worlds most romantic atoll, heart shaped Tupai.

You'll be dazzled by splendid sights of the glamorous resorts with their romantic over-water bungalows attached to walkways over the lagoon; admire the 2-mile-long, white-sand beach edging the southern-most landmark, Matira Point. As you fly by the rocky sculpture of majestic Mt Otemanu, look for the mysterious, ancient cave on the mountainside.
After viewing the tropical vegetation on Bora Bora's verdant slopes and the ever-changing blues of the lagoon, the sky tour heads 11 miles north to see untouched, heart-shaped, Tupai. Tupai is a ring of untouched white-sand beaches, backed by coconut palms; surrounding a shallow, turquoise lagoon.
If you wish to stop down in Tupai for a intimate wedding, toasting champagne or enjoying the deserted white sand beaches all to yourself, consider booking a custom tour with Tahiti Air Charter.

Couples Experience at a Bora Bora Spa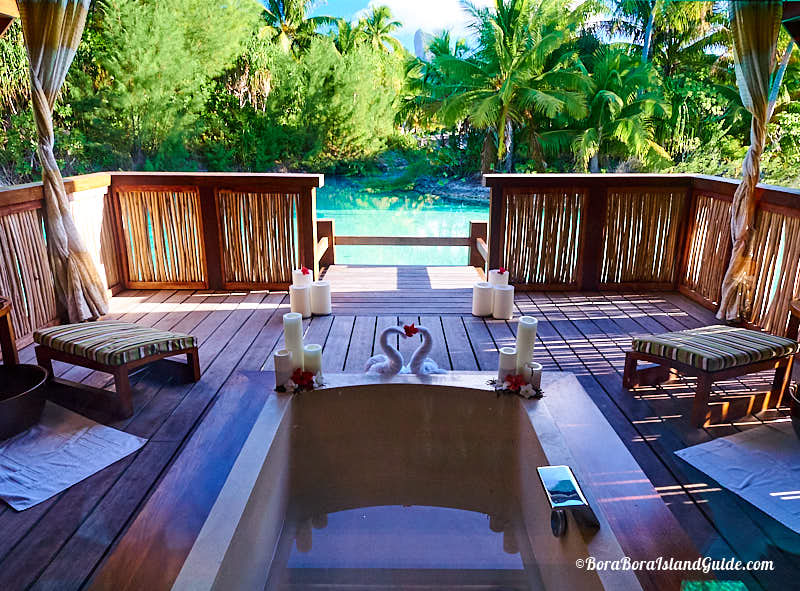 Four Seasons resort
The Bora Bora resort spas have been designed with exotic areas for out-of-this-world couples' experiences. If you're lucky you might get a couples massage as part of a package. Our savvy travel agent organized one to be added in, complimentary, on our five night stay at St Regis.
Four Seasons has the most lavish couples' room, with an outdoor bath and sensational views. Booking a treatment in this exclusive room is one of the most pricy of Bora Bora romantic activities. If you can part with the money, you'll truly be in heaven with your honey!

Private Lagoon Tour
For years we thought that Bora Bora looks just as beautiful on a small-group boat tour. But after we experienced the intimacy of a private lagoon tour, with a feet-in-the-water Polynesian picnic lunch on a motu, we discovered that it's one of the top Bora Bora romantic activities.

Sunset Tour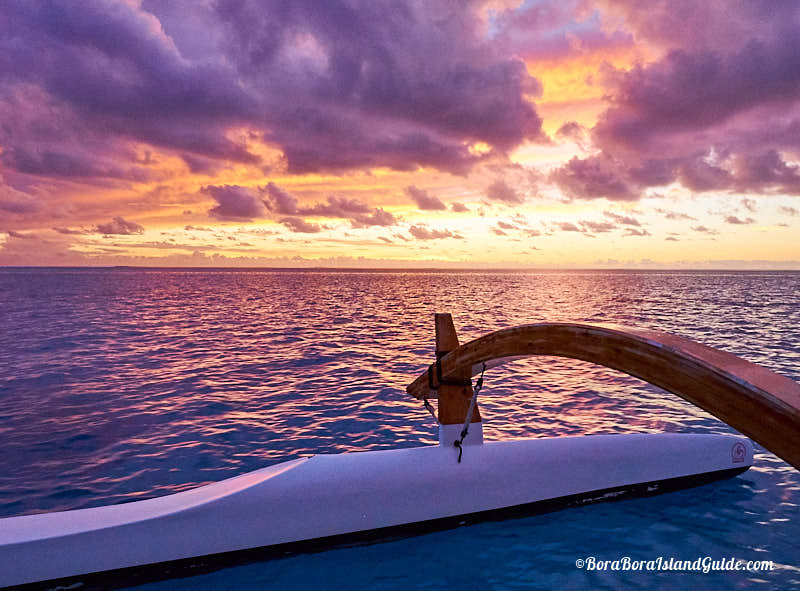 Reflecting quietly, side by side with your loved one, watching the sun set is superb - from anywhere on the island. But unless you have one of the Conrad Presidential villas, with front row seats across the ocean, getting out on the lagoon for a sunset tour is one of the 'must do' Bora Bora romantic activities.

Sailing the lagoon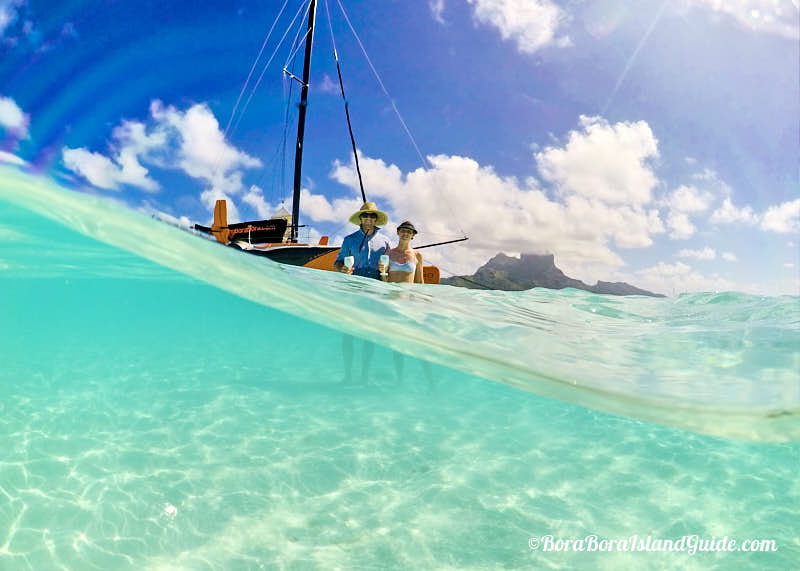 The opportunities for sailing the lagoon are very limited and it's a sublime experience. At the time I booked the sunset cruise was sold out but luckily the floating bar sailing experience was still available. Of all the Bora Bora romantic activities we indulged in, this was my darling's favorite. 

Surprise Her or Him with a Flower Bed!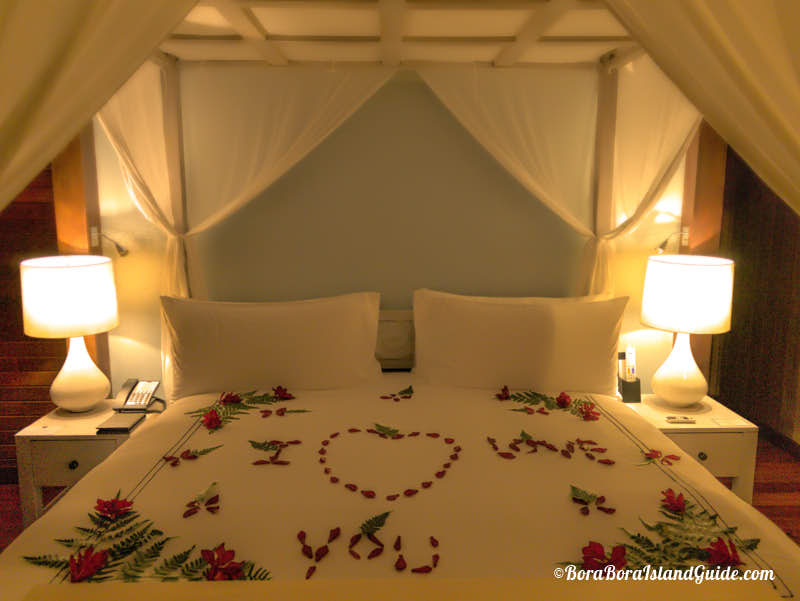 Walking into our bungalow to find a bed adorned with tropical flowers - and petals leading to a bubble bath  - added a most romantic touch to the end of our perfect day in paradise.  After staff at the Conrad Bora Bora Nui resort heard that we were engaged, they arranged this lovely surprise. Some of the Bora Bora packages organized through our favorite travel agent include a flower bed included. If your package doesn't, book one at your resort. A perfect time to have this treat set up is while you're enjoying a private dinner by the lagoon. Just when your honey thinks the evening is coming to an end...it gets even more romantic!
Bora Bora Photoshoot
Capture your time together at the most beautiful isle on earth by having a romantic photo shoot session with a Bora Bora photographer. The right person will help you feel so comfortable that posing with your partner will enhance your connection. On the first trip that Tom flew to Bora Bora with me I arranged a photo-shoot to get myself in some photos with him. I had no idea that the shots would become my engagement photographs.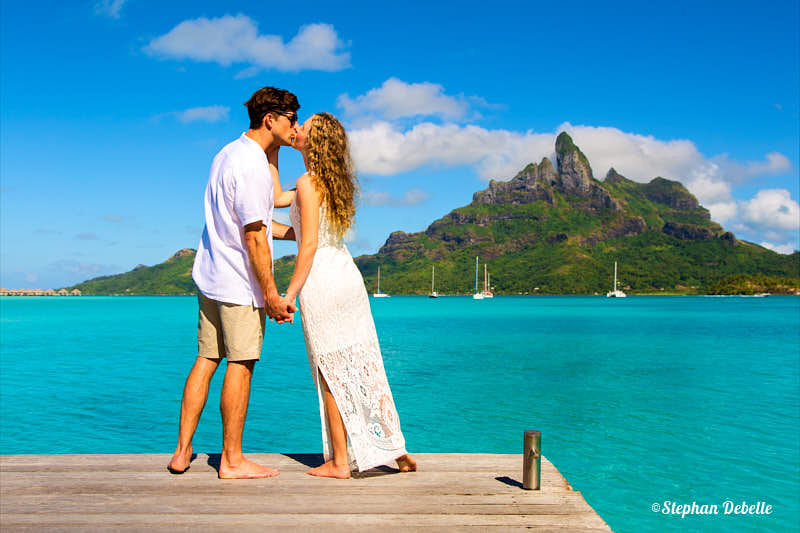 Simply sitting together, watching a Bora Bora sunset is a romantic event - wherever you are on the island! But you can maximize the moments by blending the most Bora Bora romantic activities together to create a perfect day in paradise. Try adding in a cruise on the lagoon and /or savoring a private dinner for two. How about going back to your bungalow and finding a scented, flower-bed? Imagine if this incredible evening was preceded by a couples massage at the spa! The possibilities for heightening romance in Bora Bora seem endless!

Search the Site

Are you still looking for additional information? You can use the Google search box below to search the site.