Conrad Presidential Villa Bora Bora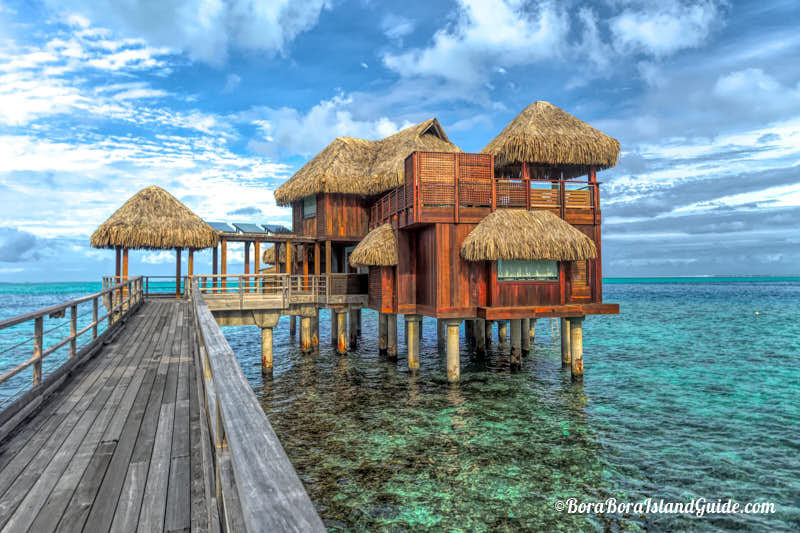 Here's our vacation experience in a Conrad Presidential Villa Bora Bora. Famous folk (like the Kardashians) have partied there. We lapped up exceptional privacy, space, and service in our overwater palace at the end of a pier.

As we alighted from the shuttle-boat at the Conrda Nui, the Resort Manager greeted us with the news that we had been upgraded - but didn't say where to! A golf car whisked us through the grounds and stopped at the walkway to a Conrad Presidential Villa Bora Bora so I thought we were having a resort tour. But our driver stepped from the car holding a "room key" and introduced himself as our butler. Imagine our astonishment at this good luck!
On previous vacations we'd gazed longingly at these two story overwater bungalows - from both out on the water in tour boats and from the pier during our stay when the Nui was a Hilton. This time we experienced the good life inside! 

Living room in the Conrad Presidential Villa Bora Bora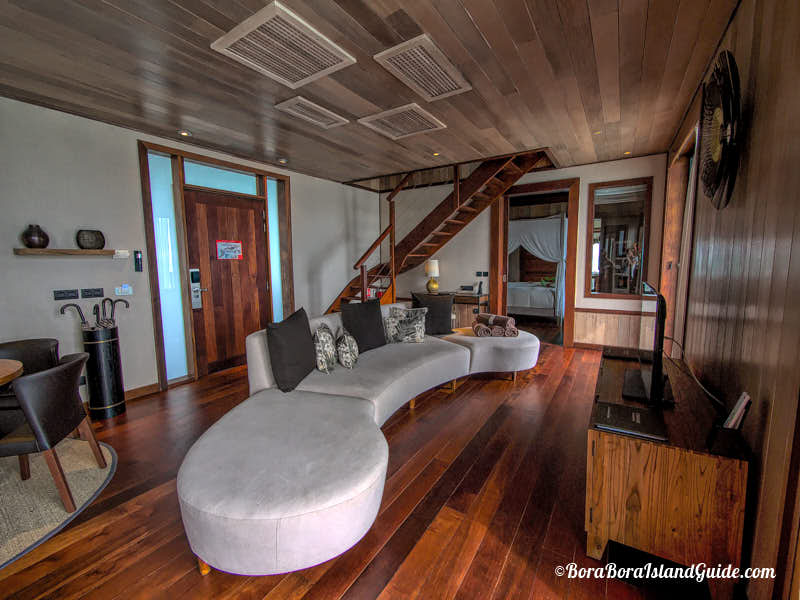 Walking into the Conrad Presidential Villa Bora Bora, the first time, was more fun than viewing Windsor Castle. At first sighting, the biggest impression was the prestigious feel and the grandstand views across the famous lagoon. Each day we stayed we discovered  delightful details that contributed to cosseting comfort and convenience.

Master Bedroom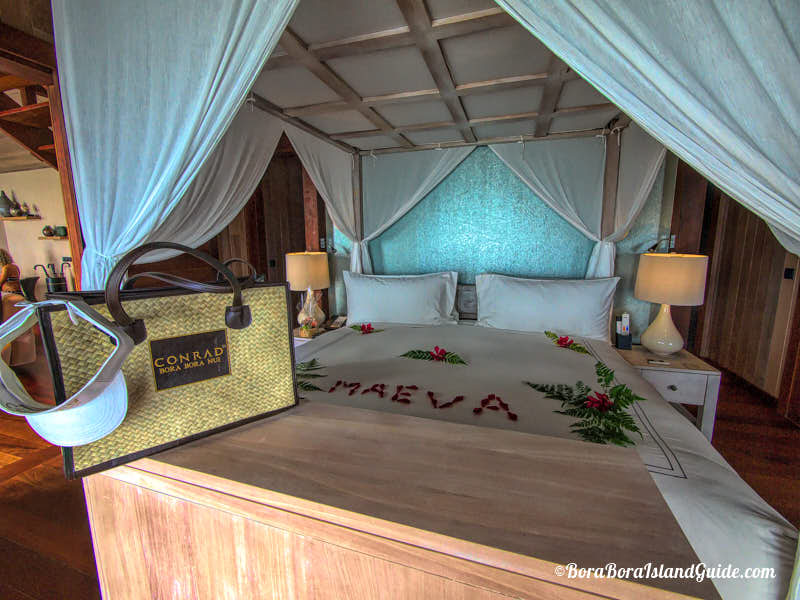 A Conrad Presidential Villa Bora Bora welcome
Why we were upgraded to the Conrad Presidential Villa Bora Bora is a special story! Tom had proposed to me over a romantic dinner on the beach, 2 nights before. We were traveling as a trio and, having heard the news, the manager gave us accommodation that would provide most privacy for the newly betrothed.  He also welcomed us with flower petals and a beach bag with a personal note and gifts.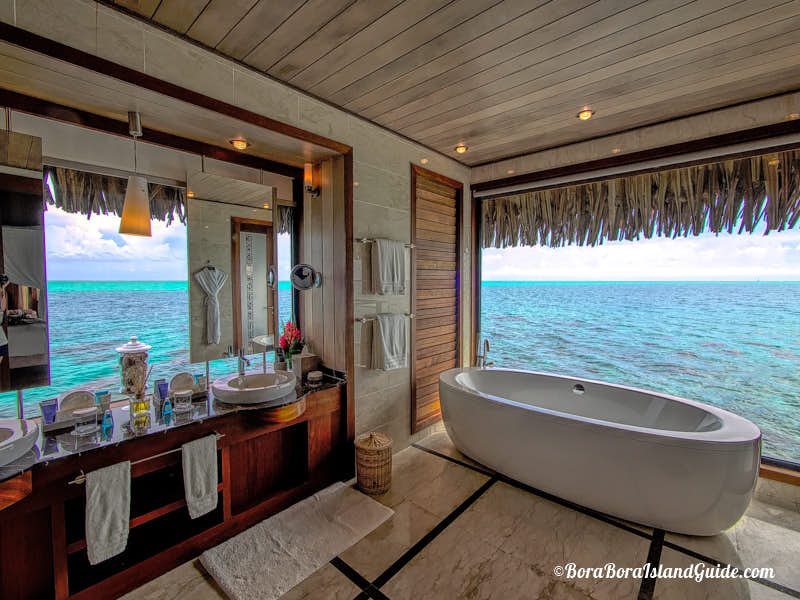 A door from the bedroom of the Conrad Presidential Villa Bora Bora led to the most extraordinary bathroom I've ever seen. It has frosted glass doors to separate shower and toilet. Every moment in this room was pure pleasure.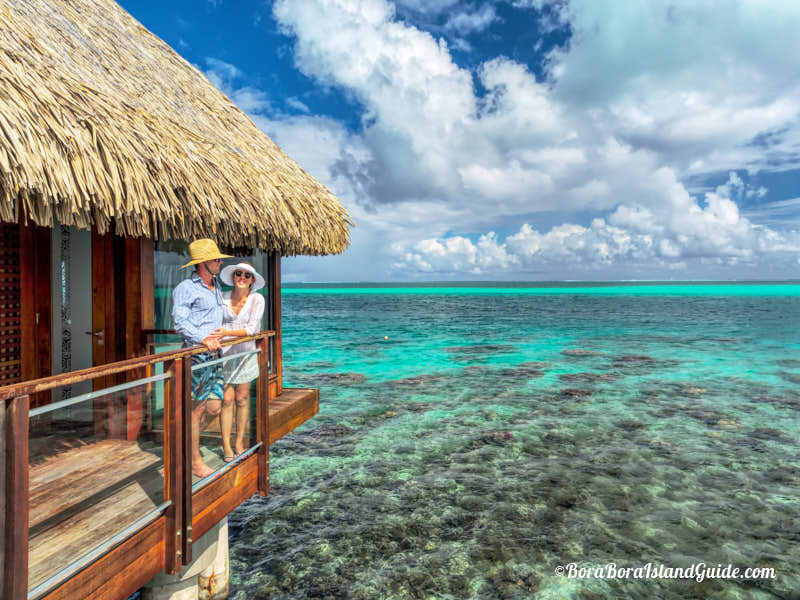 When we stepped from our bedroom to the deck outside we could see that the lagoon around the Bora Bora  Conrad Presidential Villas was clear and shallow, with lots of coral. Luckily we had reef shoes and snorkels!

Conrad Presidential Villa Bora Bora swimming pool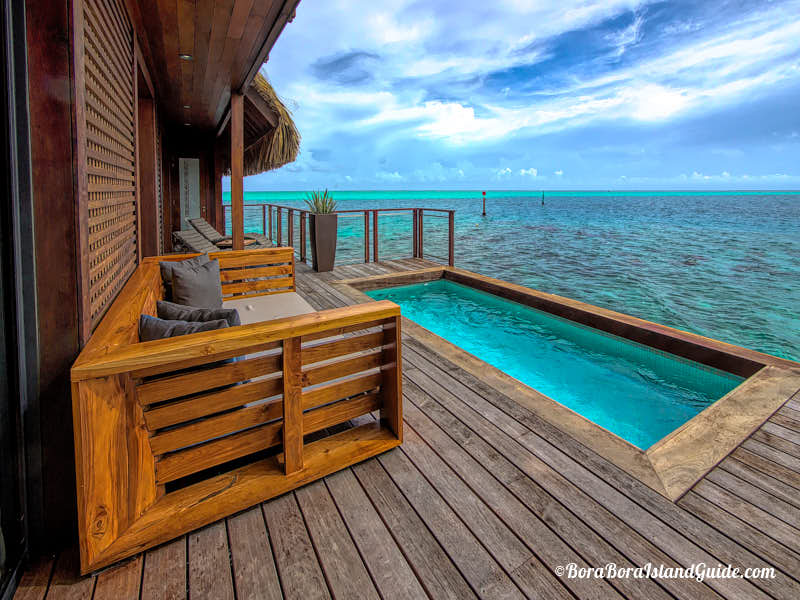 There is nothing that epitomizes luxury like an over-water pool and both Conrad Presidential Villas Bora Bora have one to  match the mansion size. We wanted more hours in a day to enjoy the magnificence of this villa with perks!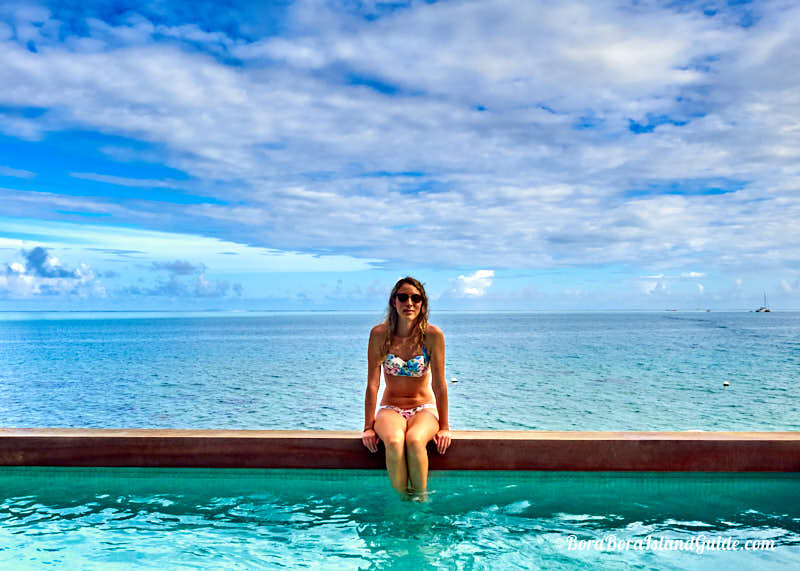 Melinda liked the luxury of lying around an overwater pool enveloped by lagoon, sky and palace
Plus ladder to the lagoon!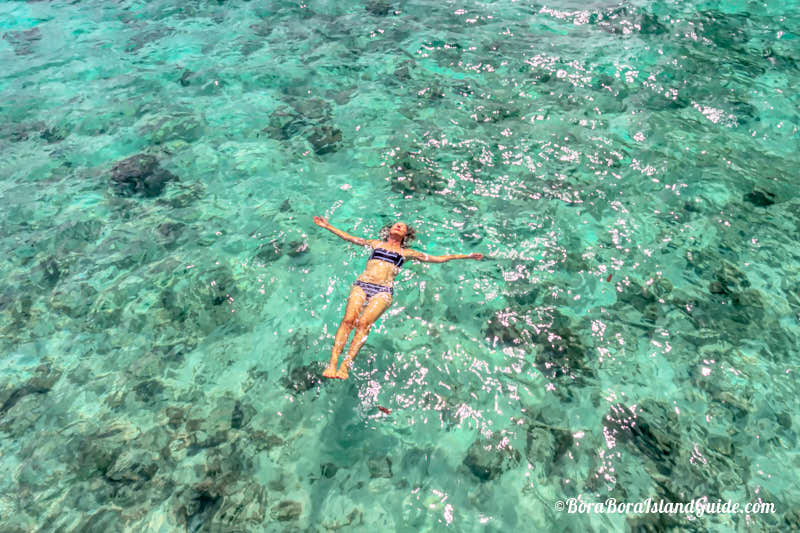 Gloria liked lying on the lagoon looking up at the sky and the overwater palace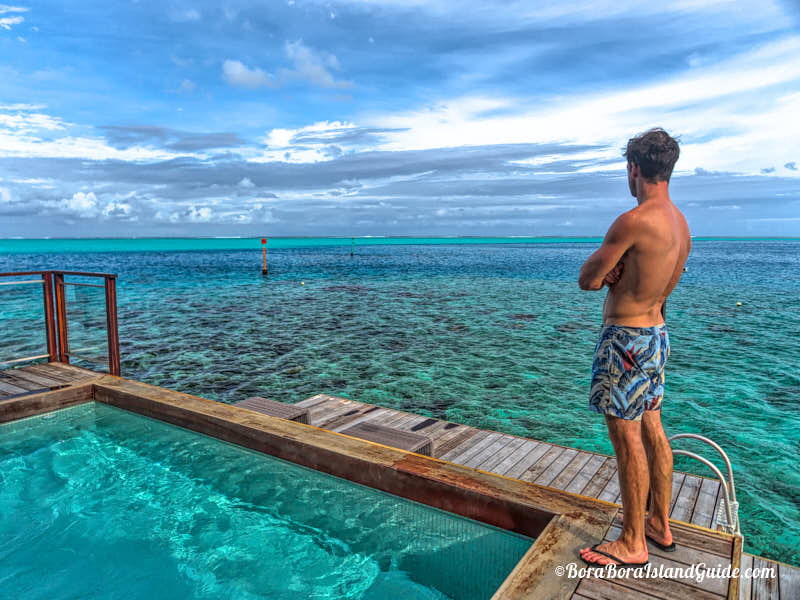 Tom liked looking over the pool and lagoon to the skyline...hoping for freak wind for surfing across the water
Bedroom Two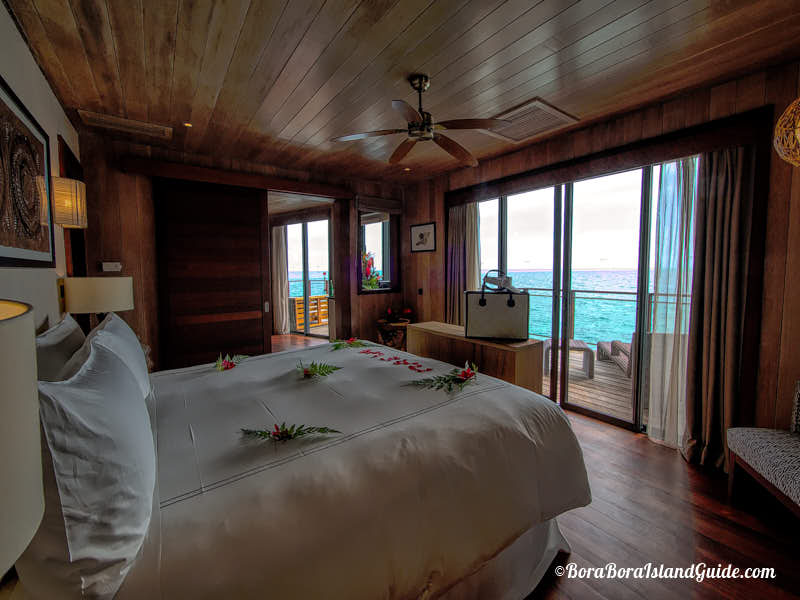 What makes a Conrad Presidential Villa Bora Bora so private is it's placement on the pier and the floor plan. The second bedroom is on the opposite side of the long living room, and the second bathroom is through another wooden door. The couple in the suite on one side of the villa don't know there's anyone in the other side.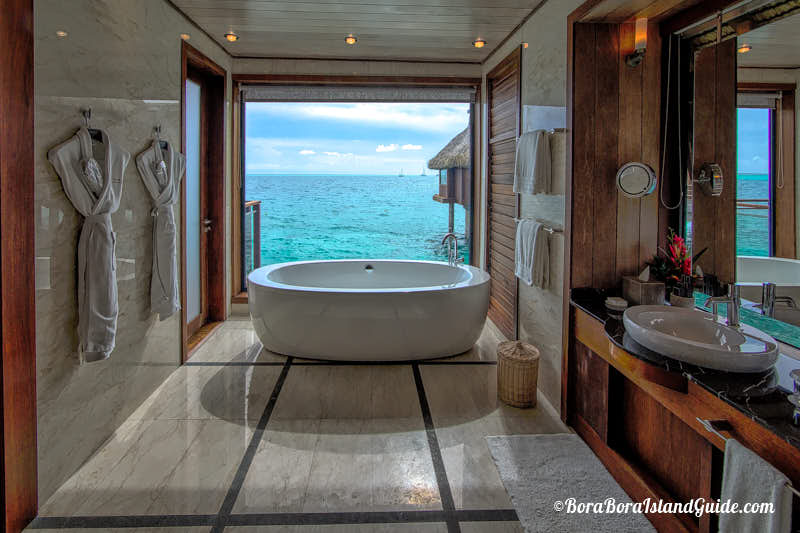 Each suite offers the same sized bedroom, huge walk-through wardrobe, astonishing views, and luxurious bathroom. A Conrad Presidential Villa Bora Bora vacation is perfect for 2 couples or families with children and teens.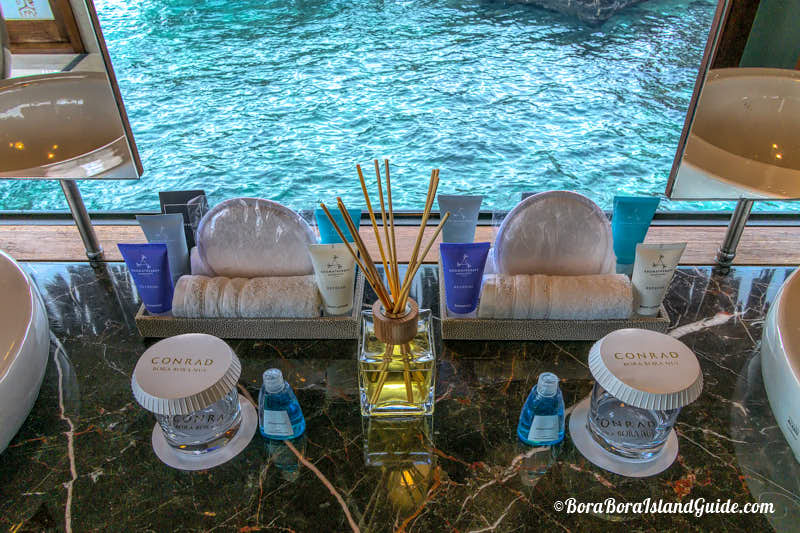 With 3 special, hand-picked maids to service our villa; every eye-pleasing detail was perfect.
Upstairs entertainment level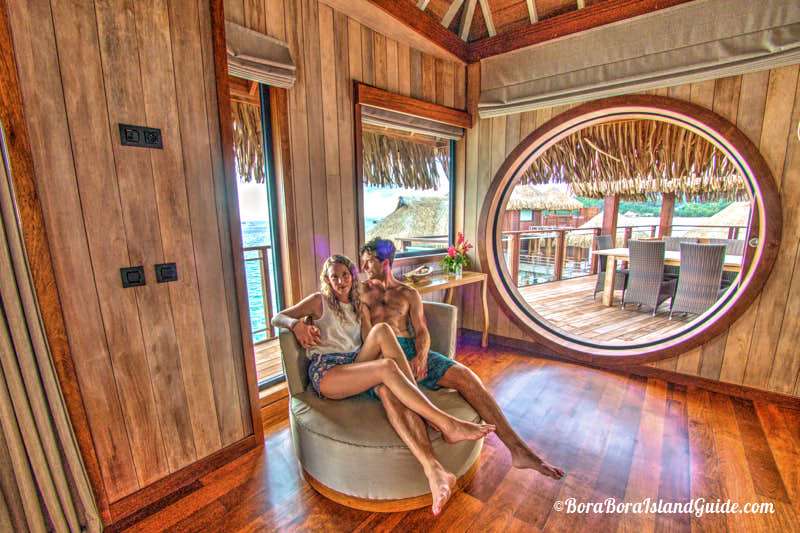 Just when I thought we'd seen all that a Conrad Presidential Villa Bora Bora has to offer, we noticed wooden steps and discovered  that there's an entertainers dream upstairs! There's a sauna room but, with so much to enjoy, we didn't find time to try it. A giant port-hole adds fantasy and swings open by magic touch to provide entry to a huge outdoors area with a spa tub and large barbecue facilities for entertaining. The upstairs living area can also be made into a third bedroom with it's own bathroom right there.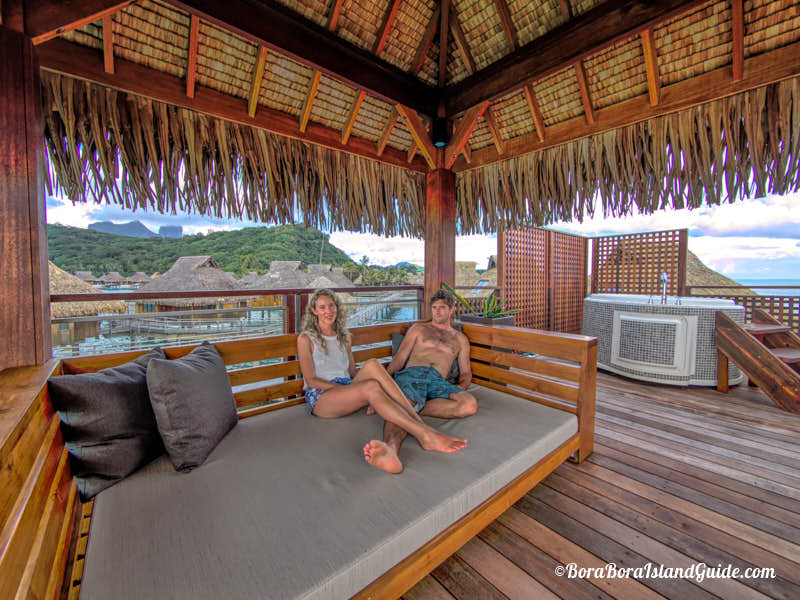 Although there's surreal sensurround views from up here we also enjoyed privacy. It was a thrill to see Mt Otemanu peeping up behind the hill in the background. This is the best place in Bora Bora to enjoy room service! But we had so much to see and do around the resort that we didn't find the time to eat in-villa during our 3 night stay. Make sure you spend enough time here to truly make the most of this amazing villa and resort.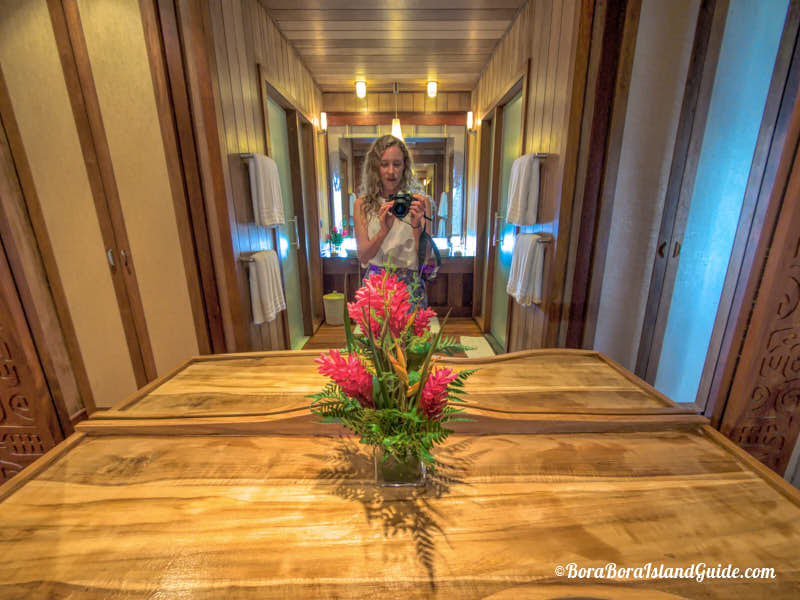 The fresh flower decorations throughout the villa were gorgeous. I smiled and ran for my camera when I saw that even the upstairs bathroom was adorned with tropical flowers. The doors on each side lead to an additional, separate shower-room and a toilet.

Two goddesses were on top of the world looking down on creation...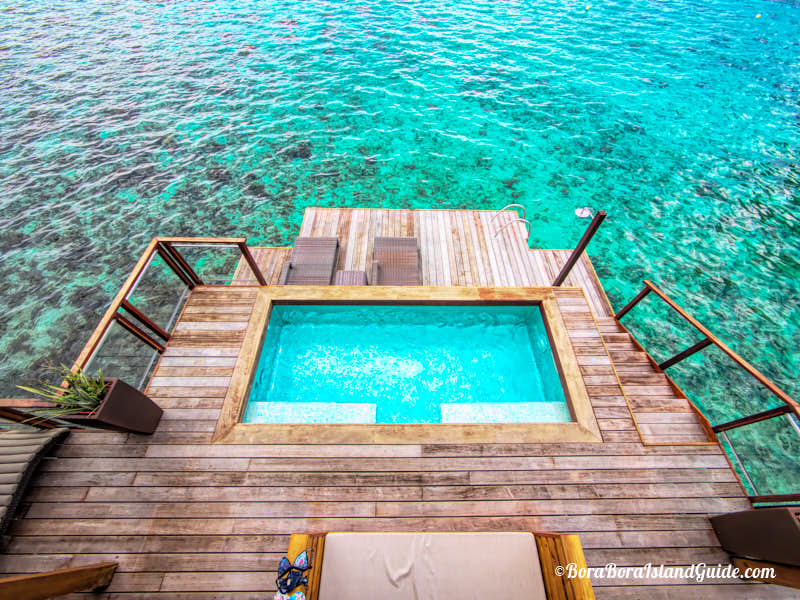 of both nature and man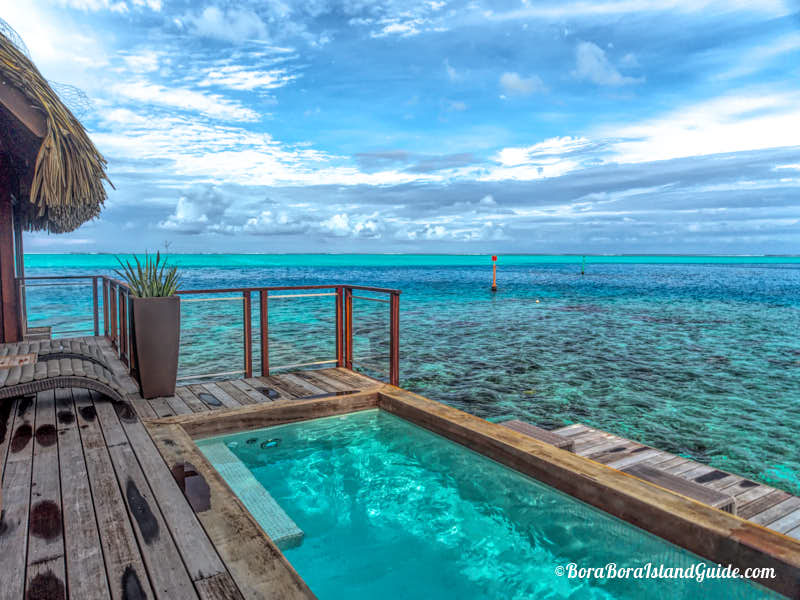 If your feet aren't wet you're not making the most of a Conrad Presidential Villa on Bora Bora lagoon
Conrad Presidential Villa Bora Bora romantic surprises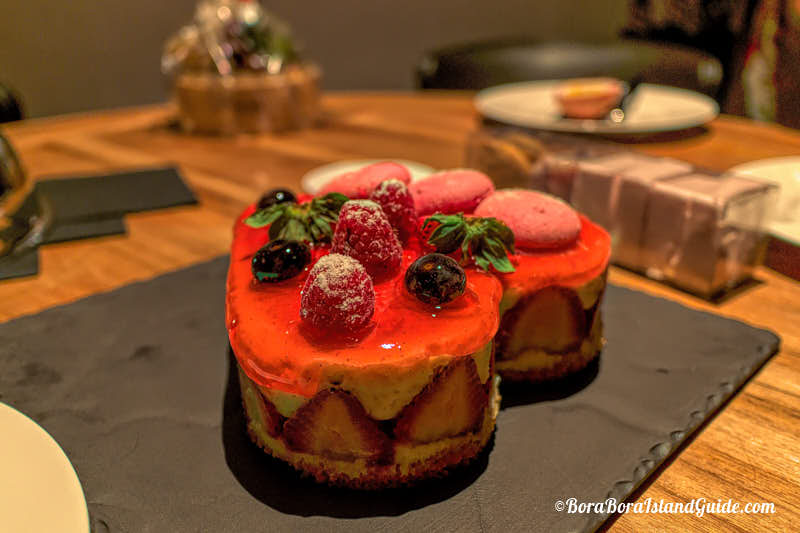 A delectable French cake arrived on our table to celebrate our engagement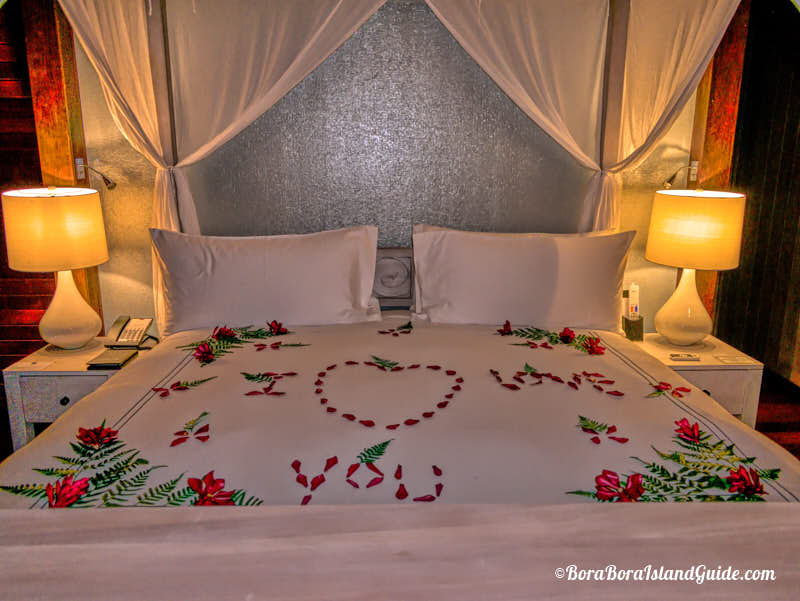 and we came back from dinner to find a perfumed flower message
Marine life "just for us"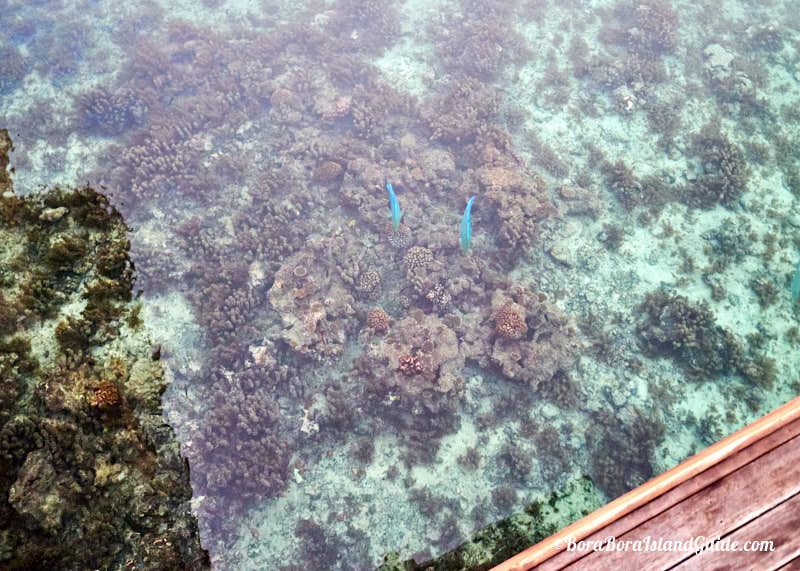 It seemed that the local marine life had been trained to put on shows for guests in Conrad Presidential Villa Bora Bora. But on exploring further along the beach we discovered that the Conrad Nui resort is a snorkelers delight.
Early morning is the best time to see the lagoon life around the Presidential Villa. On a still morning the lagoon is like glass, so you can see clearly all the fish, rays and sharks going about their business. One morning I woke up very early and could feel how still it was outside (when we are in Bora Bora we sleep without air conditioning and with the doors open to enjoy the fresh air) so headed out to see the lagoon. I saw turquoise fish, leopard rays and lemon sharks all withing a few minutes of sitting and enjoying the calm.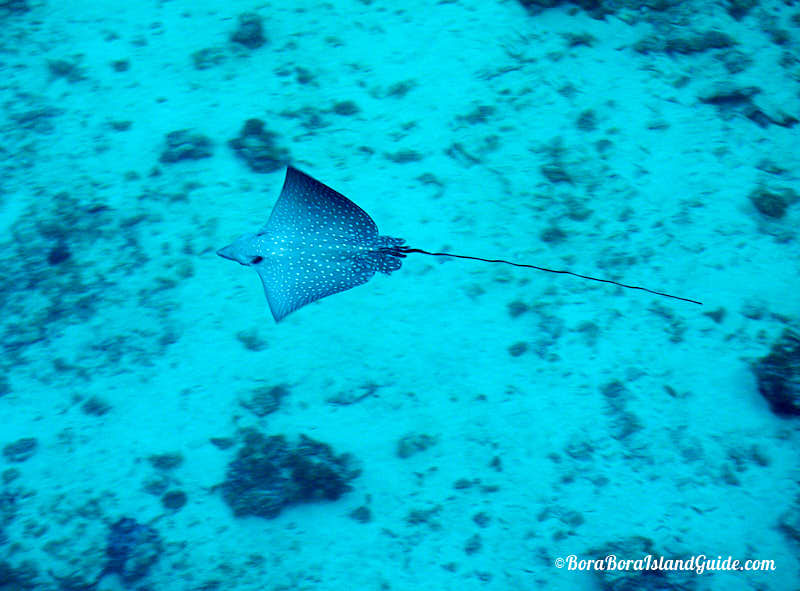 A rare leopard ray greeted me early one sublime morning
Conrad Presidential Villa Bora Bora at sunset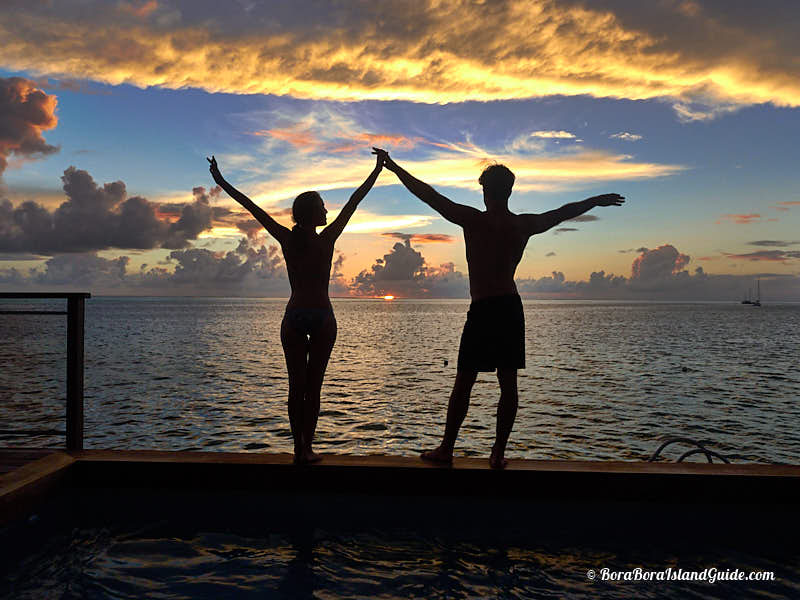 A Bora Bora sunset moment we'll cherish life-long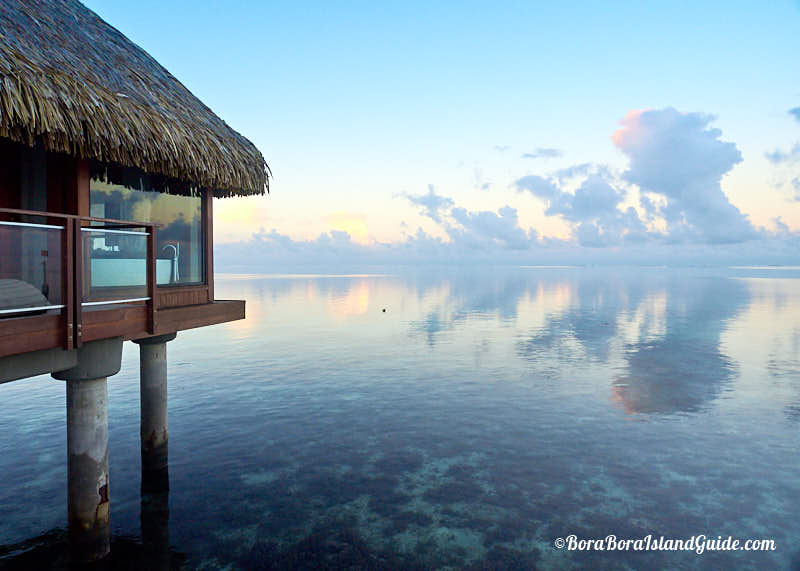 Can anything be better than a sunset in Bora Bora! Yes, a sensational sunset viewed from the deck (or bathroom) of one of the most luxurious villas in Bora Bora. The office back home seemed a zillion miles away!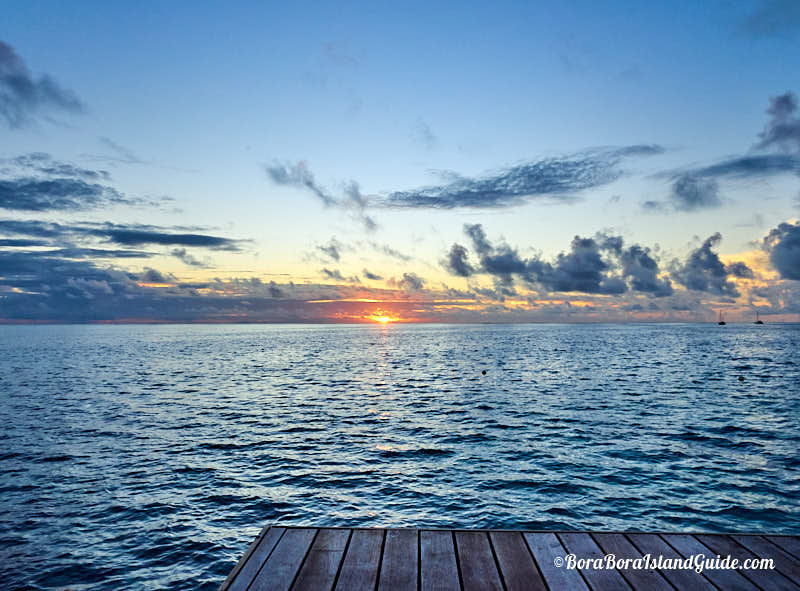 We've now enjoyed the magic of sunsets in Bora Bora from every resort, restaurant and club; plus out in boats on the lagoon. But Conrad Presidential villa Bora Bora sunset views were our most thrilling sunset moments  of all.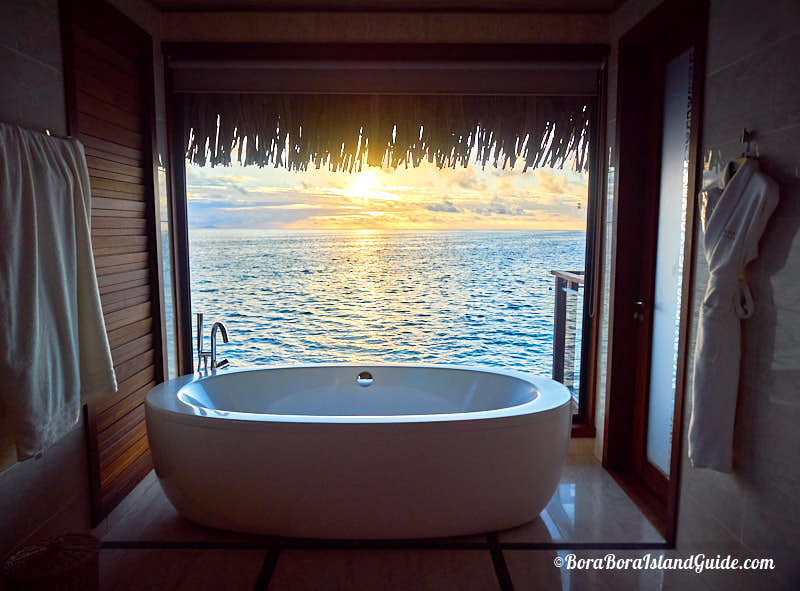 While staying in the Conrad Presidential Villa Bora Bora we didn't miss a second of a glorious Bora Bora sunset, even if it was time to get ready for dinner. It was easy to adapt to the privileged life of the rich and famous.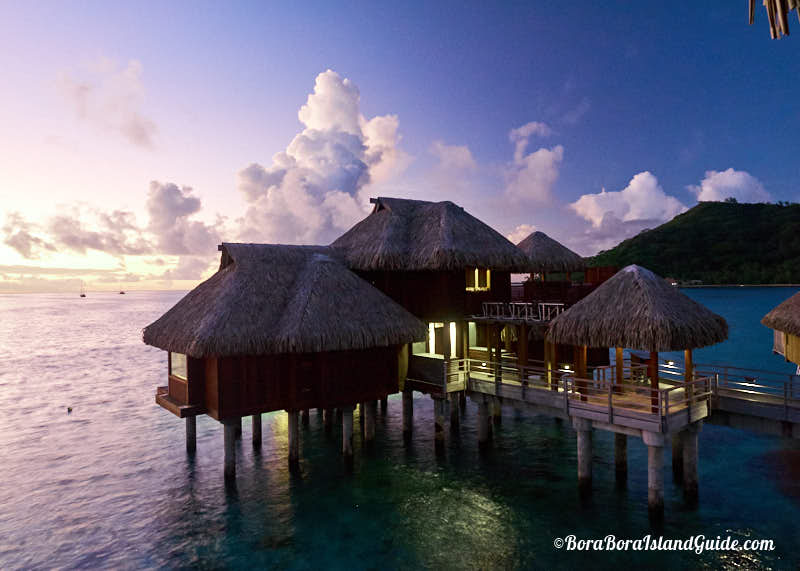 We noticed that guests in a Conrad Presidential Villa Bora Bora get supreme attention all around the resort. In fact, every staff member knew we were staying in a Presidential! There were shiny bicycles a-waiting outside our front door, three gentle maids appeared to attend to minute details while quickly refreshing our rooms, we were given incredible service at the bars, and shown to the best tables at dinner or breakfast.
Search the Site

Are you still looking for additional information? You can use the Google search box below to search the site.