Conrad Bora Bora Breakfast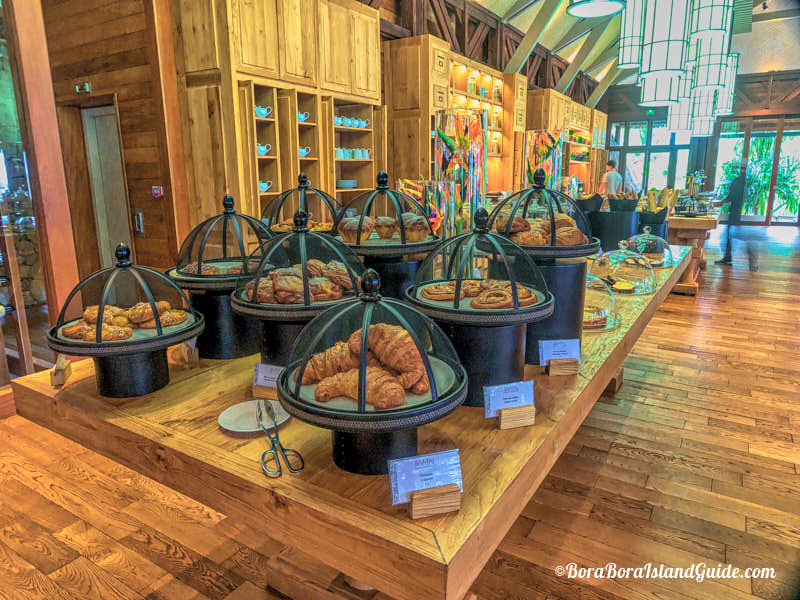 The Conrad Bora Bora breakfast buffet is a grand international banquet with a gorgeous Bora Bora view. There are so many choices that we found it more fun, and much better value, than ordering room-service on our deck.
 The Conrad Bora Bora breakfast buffet is served under the vast, woven roof of Iriatai which is a magnificent, artistic, Polynesian eating-house with exquisite touches of a classic French brasserie.  A multitude of dishes create a vibrant, visual feast to graze on; plus there's a menu for ordering hot dishes straight from the kitchen.
We ate our first class Conrad Bora Bora breakfast with an "on top of the world, looking down on creation" kind of feeling as Iriati is high-up and wide-open at the front. On tropical mornings everything feels fresh and new. Our table looked down on lush gardens, over the beach and across the lagoon, all the way to where sky meets water.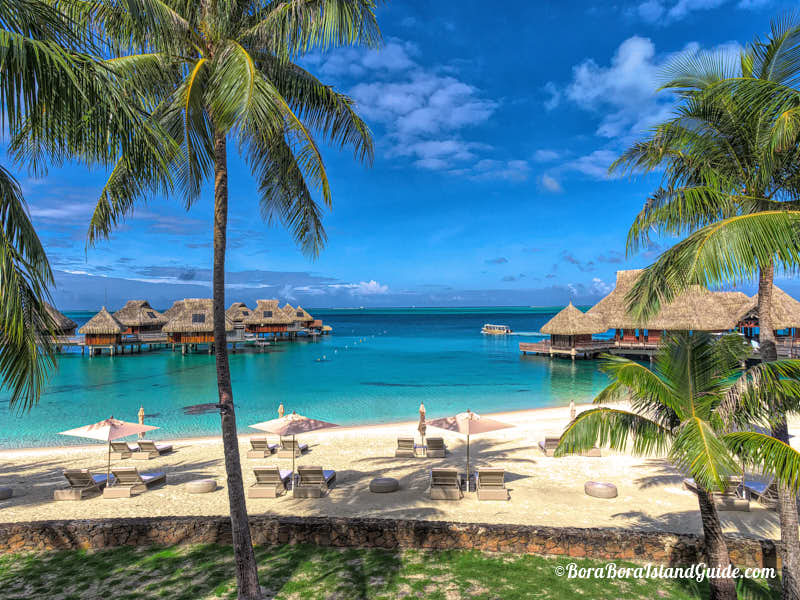 There's a help-yourself bar for hot and cold drinks to suit those who are independent or in a hurry. I planned my day around the Conrad Bora Bora breakfast buffet as I enjoyed lingering. In the perfect morning temperatures I could show up in a pretty dress and eat leisurely, instead of the usual rush. At Conrad Nui, eating is an art-form.

One long table displays a row of hot pots with French flavor, and on the other side, and the bench behind, guests can select from a plentiful choice of Asian dishes. I liked taking just the amount I wanted, to try all kinds of tastes.
The Conrad Bora Bora breakfast buffet has options for everyone. There's a wide selection of meats, fish, cheese, eggs, and vegetable choices for those who want to stay on - or eat mainly from - a paleo diet during their vacation.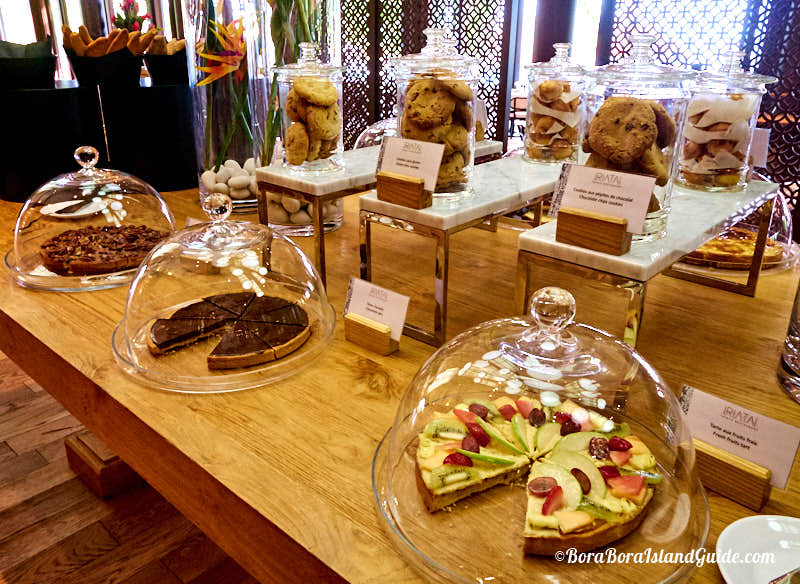 The Conrad Bora Bora breakfast buffet makes this the ideal resort for pastry lovers!  No other Bora Bora resort provides so many delectable, pastry delights. You could walk the streets of Paris and not find a patisserie with such a mouth-watering display of high quality treats. The new pastry chef understands the importance of using real ingredients, the crispness of butter, and freely piles in fruit, nuts, custard, and chocolate. 

The display of croissants, cookies, cup-cakes, fruit flans and slices is so glorious that half the joy is in looking! Going to a Conrad Bora Bora breakfast is like having the key to the world's best patisserie. It's a Willy Wonker dream!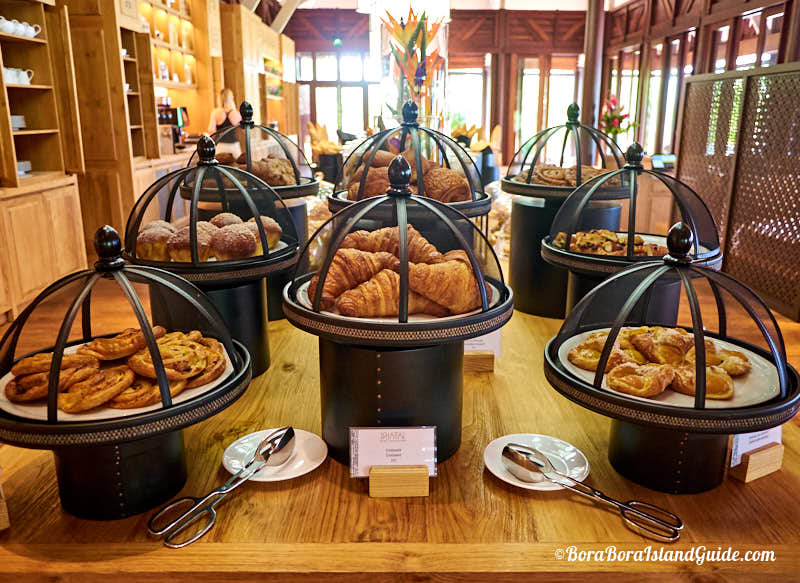 This boy and his dad had good manners so were deep in contemplation, and frozen by choice, as they didn't want to waste. But if at first you don't succeed in finding your favorite flavors, you can always go back again. Take time to savor extraordinary moments when you come to the Conrad Bora Bora breakfast.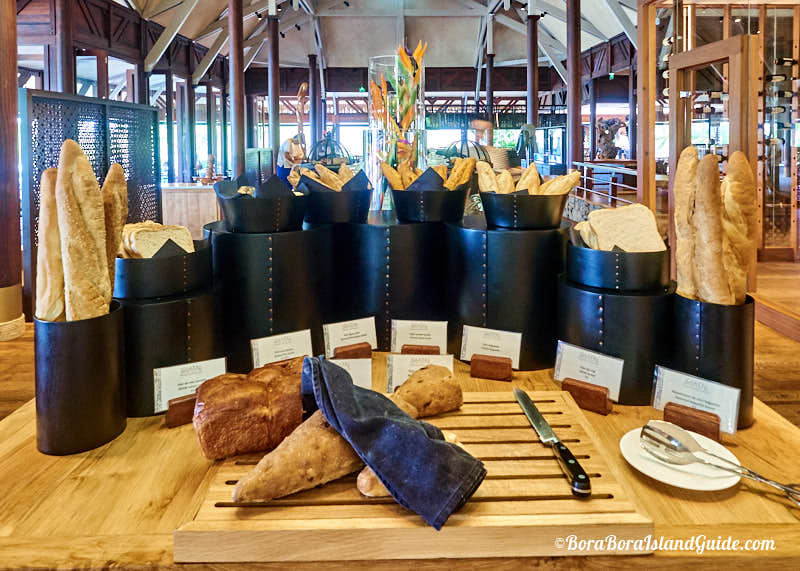 Theoretically, the bread sticks and loaves are only an adjunct to the meal. But the fresh, crunchy bread was so delicious that I found myself surveying the variety of cheeses, meats, vegetables, and jams to decide what would compliment the bread.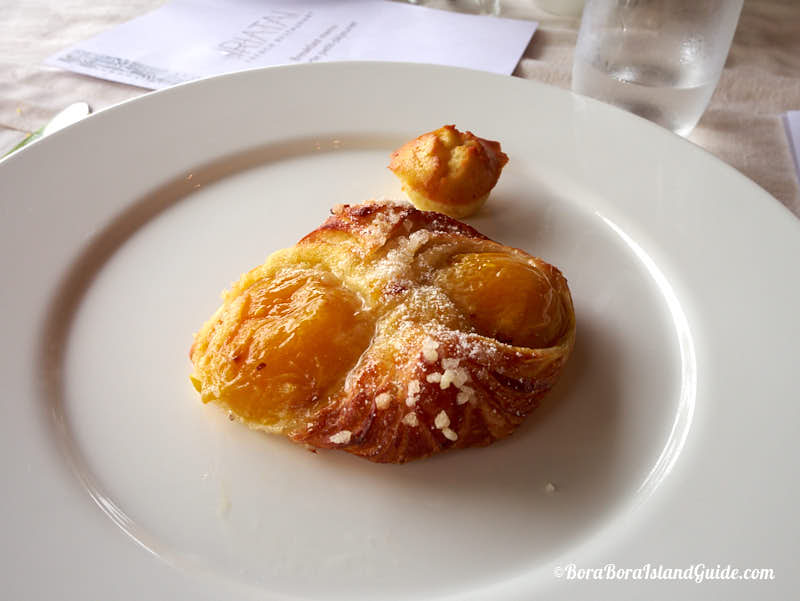 Every piece of pastry is a work of art, there's no mass-production here. Thank you to the bakers who rise early to make it. Although I rarely eat bread and pastries back home, a Conrad Bora Bora breakfast (and my vacation) wouldn't have been the same without it.
Search the Site

Are you still looking for additional information? You can use the Google search box below to search the site.