Conrad Bora Bora Nui Snorkeling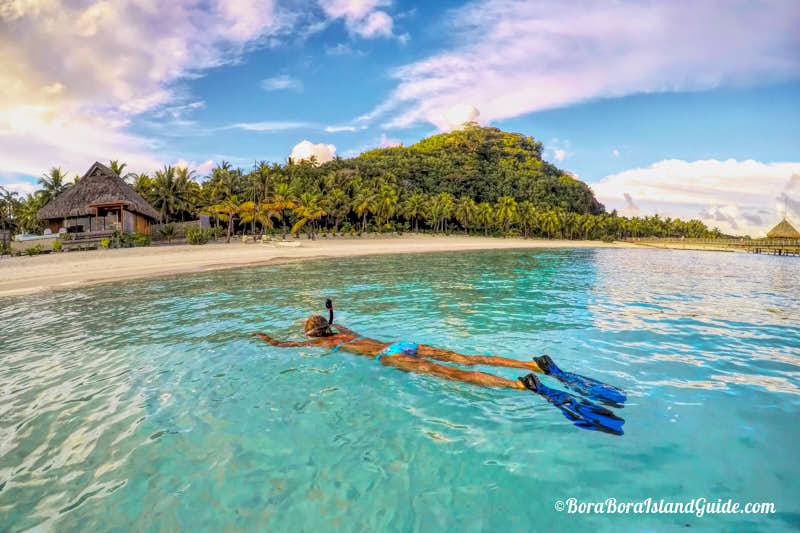 The Conrad Bora Bora Nui snorkeling is so spectacular that it was heels-up, heads-down; when we swam on it's beach. Lucky Nui guests have one of the main attractions in Bora Bora, just waiting to be enjoyed at their pleasure.

You could lie around on the white sand all week and have no idea what's hiding just a few meters from your sun-lounge. When stepping off the beach you are immediately immersed in a magnificent underwater world. We discovered that Conrad Bora Bora Nui snorkeling is equally as good as any of the coral gardens in the lagoon.
Conrad has the advantage of being the only top resort in Bora Bora on a natural beach and Nui has had a coral regeneration program going for years. The first time we stayed, while it was a Hilton, guests were asked to pay a special tax each night to finance it. Apparently our money was well spent because on returning to this hotel we had a big surprise.

Conrad Bora Bora Nui snorkeling is spectacular!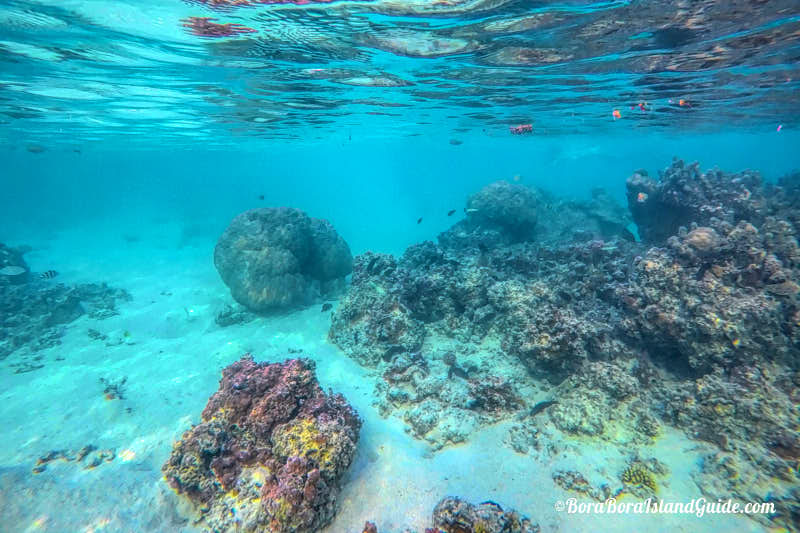 Coral is a very slow growing organism and requires a pristine environment to thrive. Colorful, living coral; interesting tropical fish (which make their home in the coral); and clear water ( to see the previous two) are the primary ingredients for a perfect snorkeling expedition. The Conrad Bora Bora Nui snorkeling has all three.
Best Bora Bora beginner snorkeling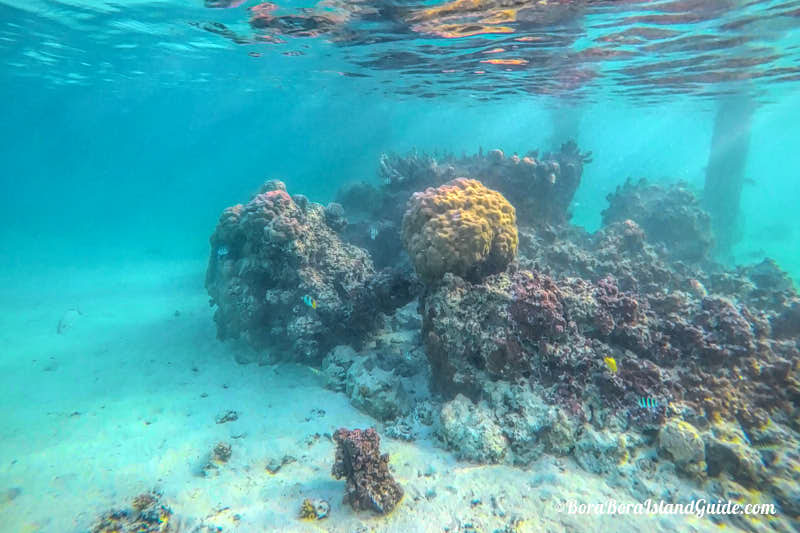 What makes the Conrad Bora Bora Nui snorkeling experience so unique is that beautiful coral and fish can be seen, in the shallows, a few meters off of the beach. You can swim along the beach in water that's only 2-3 meters deep and find fascinating sights to explore. I was astounded that, as I sat at the water's edge, inquisitive neon fish were encircling my feet. This is a perfect spot for children and beginner snorkelers to get comfortable.
If you are a confident swimmer, be brave and head out to the deeper water under the over water bungalows. There are lots of different fish to be found out here. You'll discover that this resort doesn't just have the best over-water bungalows in Bora Bora, it has some of the best snorkeling in Bora Bora directly under them! 

Bora Bora snorkeling from your overwater bungalow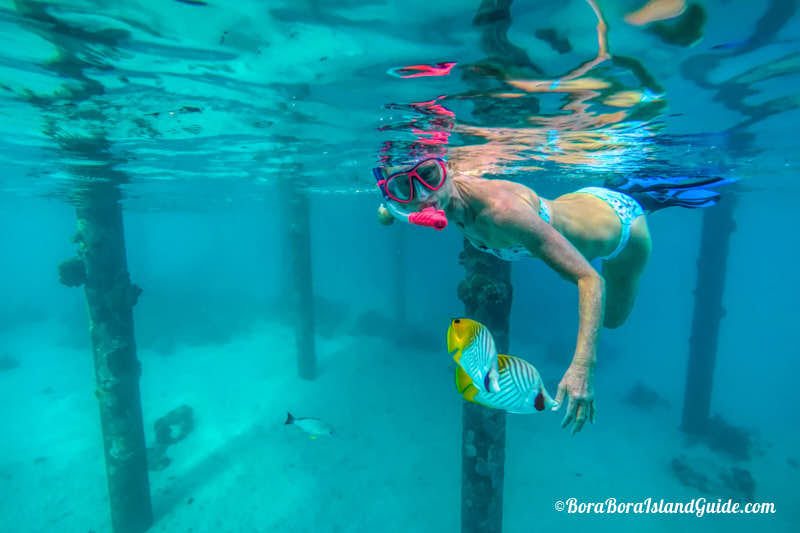 Guests staying in the over water bungalows have easy access to gorgeous coral gardens by jumping off their decks for some convenient Conrad Bora Bora Nui snorkeling.  If you want the novelty of snorkeling straight from your over water bungalow, to explore wondrous tropical marine life below, this is the ideal resort for a vacation.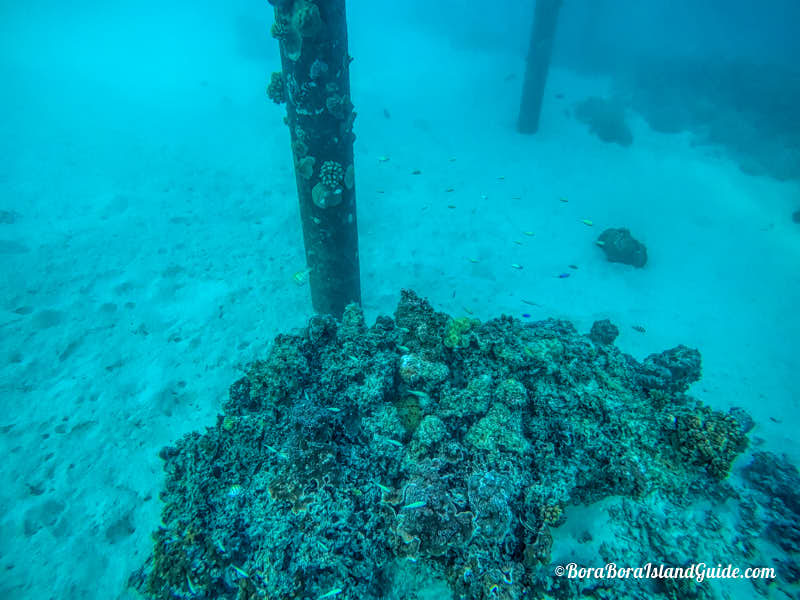 Coral colonies are growing on the over water bungalow stilts and on closer inspection tiny, brightly-colored fish are making them home. We confirmed that the Nui Conrad has the best natural resort snorkeling in Bora Bora! 
There are other coral gardens to visit on entertaining Bora Bora lagoon excursions and larger marine life to view on these tours (like sharks, stingrays and manta rays) but the complimentary Conrad Bora Bora Nui snorkeling is just as amazing. Equipment is available at the pool fare but we recommend bringing your own well-fitting gear.

We had many exciting Conrad Bora Bora Nui snorkeling moments while continually spotting more types of fish and memorizing stripes, spots and colors. It's more fun when shared so get your partner to explore with you. Even those who can't swim can enjoy it and anyone who can float and dog-paddle can explore a few meters out.

We think that the Conrad Bora Bora Nui snorkeling is the outstanding activity at this resort. See the other Conrad Bora Bora Nui activities  that add fun and value to this resort stay.
Search the Site

Are you still looking for additional information? You can use the Google search box below to search the site.