Conrad Bora Bora Nui Activities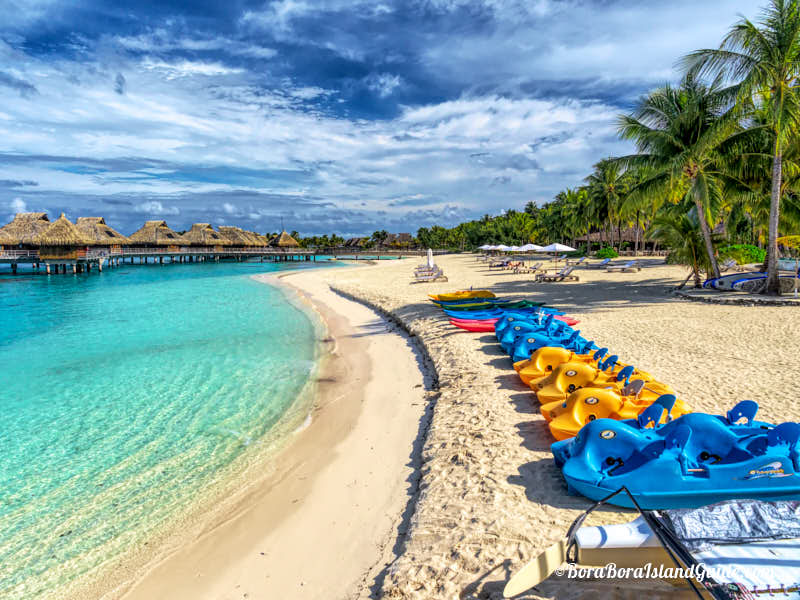 Guests can enjoy a variety of complimentary Conrad Bora Bora Nui activities with wonders-of-nature all around. This resort has one of the world's best beaches! You can also book tours that pick you up right from the dock.

Unlike the resorts on the eastern motus, Nui has a superb natural beach and it shows! The clean, clear water along the beach has a soft, sandy floor sloping gently away to a perfect depth for swimming before getting deeper. Many of the bungalows sit on stilts above a lagoon depth that most people will feel comfortable to swim in. 
The awesome surroundings add zing to the Conrad Bora Bora Nui activities, making it fun to get up from a luxurious sun-lounge and explore the island playground.  But on vacation a woman is also entitled to lie around if she wishes, and spectators have a fabulous time too. There's something for everyone here.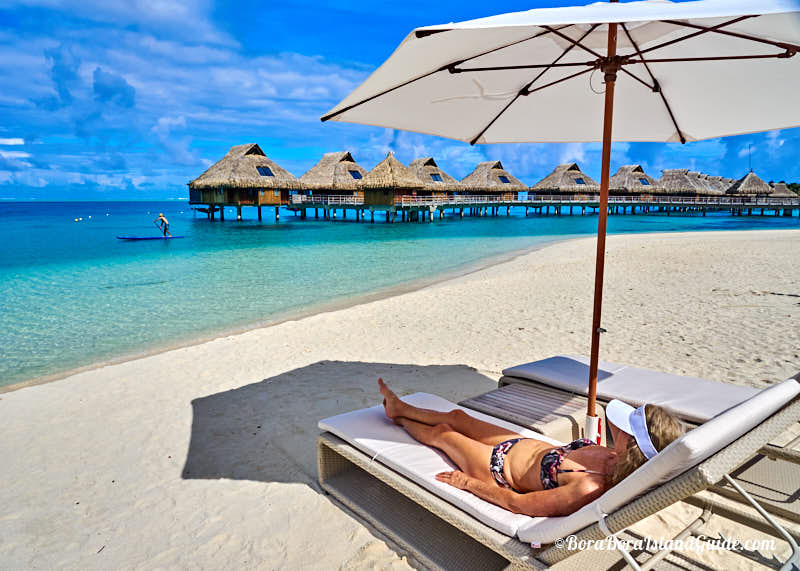 Join in the activities or be a spectator!
Activities Change Daily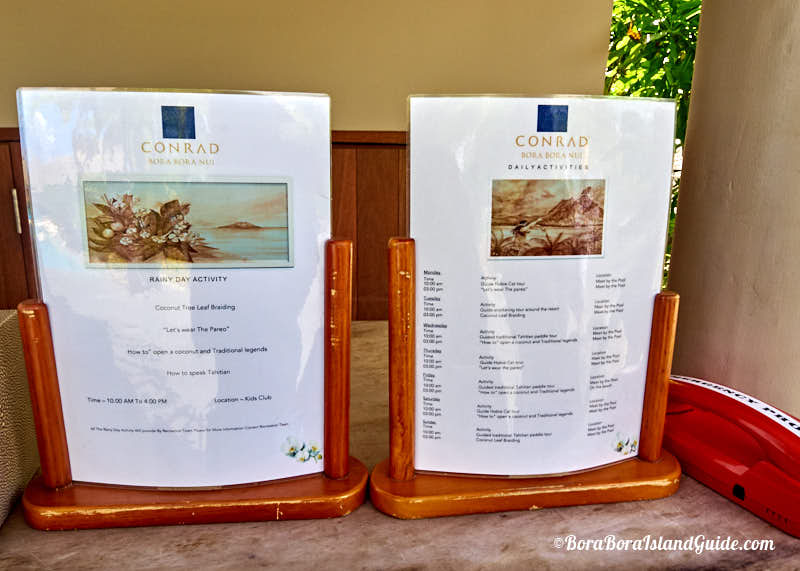 Rainy day activities & daily schedule
At the beginning of your stay, check the list of daily activities, to ensure that you know the choices, or you may find out on your last day that you missed something. Nui offers cultural activities to entertain guests in the event of a rainy day. In the tropics there can be a rainy day at any time of year, which keeps the island lush and green.   

Water activities at the Conrad Bora Bora Nui

Swimming Pool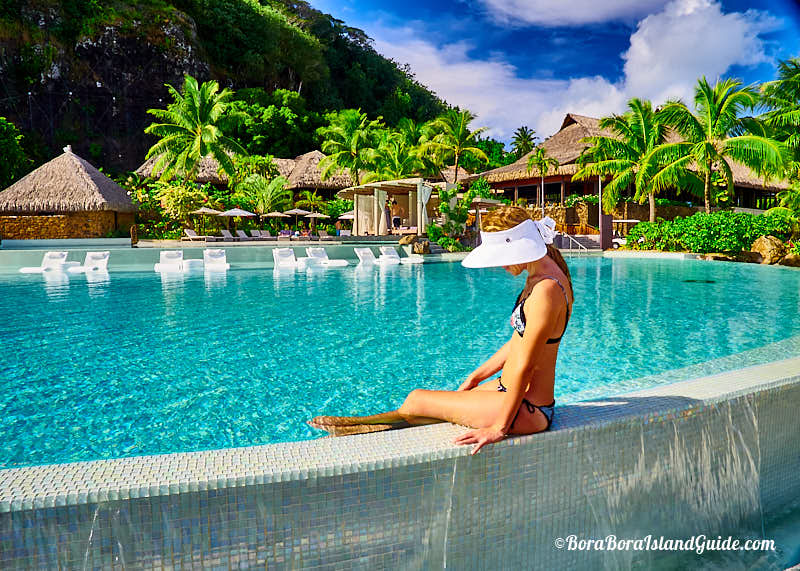 Swimming pool
Even with the world's most beautiful lagoon "on show" it would not be a vacation without a pool! Our villa had a huge pool-with-a-view and the lagoon option is what lures us to Bora Bora, yet relaxing around this pool is one of the most memorable Conrad Bora Bora Nui activities. It's the most luxurious swimming pool in Bora Bora.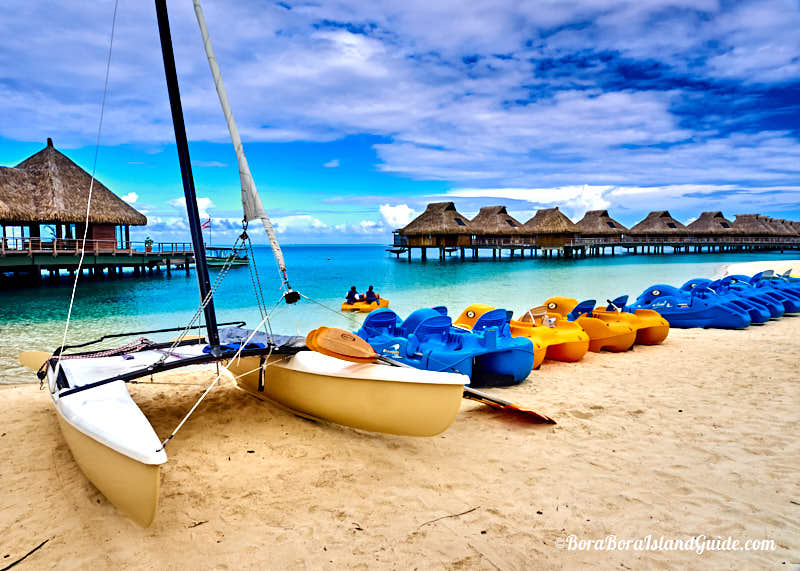 Sail the hobbie cat with a guide or take out a pedalo
A variety of water craft provide most of the Conrad Bora Bora Nui activities and this is our favorite resort to engage in them. The "look and feel" at Nui is a balanced blend of both dignified and relaxed. Everyone's so polite and friendly. There's more than enough of everything, no pushiness, and no-one hogging anything! Each time we were on the main beach area there were only a few others around, even though it was peak season.

Snorkeling
Snorkeling around the Conrad's over water bungalows
At Nui, abundant living coral, right along the shore-line, attracts a diversity of marine life. So one of the organized Conrad Bora Bora Nui activities is a snorkeling tour, guided by the marine biologist. Check the daily schedule to show up and see as many types of neon fish as on any paid tour. You'll discover that the under water scenery is fascinating too. This is the only Bora Bora resort which truly has great snorkeling straight from the overwater bungalows. Bring your own well-fitting snorkel and fins to enjoy the best Bora Bora activity, under your room!
Kayaking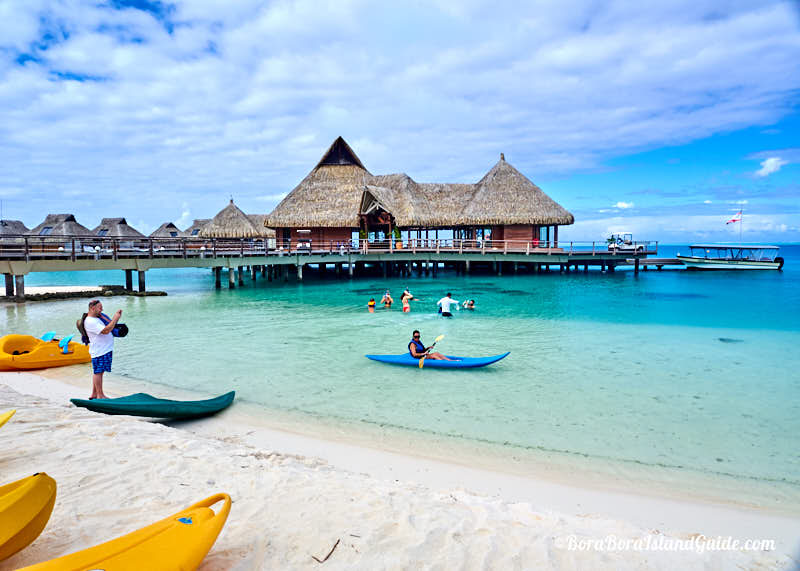 Kayaking
This is such a great place to begin water-sports. Explorers have a roped-off area which prevent boats and other motorized craft from entering and the water is so calm that I can't think of a safer place learn. Even folk who can't swim are tempted to put on a life-vest and have a go, as a Bora Bora vacation has been a long-time dream.

Paddle Boarding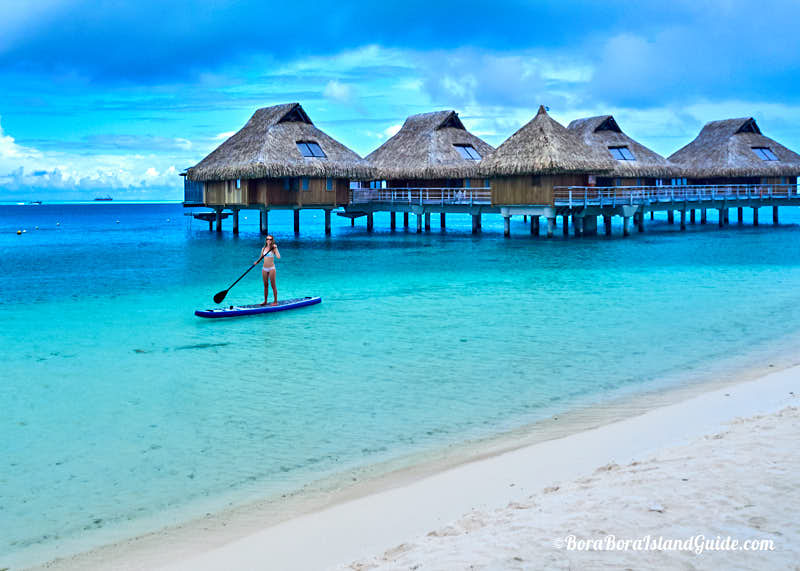 Paddle Boarding
I began stand-up paddle boarding, on my knees, during a week's stay at the Nui, four years ago. This visit I enjoyed paddling out past the overwater villas with my beau, Tom, who's an ardent wind surfer. He found the Conrad Bora Bora Nui activities rather tame but he was happy to soak in the spectacular scenery while trying them with me.

Activities on land at the Conrad Nui
Mini Golf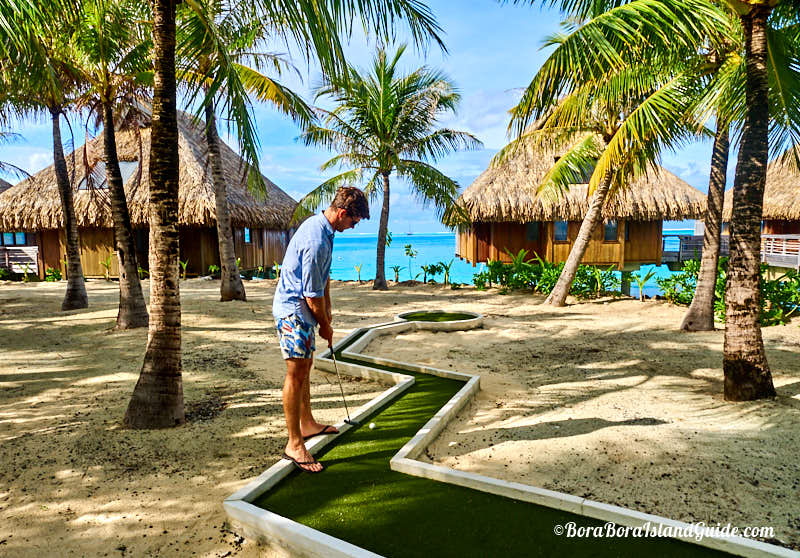 Mini-golf
The Conrad Nui has a brand new mini golf course that is played over two motus. Enjoy swinging the putt under the palm trees and try not to be distracted by the lagoon glimpses!

Even though the mini golf course is under palm trees this is one of the Conrad Bora Bora Nui activities we preferred doing in the cool of morning or evening. Clubs and balls are picked up at the fare by the pool. Some of the holes are designed to be very challenging but, if you lose, you can always blame the great views!

Bicycle riding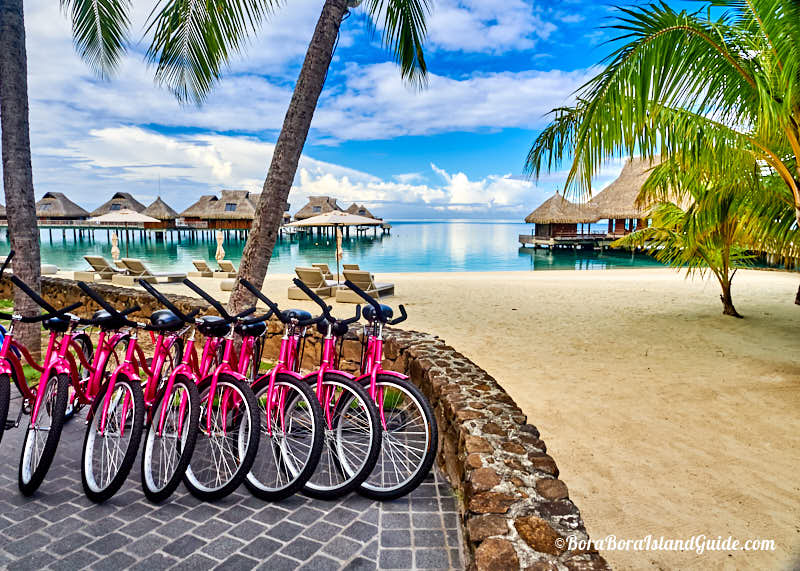 Bicycles
Getting around this beautiful resort is one of the most delightful Conrad Bora Bora Nui activities, especially if you do it by bicycle. We could pick one up when leaving the beach or the pool, after eating at a restaurant or on arriving back at the pier. The last time I rode a bike I was 12 years old, so riding gave a sense of fun and freedom.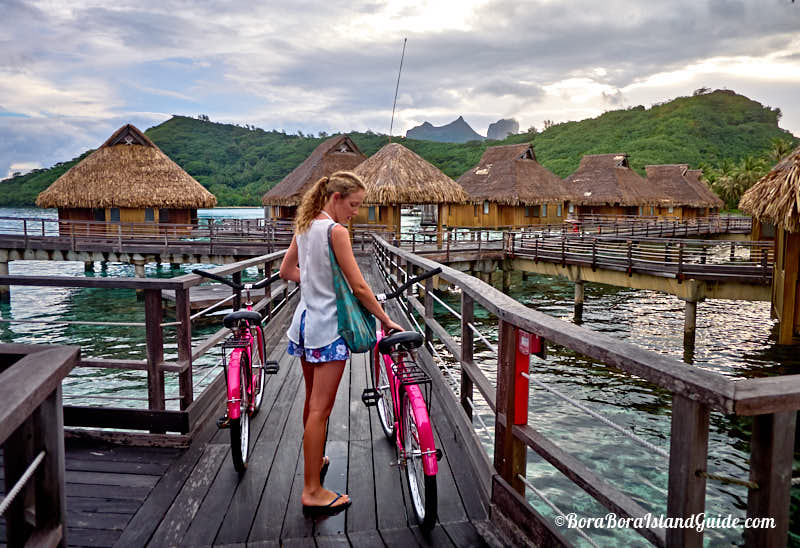 When we arrived at our 'room', a grand presidential villa, there were 3 bicycles awaiting us under a thatched-roof by the door. We found bike the best way to travel! There's no waiting for a golf cart, bikes have right of way and you can stop anytime or place to take in a surprise view. It was tough leaving the resort and my shiny, pink bike.

The Spa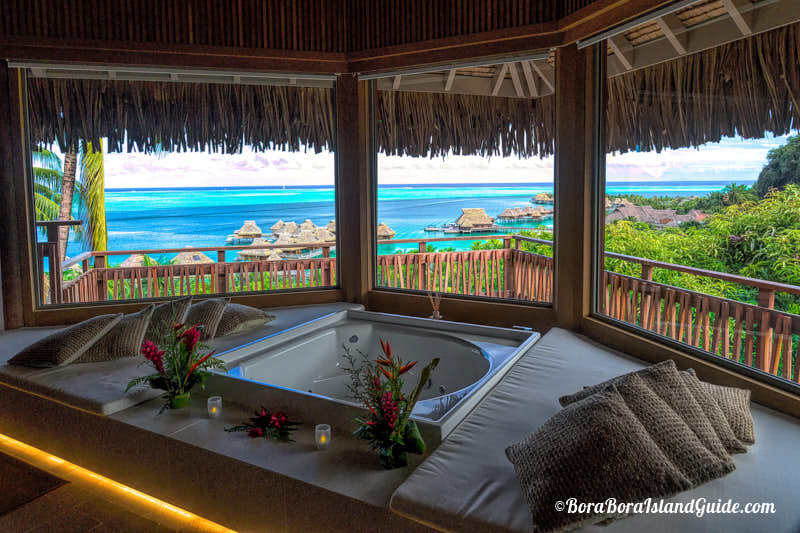 Enjoy some pampering at the Conrad Nui's spa with million dollar views. Experience a romantic couples massage or enjoy some solo relaxation with spa treatments that incorporate Polynesian techniques and products.
Kids Club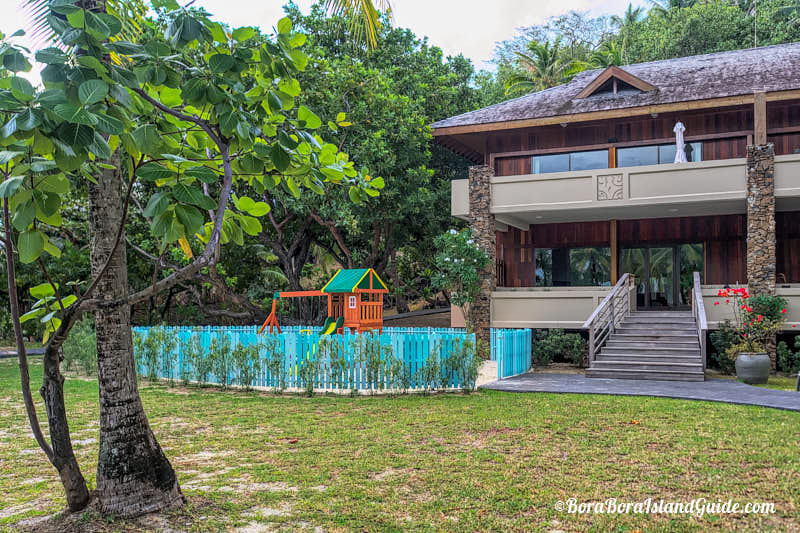 The Conrad Nui has a dedicated kids club which has activities for all ages.
Gym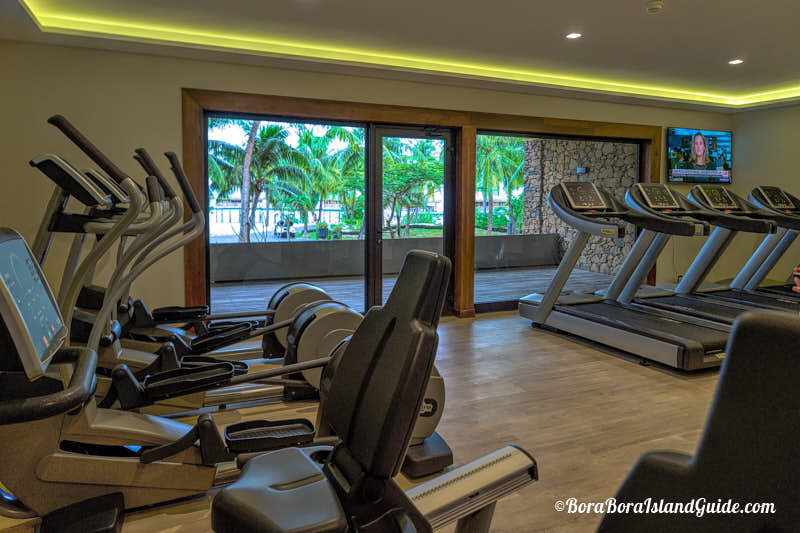 If you're someone who needs to keep moving on your vacation, you can head the the Conrad Gym and work out to views through to the lagoon.

Search the Site

Are you still looking for additional information? You can use the Google search box below to search the site.