Conrad Bora Bora Nui Pool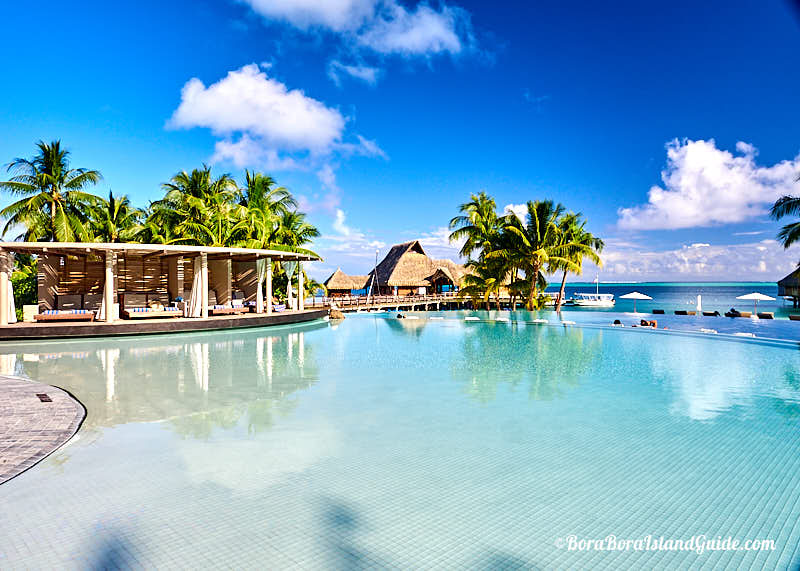 The exotic Conrad Bora Bora Nui pool brings fantasies, about tropical island vacations, to life. Imagine bathing in blue that stretches right across the lagoon, beyond the waves crashing on the reef, to where sky meets water.
Set between the beach and a dramatic hillside, the Conrad Bora Bora Nui pool sets a new standard for what an infinity pool can be. It's not just a perfect place for swimming or cooling down; it's also a striking work of art that creates a pleasurable mood, and a holiday habitat for relaxing in a private nook or feeling part of an elite club who are living their dream.
As most of the guests are lazing on the decks of their gorgeous new overwater bungalows, the Conrad Bora Bora Nui pool appears extra welcoming; it's like someone keeps it immaculate just for you. Most villas are perfect for couples so children are a rare sight and their favorite place would be at the water's edge on the long sandy beach.

Even on a perfect day in high-season the Conrad Bora Bora Nui pool feels serene and exclusive. On our first morning of exploring we saw just one couple in the pool. A perfect row of luxurious cabanas, a row of in-water lounges, and a ring of sun-lounges under umbrellas; were all saying "try me".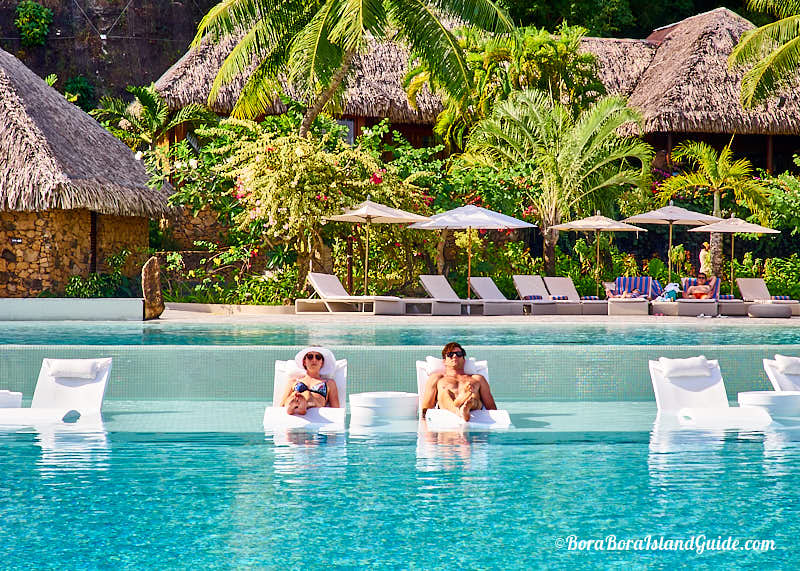 We accepted the invitation! Lolling by the pool, gazing across the world's most beautiful lagoon reminded me of wise advice: "Sometimes doing nothing at all is the best thing to do". Words were unnecessary too. Tom and I lay there, newly engaged and in love with each other and the beauty of Bora Bora. Can life get any better than this!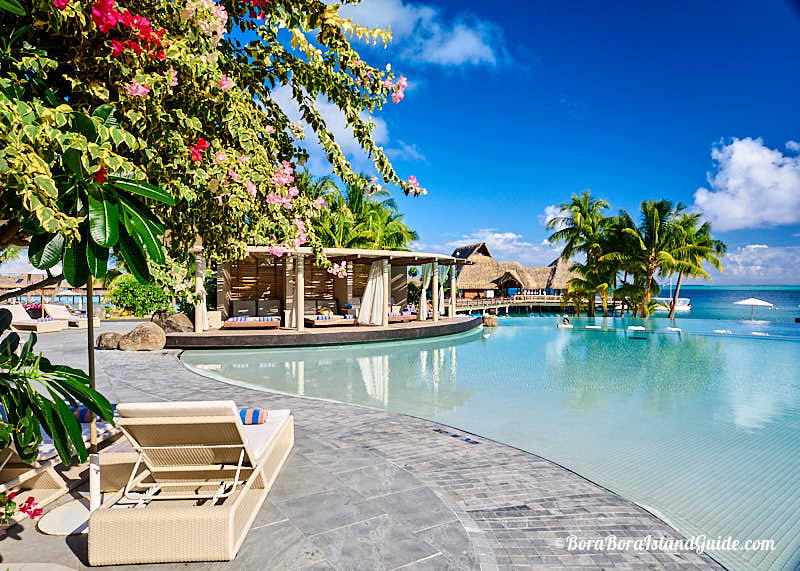 Everything is pleasing-to-the-eye and practical around the Conrad Bora Bora Nui pool. Natural-look pavers lie in sweeping lines, chairs are functional and artistic, comfy cushions cosset bottoms and backs, flowers blossom as if in perpetual spring ... and service arrives with the lift of a finger or a look. It's a million miles from home-chores!

relax next to the pool for a drink or snack
There's so much choice about how to hang out around the Conrad Bora Bora Nui pool: sun, shade, part-shade; water, just-legs-in-the-water, feet-in-the-sand; lie, sit, cuddle, sit alone to meditate; eat, drink and be merry ... for today we live fully. If you can't afford this experience yet, get our calendar, set goals and start planning.

Swim up pool bar
Can a tropical island vacation be complete without a swim-up pool bar? Nui says no, it's the ultimate indulgence and serves up all kinds of exotic drinks in the most aesthetic setting on-water that I've seen on earth. Leave the "carbs" on shop shelves prior to vacation and plan to pack sexy bikinis for this resort; you rarely need clothes.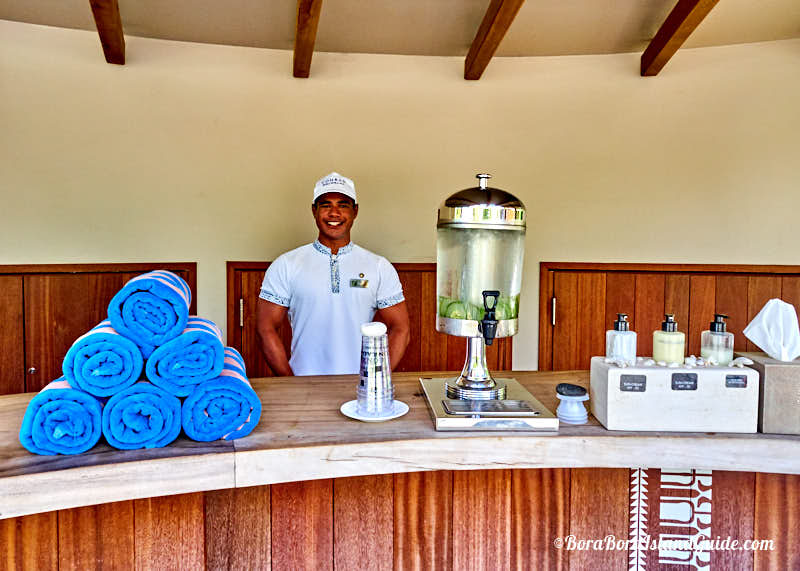 The Conrad Bora Bora Nui pool has a fare (Polynesian for house) offering goodies that add quality to a vacation: big smiles, chilled water, sunscreen, moisturizer, fresh towels, and information about what activities are on. It's at a junction where it can service both the pool and the beach. Getting to know the friendly "beach boys" is a must. Any time you just look like you need help , one of these great guys will save you!

Search the Site

Are you still looking for additional information? You can use the Google search box below to search the site.