Photos in Bora Bora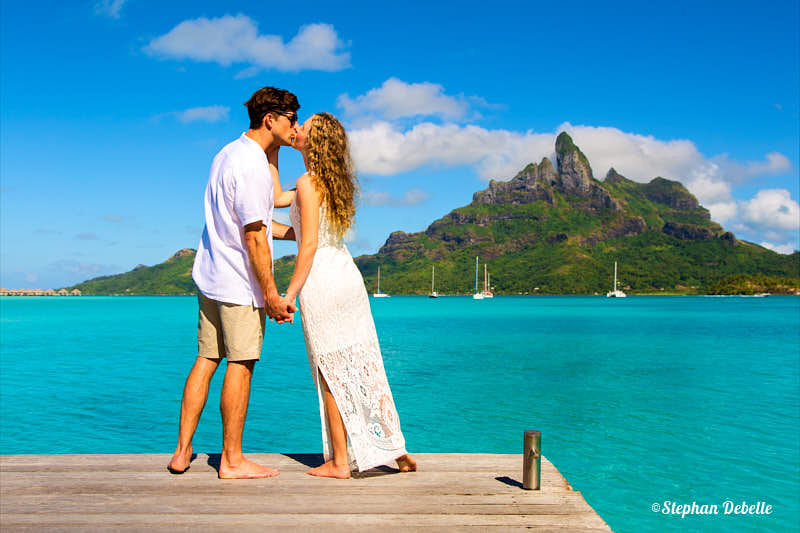 Here's why we recommend you have someone talented take professional photos in Bora Bora.
If you browse our website you'll see that I've been snapping beautiful photos in Bora Bora, on vacations, for years. I've taken photography lessons, own great cameras, and have spent many hours capturing Bora Bora's charms. But I was behind the camera! When my partner Tom was flying to Bora Bora with me for the first time, I wanted to be in some special photos with him.
Professional Photos in Bora Bora
Life can be serendipitous! When Tom's not in his office he likes to be active. So I was trying to contact Azdine, the guide we had met on a previous trip - who took hiking tours into Bora Bora's interior jungle - but he was MIA. While checking Trip Adviser forums I noticed a user being very helpful with answers. He had assisted an enquirer to find a guide so I sent him a private message and he immediately responded with information. The name he signed off with was familiar so I asked if he is Stephen Debelle the Bora Bora photographer; and he said yes.
In emailing with Stephan I discovered that he is also a professional diver and does aqua tours when he can fit them in. This piqued my interest as the scenery under the water can be just as beautiful as above. There are a number of Bora Bora photographers who do photo shoots at resorts; and one who does Bora Bora photography tours around the lagoon while taking pictures of the couple sitting in his boat; but this was truly special to have a photographer that would take under water photos in Bora Bora's lagoon. So we set a date for our upcoming trip.
On the day of our Bora Bora photo shoot we met Stephan in the morning, at the St Regis reception. He greeted us warmly, introduced us to his assistant Bonnie, and helped us to take our bags for the aqua tour to the concierge, so they would be secure. It felt like meeting old friends. Stephan's favorite location to shoot at St Regis, is the secluded beach by the spa. It has luminescent water with Mt Otemanu in the lush backdrop. So we climbed in a golf car and headed there.
Tom had never experienced a photo shoot, nor is he very co-operative when I ask him to smile for the camera; and I don't like being the center of attention, as I'm usually quite shy! But Bonnie and Stephan swept us into a mood where we relaxed and enjoyed the moments of being coached to star in our very own romantic photos in Bora Bora.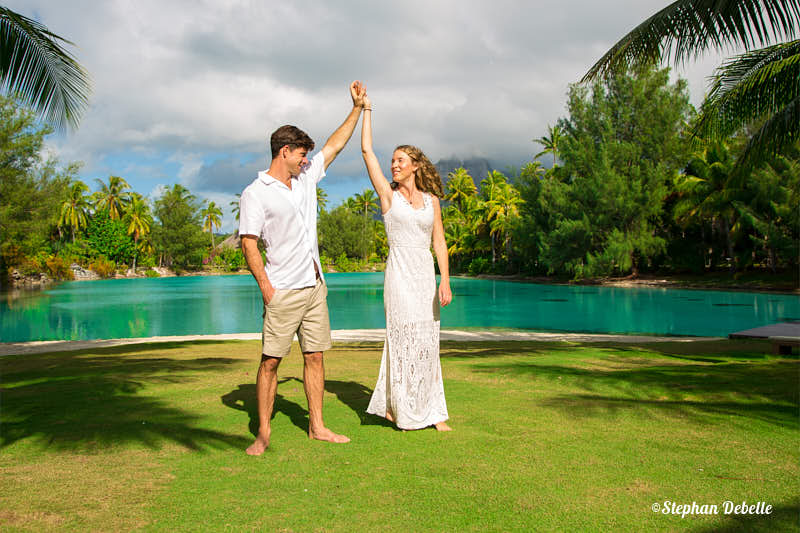 Stephan's a passionate artist. He asked me to lead Tom back and forth for a few shots while we relaxed. He took in our personalities and enjoyed experimenting with my flowing, curly hair and the long, lace dress I was wearing. He seemed to be asking - "What is unique and special about this couple?
Stephan and Bonnie acted out each move, look, or pose that Stephan wanted us to try. He twirled Bonnie to show Tom how to move me. Bonnie stepped in, as she saw fitting, to adjust positions of body parts – such as my leg. Many of the photos were taken using movement to avoid the stiffness of the stilted shots that people typically take.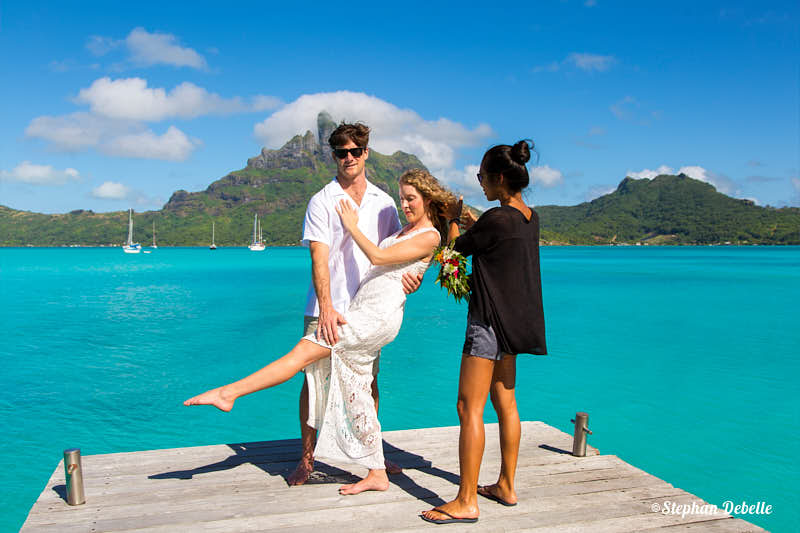 While Stephan was shooting, Bonnie was scrutinizing with the practiced eyes of a woman who understands perfect presentation. She noticed little details and gently attended to them with a kind, calm, competent air. She passed my lip gloss, took the elastic hair band from my wrist, moved the bracelet on my arm, swept my hair over my shoulder and adjusted the hang of my dress. When she noticed a slight mascara smudge under my eye she passed me a mirror and a wipe.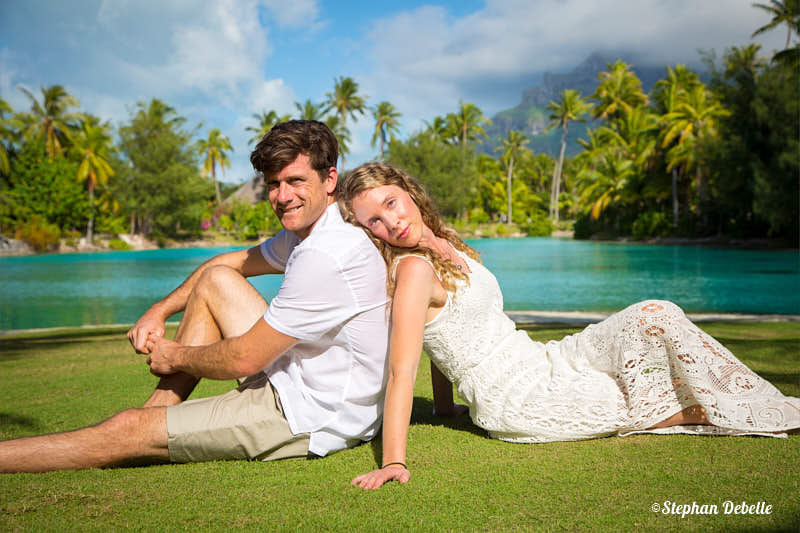 The harmonious way Bonnie and Stephan worked together, with us, made the actual experience pleasurable; we didn't just get great photos. If you are having a professional photo shoot in Bora Bora, book Stephan and Bonnie! If you aren't planning to get professional photos in Bora Bora - why aren't you?
Our photo shoot in Bora Bora was magic. I'd never felt so beautiful. I was with the man I love - in the most beautiful place on earth - and we were hand in hand making memories, while Stephan recorded them for life.
Just when I thought that a day couldn't get any better we boarded a boat, and Stephan snapped us in extraordinary photos in Bora Bora's famous lagoon.
Two evenings later, during an intimate dinner on this very same beach, Tom surprised me by proposing. Always the romantic, he slipped a delicate Polynesian shell ring - from a market stand - on my finger and promised to replace it with a diamond, back home.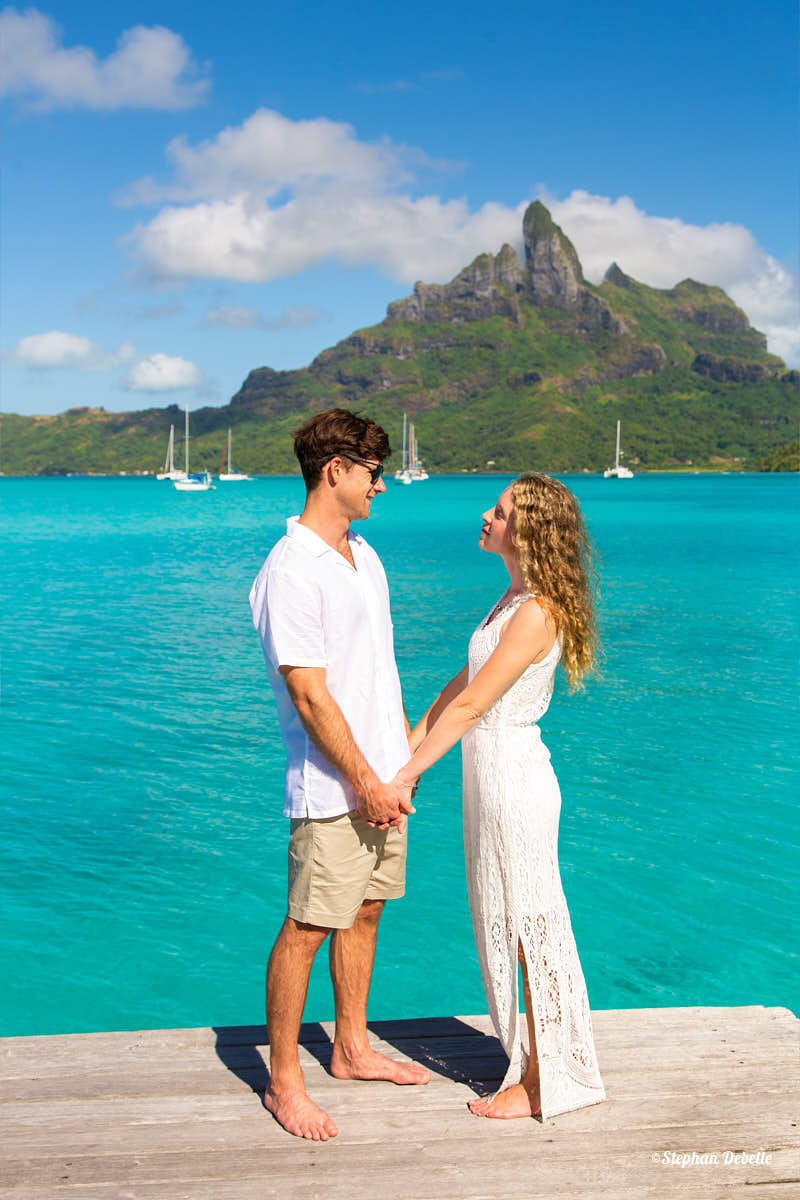 I was so thrilled to have these romantic photos in Bora Bora, as a memory of our betrothal - and to show my friends - that I've added having a professional photo shoot to the list of top things to do in Bora Bora. We will be forever grateful to our photographer, Stephan Debelle of Bora Bora Photo & Video, who so poignantly captured our love.
Home › Photos in Bora Bora
Search the Site

Are you still looking for additional information? You can use the Google search box below to search the site.