Bora Bora Photo Lagoon Tour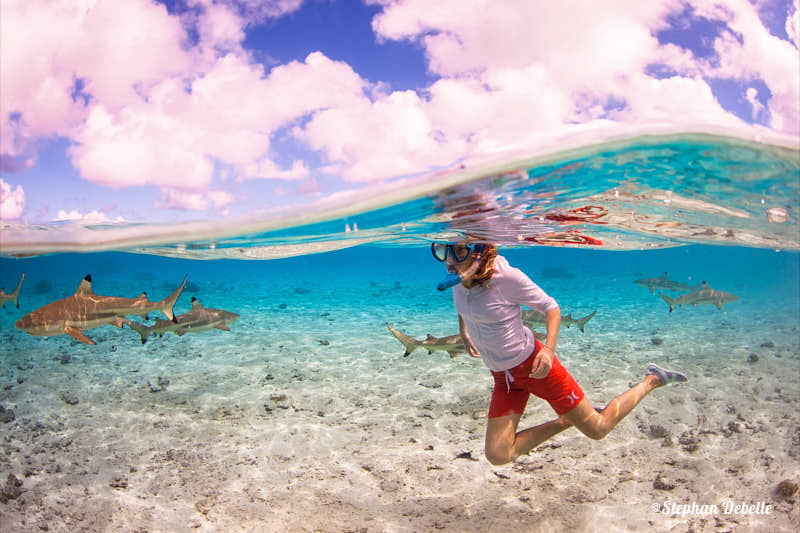 We had magic moments in and around the water on this amazing Bora Bora photo lagoon tour. The most talented underwater photographer on the island recorded our fun on camera. The shoot finished with a delightful Polynesian lunch on a private motu to create the perfect day in Bora Bora.
Stephan Debelle of Bora Bora Photo & Video arranged for a private boat to pick us up from the resort's dock after our romantic photo shoot at the St Regis. We were thrilled to find that our charming boat captain was the head of one of Bora Bora's most renowned and colorful families, as well as the owner of sensational Tupuna 4x4 Safari Tours.
First we headed for a mysterious trench where the manta rays sometimes hang out. We searched but they didn't show up. So we climbed back in the boat and headed for the most popular coral gardens in Bora Bora, which is always teeming with fish. Tom and I played in the water, feeding the fish and swimming together, while Stephan captured our explorations with his specialist underwater camera equipment. It made my Go-Pro look like a child's toy.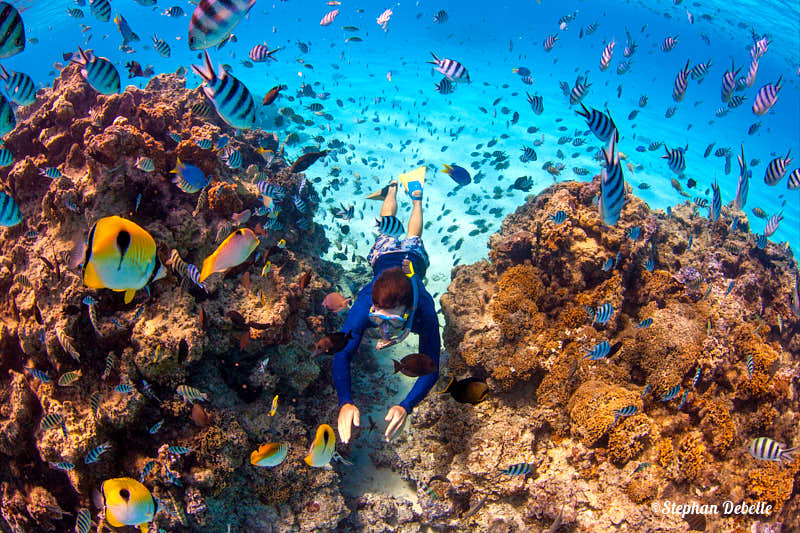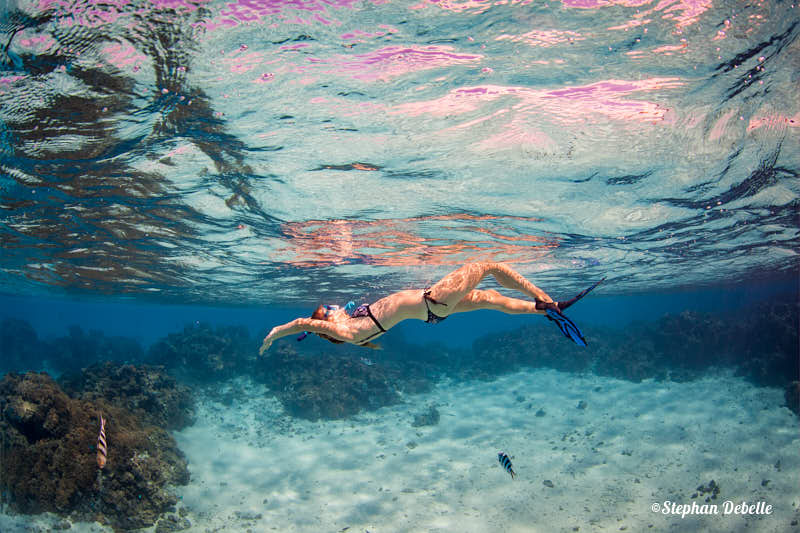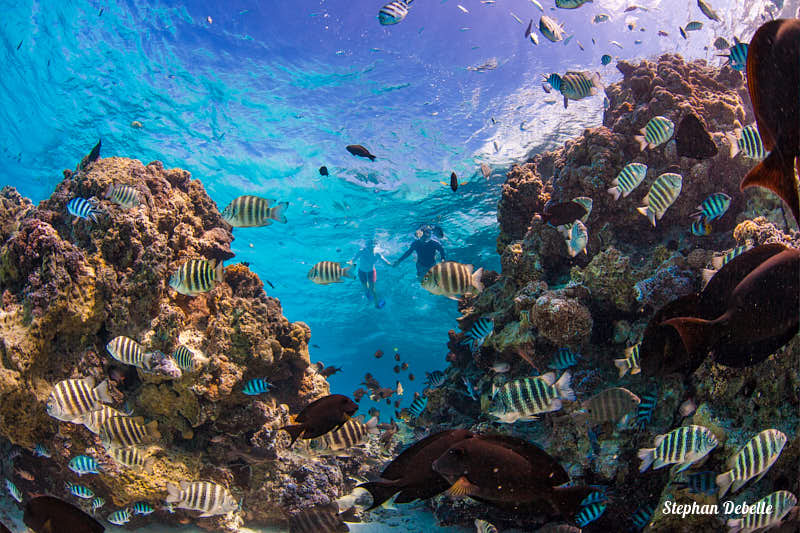 The next stop on our private Bora Bora photo lagoon tour was near the coral reef, to visit the local sharks and stingrays. Ours was the only boat in sight so we had the lagoon to ourselves. When we take a group excursion, it's difficult to get shots in the water without another tour member swimming into the picture. Not only is it tricky to get a personal photograph with the sea-life, but I'm usually behind the camera. It was simply exhilarating to have a private Bora Bora photo lagoon tour with a professional photographer and the sharks and rays on call just for us!
After these adventures Captain Fan Fan steered the boat to the southern tip of Bora Bora's eastern coral motu, Piti A'u – island of two souls - where his family owns land with a wonderful white-sand beach. This area has dramatic lagoon views to Mount Otemanu and across the ocean to Raiatea and Taha'a on the horizon.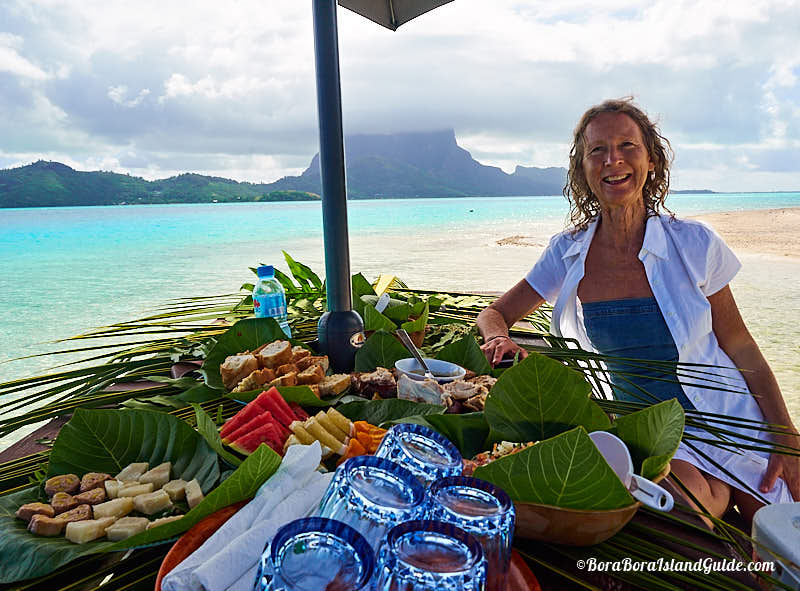 It was a perfect setting and a perfect picnic lunch. We sat under an umbrella, with our feet in the water, and devoured freshly caught seafood, marinated chicken, traditional baked deserts, and juicy tropical fruit. This was the most delicious meal we had on the whole vacation and it was prepared with love by Fan Fan's son. Fan Fan's mother, Hilda, had created the food until her recent, sudden death. During this trip, islanders we met spoke of her beauty – she had been the first model for Hinano - telling how she always wore a flower, and was loved by all. We felt privileged to enjoy this warm, Polynesian hospitality from one of Bora Bora's oldest families.
What to wear on an Bora Bora photo lagoon tour
We changed into comfortable, cool, cotton clothes (at the facilities near reception) before leaving the resort, and slipped them back on before lunch.
 If you take a Bora Bora photo lagoon tour don't wear a bikini with tie strings that dangle, lest the friendly rays mistake them for fish. Stephan's lovely assistant, Bonnie, had recently experienced this.
If your vacation is in Bora Bora summer, unless you have tanned skin, you'll need to bring a rash vest and board shorts or a 'throw over' shirt as sun protection in between stops on a Bora Bora photo lagoon tour. But do take them off for part of the shoot to get some Bora bora water photos in a cute bikini. During our June winter trip we learned that we could actually discard our cover-ups and sunscreen. With our light tans we didn't burn at all. 
Take your own well-fitting snorkeling equipment, including flippers and water shoes. Carry them in a netting bag so they can dry out.
How to get yourself in Bora Bora lagoon Photos!
Of all of the Bora Bora lagoon excursions we have enjoyed, this was the most special; we didn't just get great photographs, we had a great time. If you want an extraordinary tour, with vivid photographic memories to take home, get in early to book a private Bora Bora photo lagoon tour with the best lagoon photographer, Stephan Debelle.
After taking this awesome Bora Bora photo lagoon tour we have added this unique activity to our list of top things to do while on the world's most beautiful island.
Search the Site

Are you still looking for additional information? You can use the Google search box below to search the site.