Bora Bora Four Seasons Dining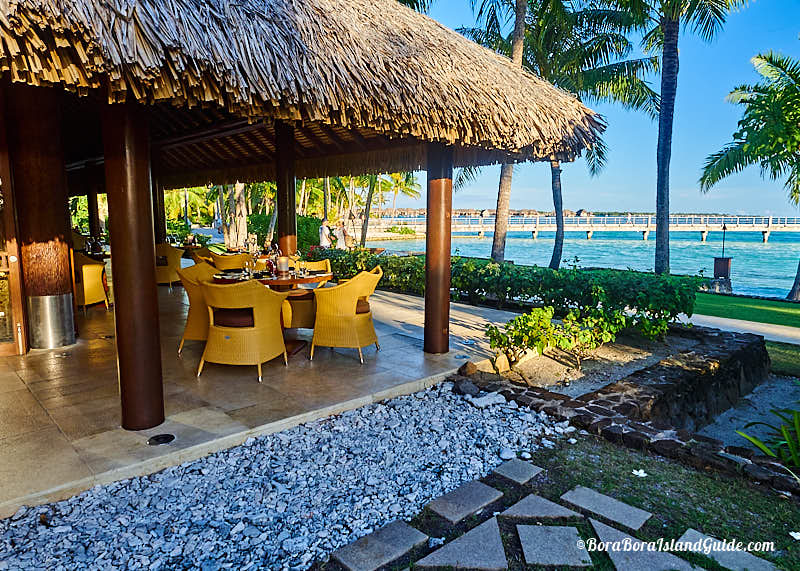 There's a diversity of Bora Bora Four Seasons dining options – for eating in or out – with five star service  – always in a romantic island ambiance, surrounded by jaw-dropping views! It's ultimate indulgence!

Four Seasons Bora Bora dining prices
Four Seasons Bora Bora dining prices are similar to those at top resorts in Hawaii. You may pay a little more than at some other Bora Bora resorts but the food choices and service are worth it.
The Four Seasons paradigm for indulging guests includes providing exceptional casual dining experiences, with an attention to detail above any we've experienced on the planet. This is what makes an island/beach vacation extraordinary. The price of a typical meal is between $30 and $40 and they are worth every cent.
Four Seasons also excels at providing sophisticated vacationers with an island fine-dining experience. The average prices for an entree/main dish vary between $50 and $60. They're similar to dining prices at Lagoon restaurant at the St Regis. A specialty meal could be closer to $80.
We find the Four Seasons Bora Bora dining prices to be similar to the cost of fine dining in Sydney, our home town. And considering that much of the food in Bora Bora has traveled a long way, I find it better value than the $35 burger back at home! You also don't need to tip! So the cost of the meal is the total cost.

Don't even begin comparing Four Seasons Bora Bora dining prices to tropical destinations like Bali or Thailand. This is true Paradise. Read the Bora Bora Four Seasons Food review page to get prices into perspective.

Four Seasons Bora Bora dining options:
Casual Four Seasons Bora Bora dining
Fare Hoa Beach Bar & Grill serves to the water's edge
The lagoon was so beautiful in the middle of the day that we found it hard to bring ourselves to a table for lunch. Luckily, open-air Fare Hoa Beach Bar and Grill offers a wide variety of lunch choices between 11am and 4pm but guests don't have to "show up" to be indulgently fed and watered. Meals are served with flare – by beaming waiters – on the beach, around the pool, and in private cabanas!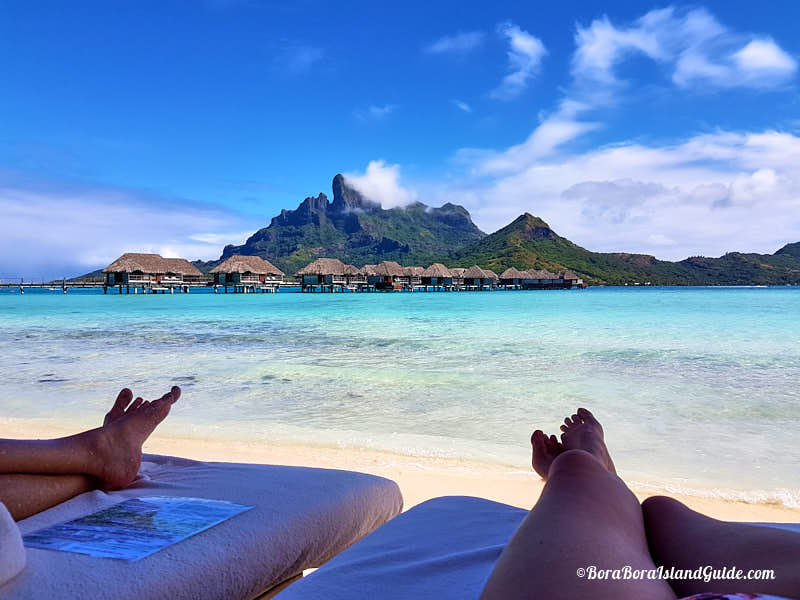 The level of eating-on-the sand luxury included attention to details like small-portion ketchup and mustard bottles arriving on a platter with a meal. I sat back in euphoria on a sun-lounge, at the water's edge, entranced by the panoramic view of Mt Otemanu. If you're settled in a perfect nook you don't need to give up bliss to have great dining. Bikinis are in. Dress codes are out."Out to lunch" took on a delicious new meaning with the way Four Seasons food and drink was served at Fare Hoa. 
In the evenings relaxed Fare Hoa also takes on a romantic identity and starts serving beautiful dinners at 6pm.
Tere Nui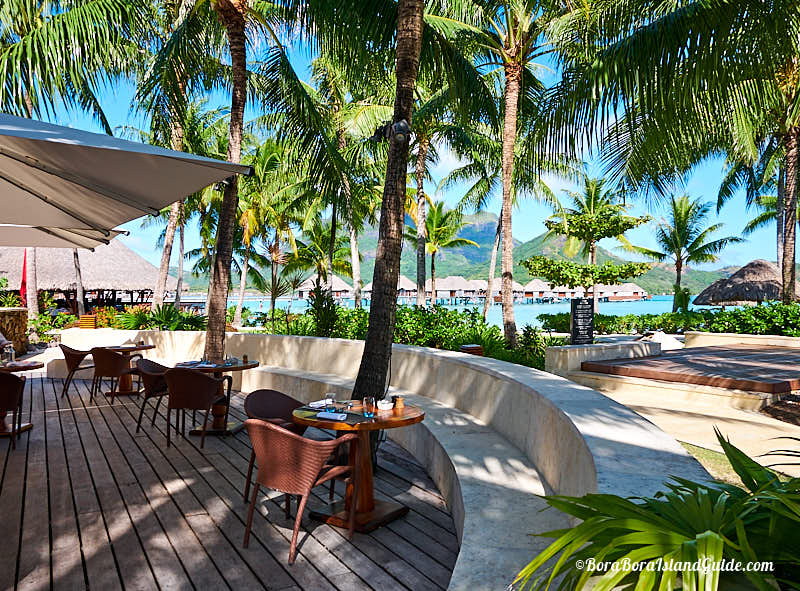 For a more civilized sit-down-to-lunch you can slip on casual clothes and return to Tere Nui. At llam this restaurant ceases offering the breakfast buffet and serves lunches ... until 5pm. It's cavernous thatched roof offers more shelter if a shower passes through but there's also great outdoor seating, with views of Mt Otemanu. The lunch menu seems to be the same, wherever you dine.

Eating breakfast, lunch, or dinner, on your deck with lagoon views is extraordinary. Although delicious meals are available all day – and for most guests it's over water – here are the best times for Four Seasons Bora Bora in room dining.

Four Seasons Bora Bora dining in style
I've purred about the indulgence of casual Four Seasons Bora Bora dining. Now I'm going to say that we also found it pleasurable to "dress up" and enjoy a romantic stroll to a classy restaurant if we fancied. This resort isn't just designed for bikinis in sunshine. Ladies also look sexy trailing a skirt in starlight.
Walking hand-in-hand along the pontoon and through lush gardens, to dinner, was the most intimate time of a day. No traffic, no taxis, no wallets, no rush; just warm, scented air and a full moon slowly rising in island time. We shared a variety of exotic Four Seasons dishes, sipped French wine; and then kissed in velvet darkness, while walking home.

Aiiri Moana
The sophisticated restaurant for more formal Four Seasons Bora Bora dining, Aiiri Moana, is enclosed by glass, with huge sliding doors to throw open and let paradise in. It's large Polynesian/ French fusion menu offers some of the finest eating – and service – in Bora Bora.
Sunset Restaurant and Bar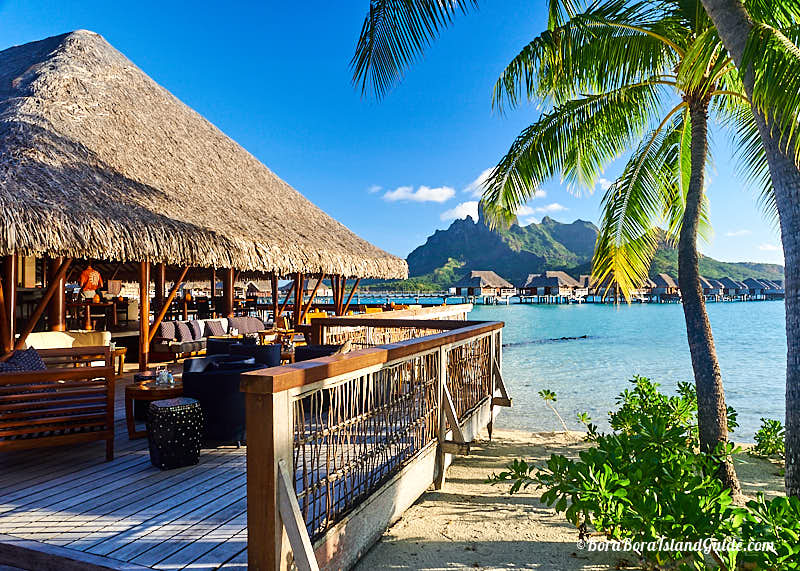 Set at the edge of the lagoon, the Sunset Bar may be the most romantic restaurant for Four Seasons Bora Bora dining, if you just want some light Pacific/Asian fare with creative cocktails. The best time to go is between 5pm and 6pm. In winter you can watch the sun setting over the water.

Unique Bora Bora Four Seasons dining experiences
The most special Bora Bora Four Seasons dining experiences include: breakfast delivered by canoe, a romantic dinner for two set up on the beach, and a weekly Polynesian dinner show. Avid fisherman and fish foodies can enjoy a Taste of Bora Bora which offers an extraordinary dining experience with Executive Chef Kano.

More about Four Seasons Bora Bora dining

Being spoiled with French cuisine is a big part of a Bora Bora vacation so do your homework before you go. Read more about the Bora Bora Four Seasons restaurants and make sure you don't overlook any of the extraordinary possibilities for enjoying dinner at Four Seasons.
Search the Site

Are you still looking for additional information? You can use the Google search box below to search the site.