Conrad Bora Bora Nui Restaurants
The Conrad Bora Bora Nui restaurants offer a variety of food styles served in various locations so we had lots of fun trying them out. Here are our recommendations based on our eating  experiences during our stay.

Each of the Conrad Bora Bora Nui restaurants is in a unique setting, with an island ambiance unlike anywhere else we've eaten on earth. Make sure that you get around to enjoy each one, rather than thinking that ordering "in" to relax on your villa's sensational deck is the only/ultimate place for dining.
You'll have a much wider choice in cuisine by getting out to the restaurants. The quality of food is good and we noticed that we were treated to attentive service. This was in sharp contrast to our stay several years ago when Nui was a Hilton! They're still employing Polynesian wait-staff but current ones have been carefully trained.

Conrad Bora Bora Nui Breakfast Restaurant
Iriatai International Breakfast Buffet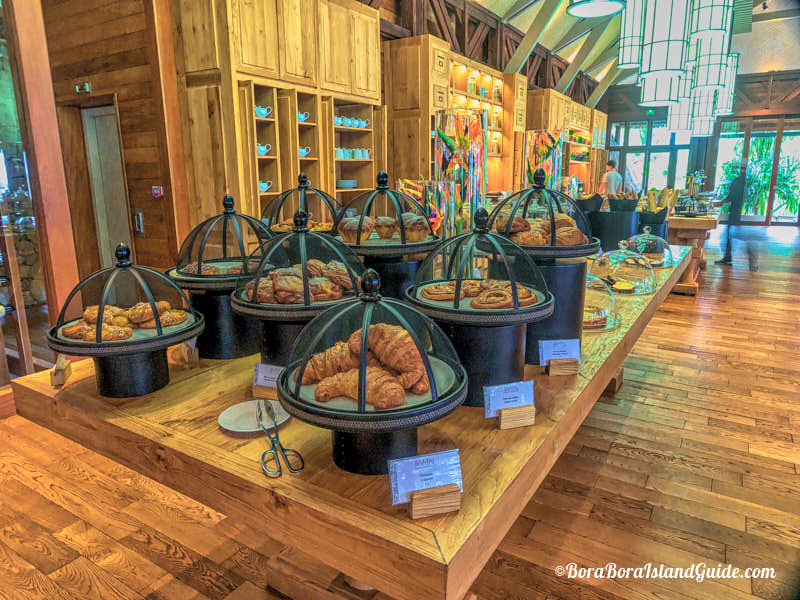 Beginning each day with a Conrad Bora Bora breakfast at the Iriati international buffet is the stuff that dream vacations are made of. Book this awesome breakfast buffet in your accommodation package, it's worth every dollar, and it will be a long time before the pleasurable memories of lingering over the huge choice of delicacies will fade.

Conrad Bora Bora Nui Lunch Restaurants
The Conrad Bora Bora Nui restaurant serving up lunch is the Tamare Grill, set between the beach and the pool. It's Mediterranean/Polynesian menu is prepared in an open kitchen which has a stone pizza oven. Meals can be eaten anytime between 11.30am and 3.30pm at the Tamare Grill, or you can order while sitting in a nook at the pool bar.
On one level lunch seems a very relaxed, feet in the sand or water, casual affair but there are some excellent dishes on the menu to explore. This is resort-style living at it's best! Keep in mind that you can also ring for in-villa dining 24 hours of the day. The deck of your bungalow is a wonderful venue for private dining.
Tarava Pool Bar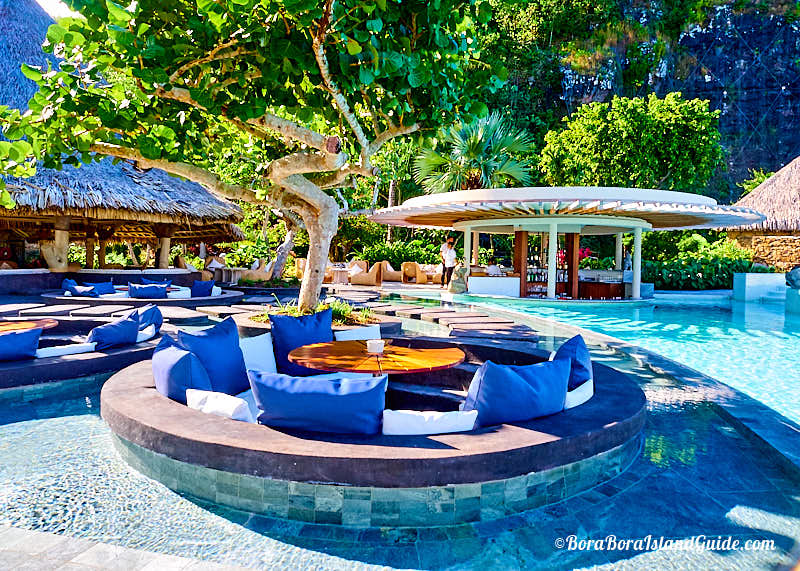 Conrad combines beauty with function in it's pool area and everything is sparkling new. There's a light snack menu available from the Tarava Pool bar. If you're settled in a shady nook with sensational surrounds you can also order food from the Tamare lunch restaurant to come to you.

Tamure Beach Grill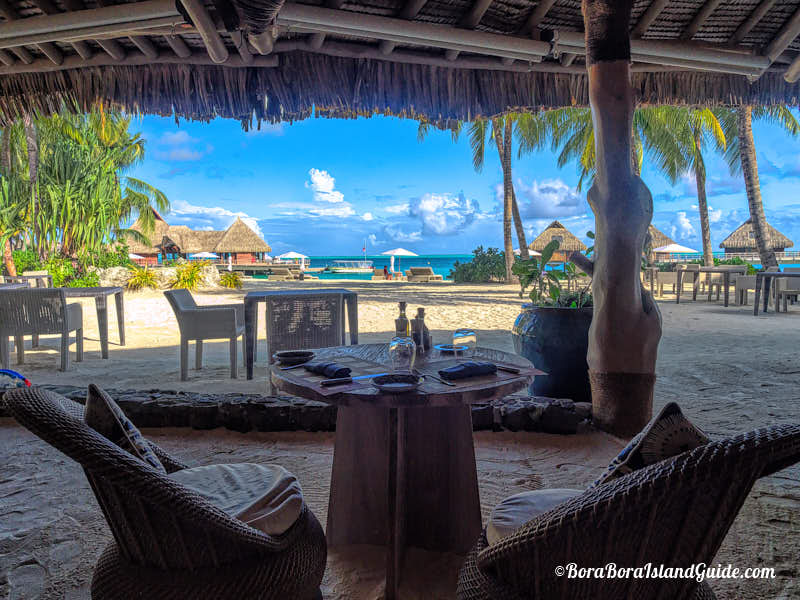 At the Tamure Beach Grill guests can savor delicious food outside or inside with the outside coming in. It's a slip-on-your-shorts and lunch with feet-in-the-sand restaurant offering great value dishes with attentive service!

Conrad Bora Bora Dinner Restaurants
Banyan Chinese Restaurant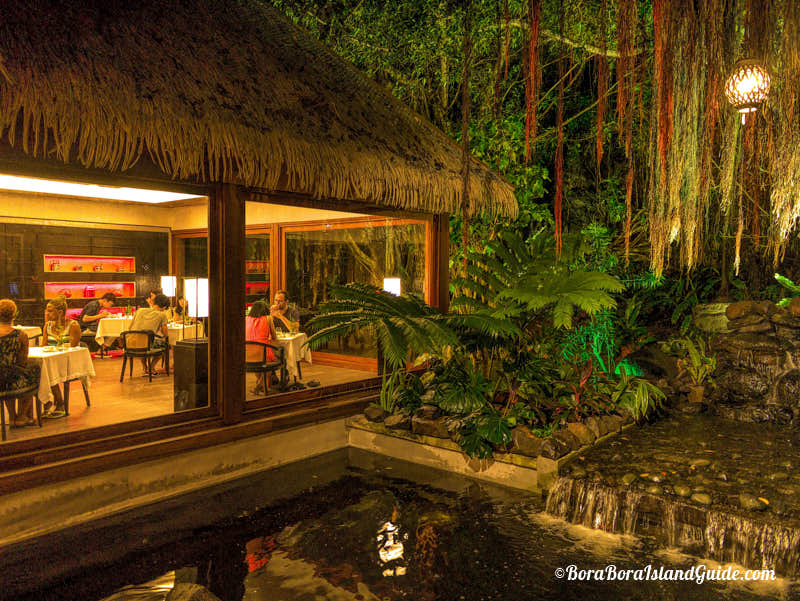 Banyan Tree Chinese
Banyan serves food  inspired by flavors from several regions of China so this new restaurant adds another dimension to the fare offered in Conrad Bora Bora Nui restaurants. Banyan added variety to our eating so go eat alongside the magical rain forest. Plan ahead as it's closed on Monday and Thursday nights.
Iriatai French Restaurant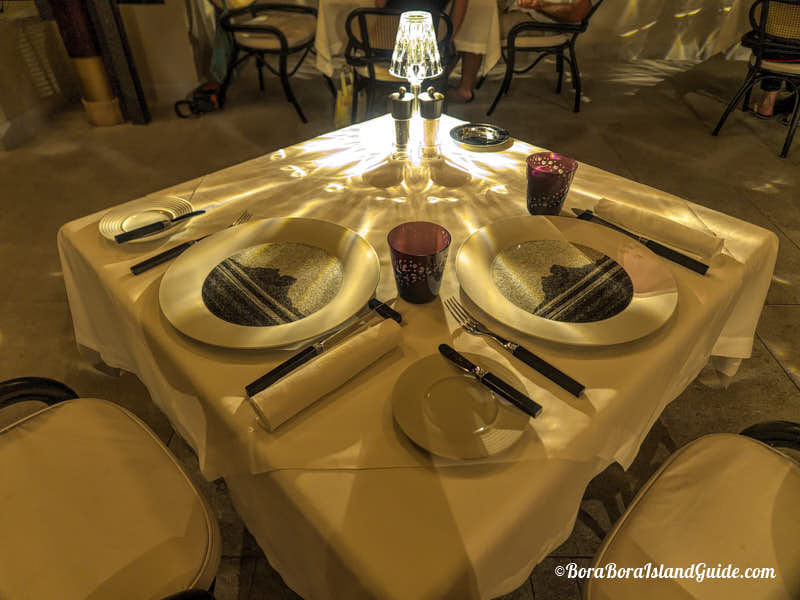 Iriati is the most elegant of the Conrad Bora Bora restaurants. Each evening, the grand pavilion is transformed into a fancy French restaurant, wrapped in the velvet air of a tropical evening.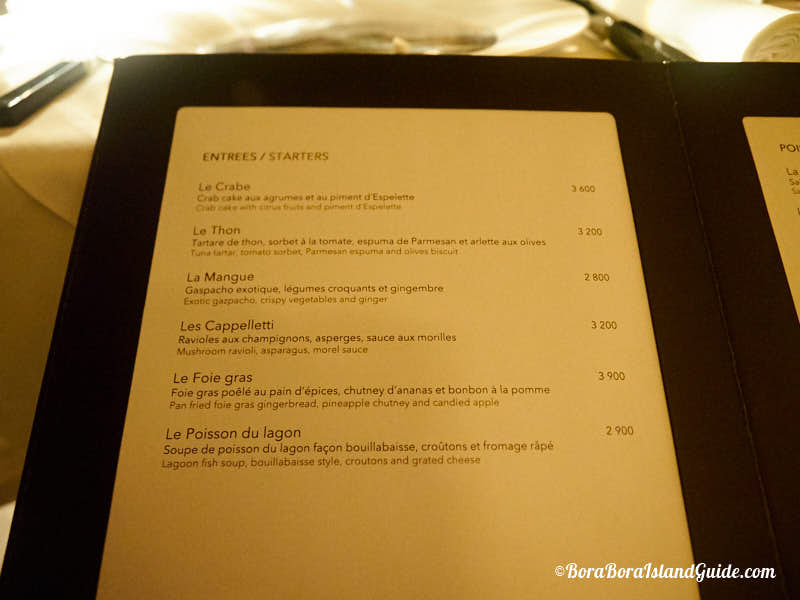 In Bora Bora all restaurant menus are written first in French as that is the main language of Tahiti. Fortunately where-ever tourists go there's also an English translation. Although Iriati applies the techniques of French cuisine in preparing food, the menu is highly influenced by local produce and flavors.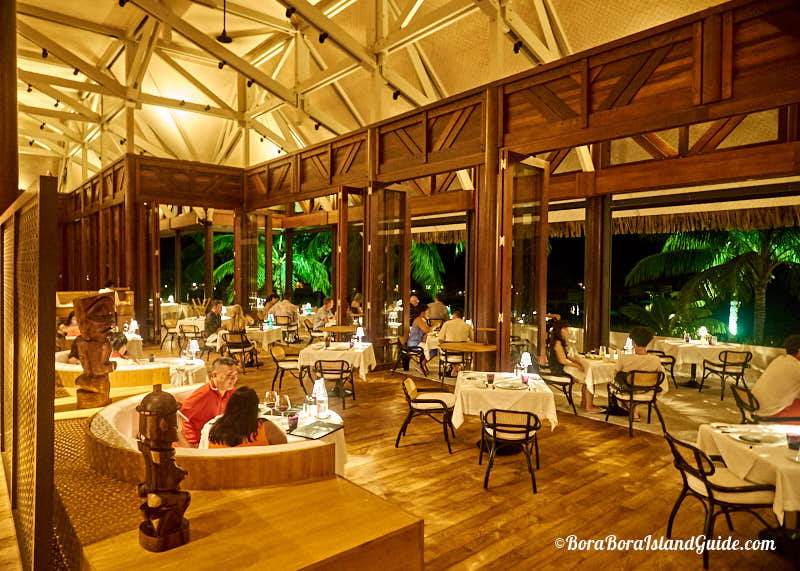 I was intrigued that, although Iriati is the largest of the Conrad Bora Bora Nui restaurants, a grand hall of eating, the atmosphere at each table actually feels intimate. Try the Iriati but remember that it's closed on Tuesday night.

Upa Upa Lounge Bar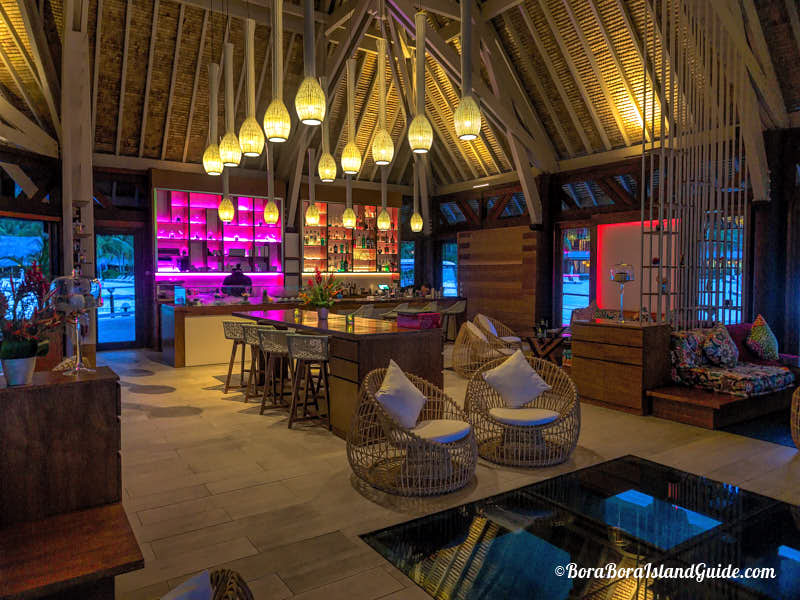 Upa Upa is simply the best bar in Bora Bora, the unrivaled winner on several counts. Go enjoy it's atmosphere early in your stay, as soon as it opens; it may become a favorite place to relax on your vacation evenings.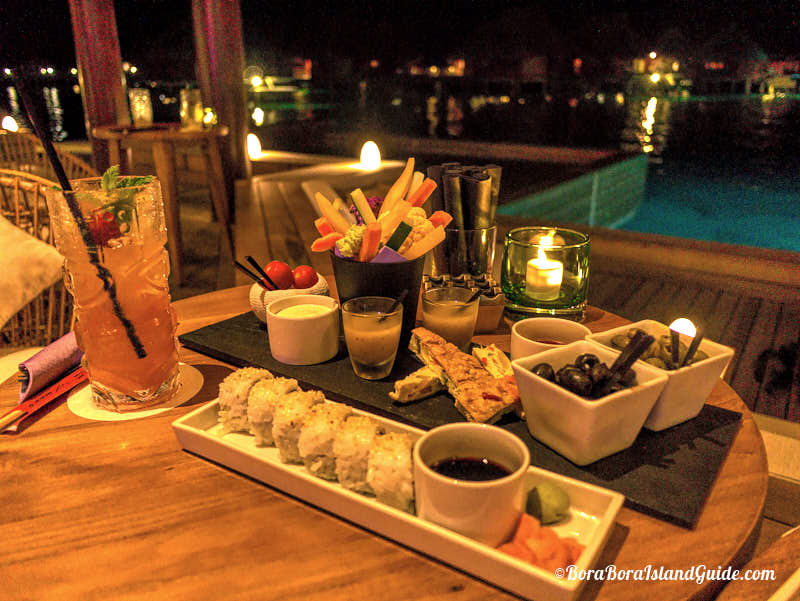 Upa Upa offers a tempting variety of finger food that can be selected from a display. There enough choices for a delicious snack on an evening when you want a change from a full meal at the Conrad Bora Bora Nui restaurants.

Tamure Beach Grill
Polynesian Buffet and Show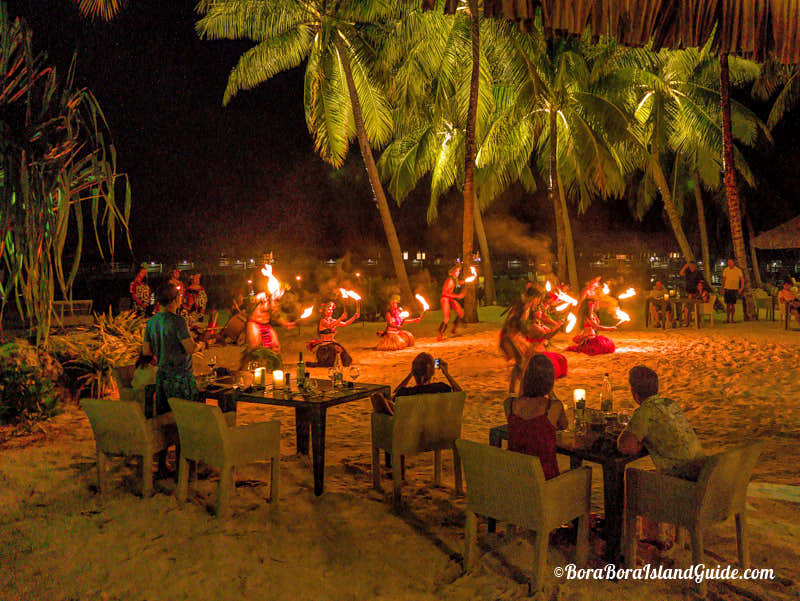 Weekly Polynesian Dinner Show
Tuesday evenings the other Conrad Bora Bora Nui restaurants - except the Upa Upa Bar - are closed to focus on huge preparations for an extraordinary cultural night, which is held on the beach at Tamare Grill. Have a light lunch and make sure you attend the feasting and entertainment on the fabulous Polynesian night at the Conrad Nui.

Search the Site

Are you still looking for additional information? You can use the Google search box below to search the site.