Conrad Nui Upa Upa Bar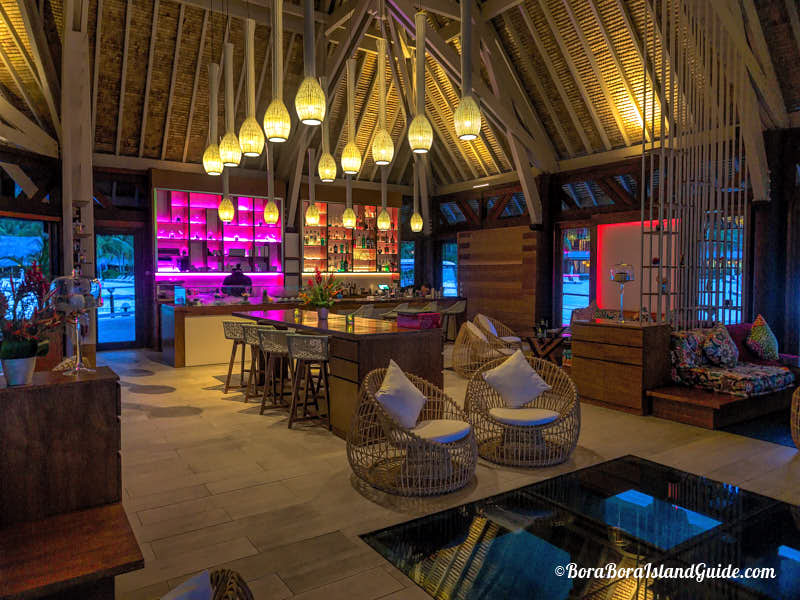 In the fanciful Conrad Nui Upa Upa Bar, the timeless beauty of Bora Bora blends with spectacular elements of modern design. We found an intimate fantasy-world where guests can sit back, chat, and snack; on balmy evenings.

Continuing the exceptional, vacation mood of this 5 star resort; the Conrad Nui Upa Upa Bar presents everything in a classy-yet-relaxed kind of way. It's amazing what sophistication can be arranged under a palm thatched-roof!

I was intrigued by the splendid atmosphere that has been created with: soft, romantic lighting to show off the arty interior; comfy chair sculptures to sit like a star; an appealing display of real-food nibbles (you'd never see back home), fruity, Tahiti cocktails; colorful, scented, tropical flowers; and a large, glass section in the floor to view coral and fish below.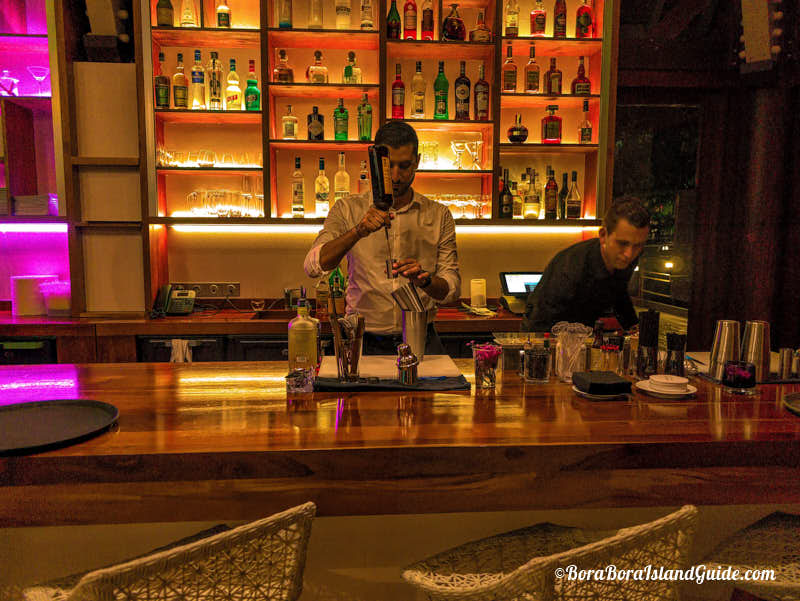 Part of the fun of choosing drinks at the Conrad Nui Upa Upa Bar was reading the menu in French. Some of the best things in life read the same in any language.Gloria was smitten by the Ace of Hearts: Campari, Fruit de la Passion, Orange, Pamplemousse (grapefruit) Champagne; while Tom put his money on the Ace of Diamonds and thought he'd won the round: Rum Brun, Liqueur d'ananas (pineapple) Citron vert (lime) Amaratto, Champagne.
As the two very-experienced barmen concocted our cocktails - with serious concentration - we perched on starry stools to watch them pour, squeeze, mix and shake our exotic potions into being. Their skills were quite impressive!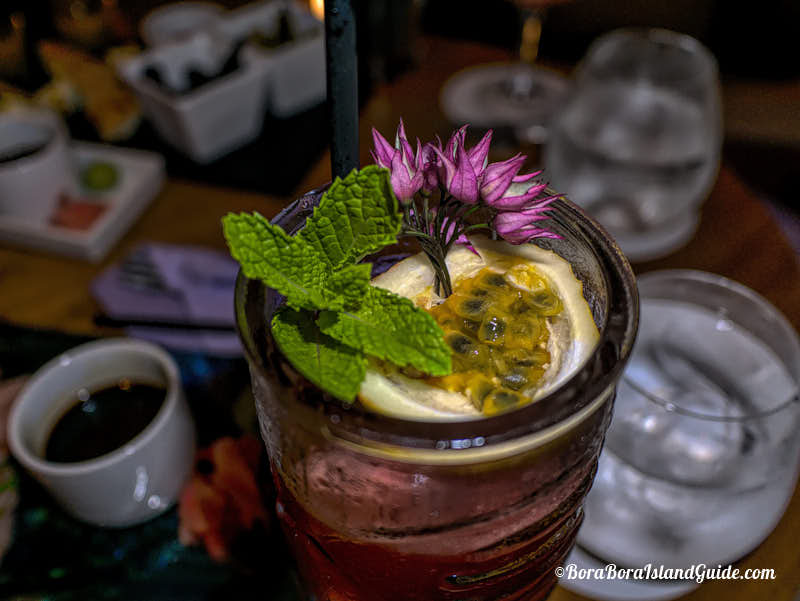 I chose Billabong Pro from the Mocktail menu: Eu de Coco Sirop de Rose, Gingembre, Passion. It was  a very long drink that looked as good as it tasted while I slowly sipped it! The Mocktails were named after Tahiti's most celebrated sporting events and also included Hawaiki Nui and Iron Mana. Cocktail prices started at 2000CFP.
The menu included 4 special cocktails that have been personally created by each of the bar staff and aptly named after poplar traditional Polynesian dances: Paoti, Otea, Aparima, and Haka. At Conrad's Polynesian dance night we discovered that the traditional dancing is as colorful and vibrant as the Tahiti cocktails.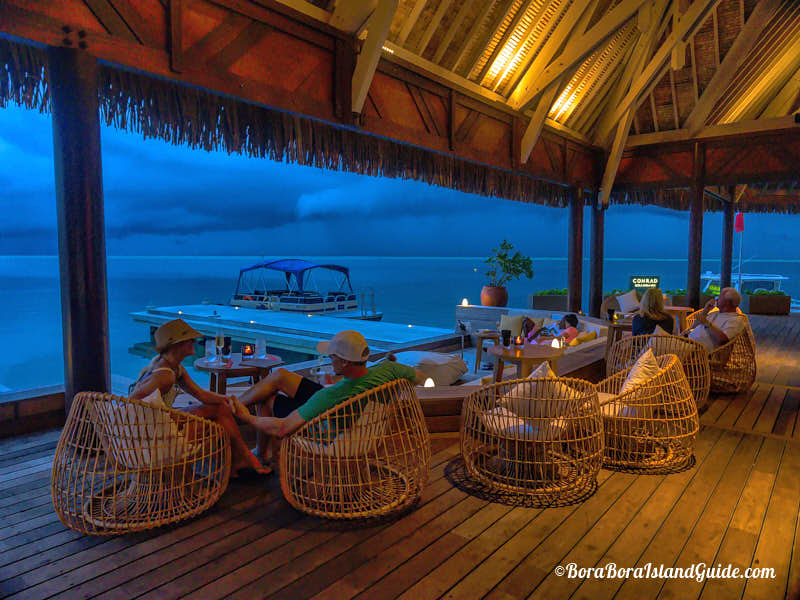 The Conrad Nui Upa Upa Bar is the very best place on the island to watch the gorgeous Bora Bora sunsets. Yet even at this most popular time there always seems to be plenty of seating in it's serene atmosphere. It must be one of the world's most exclusive bars. (Notice that the honeymoon couple in hats are hiding their "lagoon" hair where-as I have mine on full display in the bottom photo!)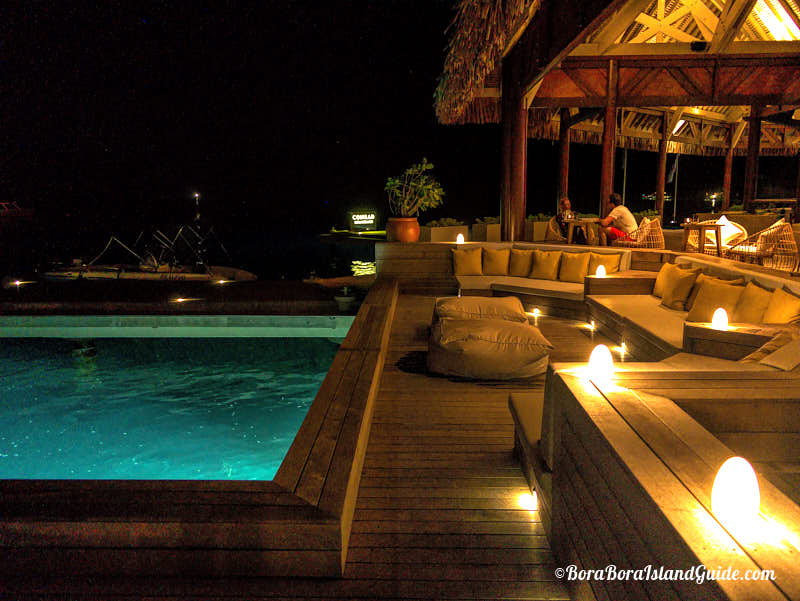 Six nights a week an entertaining band and singer performs, providing relaxing entertainment. The first band was starting the week after our stay. Each chosen band is well-known somewhere on the planet and will play for 3 months, so if you're interested, you can ask who will be playing at the time you are thinking of booking.  
The bright, starry nights seen in the middle of the Pacific Ocean are on show at the Conrad Nui Upa Upa Bar too. If you sit outside you can also spot the friendly, local, marine life that are attracted by the spotlight into the lagoon.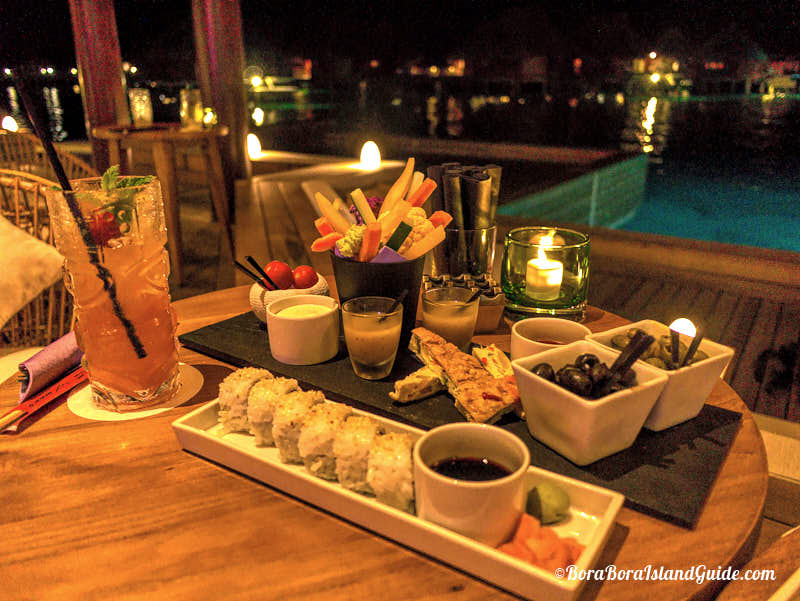 There's nothing ordinary about the finger food served at the Conrad Nui Upa Upa Bar: vegetable pieces dipped in sour cream, gaspacho and vegetable tortilla, California rolls.  I tried Sicilian olives and liked them so much that (after a lifetime of avoiding olives) I hunted down where to buy them back in Sydney.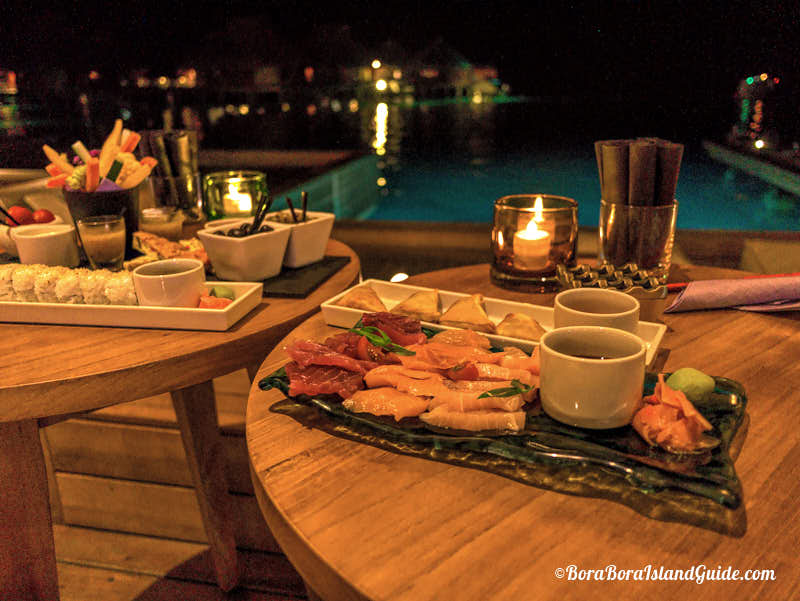 Delicacies like tuna and salmon sushi and crispy French pastry parcels tasted extra special in the flicker of candle light alongside the Bora Bora lagoon. It's rare to find a combination of experiences as sublime as those we enjoyed at the Conrad Nui Upa Upa Bar. The French excel at desserts. So for a night made in heaven I suggest finishing with the trilogy of creme brulee (Tahaa vanilla, chocolate and pistachio) and lick your lips all the way back to the splendor of your dream bungalow!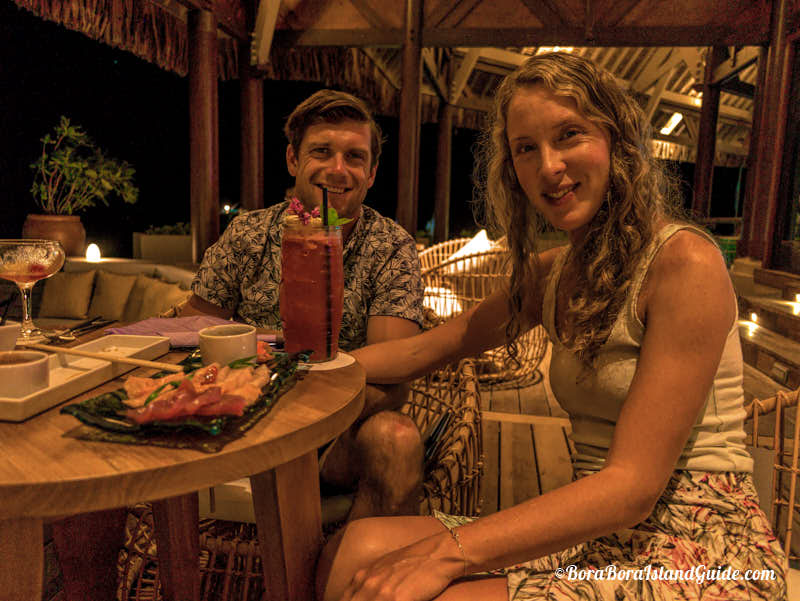 Sipping cocktails and nibbling by candle-light, under a thatched roof, alongside the world's most famous lagoon ... with the man who proposed to me a few evenings before ... was an ultimate end to a day. The Conrad Nui Upa Upa Bar oozes the kind of romance that can only be found on such a magical island. Go early, on an evening at the beginning of your stay, as the Conrad Nui Upa Upa Bar may become your favorite watering hole on earth.

Search the Site

Are you still looking for additional information? You can use the Google search box below to search the site.