Bora Bora Four Seasons Food
The indulgent Bora Bora Four Seasons food philosophy reflects an understanding of what makes an island vacation outstanding. It's so relaxing not having to think about where your next meal will come from, or what time you must eat. Delicious Bora Bora Four seasons food is served 24 hours a day!
Bora Bora Four Seasons food menu
The Four seasons lunch menu offers a wide variety of 'French with an island twist' appetizers, sandwiches, mains, and desserts. The fresh seafood choices are many, but there's also chicken or beef dishes, plus ample tasty vegetable and salad options to balance a meal. Even the meat and fish burgers – which can be served with an exotic salad or crispy chips – are a culinary delight! Anything from the Bora Bora Four Seasons lunch menu can be enjoyed in various locations around the resort – at a table, by the pool, in your bungalow or on the beach.
In the evenings, the Four Seasons food menu is quite different at each of the dinner restaurants. You can have fine French cuisine at one, creative French/Polynesian dishes at the restaurant on the beach, and the third, very romantic option has a simple menu of sushi and Asian delights.
The Bora Bora Four Seasons Food Prices
We find Bora Bora Four Seasons food prices to be comparable to those at top hotels in Hawaii, and they're equivalent to the price of fine dining in our home city of Sydney. But they are higher than at many other touristy, highly trafficked tropical destinations, which are able to offer – just about everything – at cheaper prices. Here there is almost no land available for agriculture, so virtually everything is brought in from long distances. Plus, due to French standards, wages are fair.
Another important point to consider when evaluating the Bora Bora Four Seasons food prices is that they already have a service charge added in, so there are no expectations around tipping to add on. It's so nice to know that the friendly, thoughtful service is genuine, not provided in the hope of a tip!
Four Seasons Bora Bora Dining Options
We didn't just enjoy the food at each meal, but also the indulgence of not having to fit our eating into restricted time schedules, or show up in "appropriate" dress. In fact we had delicious meals without showing up at all! It seemed we could virtually eat whatever, where ever, and whenever we wanted; with incredible views. And when the moment felt right, there were formal Four Seasons Bora Bora dining rooms to try out.
Bora Bora Four Seasons Restaurants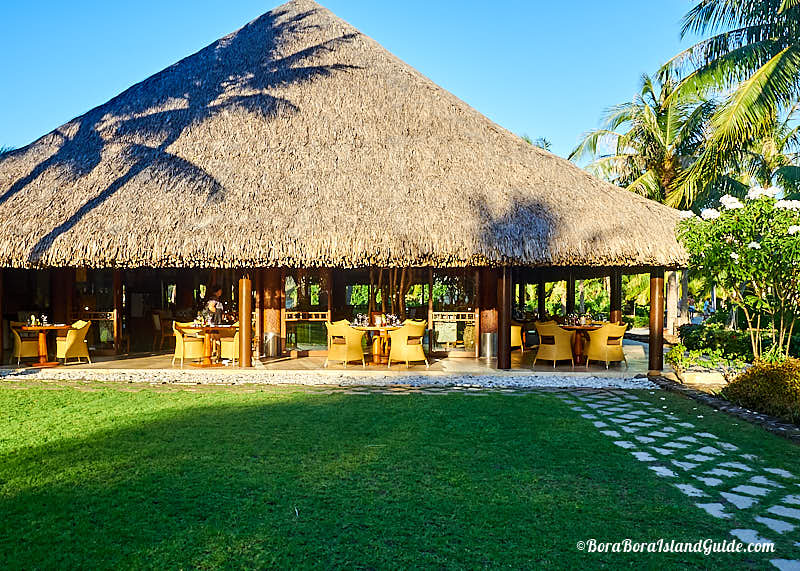 The Bora Bora Four Seasons restaurants are artful, traditional Polynesian houses, called fares. Most days there are 4 quite diverse restaurants open to choose from, depending upon your mood and how much you want to spend for the meal.
Four Seasons Bora Bora breakfast
We forgot the rush that we usually call "breakfast" and started each day of vacation with a leisurely feast. There's such a wide variety of delicious, nutritious foods to graze on that we recommend you have the Four Seasons Bora Bora breakfast buffet added in when you choose this resort. Some folk fuss about the price but we think this is the best breakfast in Bora Bora, and if you use the right Tahiti travel agent breakfast can be included in a great package when you book.
Incurable romantics can also indulge their love of fantasy with having their breakfast delivered by canoe. The Four Seasons Bora Bora canoe breakfast takes this unique experience of to a new level.
Four Seasons Bora Bora Dinner
Whether you opt for a relaxed meal or more formal dining, the main event of an evening is usually dinner. There are several beautiful - but quite different - choices for where to go for a Four Seasons Bora Bora dinner and one offers live entertainment.
Four Seasons Bora Bora Romantic Dinner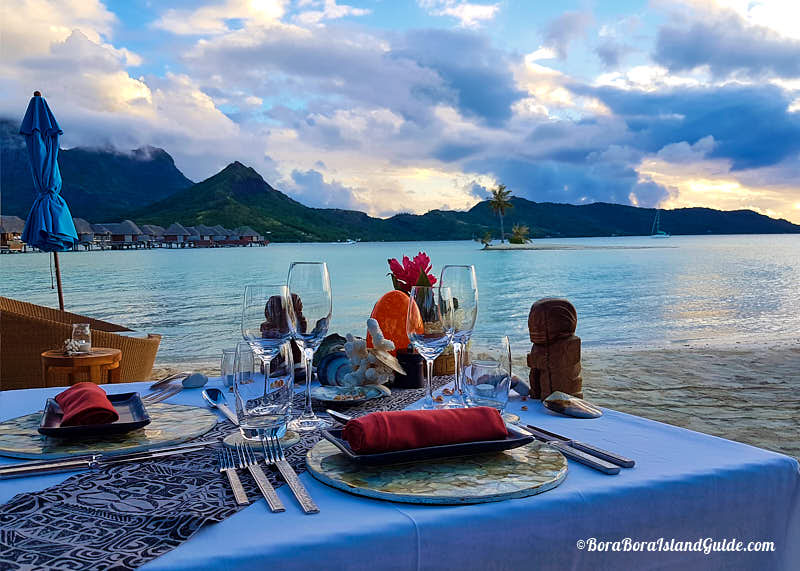 We consider having a special private dinner to be one of the top things to do in Bora Bora! The Four Seasons Bora Bora romantic dinner can be enjoyed in absolute seclusion; on an awesome beach, on a tiny separate motu.
Four Seasons Bora Bora Polynesian Dinner Show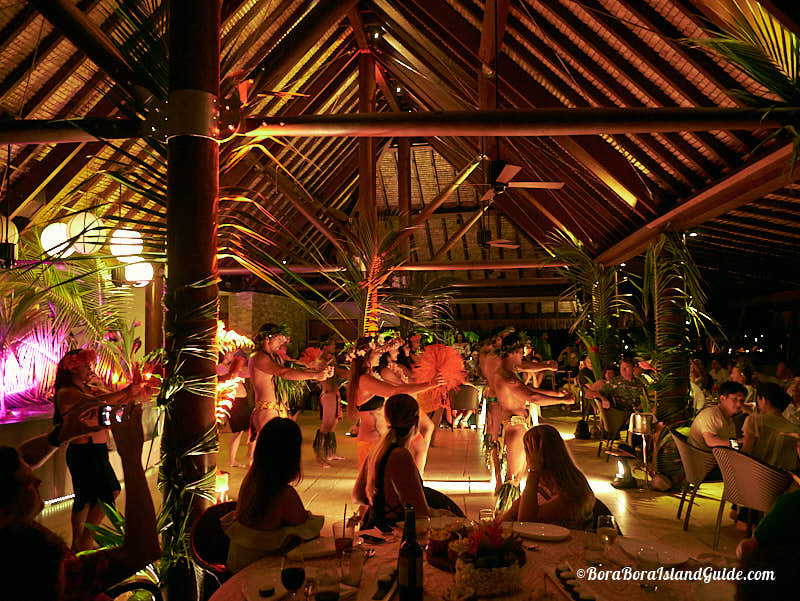 On one night each week the resort holds a festive Four Seasons Bora Bora Polynesian dinner to share cultural traditions that are richly alive and valued. The vibrant dancers at the Four Seasons Bora Bora dinner show get guests moving their hips, as part of the entertainment.
A Taste of Bora Bora
This exclusive taste of Bora Bora Four Seasons food experience – designed to give travelers a "Taste of Place" – will bring joy to fisherman and foodies who experience the culinary delights created from their own catch of the day adventure.
Bora Bora Four Seasons Food Review
If you're still deciding whether this is the resort you want to eat at for a 5 day (or more) Bora Bora vacation, see our Bora Bora Four Seasons food review.
Search the Site

Are you still looking for additional information? You can use the Google search box below to search the site.