St Regis Resort Bora Bora
What you'll love most about the St Regis Bora Bora
The Lagoonarium is the largest and most interesting of the Bora Bora resorts with varied marine life including giant turquoise napoleon fish.
The St Regis overwater bungalows are the largest in the South Pacific.
The Lagoon restaurant by

Jean-Georges

has the most spectacular location of any restaurant in Bora Bora
Butler service for every bungalow.
Riding a bicycle through palm fringed paths to get around the resort.
"The Oasis" an adults only romantic pool and cabana area.

Here's what makes the St Regis Resort Bora Bora perfect for those who want to disappear on a holiday to utter paradise. It will help you in choosing a villa style and its location in this unique resort. We also tell you how to get around Bora Bora's island environment. We recently stayed for 5 nights at the St Regis Bora Bora, so if you are considering this as your Bora Bora resort, ensure you read our essential vacation tips for ensuring you have a wonderful stay at the St Regis.

Romantic Vacation in Paradise
After the St Regis Resort Bora Bora was used as the exotic Eden Resort for filming the 'Couples Retreat', world interest was aroused. Travel Weekly named it 'Top Resort World Wide' and Luxury Travel Adviser awarded it 'Best Resort in the South Pacific'.
It's still a favorite romantic getaway. In 2012 it placed number 1 on Trip Adviser's travelers' choice list of the 25 best romance resorts in the South Pacific.
Most of the St Regis guests are couples. Many are on their honeymoon and others are celebrating special occasions such as wedding anniversaries. The St Regis also offers two signature wedding themes and has a creative wedding planner who can arrange memorable romantic experiences. Her expertise can be used by anyone who wants to surprise their partner with loving gestures.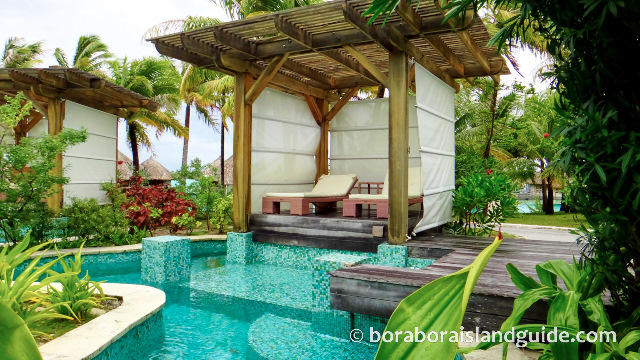 The "adults only" pool at the St Regis
On a Fantasy Motu
Guests of the St Regis Resort Bora Bora describe it as 44 acres of heaven. The hotel has been built on long, narrow, Motu Ome'e, which is part of the necklace of motus that surrounds Bora Bora lagoon. One side cradles the turquoise lagoon, the other borders the royal blue ocean. This gives the St Regis a fantasy island location and feel.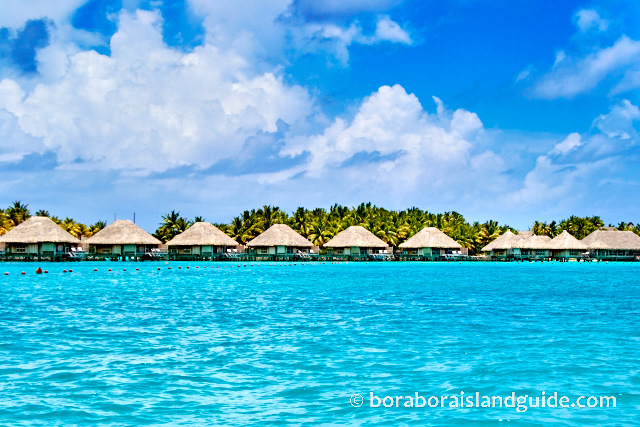 The manicured grounds are very spacious and even though your villa may be a long way from the restaurants, the scenery along the way is gorgeous. Narrow lagoon channels pass through the motu, so there are little bridges to cross over. In the evening the property is softly lit up creating a very romantic ambiance.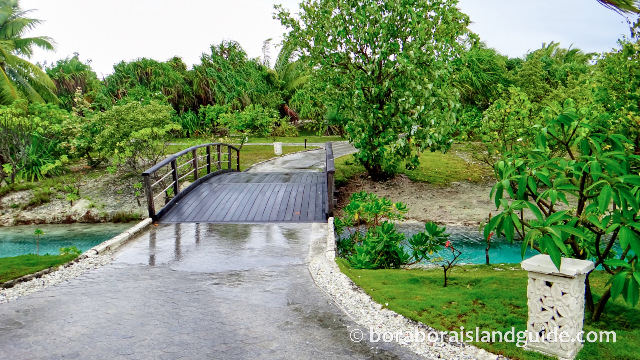 Walkways cross over the Lagoonarium
When the property is full in August it still doesn't feel crowded. At other times of the year, you will think you're the only ones at the resort. To get around you can also use the communal bicycles or send for your butler to pick you up and drop you off in a golf buggy.
Luxury & Pampering
When the St Regis Bora Bora Resort began welcoming guests in 2006, it brought a new level of opulence to Bora Bora vacations. The ambiance of the resort is an eclectic mix of tropical island grandeur.
The lobby, and spa have polished marble floors, and luxurious European style furnishings. White walls feature art works in coral and stone, reminding guests that they are in island paradise.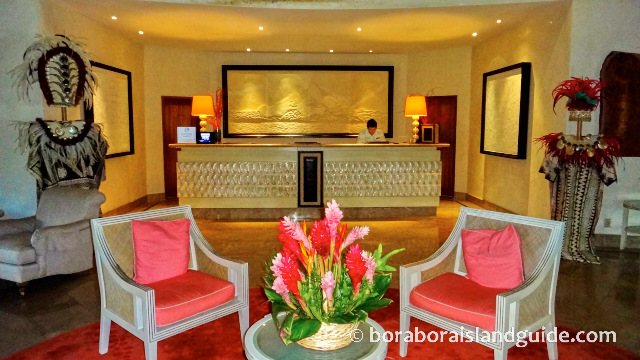 Reception
The 90 free standing villas are so lavishly decked out, that every-day activities become an indulgent pleasure. Your room is refreshed twice a day and a butler service is available to arrange anything from a day of diving, to a romantic flower-petal turn-down.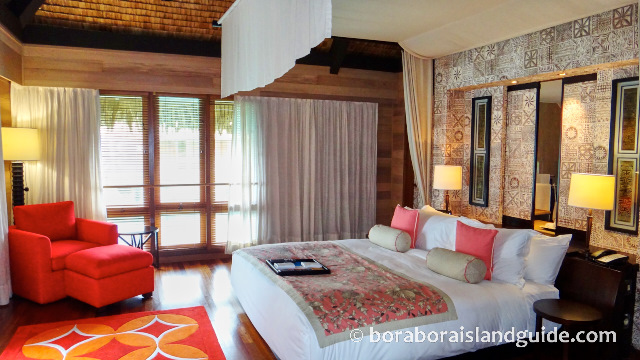 The beautiful bedroom in a St Regis overwater bungalow
In the Largest Over Water Bungalows
The huge over water bungalows at the St Regis Resort Bora Bora are the largest in Tahiti. They're decorated with lavish touches. Their decks are amazing for lounging, eating and swimming. Some also have a whirlpool on the deck, or 2 bedrooms and a pool.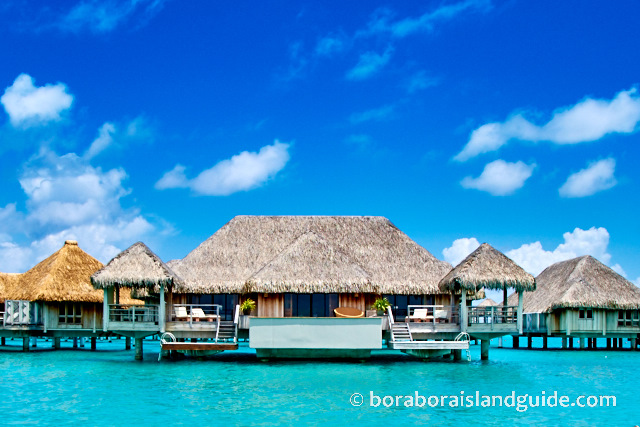 The St Regis Resort has the largest over water bungalows in Bora Bora!
For More Space and Privacy
On land you can have a spacious villa and garden, complete with your own pool and a shaded gazebo. It's so relaxing to laze in a hammock, or on beach chairs, in complete privacy and take in the view. Villas have an earthy, island décor with glamorous furnishings. Their luxurious bathrooms have a great sized tub and raindrop shower.
There are 4 secluded, one bedroom Beach Front Villas with a pool and a beach view (1,636 sq. ft.) looking out to the mesmerizing lagoon.
On the other side of the motu, 5, even larger, one bedroom Garden Villas with a pool (2,700 sq.ft.) sit in privacy, facing the Pacific Ocean. Ocean front villas have an outdoor shower in a private lava rock, walled garden. There's also 2 larger Garden Villa's with a pool and Ocean view (3,455 sq.ft.) with two bedrooms.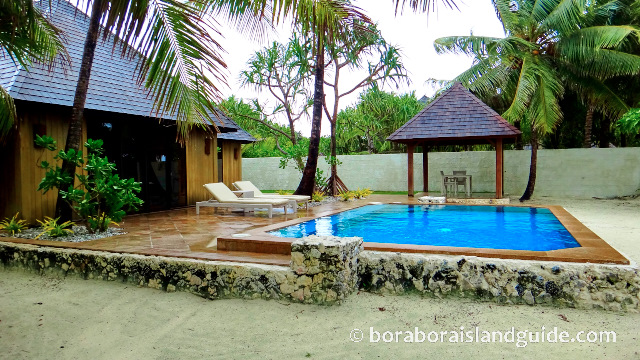 Royal Ocean front villa with private pool
So much choice! Do you opt for ocean or lagoon? This depends on you. Be aware that the ocean is too rough to swim in. And the Helipad is on a tiny motu on the ocean side. But the all-the-way-to-the-horizon ocean view is spectacular, especially at sun rise. While the blue lagoon laid out at the door is Bora Bora paradise.
Or a Discreet Celebrity Hide-Out
Where do the celebrities hide out at the St Regis Resort Bora Bora? In the seclusion of the extremely luxurious 13,000 sq.ft. Royal Estate. Set on its own private beach, it has 3 bedrooms, 4  bathrooms, a dining room and lounge, an office, a solarium, a heated whirlpool, a sauna, a steamroom, a private gazebo and a terrace overlooking its private beach and pool. We could only peer wistfully at the entrance because James Cameron had booked it out before us.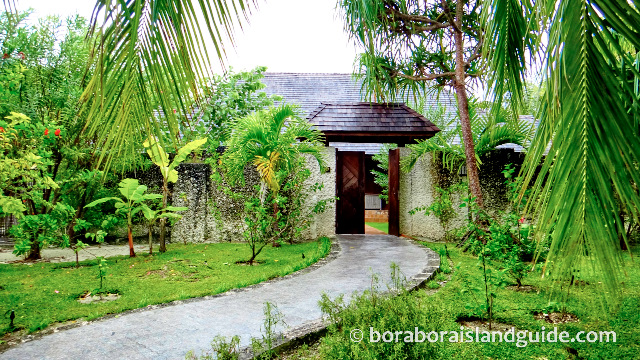 The entrance to the exclusive Royal Estate
Dining at the St Regis resort Bora Bora
Foodies will be pleased with the excellent eating choices. Here's everything you need to know about dining at the St Regis to decide about buying a meal plan. All of the St Regis restaurants have enclosed buildings, so this resort is a good choice during the middle of the wet season when the weather can be cooler.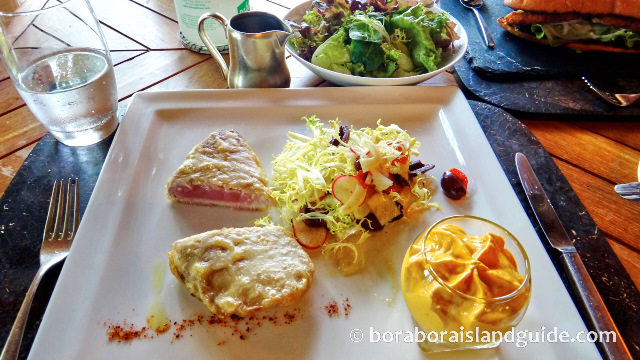 I still dream about this tempura tuna!
Activities at the St Regis Resort Bora Bora
I know how hard it'll be to leave your luxurious villa but do get out and try some of the fun activities at the St Regis Resort Bora Bora.
Transfers to the St Regis Bora Bora Resort
As the airport is on a motu, and so is the St Regis, transfers to the resort are by shuttle boat. St Regis charges for airport transfers. Make sure you book them. When you have collected your luggage at the airport, go to the St Regis booth. You are welcomed with floral leis and your luggage will be taken to the St Regis shuttle boat. A smooth hotel check-in is done on the boat.
Skimming across the lagoon to the St Regis Resort Bora Bora is an unforgettable experience. On arrival we were refreshed with a scented flannel wipe and iced tea and taken for a buggy cart tour of the extensive resort before being escorted to our room.
Getting around Bora Bora from the St Regis
St Regis offers a free shuttle service to Matira Beach and Vaitape twice a day except Sundays and public holidays. The shuttle boat delivers guests to the St Regis Bora Bora base at Anui on the main island where there is a bus waiting to take them to Matira and Vaitape.
There are 6 additional boat transfers across the lagoon to the resort's base in Anui from morning to evening. This enables guests to be picked up for land based excursions or dining at Bora Bora restaurants.
Resort Staff
This is the St Regis Resort Bora Bora in French Polynesia. So you may be surprised to find that some of the organizational and restaurant staff are French. They will take pride in giving you attentive service. Your dedicated butler could be from Italy, or America'! Your maids will be Polynesian, and it may be difficult to communicate with them in English. They will have a sweet attitude, and be 'laid back'. It's the culture.
WiFi
Complimentary WiFi is free in public areas and  in bungalows.
Get a quote for a St Regis Resort stay

Search the Site

Are you still looking for additional information? You can use the Google search box below to search the site.