Top Family Friendly Bora Bora Resort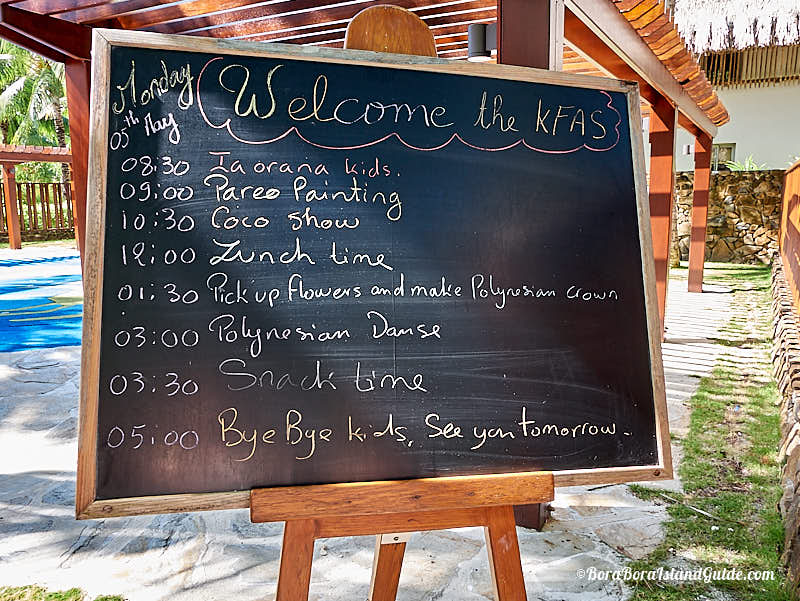 Today's schedule!
 Looking for a family friendly Bora Bora resort? The Four Seasons oozes romance, yet somehow also shines as one of the most family friendly Bora Bora resorts. It's a tropical island playground with fun for everyone.
What makes the Four Seasons a family friendly Bora Bora resort?
Kids have their own space and adventures

The Four Seasons kid's club is available any day that a child wishes to participate. If there are keen-to-come children staying at the resort it will automatically open each day. When your children are the only ones at the resort, the kid's club will be on-call for the times you want them to attend. You can drop your kids off during the day at any time with short notice.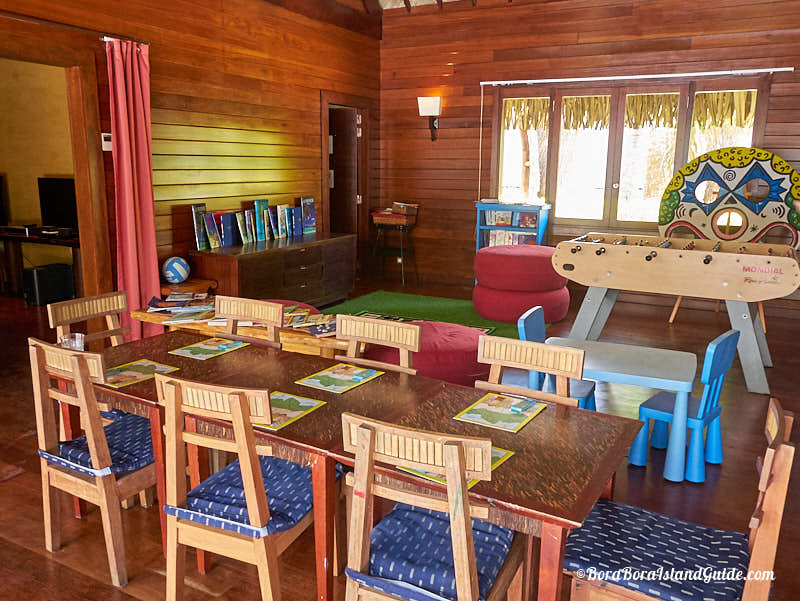 Kids For All Seasons club house
In kid-space children listen to Polynesian legends and learn traditional crafts: flower-crown weaving, basket weaving, coconut painting, and pareo painting. They are taken fishing, go on island scavenger hunts, and can enjoy the water-playground next to the purpose-built children's room.
There's also a babysitting service available for little ones (4 and under) and you can book after hours care for other children too.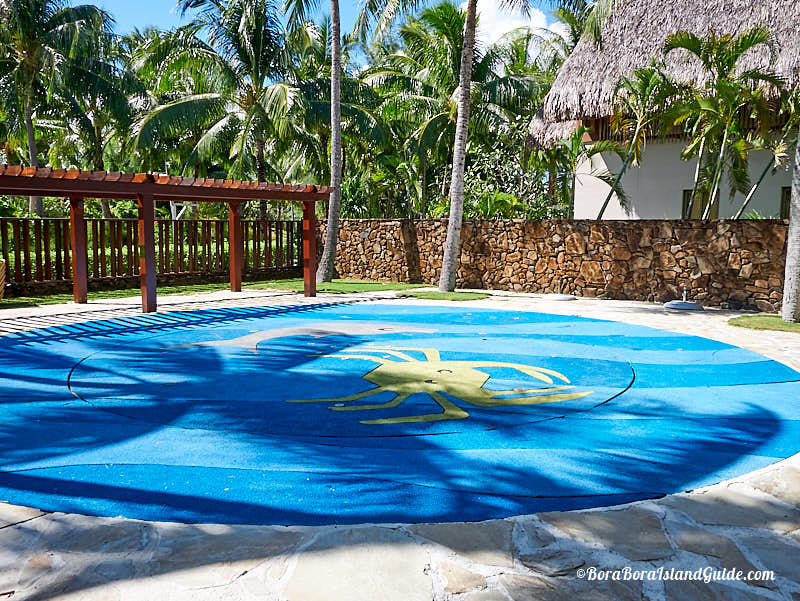 The water playground at the Four Seasons resort
Complimentary activities and care
Paddle boards and kayaks are complimentary at the Four Seasons and there always seems to be plenty waiting on the beach. You can paddle out for as long as your kids want, every day, without thinking about hourly hire charges.
The lovely pool at the Four Seasons Bora Bora is very kid friendly as it has a shallow end that gradually deepens.
Older children will be thrilled by jumping endlessly from the private pontoon of their overwater bungalow - even if you stay a whole week.
Four Seasons lagoonarium beach is a perfect place for children to walk into the water on sloping sand and get comfortable with their mask and snorkel.
Sunscreen is available at convenient stations around the property, as is cool drinking water.
A laundry bungalow, with washing machines and clothes dryers, is located on each pontoon for guest use. This means you can bring less with you and wash as you need.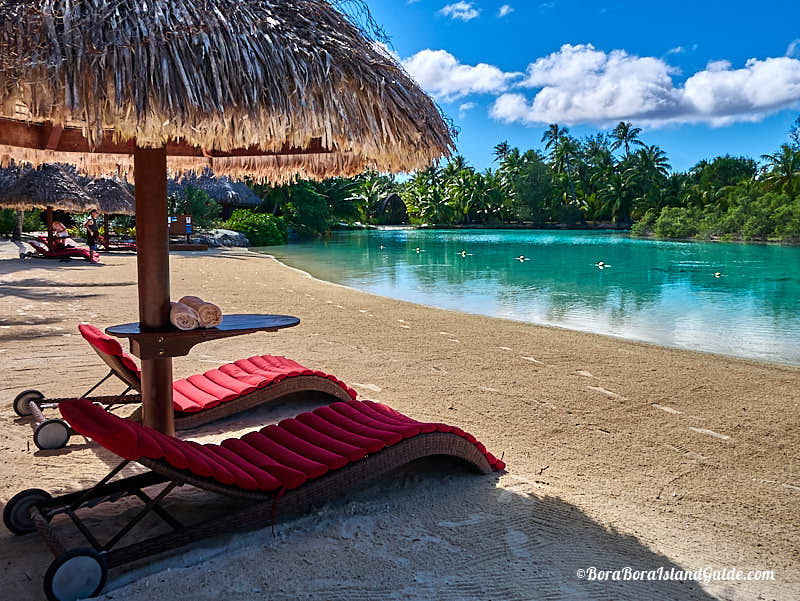 The lagoonarium beach is perfect for children
Kid friendly dining
If your Bora Bora vacation package includes breakfast - and if you book through our favorite travel agent it will - then your children's breakfast will also be included. There's a large choice of kid friendly foods like bacon, eggs any style you want, crepes, waffles, pancakes, fresh fruit, pastries, and juice. Even the fussy eaters will find breakfast a highlight of their day. At lunch and dinner time there's a special children's menu offering well-priced, kid-approved options including chicken, hamburgers, mahi mahi fish, fruit salad and French fries.
The Four Season's Employees
The staff at Four Seasons are happy and guest focused. Which is just what parents need on a vacation in Bora Bora with kids. Whilst most resorts employ on a one year contract, at Four Seasons, once the probation period is passed workers can stay indefinitely. So most actually live on the world's most beautiful island and build relationships with their team.
From the exciting boat arrival, to the sad goodbye, the Four Seasons truly is a family friendly Bora Bora resort. The warm, thoughtful staff welcome your children and give your whole family a memorable experience. The rates might seem more than other Bora Bora resorts but there are goodies added in for free – water activities, kid's breakfast, laundry, sunscreen and kids club supervision and activities. The children's meals are very cheap – around $12 a meal. Taking kids along won't add much to the overall cost of your trip – and they will enjoy the resort as much, or even more, than you!
This family friendly Bora Bora resort has a history of attracting more vacationers with children than any other hotel. Although Four Seasons guests are mostly romantic couples, it has everything for a perfect Tahiti family vacation too. Compare the top 3 family friendly Bora Bora resorts.

Search the Site

Are you still looking for additional information? You can use the Google search box below to search the site.