Bora Bora Jet Ski Tours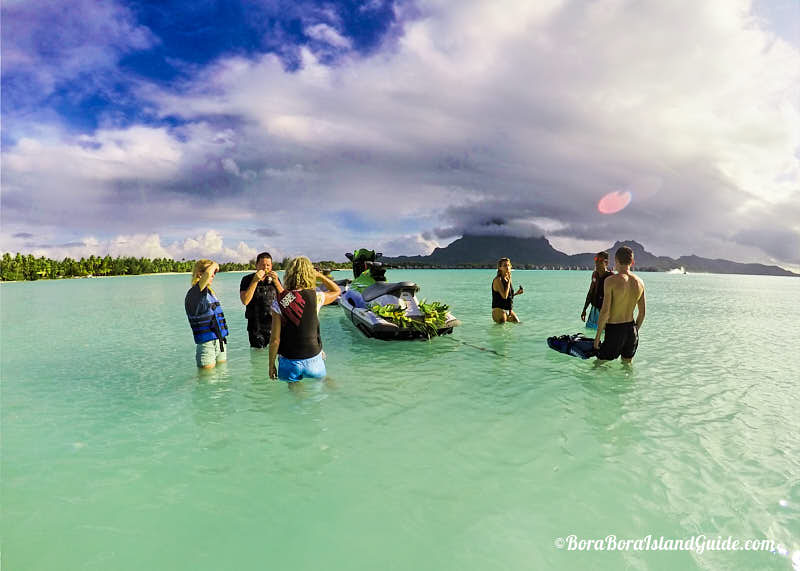 A fun way to see the world's most beautiful island

On Bora Bora jet ski tours you zip around the awesome, ever-changing, brilliant blues of the world's most photographed lagoon; surrounded by entrancing, scenic, volcanic wonder. Each blue bay and angle of the main island's emerald slopes; with the ancient, black-rock of Mt Otemanu and Mt Pahia towering above; gives a perfect postcard view. 
You'll linger on a pristine, sandy motu, graced by palms; and get a gander at the opulent over-turquoise-bungalows of the luxurious resorts set on the ring of outlying coral motus (isles). Most jetski tours begin from award-winning 2 mile long Matira beach. It's a surreal ride. Don't miss it!

Even if you've never been astride a jet-ski before, this calm, warm lagoon is the perfect place to start. A licensed jet ski instructor will demonstrate the controls, give a safety briefing, and then lead the single file tour. In quiet season you may virtually have him to yourself. It's a game of follow the leader through Wonderland. At intervals you'll stop for the best photo opportunities. Your guide knows them, so take an underwater camera!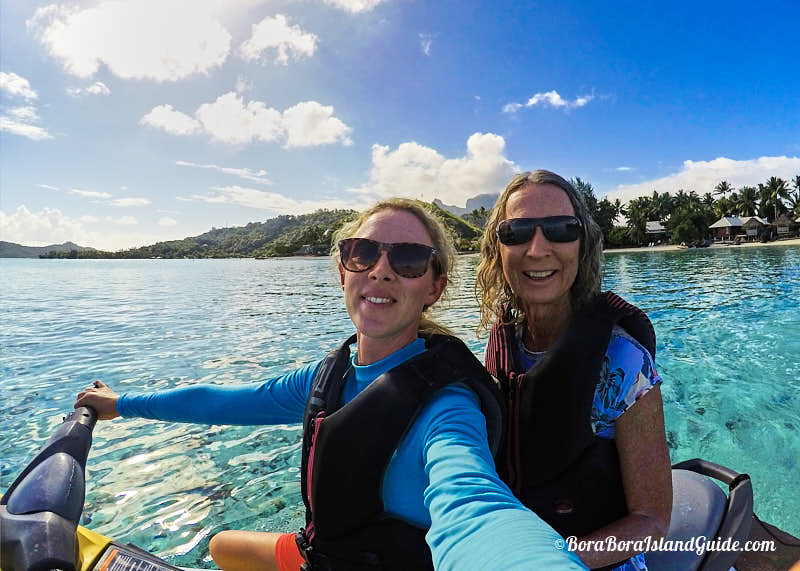 The company assures that all jet ski instructors (who are available for help throughout the tour) are licensed, and the vehicles are well-maintained. Safety equipment is provided. The maximum speed of the jet skis is just under 60km per hour. Learning to ride is simple and only takes several minutes.
Apply sunscreen before beginning the tour and wear your swimsuit under sun protective clothing. Even if you have a gorgeous tan, the Bora Bora sun is 'special'. Bring sunscreen with, and comfortable watershoes are a must.
Bora Bora jetski tours are available in a variety of formats. They all include complimentary pick-up from, and return to, your hotel or the Vaitape Pier. As getting around in this water-world isn't like anywhere you've been, this is a great inclusion.
2 hour Bora Bora jet ski tours
These dedicated jet ski tours show what's described above, adding in a couple of stops for swimming, watching a coco husking demonstration (yum!) and learning some interesting facts about Bora Bora and it's people.
Bora Bora jet ski tours + Bora Excursions
Some Bora Bora jet ski tours also offer lunch and a land tour, to give you a whole day of enjoyment. Taking one of these gives a sense of the most celebrated aspects of this romantic island, just by booking one tour. If your priority is to relax (and you have good snorkeling at your resort) you'll never have to leave the comforts of your resort again.
We love that these Bora Bora jet ski tours allow you to have an exciting 'surprise' day out, crammed with diverse activities, without having to plan a thing. You can be on one of the most secluded islands on the planet and choose to be whisked of to engaging, entertaining excursions.  

READ OUR RECOMMENDED JET SKI TOURS

Search the Site

Are you still looking for additional information? You can use the Google search box below to search the site.