Tupuna Safari 4x4 Tour
We felt fully alive and on an adventure while driving - in an open air vehicle - right around Bora Bora's awesome coastline and up rugged mountainsides to discover: inspiring views, interesting history, and remnants from the ancient culture of a courageous seafaring people. A Tupuna safari 4x4 tour is no armchair experience - climb in, hold on, and get ready for a rugged ride!
We were staying at Le Moana when our friendly guide, Moana, arrived in on his noble steed - decorated with fresh, tropical flowers. His bright smile welcomed us, and like gallant knights of old, he pulled out steps for the ladies to climb into the colorful Tupuna Safari 4x4.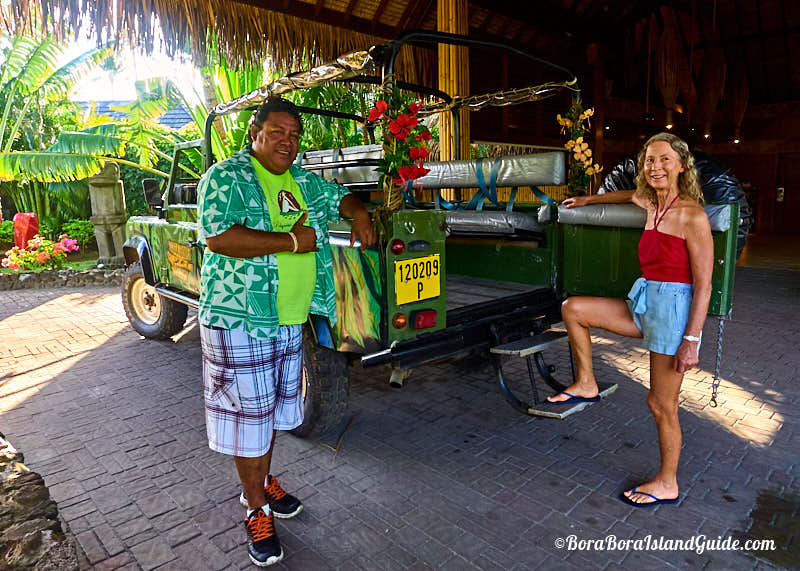 We headed on Bora Bora's circle island road with 360 degrees views from our open air vehicle, looking forward to experiencing the inner Bora Bora, that we hadn't visited before.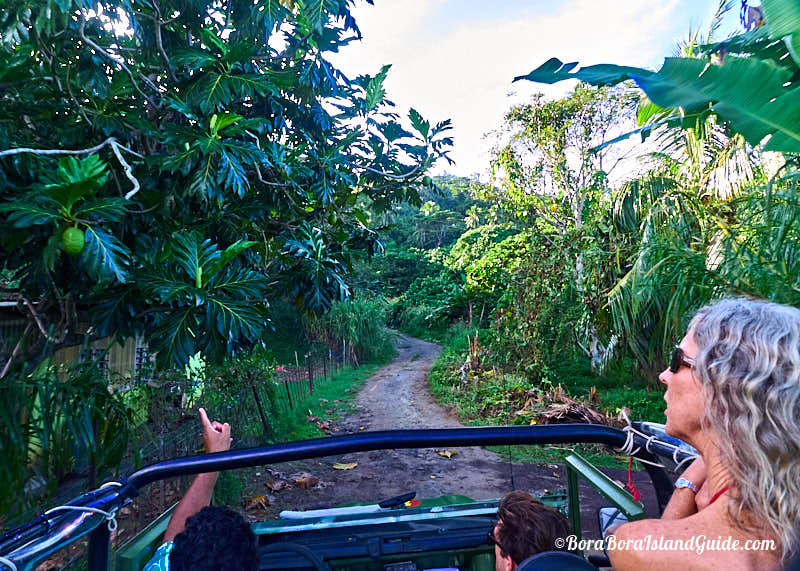 At first the Tupuna safari 4x4 tour felt like a Disney ride, but it soon turned into more of an Indiana Jones style adventure - in a real life setting, on the world's most beautiful island.
See Bora Bora from above

We were excited when we took our first turn off of the road onto a dirt track - what would be at the end of the road? Our first stop was a hilltop with dramatic views out to both sides of Bora Bora's lagoon - east and west.
The western view to Viatape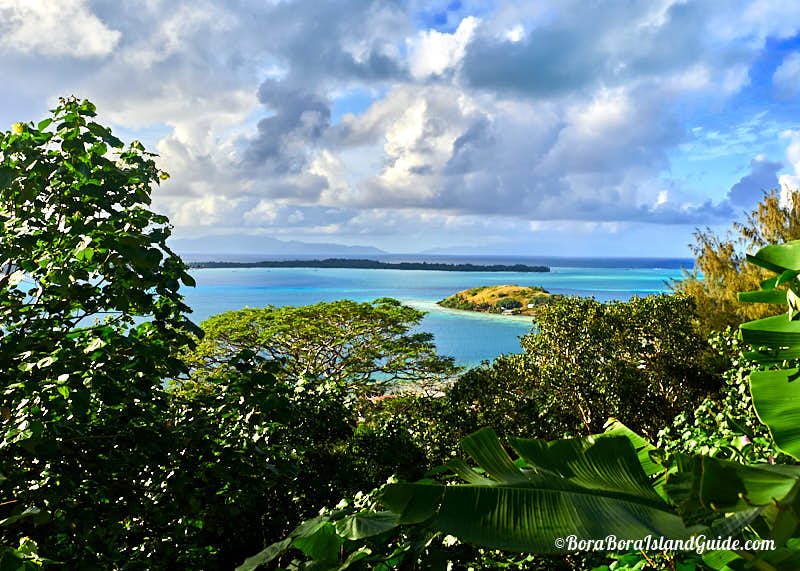 The eastern view across the motus to Raiatea and Tahaa in the distance
From high up we had a wide panorama over the coral motus and far across the ocean to Raiatea and Tahaa on the horizon. As for the bird's-eye views; they can only be seen by 4WD now that Bora Bora helicopter rides are no longer possible!

We braced ourselves for the steep decline back down, in our trusty Land Rover 4WD. Our Tupuna Safari 4x4 tour continued around the Circle Island Road until we turned in on another adventurous track to reach stop no. 2.
On the west side of the island our Tupuna Safari 4x4 tour stopped at a lookout with a prime view across the lagoon to the only pass in to Bora Bora's calm lagoon. The US navy used dynamite to blow open the narrow channel so their ships could enter. Now even the Queen Elizabeth is able to come in and anchor in the small area of deep water on this area of the lagoon. Cruisers must be transferred to Vaitape wharf on small tender boats.
This is a side of Bora Bora that some visitors never get to see. At this stop we gazed down upon Faanui Bay and across the verdant slopes of Bora Bora island - from the opposite angle to the typical view seen from the luxury Bora Bora resorts, on the eastern coral motus, bordering the other side of the lagoon.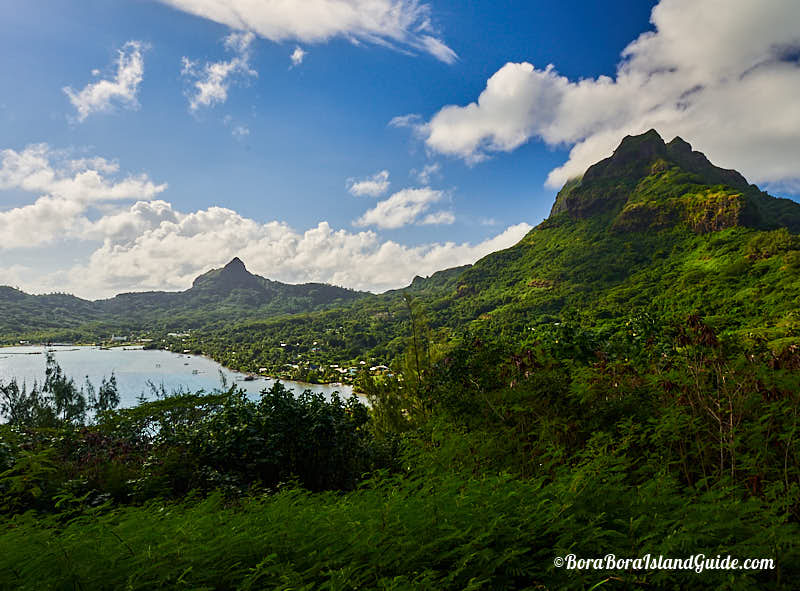 Learn about Polynesian culture

Along the route, Moana shared many interesting facts. For example: he explained that, until 60 years ago, the wild hibiscus shrubs that are dotted around Bora Bora's main island, provided essential utilities in daily life. Their leaves served as plates and toilet paper - providing the strong, green side was facing up. The outside 'skin' of branches was torn off to make strong rope; the inside tough lengths were soaked in salt water for a week - to weave into baskets,  or cooked on the fire to make grass skirts.

Take Mr Moana's wild ride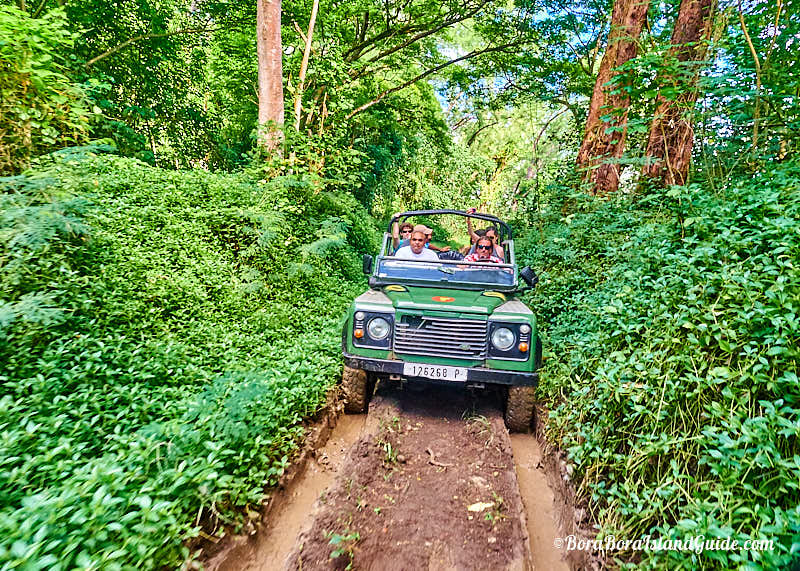 We bumped along over deep ruts, up steep tracks, beneath a canopy of leaves; with the powerful 4WD engine working hard. Our guide explained that the over-hanging acacia trees were planted by the GIs to camouflage the roads up the mountain to their lookout posts.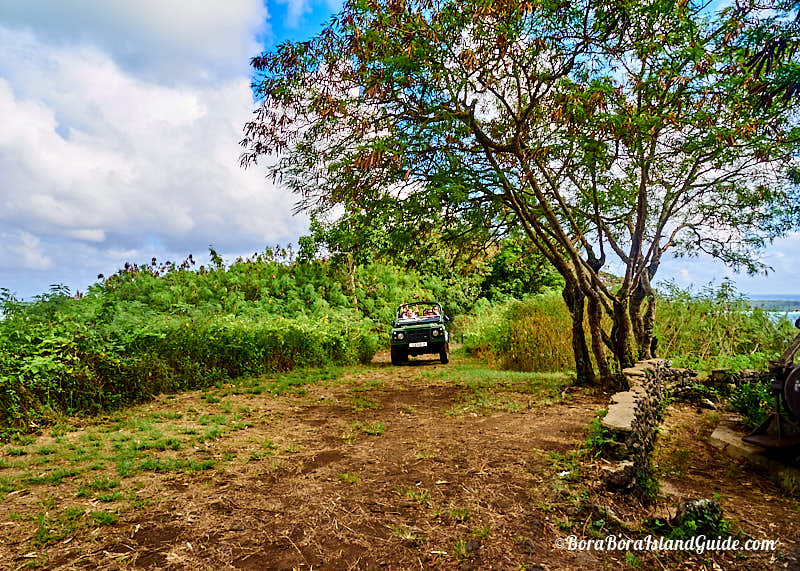 It's incredulous, and sobering, to be on a Bora Bora 4WD drive tour, negotiating rutted tracks among tropical vegetation and having postcard-perfect glimpses of the pristine beauty of this gorgeous island; then suddenly see a huge gun up ahead - aimed at the world's most beautiful lagoon!
Discover Bora Bora history

These guns, and munition bunkers, were left by the US marine when troops were withdrawn after WW2. Four pairs had been slowly hauled up steep slopes, in pieces, and re-assembled at strategic heights around the island.  Our guide explained that they were operated manually. The gears that can be seen on the right side of the gun moved it's position from left to right, and another set on the left side moved it up and down. Fortunately none were fired.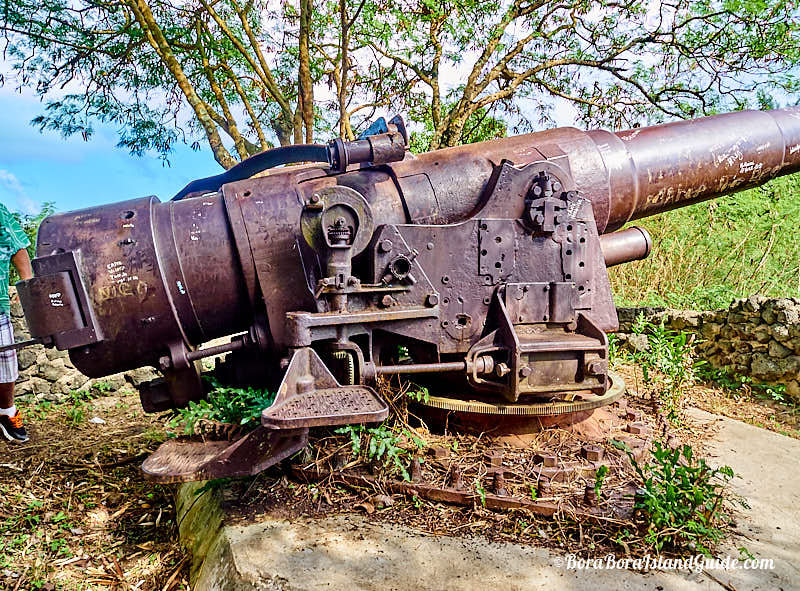 My mood became solemn as I read the inscription on a metal gun: the place of manufacture was Pensylvania and the date was 1907. They were remnants from WW1!  This reflects the haste in which supplies for Operation Bobcat were gathered together to set up a look-out, supply base, and re-fueling depot on this strategic mid Pacific Island. The contrasting experiences I had on this Bora Bora 4WD tour aroused my interest in Bora Bora history.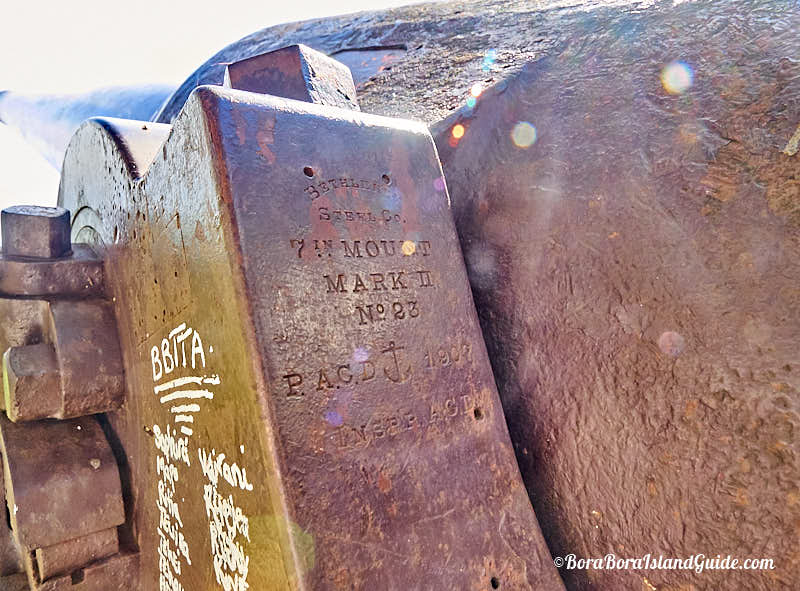 I found myself stepping back in time; curious about how the soldiers, manning these lookouts, maintained a  vigilance - constantly scouring the horizon for the "enemy" - when surrounded by such serenity. Later I read transcripts written by men stationed here. I learned that their attitudes about being sent to Bora Bora were mixed. Some had been transferred from the a major battle area in the Pacific, known as Hell's Kitchen, and were relieved to find themselves sent to Paradise! Others hadn't seen war, and were aching for action, so found this assignment tedious!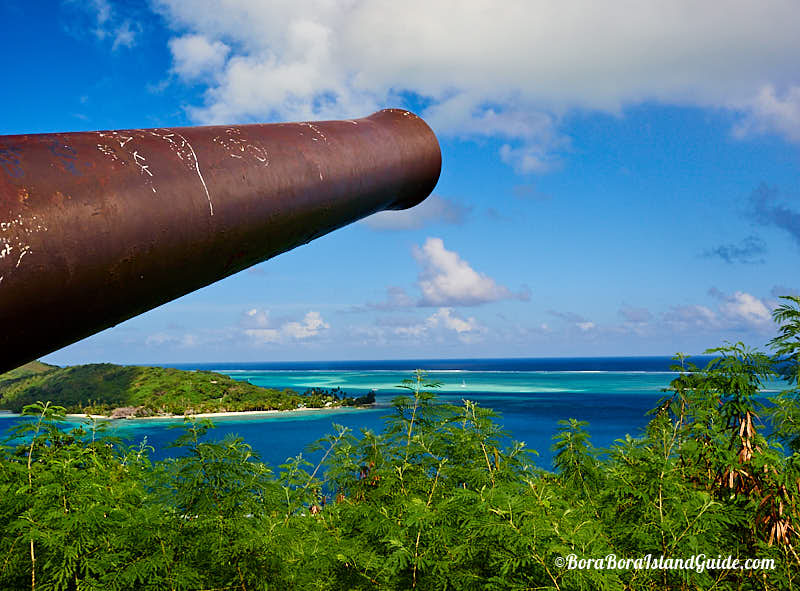 5000 GIs were stationed here. They set up the water and electricity supply, and built  the airport and the hospital. But first they built roads. The Circle Island Road was more of a track, and sections collapsed as they attempted to move heavy equipment around it. So they had to pave it - with their own machinery. Next they constructed tracks up the slopes of the inner island, to haul the guns and ammunition up. These tracks are now so rutted that the only way to see inner Bora Bora is by 4WD tour. 

Visit Paarara mountain artist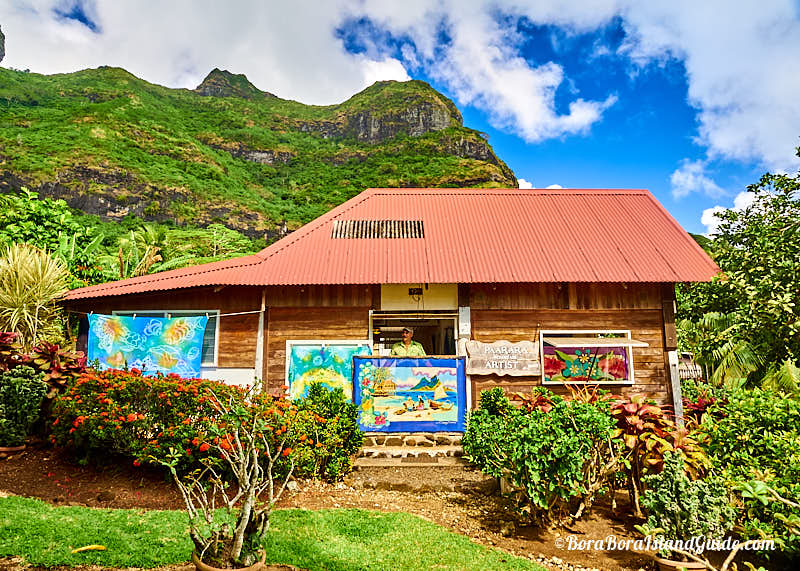 The Tupuna safari 4x4 tour took us up through Faanui Valley to visit Bora Bora's most well-known pareo painter, Manu. At this stop we tasted island fruit; and I found that the sweet, juicy grapefruit is nothing like ours back home.

Take home an authentic Bora Bora souvenir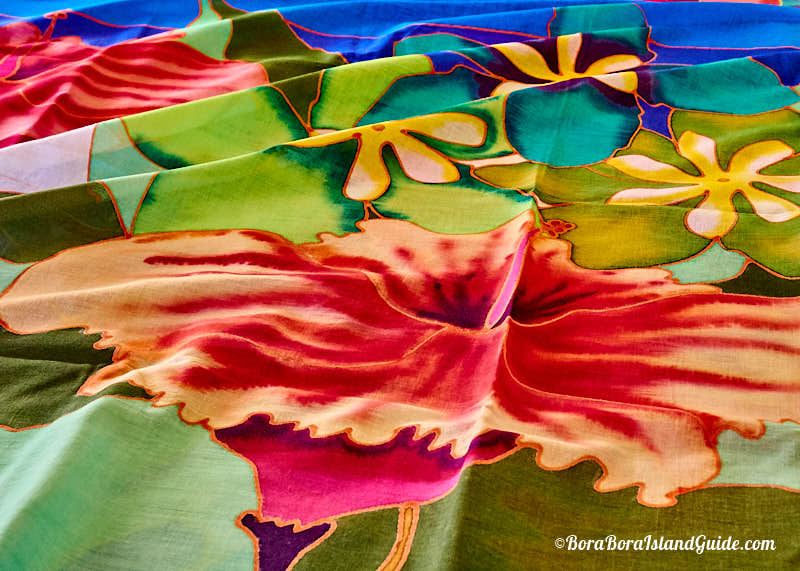 We were invited into Manu's workshop to watch as he began a new work of art. With a gentle energy flowing from background music, he started confidently drawing the design with gum. He drew freehand, straight on to a pareo sized piece of cotton, creating a water resistant outline, in preparation for painting the colorful sarong.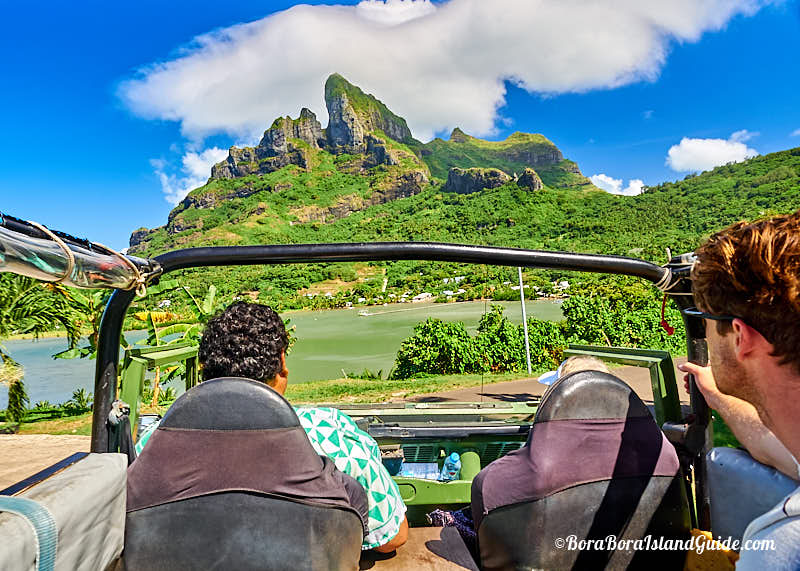 We were thrilled to meet the rocky outcrop of Bora Bora's signature mountain; from every angle, as well as at various altitudes; during our insightful Tupuna safari 4x4 experience. The best way to see the volcanic island is in an open air 4WD with a knowledgeable guide.
Why book a Tupuna Safari 4x4 Tour?

The Tupuna Safari 4x4 tour was fun and entertaining; but the ride also gave us an in-depth look at this famous island and deepened our respect for the Polynesian people. Moana was a knowledgeable and gentle host. Our entire experience on Tupuna Safari tours was fantastic.
During off-road portions of the adventure, the road ahead was often steep or bumpy, but we always felt safe in the well maintained 4x4 vehicle, and trusted our competent driver. Don't let the bumps put you off - Gloria has to take care with her neck, but felt no discomfort during the 4WD tour.
The Bora Bora 4WD tours head up into private land in Bora Bora, so not all tours are able to visit the same locations. As Tupuna 4x4 Tours are run by one of Bora Bora's oldest families, they have access to the best areas for seeing Bora Bora.
Bottled water was offered to us throughout the trip, and a snack of fresh tropical fruit was available at the Paarara Mountain Artist stop. If you would like to take an authentic, Polynesian souvenir home from a great Bora Bora artist, be sure to bring some money with you on the tour, so you can choose from the unique, hand painted Pareo designs. 
Search the Site

Are you still looking for additional information? You can use the Google search box below to search the site.