Hilton Bora Bora Dining At The Nui Resort
Here are the Hilton Bora Bora dining options, plus other best places to eat or find good food when you're staying at the Hilton Bora Bora Nui Resort.
Ta'Ie'Ie Beach Bar
Located on the beach between the all day Tamure restaurant and the beautiful infinity pool, this casual bar serves drinks and cocktails. Happy hour has 2 for the price of 1 drinks. Try a pina colada with Tahitian lime.
The Tamure for Breakfast, Lunch and Dinner
This is the main restaurant at the Hilton Bora Bora Nui Resort. It's a casual, open on all sides, eating place which also houses the Ta'le'le beach bar at one end. It's set right on the beach with views of over water bungalows, the over water reception area, and across the lagoon to the horizon.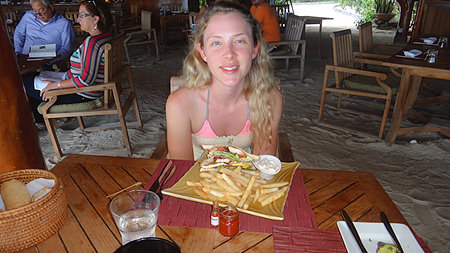 The Tamure Grill is casual dining with sand-floors
Tamure Grill provides all day dining at the Hilton Bora Bora. It's open through to the evening, serving up breakfast, lunch and dinner in a relaxed 'bare foot in the sand' atmosphere. Tamure the most popular eating place in the resort.
Breakfast is a buffet offering choices of American, French and Japanese foods, plus freshly cut island fruit. The selection is not as big as at some other Bora Bora resorts but there's something to please everyone.

Buffet breakfast at the Hilton
The menu is the same for lunch and dinner. The food focus is Mediterranean style with some Polynesian ingredients. It also includes Japanese specialties. There is a large selection of dishes to choose from. Soup, salad, pate, pasta, grilled meat, pizza, sandwiches and burgers. A few are very good. If you like raw fish try the red tuna tartar with Asian dressing and avocado mousse. Treat yourself to a vanilla sundae. It's addictive!

My favorite Hilton treat! A vanilla sundae
The path from reception leads to steps up the steep hillside. Here, a large thatched roof building, with lagoon views, houses 2 Hilton Bora Bora dining venues - the Iriati restaurant and the Polynesian restaurant, as well as the Upa Upa bar.
Upa Upa Panoramic Bar
Open in the evenings, this hillside bar has views across the lagoon and is the best place to catch the sun-set. It has an informal island atmosphere, so is a great place for couples wanting to socialize and get to know each other over cocktails.
Iriatai: Formal Hilton Bora Bora Dining
The hillside Iriatai is also open-air eating, but with a formal ambiance. The oyster-shell chandeliers contribute to it's elegance. Dinner is the only meal served here and places are limited, so bookings must be made through reception. The menu is French gastronomic. All the dishes are superbly presented.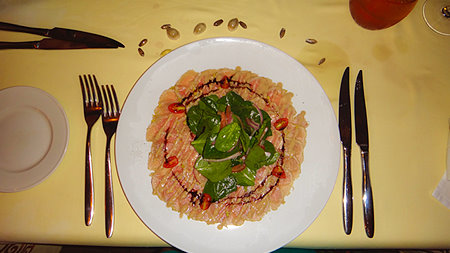 The Veal Carpaccio was delicious!
Ask Oliver, the charming 'dedicated to detail' manager of the restaurants, for his suggestions. He knows important distinctions, like whether the scallops are in season. The herb bread is delicious and the ice-cream selection is freshly made from fresh fruit or vanilla when you order. It's mouth watering! The better dishes incur a surcharge (US$4 to $8) on top of the price for board. This can add up by the end of a week. Iriatai is closed on Tuesdays.
Find the best deal, compare prices, and read what other travelers have to say at TripAdvisor
The Polynesian Restaurant
An area next to the Upa Upa bar offers a menu of Polynesian specialties in the evening. We enjoyed eating there several nights in a row as it was our favorite Hilton Bora Bora dining food. It serves very generous portions of fresh, tasty, island delights. The 4 dish, island medley of sweet potato salad, poisson cru, tuna tartar, and a sashimi platter was amazing and our waitress, Paloma, gave us exceptional service. There are only a few tables available so you must book ahead.

The Polynesian Starter platter for two was our favorite Hilton meal
In January & February
If your Hilton stay is during January and February take a raincoat and some warm clothes. You may not need them but it's best to be prepared. Although it's summer, the islanders call these months the cold season. If rain sets in, it's cool and both the Bora Bora Nui restaurants have open sides, so are breezy. When the sun comes back out, the temperature will be beautiful again.
Room service
You can have a special Japanese zen meal served in the privacy of your villa. There is a surcharge to have food delivered to your villa.
Buying A Meal Plan
If you want to enjoy most of your time relaxing around the resort, and are a big eater, consider buying a meal package before you go. It will cost less than buying meals individually during your stay. Even if you eat out sometime, you will still be ahead. You can choose full board or half board, which includes breakfast and dinner. Lunch includes two courses, and dinner has three. It's lots of food! So if you are a small eater you will be better off just booking breakfasts and selecting other meals during your stay.
Where else can you eat?
The Bora Bora Hilton is the easiest motu resort to get to Vaitape from. The Nui has a regular shuttle service to the Robert Wan pontoon or the Vaitape dock. This 15 minute boat ride costs XPF 700 round trip until 6pm, after then it becomes XPF1500.
When you want a change from the Hilton Bora Bora dining, get over to the main island and try some of the unique Bora Bora restaurants. The best ones provide a complimentary shuttle from, and back to, the Vaitape dock. You can enjoy a leisurely evening out, as the last boat returns to the Nui at 11pm.
To save money, and have a feast, venture over to Vaitape to buy snacks from Chin Lee's market. Bottled water is a small fraction of the Nui's price. Chin also sells delicious cooked duck, pork ribs, and very fresh seafood, ready to take away. Pick up some crispy, fresh baguettes, cheese and wine then head for a lagoon view to create your own picnic in paradise.